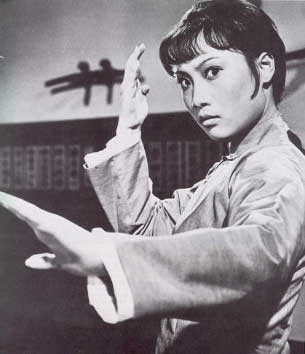 ---
Angela Mao. When people mention this name, it is done in near reverential tones as one might in speaking of their first lost love of long ago. As the first great female action star in HK films, she has truly acquired legendary status. She took it to a new dimension; a new level that showed the world that women could be just as exciting to watch doing action as any man.
I had heard of her for years – much of her fame resting on her appearance with Bruce Lee in Enter the Dragon – but not being a period kung-fu fan I had never actually seen a film of hers. Finally not too long ago, I came across a beat up copy of Lady Whirlwind and thought I should watch her at least once and see if her reputation is all hype or not. My reaction? Lets just say I am now on a crusade to track down and watch every one of her films! I was simply overwhelmed with her incredible agility, grace and athleticism. Her quickness is stunning and she is seemingly capable of throwing a beautifully placed kick from any position. Watching her in action is simply a joyful experience. Beyond this is a charming personality and a lovely face that is irresistible. In much the same way as Michelle Yeoh, she has this wonderful calmness and serenity about her, but at the drop of a hat she can go into ferocious fighting mode.
Born in Taiwan in 1950, she entered opera school at the age of five and learned the skills of acrobatics, martial arts and singing. In 1970 she signed a contract with Golden Harvest and appeared in the film Angry River. Over the next five years she starred in a number of classics for Golden Harvest such as Hapkido, Lady Whirlwind and The Fate of Lee Khan. Her last film with Golden Harvest is Broken Oath after which she returned to Taiwan and made a few more films before retiring in 1980. Tragically, it is very difficult to find many of her films and the ones that you do are usually of poor picture quality. A real effort is needed to restore all of the films of this great star.
---

---
---
Click here to go to an excellent Angela Mao web site:
---