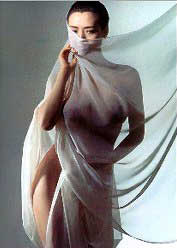 ---
Over a film career that lasted only from the late 1980's to the mid-90's, Amy Yip was able to turn herself into one of the best known cult stars in HK history. Reminiscent in some ways of Jayne Mansfield, Amy built her career on a voluptuous figure and a willingness to poke fun at it. That is really what I enjoy most about the Yipster. The vast majority of her films are comedies in which she is often the target of jokes regarding her figure. Often her role in a film is no more than a cameo in which she displays some cleavage for good humor. There is also a certain sweetness about her face and personality that is so in contrast with her over grown proportions.
Born on June 10, 1965, she went to Kau Kam English College (does that mean the Yipster speaks English !) and after graduating went into television. She signed a contract with Golden Harvest in 1987 and began getting small roles in various films. It was her part in Sex and Zen in 1991 that made her a huge star. Even though she has taken on a number of sexy parts, Amy is equally famous for never really revealing very much. This created the term "Yip Tease" in which she magically manages to cover the vital bits.
She retired when she got married, but there is a rumour that she is thinking about coming back to the film business. Hong Kong could certainly use someone these days with a little star power.

---

---
---