Look Out Officer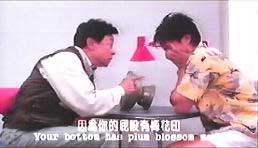 ---
This is a modest but constantly amusing film from Stephen Chow. Though there are perhaps no classically funny routines here, the film never slows down or gets too serious. The humor is good-natured and is very enjoyable. There are also a few action sequences thrown into the mix.
Bill Tung investigates a warehouse and comes across a drug factory, but unfortunately his presence is discovered. He is captured and executed, but his death is made to look like suicide. The next thing he knows, he is at the Pearly Gates (with Marcos at his side) hoping to go to paradise, but the Judge also thinks he committed suicide and so wants to sentence him to Hades. Tung has some money in his pants pocket and is able to pay off the Judge so that he can go back to earth and try to uncover the truth !
He needs a helper back on earth and it turns out to be a rookie cop – Chow. After convincing Chow that he is a ghost, he makes a deal – he will help Chow woo women if Chow helps him find the killer. The only problem is that the only clue he has to the killer is his peculiar under arm odor. So Chow has to start sniffing everyone's under arms in HK. Tough duty.
At the same time, Chow finds time to romance the daughter of Tung's partner – Stanley Fung.
Fung also has the luck to do a short scene with the Yipster. Amy Yip only has a cameo in this film, but it is a good one. She does not waste her few minutes on film.
My rating for this film: 7.5
---