Legend of the Dragon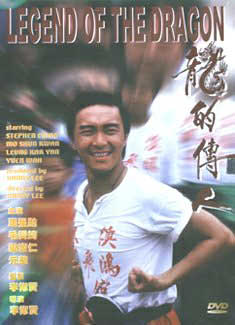 ---
Reviewed by YTSL
In many ways, this 1991 film is your average Stephen Chow vehicle. For one thing, the role given to Hong Kong's king of comedy is that of the kind of innocent, naive and hayseed-ish anti-hero that many of his fans seem to love for him to essay (and allows him to mug and act goofy to his heart's content). For another, its story is one in which the winsome looking boy-man and his equally righteous allies get into a situation where he -- as the chief representative of the underdogs -- has to wage an uphill battle against sophisticated as well as bad people. Then there is his predictably -- hence my not considering its disclosure to be a major "spoiler" -- as well as ultimately prevailing by deriving strength from traditional sources and the goodwill of others.

Alternatively, LEGEND OF THE DRAGON is not the kind of filmic offering that one would immediately associate with Danny Lee (the director), Leung Kar Yan, Yuen Wah and Shing Fui-On. Yet the latter three have parts in this good humored work -- as the main character's not entirely scrupulous "uncle", upstanding village elder father (it was a real shock to see Yuen play a good guy for a change since I have come to think of him as having the archetypal face of a Hong Kong movie villain) and a flash urban thug, respectively -- while the actor who I tend to think of as the funny man's usually ubiquitous sidekick, Ng Man Tat, is missing from the production.

At the risk of drawing attention away from the lead actor, I have to say that I consider the support casting -- which also Teresa Mo as the one female who has significant screen time, or maybe even any actual lines to utter -- to be one of the more refreshing aspects of a rather formulaic film (which does have its share of pleasantly light-hearted moments and amusing visuals -- I particularly enjoyed the post-ride-in-the-convertible hair styles of Chow, Yuen and Mo -- but whose Prodigal Son meets "country bumpkins versus city slickers" storyline is hardly the world's most original). It is very much to his credit though that even while Stephen Chow furnishes the bulk of this piece's highlights, he really does seem inclined to ensure that quite a few of the named others get at least one chance to individually shine.

LEGEND OF THE DRAGON makes allusions to Bruce Lee by having the chief character be named Siu Lung (Chinese for Little Dragon) -- like that martial arts and movie legend -- and his kung fu sifu father having been a friend and colleague of the man whose cinematic efforts included those entitled "Enter the Dragon" and "Way of the Dragon". The small amount of kung fu that one sees in this unabashed comic piece is generally played for laughs though (even during the all too short sequence in which Chow stylishly wields an umbrella as a weapon in a manner that Jet Li might be proud to do); this despite the film's boasting two respected action choreographers in Yuen Wah and another of the Seven Fortunes, Corey Yuen Kwai (the director of "Yes Madam!" and "Fong Sai Yuk", among other impressive action works and has a small cameo as a rural policeman).

Instead, the skills that are most lovingly showcased in LEGEND OF THE DRAGON are that which belong to champion pool players (including those of a genuine master of the game in Jimmy White as well as that which Stephen Chow surely only can possess by way of some kind of cinematic trickery). Although some might scoff at this idea, the result is actually positive. If nothing else, this focus on that which is not often featured in Hong Kong movies endows an otherwise standard offering -- which never once succeeded in making me laugh out loud -- with some rather unique as well as downright cool scenes that make for amazing along with fun viewing.

My rating for the film: 7.
---
Just as a note to all the Amy Yip fans out there, I wanted to mention that she has a small cameo (if you can call anything the Yipster does small) that lasts for about a minute - but it is one in which her assets are very prominent.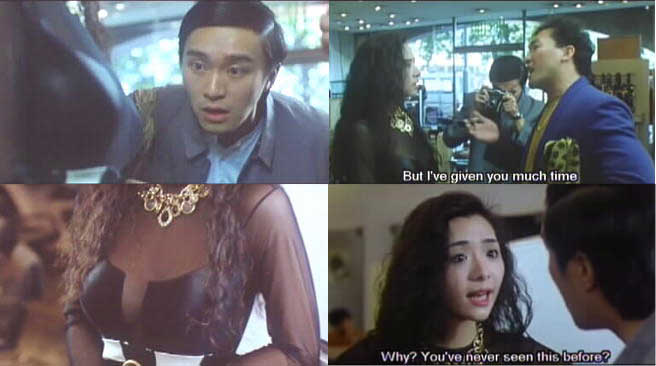 ---
DVD Information:
Distributed by Universe
The transfer is excellent.
Letterboxed
Cantonese and Mandarin language tracks
The subtitles with 4 choices: Chinese (Traditional), English, Chinese (Simplified) and Bahasa (Indonesia)
8 Chapters
It has it's own trailer plus previews for Love is Love and Magnificent Scoundrels.
There is cast infomation for Danny Lee, Stephen Chow and Teresa Mo. An interesting factoid on Teresa that I was unaware of is that she retired because she got married to Tony Au - a fairly well known director (Roof with a View).
The subs are easy to read.
---