---
Diana Pang Dan
Born in 1972
Measurements: 36 – 25 – 36, Height: 5'8''
Diana Pang Dan. Or "Mystical Breasts" as she was nicknamed in HK. To understand why, you will have to check her out in films like The Imp (1996) or Evil Instinct (1996). Let's just say she defies the laws of gravity. Every film era needs an actress who is amply proportioned and in a sense Pang Dan inherited this mantle from Amy Yip. Not only was she proportioned like the Yipster – she also acquired her sense of humor and her ability to tease the audience with glimpses but never quite full looks at her fine form. And how can you not like a woman like this who can tell the press with a straight face that she " is not looking for good looks or money in a man. Rather, the most important thing to Pang is that a man be kind hearted". If that's the case, she doesn't have to look any further!

She has never quite achieved the fame of the Yipster, but I lay this down to the fact that the films of the second half of the 90s' (when Pang Dan started acting) were simply not up to the films of the first half of the decade in which Amy was a part. Pang Dan's acting has been scoffed at, but I have to admit that she has quite grown on me. The more you see of her (acting that is!) the more you begin to appreciate her quirkiness and her willingness to make fun of her image and her assets. At the same time, she was clearly making use of her cleavage to make a name for herself.

Her background is quite interesting. She was born in Wu-Nan in the Mainland and from 1987 to 1990 she was the main actress at the Peking Ballet Dancing Troupe. Then she went on to graduate from the Dance Faculty of Julliard School in the USA. While studying in the States, she won the Miss China USA contest. She returned to HK and began making films and quickly became quite well known. Before this though she made an interesting film from the Mainland called Chinese Chocolate in which she plays a newly arrived immigrant in Canada. The film played a number of festivals and received quite good reviews. Even in this film though Pang Dan's cleavage had a prominant role!

Some of her more enjoyable – if tacky – films are the before mentioned The Imp and Evil Instinct plus Midnight Caller, Six Devil Women, Dangerous Duty and Saint of the Gamblers (at least Pang Dan's part). In the late 90's she started toning down her sexuality in her films and seems to be making an effort to go mainstream. Much to my dismay.

She was quite good in the Lau Ching-wan film HK Triad – but since then has made a number of low budget and not very interesting films such as HK Spice Girls, Tender Heart and Kingdom of Mob. Hopefully she will once again start displaying her "mystical breasts"!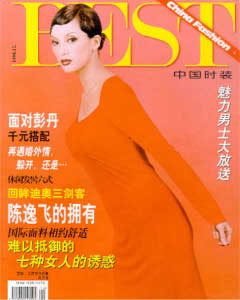 ---
Dick Wei
Wei was a captain in the Taiwanese army in the 1960s and after getting out he joined up with the Shaw Brothers in the early 70s. It really wasn't until the 80's though that he started becoming fairly well known as one of the best of the kung fu supporting actors. Nearly always portrayed as a bad guy (sadly, because when he is a good guy he is very good), his quiet fierce and deadly characters are great to watch and his kung fu moves are some of the best around. He often worked with Sammo and participated in some great films with him.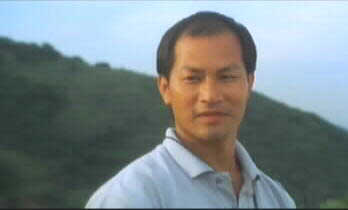 Some of his better films: Prodigal Son, Winner and Sinners, Project A, My Lucky Stars, Eastern Condors, Millionaires Express, Paper Marriage. He also appeared in lots of "Girls with Guns" films – In the Line of Duty III, Angels Mission, Angels Enforcers, Final Run and Angel Terminators.
---
Dicky Cheung Wai-kin
Born 02/08/65
He is one of the most popular actors on TV – and one of the highest paid – but don't ask me why. In the films I have seen him in he simply comes across as tiresome and juvenile. Maybe it's a language thing. He has been in such films as Holy Weapon (a film for which it has been rumored that he ended up directing as much as the official man in charge: The could care less Wong Jing), Future Cops, Chez N' Ham, Kung Fu Scholar and The Black Panther Warriors. He is a popular singer as well.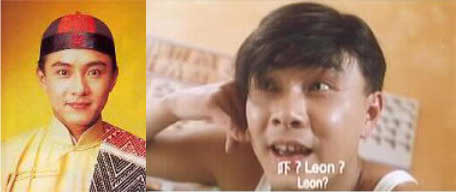 ---
Do Do Cheng Yu-ling/Carol Cheng
Born 09/09/57
In the late 80's/early 90's Do Do was absolutely one of the most popular actresses in HK. Her brittle, rapid fire delivery and cool looks made her a natural for the newer style of yuppie like comedies that were very successful during this period. She is just as adept in drama and I think one of the all around best actresses in HK. These days she is sticking to TV.
Her father was a veteran actor (Sai Gwa Pao who made over 200 films) and she followed in his path by joining RTV (a TV station) in 1976 and then jumping to TVB in 1978. She and another TV actor – Chow Yun Fat – had a huge hit with a series called "The Good, the Bad and the Ugly" which they then followed up with "Brothers" in 1980.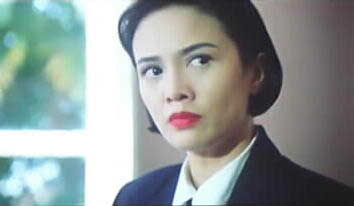 Her first film was in 1982 – The Last Affair (also starring Chow Yun Fat) – but she didn't really achieve success until the late 80's with films like Heart to Hearts, Yuppie Fantasia, Perfect Match, Doubles Cause Troubles and Heart into Hearts. One of her major successes was in the Her Fatal Way comedy series (4 films) in which she plays a rigid by the book iconoclastic Mainland cop slowly and humorously corrupted by the capitalism of HK. She received the Best Actress Award for the first in the series.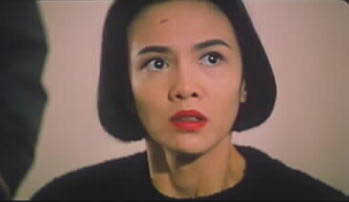 In 1988 when she starred in 9 films in quick succession, she acquired the title – "Miss Cheng of Nine Movies" and also won the Golden Horse Best Actress award for Moon, Sun and Stars. Other films would be of course in Jackie Chan's Armour of God II, Holy Weapon, The Banquet and the delightfully nasty Murder.
By the way, her nickname Do Do translates to "fat fat".

---
Donnie Yen Ji-dan
It seems many fans either love this guy or hate him. There is no doubt that he has stunning kung fu abilities – but his personality, ego, personal rumors on the Internet and recent selection of films has put a lot of people off.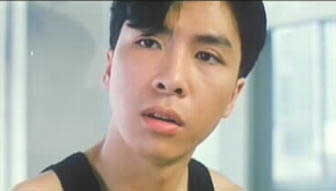 He was born in China – his mother a dancer and his father a violinist – but at an early age he first moved to HK and then later to Boston. His mother's health deteriorated and she took up martial arts to exercise and improve her health. She got so good at it that once in Boston she opened a dojo and began teaching. Donnie became one of her students at the age of 5 (and also studied classical piano at the same time), but after high school he went to China for further training. By that time though he had become Americanized and did not fit in at all. He then went to HK where legendary director/action choreographer Yuen Woo Ping discovered him and cast him in Drunken Tai Chi. The film is a bit of a mixed bag – but Donnie's acrobatics and athleticism are very apparent.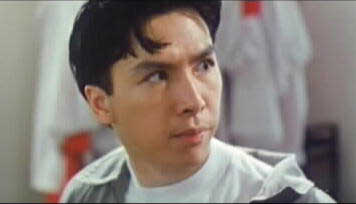 After another movie – also directed by Yuen - the awful Mismatched Couples (in which Donnie performs some break dancing!), he returned to Boston to help out his mother manage the dojo – but he couldn't stay away from show business and once again attempted to become a success in films. He continued working with Yuen Woo Ping on some other films and this time things worked out much better as he received roles in a few classic films – the not particularly related Tiger Cage 1 and 2 (he plays different characters in the two films), In the Line of Duty 4, Holy Virgin vs. Evil Dead, Dragon Inn (the evil eunuch), Iron Monkey, Butterfly and Sword, and Wing Chun. After this though he began producing his own films and the quality has suffered – Ballistic Kiss, Legend of the Wolf and Shanghai Affair. He made a quick jump to Hollywood for a part in Highlander:Endgame and so I have read has also produced a TV series in Germany. He is doing a fair amount of action choreography these days as well - the Japanese film Princess Blade being the best known.
Donnie's Web site can be located here.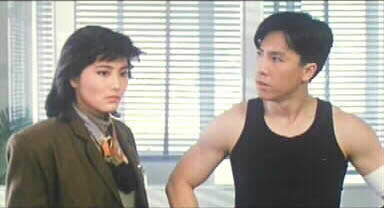 ---
Dorris Lung Jun Er
Ever since seeing a picture of her in a book – stylish hat shading her lovely face and making kung fu look like the next hot fashion trend – I have wanted to see a film of hers. I finally was able to (Shaolin Heroes) and found her to be absolutely enchanting. She looks incredibly attractive and her kung fu was if far from top notch certainly passable. Unfortunately, her career did not last very long due to what seems to be an unstable personality – there were three suicide attempts! – and she dropped out of the movies within a few years (1976-1980). Some other films were with Jackie Chan – Shaolin Wooden Man and Half a Loaf of Kung Fu. In these few years she did make a number of films - around 25 of them - here are a few more: The Jade Fox, Fighting Ace, Along Comes a Tiger, Duel with the Devils (co- starring Angela Mao!), Secret of the Shaolin Poles, 18 Bronze Girls of Shaolin, Knife of Devil's Soul, Eunuch of the Western Palace, 2 Assassins Against the Darkness and One Armed Boxer 2 (aka return of the One Arm Boxer; One Armed vs Flying Guillotine; Master of the Flying Guillotine).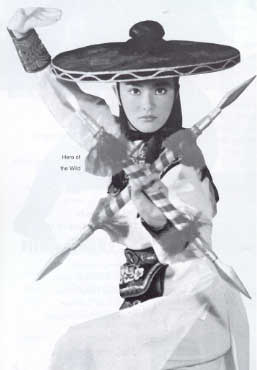 ---