---
Eason Chan Yik Shun
Another HK pop singer just turned actor in Twelve Nights. He is a good looking fellow and perhaps for nearly a first performance he was not bad - but I have to say his character was quite annoying – always looking as if he had gotten out on the wrong side of the bed. He was also in Rumble Ages and City of Glass. Over the past few years he has taken on some very solid roles in films like Visible Secret I and II, Funeral March and Demi-Haunted but I still don't see any particular charisma or talent from his performances.
A report on Sanney's site had this information on Eason - "His career started on July 16, 1995, a date he rattled off easily because that was when he won both the first prize and the Best Individual Interpretation Performance prize at Hongkong's 14th Xinxiu Singing Competition. Shelving his architectural studies for a singing career, he has not looked back since, going on to win 15 major awards, including a number of Best Song prizes, for his vocal prowess over the years."
His father who worked for the government was convicted in 2003 for financial corruption and sentenced to jail.

---
Eddie Chan/Ngai Dik
The transvestite serial killer in He Lives By Night and also was in the horror film Devil Fetus and the Danny Lee film Law with Two Phases.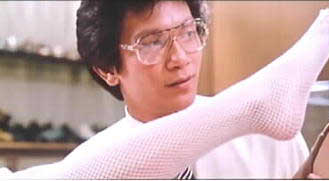 ---
Eddie Ko Hung
This actor has been portraying tough characters for two decades now. His burning eyes and nearly always mustachioed visage has generally consigned him into the villain category, but he showed with John Woo's Heroes Shed No Tears that he could do tough good guy just as well.

He just has this very cool sense of authority and stillness around him. Some other films that he was in were: The Postman Strikes Back, Duel to the Death, Miracle Fighters, Burning Ambition and Dreaming the Reality. In many of these films he has displayed some great action skills. He is still working and was in fact in the recent film The Mission in which he played Mr. Ko – the target of the killers.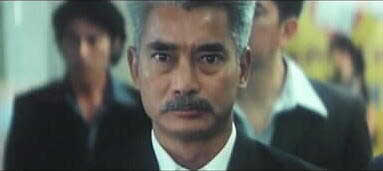 ---
Eddie Maher
One of those gwielos that almost always portrayed villains in many of the Girls with Guns films. He definitely shows some excellent kung fu moves – though his fate is inevitably to end up dying or being beaten at the hands of one of our heroines. Some films to see him get his comeuppance in are: Yes Madam (the fellow who fights Michelle Yeoh and Cynthia Rothrock in the airport), In the Line of Duty 4 (goes against Cynthia Khan in this one), Mr. Mumble, New Kids in Town, Royal Warriors, Proud and Confident (the main terrorist) and Sea Wolves.
Here is some information I received from a fellow:
"Eddie was undefeated in over 10 years of HK full contact fights and is probably the nicest person I've ever met. He currently has a production company with Mark Houghton and is from Macau (and is half Chinese)."

---
Edison Chen
Born: 10-7-1980 in Vancouver
(Received the following from MC Truong)
Edison is one of the most popular singers in Hong Kong today; he's also an actor. Edison is one of the many loved idols in Hong Kong, China, Malaysia and throughout Eastern Asia. He was born in Vancouver, Canada and somehow made his way to Hong Kong and became what he is today, some people may say he's spoiled since he comes from a wealthy background. He has 2 sisters, Patricia and another (whose name doesn't come to mind right now). Patricia herself is a model, and wannabe actress. In magazines months ago, Edison had said, he did not want his sister to go into acting, that she did not need to take his job. But somehow that does seem rational.

He is supposedly going with female singer BoBo Chan, and fans seem very very unhappy and angry. Edison also keeps denying he does go out with BoBo, but he's seen so frequently with her. A few of his good friends would be singer/actor Nicholas Tse and singer/actor Sam Lee.
Edison has a busy schedule pertaining to him making movies and recording new CD albums, he's made and is making about 4-5 movies. His first appearance was in the sequel of Gen X Cops, Gen Y Cops and went on from there to Final Romance which again he co- starred with Sam Lee. His two newest films are Dummy Mommy Without A Baby co-starred with Miriam Yeung and Dance Of Dream co-starring long time actor/singer Andy Lau. And there is his long awaited film Princess D. His CDs old, recent and upcoming CDs are: GEN Y COPS soundtrack, Edison Chen EP, Visual Diary I, visual Diary II, a new Mandarin album Ed Is On and another upcoming Canto album Peace and Love.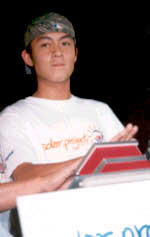 I think Edison Chen was discovered when he first made a commercial for a credit card featuring Cecilia Cheung and Leon Lai. On the subject of Edison Chen and commercials, Edison also sponsors PEPSI and has made a couple of commercials for them, my favorite would be the 2000 New Years Pepsi commercial, featuring Aaron Kwok.
Seeing how this guy's career is going, I think we'll be seeing him much more for years to come.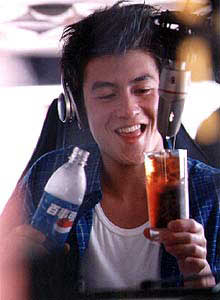 ---
Edmund Leung Hon-man
Born on 11/05/71
Edmund won a TVB new talent singing contest - and from this he went on to a career in both singing and at TVB. At one point he was hyped as "the next big superstar", but though this hasn't happened he is a popular singer in HK. His album "Breath" was received with much critical praise. He has used his innocent good looks in film as well - the young man in Mongkok Story, Banana Club, Take Five and Gigi Lai's courter in the awful Super Energetic Man.

---
Eileen Tung Oi Ling
Born on 11/23/72
This lovely winsome Taiwanese actress has been in only a few films – but the number of web sites dedicated to her are evidence of her popularity. I think much of her popularity revolves around her singing career.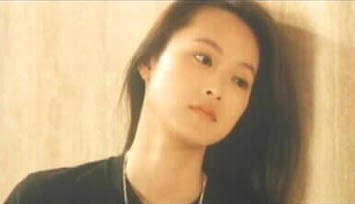 Some of her films are Under the Rainbow, Over the Skirt (the object of the young man's desire), Most Wanted (1994), Mack the Knife, Your Place or Mine (1998) and Sunshine Kids (1999). Her favorite sport – bowling!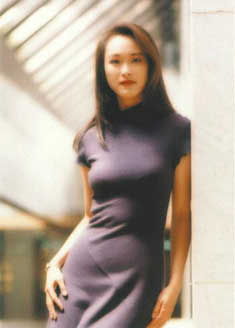 ---
Ekin Cheng Yi Kin/Dior/Noodle
Born on 10/04/67
In one of the greater mysteries of life, Ekin has managed to overcome various name changes and an empty cupboard full of talent to become perhaps HK's biggest movie star in the second half of the nineties. How did he do this? Sure he is good looking – but he is nearly unable to change his expression on screen – it looks like his face would crack if he were to attempt this – and he has no action skills (which has been an entry for many HK actors in the past) – and yet he is everywhere. When he started dating Gigi Leung and dumped his old girlfriend Maggie Sui, it was front-page stuff and became the obsession of the HK press corps for months. In an interview Ekin said simply "I'm just an ordinary guy who had fallen out of love and who simply wanted to carry on with my life."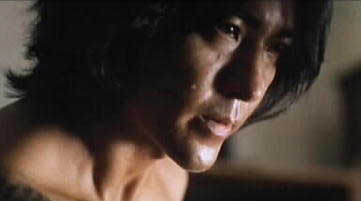 I lay his success down to the Idolization of HK films over the last few years. To some degree this has been going on for years – i.e. Andy Lau, Aaron Kwok – but never like this. Idol Making machines find a new attractive face – push it onto every magazine – get them a singing contract – have them appear at every event and hope lightening strikes. The way they look and dress has become far more important than their acting ability. But give Ekin credit – he is the King Idol and has stayed on top while other Idols come and go - but now that he is into his thirties one has to wonder how much longer this can go on.

Like many actors, he first began acting training at TVB – was in several dramas and the children's show Shuttle 430 and then made his debut film (Girls Without Tomorrow) in 1992. He also appeared in other fluffy films such as Boys are Easy (in a similar role to that he had in Girls Without Tomorrow: I.e., as a man who is so shy around women that he's an over-aged virgin), I'm Your Birthday Cake, Future Cops and Mermaid Got Married. Then in 1996 he starred in this silly little film called Young and Dangerous – that became a gigantic phenomenon and Ekin was well on his way to Idolhood. Many more Y&Ds came his way, the Feeling 100% films – and then finally with the help of computer generated effects he became a huge action star with Storm Riders (1998) and A Man Called Hero (1999). He admits that he is not really much of an action star though and that his dream "is to take part in a simple story [that is] the saddest love story ever - something I've wanted to do since I left TVB's Artist Training Class. No fancy set like Titanic though, but more intense on the emotional level."

What's amazing is that his acting has actually gotten worse over his career – it is as if Idolization has set his face in stone. It will be interesting to track his career as he gets older – how long can he stay on top of the pops?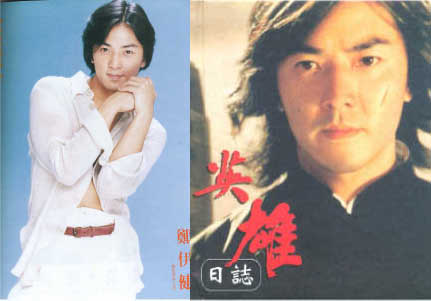 ---
Elaine Kam Yin Ling/Elaine Jin/Elaine Gam
The mother in Gorgeous (1999), Tempting Heart, City of Light and the Soong Sisters (1997) all had one thing in common. Elaine Kam played them all. It's amazing how quickly she moved to motherly roles.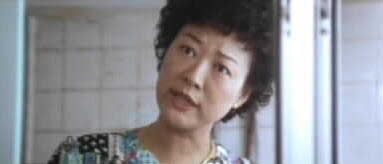 It was only in 1989 when she played the sexy female gun smuggler in Wild Search – but her credits go back to the mid 70's. Some of her better known films are I am Sorry, Love Unto Waste, King of Stanley Market and Heart into Hearts. This Taiwan-born actress was also in this terrific Taiwanese film I saw a few years ago called Confucian Confusion.

---
Elaine Lui Siu-ling
One of the few highlights in Sammo Hung's TV show Martial Law was the appearance in a few episodes of Elaine Lui who played the deadly evil daughter of Sammo's nemesis. I hadn't seen her in anything since 1995's Red Wolf and had no idea what she was up to or how she looked. All I can say is she looked fabulous – lean, mean and sexy – and very flexible.

Elaine was in Angel (1987) the film that really got the Girls with Guns films underway and the film that kick started the careers of Moon Lee and Yukari Oshima. Even though Elaine was also very impressive in this film, for some reason it didn't seem to give her career the same boost as it did the others. A year before Angel, Elaine had shown some terrific action credentials in a little known film called Innocent Interloper – and after Angel she made Angel II – but her filmography only totals to around 10 films. Two of these besides the Angel films are classics though – Stone Age Warriors and Bride with White Hair – and Bullet for Hire (1991) is a solid film tool. She was interviewed for the fighting femme film compilation Fighting Deadly Dolls and in the interview she definitely comes across as somewhat bitter that she didn't achieve more success. I think it's a shame as well.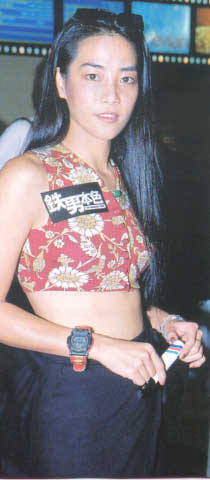 ---
Elizabeth Lee Mei-fung
Born 08/31/63
The moment Elizabeth Lee turns her head and smiles in The Greatest Lover, Chow Yun Fat loses his heart – and its no surprise. She looks gorgeous – all chiffon and chewy caramel. Of course in the end Chow falls in love with Anita Mui and leaves Elizabeth broken hearted.

To some degree that seems to exemplify this Singaporean's acting career. Though she was in a number of good films (and some not so good ones) she never made a real breakthrough and ending up retiring only eight years after her first film in 1988. She was the evil ghost in Picture of a Nymph and was also in Gunmen, Yuppie Fantasia, one of the few survivors in Widow Warriors, Sword Stained with Royal Blood, Lady Reporter and the target of Anthony Wong's insanity in Love to Kill.

---
Elle Choi Suet-man
Born 02/07/80
She went to school in Australia and has just recently gotten some good roles in solid films - Lord of Amusement and True Love – and is in the Idol Machine. According to Sanney's site she is having troubles with her fellow Idols on the make!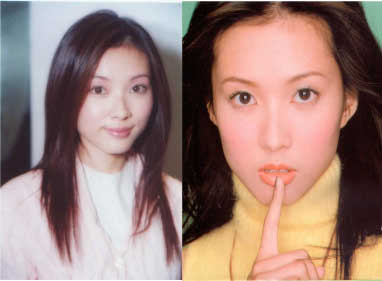 ---
Ellen Chan Nga Lun
Born 02/16/66
Ellen Chan was definitely one of the sexier stars in HK from the mid 80's to the mid 90's. She never quite made it to the "A" list in terms of films, but she had and still has many fans. In the 80's she was in a number of solid films - Sam Hui's secretary in Aces Go Places 5, Tiger on the Beat 2, one of the squad in Inspector Wears Skirts and Max Mok's love interest in Lung Fung Restaurant. Even in these relatively innocent films, she had a smoldering sexuality to her - but it was hidden to some degree under an extremely cute and chipper veneer.

In the 90's though, for whatever reason, she decided (ala Loletta Lee) to take advantage of her fabulous looks and made a few Cat. III films that displayed some of her charms. These were Fatal Love (with Michael Wong), Why Wild Girls and then the classic Love that is Wrong in which she played a murderous lesbian. Her movie career seems to have come to an end in the mid 90's with another "B" classic Eternal Evil of Asia. John Charles reports on his site Hong Kong Digital that she was actually blacklisted from films for publicly referring to the "casting couch" policy of director Wong Jing. She has recently been in a Mainland TV production and a few low budget HK films in 2002 - Salon Beauty and Market's Romance - and she still looks great.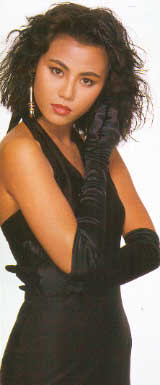 ---
Elsa Yeung Wai-san/Yang Hui Shang
This actress from Taiwan has appeared in a few cult like films – Pink Force Commando, Golden Queen Commandos, Thrilling Bloody Sword (the villainess) and Five Lady Venoms and some low budget films (Life of Ninja, Impossible Woman, Seven Knights) with kung fu legend Chen Kuan-tai in the 80's. Elsa had an affair with a Taiwanese actor (whose wife is a famous writer) and the scandal destroyed her film career. After this, she and her lover ventured into the glass-making business. Presently, she is one of the world's most famous glass-making artists and most of her work is considered a treasure by collectors.
(Write-up from Sebastian Tse)

---
Elsie Chan Yik Si
Elsie had a cuddly sweet look to her with just a hint of sexiness thrown in that made her quite alluring in her short film career. She was the eldest daughter in the Mad Mad Mad World comedy series, the happy go lucky prostitute in Call Girl 88 and one of the lady cops in Operation Pink Squad
After quiting the film business, Elsie joined her mother in a business in China. Currently though, she is up to her neck in trouble as she is being sued by Chinese banks operating in HK for embezzling over HK$50 million!
(Info provided by Sebastian Tse)

---
Emil Chow/Chau Wah-kin
Born 12/22/60 in Taiwan
Emil is primarily known for his singing ability – but he dabbles from time to time in film, as is much more the practice in Asia as compared to the United States. His acting is quite low key – but reasonably good. He was the HK cop that teamed up with Michelle Yeoh in Project S (N.B. the end song in the HK -- as opposed to American dubbed -- version of this film is sung by him), the head cop in Purple Storm, Jackie's friend and rival in Gorgeous and was wedded to Anita Yuen in Just Married. He also makes a cameo appearance (as himself) in Who's the Woman, Who's the Man.
---
Emily Chu Bo Yee
Born 10/31/60
Emily was born and raised in California and went to HK to get work as a model. Film offers quickly came to this dark eyed shy smiling beauty – first from Jackie Chan as his girlfriend in Heart of Dragon (1985), a small part in Millionaires Express and then two very good roles. She co-starred with Chow Yun Fat in The Witch from Nepal in which they shared a steamy love scene and then was Leslie Cheung's wife in A Better Tomorrow I and II. Her scene in which she is giving birth as he is dying and yet talking to her on the phone is a classic melodramatic Woo moment.

After this she had a few other decent parts – in the classic Rouge and the odd film Scared Stiff – but she also was making some very weak films like Ghostly Love, Visa to Hell, Vampires Breakfast, Devil's Curse. Her last film appearance was in 1992.

---
Emily Kwan Bo Wai
Her filmography has more trash in it than the city dump. Though I don't know anyone who likes her all that much, she has appeared in a truck full of Cat III films – some of them classics in bad taste. Dr. Lamb (the dim female cop), Untold Story (again the dim female cop), Dream Killer, Bloody Friday, Love in the River, Hanky Panky, Desirous Express, Twist, Spider Woman, Yu Pui Tsuen III, Severely Rape, Temptation of an Angel. Get the story? What's really odd is the fact that she has also appeared in two terrific Ringo Lam films – as the policewoman in both Full Alert and Victim. She must have pictures! In the dvd commentary for Untold Story, Anthony Wong mentions that she was in the same acting class as him but she didn't learn much and was terrible in the film!

---
Emotion Cheung Kam-chin
Emotion was the much loved sushi boy in the cult classic Bio-Zombie. A few other films in his filmography are – Love Cruise, Demon Baby, Gigolo of Chinese Hollywood and Love and Sex in Eastern Hollywood.
---
Eric Kot Man-fai
Hold on a second while I scream. Arrrrrrrggggghhhhhh! OK I feel better – but that's what watching Eric Kot generally does to me. Loud, obnoxious and silly only begin to hint at his style of comedy. He has to be the most irritating man in HK cinema. His presence in a film makes me want to hide out in a padded cell. His comedy is generally like being hit over the head with a dull brick until you collapse into a heap of drooling spit.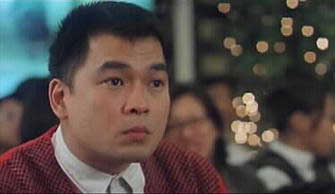 He was initially part of a comic duo (Soft and Hard Core Kids) with his partner Jan Lam – and the two of them then made a number of film appearances together – To Spy with Love (1990), Tricky Business (1995), Run (1994), Conjugal Affairs, Tale from the East, Land of Treasure and City Hunter (1993). Around 1995 Eric began making film appearances in his own right – Love in the Time of Twilight, Mean Street Story, Saint of the Gamblers, Feel 100%, Lawyer Lawyer, He comes from Planet K and recently Sausalito. In nearly all of these his characters feel like they are acting in a different movie from everyone else. Apparently though he is fairly popular in HK. Not to be completely unfair I did enjoy his performance in Love Amoebae Style. He also turned in an okay performance as a shy suitor of Sandra Ng's character in Juliet in Love. As an addendum - I will say that his screen persona appears to be maturing and after his role as the sifu in Just One Look and the assassin in the lovely comedy You Shoot, I Shoot, I look forward to his future work.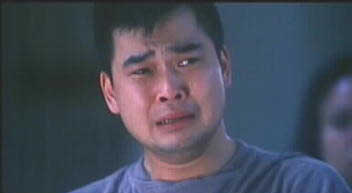 Interestingly, he has directed three films – a segment in 4 Faces of Eve (a Sandra Ng showcase), Dragon Heat and First Love: the Litter on the Breeze (which was produced by Wong Kar Wai) – and though I have seen none of these they have good reputations among the art house crowd.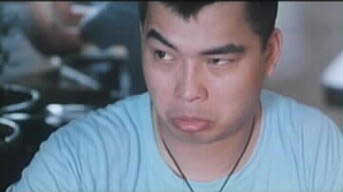 ---
Eric Tsang Chi-wai
Born 1954
For many of us who first became familiar with Hong Kong film back in the 1990's, the idea that one day the Hong Kong International Film Festival would honor Eric Tsang by choosing him as their "Filmmaker in Focus" in 2008 would have sounded totally bizarre; as if it was an announcement from a parallel dimension. You mean that funny looking guy with the short rotund body, the mortar sized and shaped head and an infantile laugh? To most of us, he registered only as a frantically eye popping comedic actor who appeared to be just barely on the plus side of mental retardation. This simplistic impression came from his roles in the Lucky Star series and a plethora of girl chasing Cinema City comedies.
What wasn't so apparent to many of us is that he was already an influential force behind the camera as a director and producer. As he grew into middle age during the 1990's he finally came into his own as an actor; getting serious roles to which he brought a surprising depth and gravitas to his characters whether they were tough triad bosses, lonely homosexuals or a down on his luck fellow listening to a prostitute tell him her life story. Looking back now one can spot certain earlier films in which Tsang displayed some of this acting talent, but they were often in small films that few of us saw such as Final Victory (1987) directed by Patrick Tam and written by Wong Kar-wai, Fatal Vacation (1990) as the courageous tour guide and Alan and Eric: Between Hello and Goodbye (1991) directed by Peter Chan.

But today while still having an active acting career, Tsang's influence in the film industry has continued to grow and he along with a few others are all that stands between the survival of the industry or giving up the ghost. He mentors young directors, finds funding for other people's projects, hands out advice, acts in films and just keeps going. So in fact, it is really no surprise at all that HKIFF honored him. They put out a small book on Tsang with interviews and information about his life and I thought I would dig through this and write up some pertinent facts about his career.
His father was a football coach and Eric followed in his footsteps by becoming a professional football player. To bring in some extra cash, he asked his friend Sammo Hung if he could find him some work in the film industry. Sammo brought him in as a stuntman and Tsang never looked back – he fell in love with making movies immediately. He became part of Lau Kar-leung's team and went to Taiwan to work for the Chang Cheh Film Company. After a few years he joined Sammo's stunt team and says "I'd been with Lau for a number of years and his style was real kung-fu while Hung was all about somersaults and rolls. Working with them was like going to two different universities." While working as a stuntman on Karl Maka's The Good, the Bad and the Loser in 1976 Maka advised Tsang that with his ability to tell stories he should try his hand at scriptwriting and so Tsang did.
He helped out with script duties on the classic The 36th Chamber of Shaolin for Lau and Enter the Fat Dragon for Sammo – then became the script supervisor on Sammo's The Iron Fisted Monk in 1977 and moved up rapidly to assistant director and editor on Sammo's Warriors Two in 1978. He acted in John Woo's 1977 film Money Crazy and had this to say about him "He always had his collar up, a cigarette dangling from his lips and was always pretending to be a gweilo so he was called the French Gangster".
His first director gig came about in an interesting manner. He was working on the script for Jackie Chan's The Fearless Hyena in 1979 when Lo Wei along with Raymond Chow from Golden Harvest asked him to bring Jackie back from Taiwan to make some films – but Chan never showed up and so Tsang suggested that he direct a film in the meantime – The Deadly Challenger in which he brought on his drinking buddy David Chiang as the lead. The Loot (1980) also with Chiang was soon to follow but before long Tsang was to take his next important step in film production.

By 1980 Hong Kong cinema was beginning to go through a major transition that would lead to an astonishing fifteen years of innovative films, great charismatic actors and new dynamic directors. During the 1960's through much of the 70's two Mandarin film companies – the Shaw Brothers and Cathay – had dominated the market place and in doing so had practically made extinct the Cantonese film. But Cathay had gone out of business in the late 60's (selling their property to a new company called Golden Harvest) and the Shaw Brothers were clearly running out of steam and were to close film shop by the mid-80's. This void allowed a new group of actors/directors/producers who made Cantonese films to make their way onto the scene and who upped the energy level considerably. The first major new player on the scene in the early 70's was Golden Harvest (first with Bruce Lee but even more so later with Jackie Chan, Sammo Hung and the Hui Brothers) who began the dramatic transition from Mandarin to Cantonese language films.
In the early 1980's another company began to make waves – a commune of filmmakers who banded together to get financing and to make a different kind of film – modern comedies for the most part that were also loaded with action. This was Cinema City that was initially formed by Karl Maka, Dean Shek and Raymond Wong but then expanded to include Tsui Hark, Nansun Shi, Teddy Kwan and Eric Tsang. Tsang says "When I first left Lo Wei's company, there were a few options. Jackie Chan, Sammo Hung at Golden Harvest, and Yuen Woo-ping all offered. At the time my inclination was either Chan or Hung, but Chan's company wasn't approving my expected salary. It was only because I bumped into Maka on a flight to Taiwan and he said I should go to Cinema City. He immediately approved the $20,000 I needed to cover all car, mortgage and family expenses. We shook hands and that was that".
The seven of them spent hours simply sitting around and throwing out ideas and building on others. They went home to change clothes and came back to trade some more thoughts. Tsang says "the best chemistry I had was with Tsui. I was also the one who understood the most of what he was saying. Everyone else would just stare at him". Tsang's first film as a director was Aces Go Places, an enormously fun film that starred Karl Maka, Sam Hui and Sylvia Chang and broke box office records. The success of this film forced Tsang to direct the sequel (three more came after that but were directed by others). Tsang was the first to leave Cinema City around 1985 and began working for Bo Ho, Sammo's film company, where he helped write scripts and produce films like the Lucky Star series and Mr. Vampire (that became a cottage industry on its own) and directed the Jackie Chan film Armour of God in 1987.
By 1987 Tsang thought it was finally time to break out on his own and set up his own production company – Alan and Eric Films formed with Alan Tam and Teddy Kwan. In this film company and his next Friend Cheers, Tsang generally focused on smaller more artistic films often using new directors. Some of these titles were You're My Destiny, Trouble Couples, The Other Half (directed by Clara Law), Women's Prison, Golden Swallow, Fatal Vacation, The Tigers, Alan and Eric: Between Hello and Goodbye, Zodiac Killers (directed by Ann Hui) and others – but none of these really hit box office gold and the production companies all went out of business. It was to be Tsang's next production company that made some of the best films of the 1990's – UFO (United Filmmakers Organization).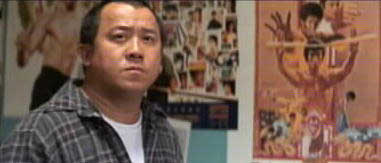 Formed in 1993 by Tsang UFO targeted the middle class as their audience and shied away from action or fantasy films instead doing contemporary dramas and comedies with some of Hong Kong's best talent in front of and behind the camera. Tsang's role was primarily as the money guy – it was up to him to find financing for ideas that directors like Peter Chan, Joe Ma, Teddy Chan, Lee Chi-ngai, Benny Chan, Samson Chiu and others had. Out of this arrangement came such fine films as Yesteryou, Yesterme Yesterday (1993), Tom, Dick & Harry (1993), He Ain't Heavy, He's My Father (1993), Twenty Something (1994), He's a Woman, She's a Man (1994), Lost and Found (1996) and Comrades: Almost a Love Story (that also had one of Tsang's first great performances that was to foreshadow many more to come). But near the end UFO gambled on some big budget films – The Age of Miracles, Heaven Can Wait and Whatever Will Be, Will Be and their lack of success caused the company to largely fall apart by 1997. Their last film in co-operation with Golden Harvest was And I Hate You So in 2000.
This seems to have taken the starch out of Tsang for a few years and he went back to simply acting – some of his best though – Task Force (1997), Hold You Tight (1998), Metade Fumaca (1999), Cop on a Mission and Merry-Go-Round (2001) and Infernal Affairs (2002). But producing eventually took a hold of him again and he worked with Peter Chan to produce The Eye and Three: Going Home and with others on Golden Chicken, Men Suddenly in Black, Three . . . Extremes, Jiang Hu, The Pye-Dog and After this Our Exile. He is one of the few go to guys in Hong Kong film – someone who just won't allow it to die.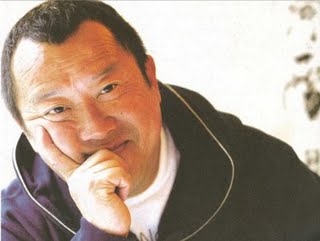 ---
Eugenia Yuan/Yuen
Though (supposedly) U.S./Hollywood based, the eldest of three daughters of legendary actress, Cheng Pei Pei, has also appeared in Flying Dragon, Leaping Tiger (where she has a smaller fighting female role then her mother) and the Peter Chan directed portion of Three (as Leon Lai's character's wife). With these two films she has shown a terrific range – showing some solid action moves in Flying Dragon, Leaping Tiger and in Three she takes on a highly unusual role and gives it an astonishing amount of poignancy.

Among the U.S. raised woman's Stateside appearances has been one movie (Charlotte Sometimes) along with guest appearances on TV series like Martial Law, NYPD Blue and Baywatch. Despite this 2003 HKFA Best Newcomer (for Three: Coming Home) having had more professional success thus far than sister Marsha, Eugenia appears to have chosen to be based in the U.S. rather than focus on having a career in Hong Kong cinema.

---