---
Damian Lau Chung Yan
Born 10/14/49
Damian was often cast as the silent handsome good guy heroic type in a number of the sword fighting fantasy films of the 80's and 90's. One of his first major roles was in John Woo's Last Hurrah for Chivalry in 1979 and he continued in this vein a few years later in the classic films Duel to the Death and Zu Warriors. He even played a similar role in the off the wall comedy Holy Weapon. One of my favorite roles of his though was as the smarmy villainous husband in Murder.

Some other films: Royal Tramp, The Heroic Trio, Executioners,What Price Survival and The Magic Crane.
---
Dang Bik Wan/Tang Pik-wun
A veteran actress since the 1950's, she has appeared in hundreds of films. Perhaps one of her best known roles to modern audiences was as the very tough mother in She Shoots Straight. She was also the determined mother in Perfect Girls who wants to see her son married. You can also catch her as one of the unlucky vacationers in Fatal Vacation.

---
Daniel Chan Hiu-tung
Daniel is one of the more popular HK singers these days - and is part of what has been termed the"Four Young Kings of Canto-pop". He has starred in the film A War of No Desire as Francis Ng's brother, but most importantly - the lucky guy is going out with Cecilia Cheung!

---
Daniel Wu Yin-cho
This model turned actor is from San Francisco and actually studied architecture and wushu before moving to HK to try his hand in film. After graduating from the University of Oregon in architecture, Wu went to Hong Kong to witness the Handover. After running out of money he picked up some work as a model and was spotted by the art film director Yonfan and cast in his film Bishonen (1998). Soon he was also playing footsie with another model turned actor, the lovely Maggie Q.
Almost immediately, he was able to get some solid roles – his debut in Bishonen as the gay policeman, the son in City of Glass and then in Young and Dangerous: The Prequel. He has quickly moved on to the A-list with substantial roles in Gen – X Cops, Purple Storm and 2000 A.D. In the years of 2001 and 2002, it at times felt as if Wu was in every film - a number of them high profile films such as Peony Pavilion, Beijing Rocks, the big hit Love Undercover and Sylvia Chang's Princess D. Along with these though have been films like Beauty and the Breast, Devil Face, Angel Heart, The Peeping (with a steamy love scene with Teresa Mak) and as Maggie Q's love interest in Naked Weapon.

---
Danny Lee Sau Yin/ Li Hsiu Hsein
Born 1953 in Shanghai
Lee is apparently something of a "cop groupie" – enjoys hanging out with them – and clearly portraying them in films and as one director said of Lee – "he really thinks he is a cop!" It is usually a sure bet that if he is appearing in a film he will be a policeman. The man who is sometimes referred to as "Lee, Sir" in real as well as reel life has made a damn good career of it though and many of his films are considered classic cops and robbers flicks. His most famous film of course is as Chow Yun Fat's opponent and then ally in The Killer.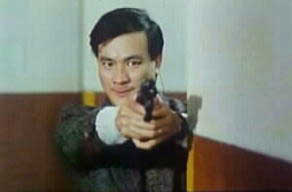 In 1970 he enrolled in an acting training class organized by the Shaw Brothers and began appearing in many films (under the name Li Hsiu Hsein) after his debut in 1973 (River of Fury). Two are now considered classic camp films – Bruce and I (in which he plays Bruce Lee) and Mighty Peking Man, but some others such as Brave Archer are classic kung fu films. From 1978, he began producing and directing his own films and his obsession with crime films -- including some of the more infamous violent Category III works, frequently featuring the kind of police interrogation techniques which seems to be less than legal (e.g., Dr. Lamb, The Untold Story, Organized Crime and Triad Bureau, Twist) -- became more apparent.
Within the next decade he was in Red Shield, Law Enforcer, Law with Two Phases (for which he received the Best Actor Award), No Compromise and many other cop films. His solid if far from flashy personality makes him ideal in these types of roles. One film in which he played against his image was Walk In and he was terrifically funny. Lee is also credited with "discovering" Stephen Chow though he was to generally utilize him in dramas rather than comedies ( he did direct Chow in the comedic Legend of the Dragon). He is still making films today and has co-starred with Stephen Chow's supposed replacement Nicky Cheung a few times.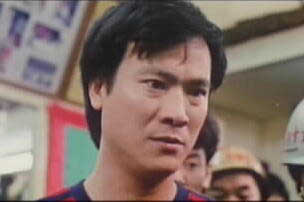 MC Truong has been kind enough to put together some information on Danny:
Danny Lee was born in Shanghai, in 1953. At the age of two, he, his mother along with his four brothers and one sister moved to Hong Kong. Danny Lee had a spasmodic education. And from a interview I've read, Danny Lee says "I've always wanted to be a cop" from when he was young growing up in Hong Kong seeing all the "AH SIRS" walking around. From then he knew what he wanted to be. But he has said, "I didn't take any of the tests to pass as a police officer, and the salary I was making was more than what it took to be an officer". Then later he enrolled in Shaw Brothers and TVB's acting/training class. He appeared in a series of Shaw Brother films.
From 1971-1975 he starred in: The Water Margin, The Deadly Duo, Four Rider, The Iron Bodyguard, The Blood Brothers, River of Fury, Two Lucky Guys, Gossip Street, Savage Fire, Queen Hustler, More Love, Imposter, All Mixed Up, The Big Holdup and The Super Ultra Man. Then in 1976 he made other films such as, BRUCE & I a.k.a. THE LAST DAYS & NIGHTS OF BRUCE LEE in which he starred with Betty Ting Pui. And for the years of 1976-1980 he was in the next following movies: Oily Maniac, Lucky Star, Killer Clans, Erotic Nights, Battle Wizard, Killer On Wheels, The Brave Archer, the well known, Mighty Peking Man, The Ghosts, Love Storm, The Superman, Games, The Call Girls, God Father's Fury, The Brave Archer II, King Of Money-King Of Fighter, Swordsman, Murder Plot, He Who Never Dies, The History Of Kung Fu, Eight Topless, Tiger Brothers, The Heroes, The Informer, The King Of Gambler, King Of Gambler, The Hero, Two Fighters, Midnight Action, Poison Needle and Cop.
As a decade had came and gone, a new one comes along, and in this new decade comes along with Danny Lee's new movie(s) which are gonna be the following from 1981-1989: Big Boss, Gamblers Delight, Last Game, One Way Only, Murder Purses, Dirty Angel, Behind the Storm, Perfect Match, Oh! My Cops!, The Sensational Pair, The Tattoo, Double Trouble, Law With Two Phases ( in which Danny Lee won a Golden Horse *Best Actor* Award), Chase A Fortune, Cop Busters, Cops in The Town, Law Enforcer, Brotherhood, City On Fire, Parking Service, Tragic Hero, Vampire's Breakfast, Road Warriors, Rich And Famous, Criminal Hunter, No Comprise, Final Justice, Just Heroes, Aces Go Places, The Killer, Thank You, Sir, Undeclared War, The Big Score, Tiger On The Beat, and Blue Lightning.
Then the 90's rolled in, and everything gets better and so do the movies. These next movies are from 1990 all the way to 1999 and then there are still more! : It Takes Two To Mingle, The Unmatchable Match, Against All, Red Shield, Against All, Rhythm Of Destiny, Dr. Lamb, The Night Rider, Love to Kill, Sword Stained With Royal Blood, Run And Kill, The Untold Story, Love is a Fairy Tale, Organized Crime and Triad Bureau, Fearless Match, Asian Connection, City Cop, Death Blow, To Be Number.1, Walk In, Man Wanted III, Young and Dangerous 5, The Untold Story III, and He's my Enemy, Partner and Father In Law.
In the new millennium (year 2000) our people and world have evolved around us, so has the technology world along with our own and so has Danny Lee himself, (If you would check out the pictures, the dude has gotten a BIT old. From the year 2000 to now in the year 2001, and upcoming 2002, Danny Lee has once again appeared in numerous films, in the role of...as always a COP. I've checked out many of his films myself and those films would be: Mafia.com, Hong Kong History Y, The Killer of the Lonely Heart, Romancing Bullet, Untouchable Mania, & White Storm. He's also appeared in one TVB series within the year 2000 and that would be the series: A MATTER OF CUSTOMS * Lui Ting Dai Yut Gwan *. He stars in that series with Liza Wong Ming Cheun. And in his role in the series ISN'T A COP, he turns out to be a business man that at the end gets SENT TO PRISON, so I guess he got the role knowing it would be playing against his usual self.
Danny Lee's appearance may be different nowadays, but his style in acting and talking is still the same, and I think Danny Lee is one of those actors that gets chances to act with the most talented people we know today like, Ada Choi, Liza Wong, Chow Yun Fat, Aaron Kwok, Ekin Cheng etc.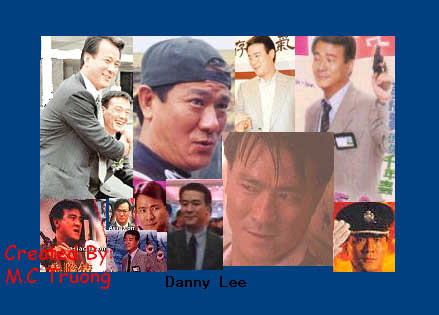 ---
Dao Tai Yu/ Michael Tiu Dai Yue
A fairly popular television star, he has appeared in a few films. Some of them: A Love that is Wrong, Street Angels, Haunted Karaoke and Ungrateful Tink.

---
Dave Wang Kit
Like so many Hong Kong entertainers, Wong Kit has both an acting and singing career going on. Though he has film credits from the early 90's – Casino Raiders II (the young kid who teams up with Andy Lau) and Invincible – he didn't truly get into the film business until 2000 with the film The Legend of the Flying Swordsman.
Since then he has appeared in a few other solid films – A War Named Desire (as Gigi Leung's character's brother and Francis Ng's character's right hand man), Roaring Wheels, Esprit D'Amour and co-starred with the Twins in Summer Breeze of Love (2002).

---
David Chiang/John Keung
Most of today's Hong Kong viewers would know of David Chiang for having played Luke, the ill fated would be revolutionary of ONCE UPON A TIME IN CHINA II starring Jet Li. Few would guess that twenty years before OUATIC, it was Chiang who was one of the top martial stars of his time, cutting down and fighting dozens of enemies at a time, jumping about like a graceful gazelle, a dashing cool dude with a wily smile on his face. Paired with the majestic Ti Lung they were the great "Deadly Duo" of Hong Kong martial cinema, the stars of a dozen "Blood Brothers" movies that were the most violent and intense martial potboilers of the early seventies and they ruled the Hong Kong action movie screens. Yet as the Blood Brothers period came to an end and time passed on, his partner Ti Lung went on to have a successful movie career maintaining his flawless reputation, but Chiang's career began to decline and even worse he, along with (Jimmy) Wang Yu, became one of the most under appreciated kung fu performers of all. Later fans of the genre found his physical skills unsatisfactory, complained about the tacky seventies fashions which he often wore and were a bit annoyed by his screen persona. The fact remains though that Chiang was not only a major player in his time but an able screen-action performer as well as an award winning actor with an original screen persona who often outshone Ti Lung. He was the real heart and centre of some of Chang's Blood brothers movies.

David Chiang was born Yim Wai in 1947, the second son of two famed actors Yim Dut and Hong Wei. Later on his widowed mother having remarried with a movie producer she gave birth to another son. All three siblings were destined to a have a great movie career: the first Paul Chun as a renown character actor and the youngest Derek Yee as an actor/director. Young Wai received a college education in Hong Kong but had already started appearing in movies as a child actor, most notably THE CALLS OF THE NIGHTBIRDS, LITTLE ANGEL OF THE STREET and YOUNG VAGABOND the two latter also featuring his elder brother Paul Chun (then known asYim Cheong) and produced by his step-father. He also appears to have received some Peking Opera training - not enough to make him a top performer the likes of Jackie Chan or Sammo Hung but more than enough to gave him an unusual agility and solid physical skills. Following graduation, he started working as a stuntman in the movies.

Chiang had graduated to fight-instructor by the time he was spotted by Shaw Brothers leading martial art director Chang Cheh, who brought him into the studio in the winter of 1966 where he then groomed him for a couple of years. By the time he emerge he was known as David Chiang Dai-Wai,. The meaning of his stage name and it's origin appear to be rather obscure: Chiang he may have taken it for no other reason than it was a very recognizable name (because of Taiwan president Chiang Kai Shek) with a star quality feel to it. His original first name being Wai , "Dai" was added to make it mean "True Greatness", "Dai-wai" being also the direct transliteration of the English name "David", it may also have been deemed a suitable stage-name for him because his small frame and scholarly looks were evocative of the Biblical David of the David and Goliath famed. Having an English name may also have served to give him a suitable urbane and sophisticated air that played well with his deceptively scholarly, effete look. Regardless Chiang Dai wei can be glimpsed in GOLDEN SWALLOW (1968) as well as THE INVINCIBLE FIST (1969), but his first major role was in the gangster flick DEAD END (1969). He graduated to full martial star the following year with WANDERING SWORDSMAN and especially VENGEANCE, the first of Chang Cheh's "Blood Brothers" movies pairing the deadly duo of Chiang and Ti Lung. It was also a watershed movie of Hong Kong martial arts cinema that defined and cemented Chang Cheh's cinematic approach for years.
For a couple of years the Blood Brothers movies were all the rage, Hong Kong's top ranking box office champions with such films as HEROIC ONES, THE SINGING KILLER (both 1970), THE NEW ONE ARMED SWORDSMAN, THE DUEL, DUEL OF IRON FIST, THE DEADLY DUO, THE ANONYMOUS HEROES (all 1971) and THE ANGRY GUEST (1972). Ti Lung and Chiang were paired splendidly together – a wonderful contrast to one another - Ti Lung big, majestic, very masculine and impetuous; Chiang small, urbane, dashing, wily yet secretive and introverted. Chiang had very much an effete, romantic quality to him but instead of being ineffectual and passive as these types of characters tended to be within the frame of Chinese literature, he could go on a rampage or quietly undermine an opponent with his sneaky, mysterious ways. This gave him an air of ambiguity, as nobody knew where he stood for a while.

With the sudden arrival of Bruce Lee in late 1971, the Blood Brothers movies lost some of their steam - their formula began looking tired and Chang Cheh appeared to be losing interest Still, Chiang remained very active by performing in a handful of Chang martial extravaganzas such as THE WATER MARGIN (aka: SEVEN BLOWS OF THE DRAGONS), THE FOUR RIDERS, TRILOGY OF SWORDSMANSHIP (all 1972) and the PIRATE (1973). He was continually paired with Ti Lung but the drama and the chemistry between them wasn't quite the same as in the old Blood Brothers movies. He also played a small but crucial role of a dashing, charismatic young gang boss in BOXER FROM SHANTUNG (1972) which was the starring debut of Chang Cheh's latest discovery, kung fu star Chen Kwan Tai. He was also the star of a couple of Chang's contemporary dramas such as YOUNG PEOPLE (1972), GENERATION GAP (1972) and FRIENDS (1973).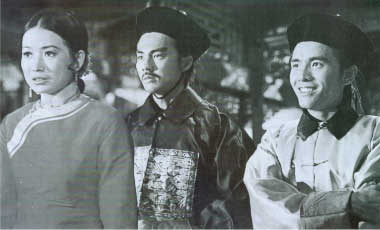 1973 also saw Chiang as part of the trio assembled along with Ti Lung and Chen Kwan Tai in Chang Cheh's most ambitious martial movie drama to date: BLOOD BROTHERS aka: DYNASTY OF BLOOD. In 1974 he was picked by Shaw Studios to play the Chinese lead in the Shaw Brother/ Hammer hybrid horror/kung fu production LEGEND OF THE SEVEN GOLDEN VAMPIRES, which was Chiang's one shot at international stardom. It showed him in good fighting form and speaking fluent if accented English, but unfortunately his role was pretty much limited to being of the helpful and disposable amiable ethnic man-servant variety.

That same year, a world-wide economic crisis struck Hong Kong and that along with the disarray of the martial art's genre following Bruce Lee's death, forced Shaw Brother to reduce their expenses which they did by letting go of some of their major stars, including David Chiang - although he would always remain closely associated with the studio on a freelance basis. His first independent effort was trying his hand at directing a social drama of all things - titled THE DRUG ADDICT, which turned out to be a flop.

For the following decade Chiang would alternate between movies for Chang Cheh/ Shaw Brothers, some freelance work and his own productions. His Chang Cheh movies included SAVAGE FIVE (1974), FIVE SHAOLIN MASTERS (aka FIVE MASTER OF DEATH), ALL MEN ARE BROTHERS (both 1975), SEVEN MEN ARMY, SHAOLIN TEMPLE (both 1976), NAVAL COMMANDOS and MAGNIFICENT WANDERER (1977). Most of these films appear to have been routine efforts from Chang when compared to his earlier works with Chiang, capitalizing mostly on a stellar kung fu cast. In 1976, Chiang once again tried his hand at directing with the CONDEMNED. Probably in the hope of revitalizing his by now sagging career, Chiang then teamed up with another martial star whose hour of glory had passed, (Jimmy) Wang Yu, and the pair founded their own Taiwan based film company: their first film being ONE-ARMED SWORDSMEN which Chiang also directed. Truly his own master now, Chiang starred in his own self-production that he made at a frantic pacing. Chiang found his best work of the period with martial director Lau Kar Leung who had choreographed him in all the Chang Cheh movies of the early seventies, with SHAOLIN MANTIS (1978), which not only offered him the opportunity to deliver perhaps his best screen-fighting performance, but also to play quite an unusual part as an unwilling Quin dynasty spy sent to infiltrate a family of Ming dynasty rebels. In one of his other notable Shaw Brothers films, he shaved his head so as to play the titular character in ABBOT OF SHAOLIN (1978).

Curiously enough, in a couple of the freelance works he did for an independent company, Chiang changed his name first to Gareth Lo before settling on John Keung (Keung being the Cantonese version of Chiang). The truth of the matter was that "John" had been his true personal English name all along, while David was but his stage-one that he now tried to discard. Nevertheless he continued to be known as David Chiang by western fans of Hong Kong. Among nearly a dozen freelance films there is YOUNG REBEL co-starring and directed by his old partner Ti Lung, as well as DEATH DUEL, the film debut of his younger brother Derek Yee (1977) .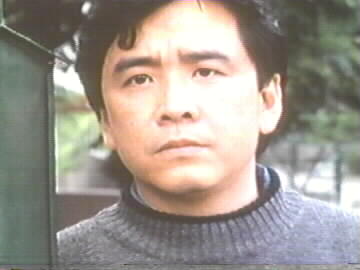 In the second half of the seventies as martial art films evolved towards more and more comedic, Chiang moved with the time, starring in a handful of such films. He had already done MAGNIFICENT WANDERERS back in 1977 and now under the wing of director/ character actor Eric Tsang he did THE LOOT (AKA BLOODY TATOO) (1980) and The CHALLENGER. In 1981 he even directed one himself called LEGEND OF THE OWL produced by his brother Paul Chun. As marital films then came less popular he also gradually started doing pure comedy as well as drama and switched from leading man to character parts. By the time the martial art era came to a definitive close with the folding of the Shaw Brother's movie operation, Chiang had given up on kung fu for some time already. Beside his acting work, he also focused much more on directing with a string of movies done through the later eighties and early nineties consisting primarily of comedies - SILENT LOVE (1986), MR HANDSOME (1987) DOUBLE FATTINESS (1988), MY DEAR SON (1989), WHEN EAST MEETS WEST (1990) and WILL OF IRON (1991). He also planned or produced a handful of films as well including JUST HEROES, a movie that involved a dozen of Chang Cheh's close associates in order to help finance his planned retirement and the Jackie Chan twin's movie TWIN DRAGONS. After a hiatus of several years he came back one last time to directing with MOTHER OF A DIFFERENT KIND in 1995.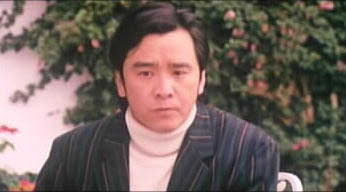 His most noticeable acting performances since the mid-eighties include: a Cinema City ghost comedy TILL DEATH DO WE SCARE (1982), an action comedy with Sammo WHERE'S OFFICER TUBA (86), SHANGHAI 13 (his last movie for Chang Cheh (1986)), ANGEL (1989), ONCE UPON A TIME IN CHINA II (1992), WHAT PRIZE GLORY (1994) and LEGEND OF SPEED (1999). He also has done some TV work. In total, Chiang has acted in more than 75 movies so far: (around 30 by Chang Cheh alone). He has also appeared in YES MADAM, TWINKLE TWINKLE LUCKY STARS (both cameos, both 1985), IT'S A MAD MAD WORLD, SOUL (both 1986), TIGER ON A BEAT (1989), MARY FROM BEIJING (1992) and THE ADVENTURERS (1995). So although his glory days as a top ranking martial art/action star were relatively short in duration, he has had a long-lived and deserving career that continues to this day.
(Written up by Yves Gendron)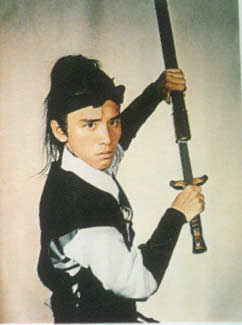 ---
David Ng Dai-wai/David Wu
This lanky Massachusetts born Taiwanese actor made his debut in 1988 in the Brigitte Lin film Starry is the Night and received a fair amount of praise for his performance (along with a HKFA Best Newcomer award). He never became a star though but has had a solid career – and is still acting and was in the recent high profile film When I Fall in Love . . . with Both in 2000. A few other films are: Robotrix, In the Line of Duty 5 (as Cynthia Khan's cousin), Passion 1995, Perfect Match, I Have a Date with Spring (the sax player), Tale from the East and Tiger Cage II. He is also quite well liked for his television hosting of Channel V's Chinese Top 20 musical video countdown show.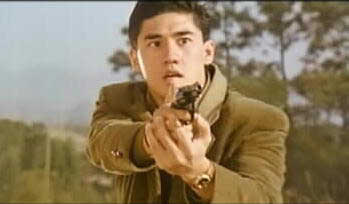 ---
Dayo Wong Chi-wah
Initially a stand up comic (since 1990) and scriptwriter with a degree in philosophy, he began much to my dismay to appear in films. In a comedy he is fine – but too often he is put into serious action or horror films to provide comic relief and it pretty much ruins the film as far as I am concerned. Three examples of this are July 13th, Lets Sing Along and Satan Returns. He was fine though in Pink Bomb (1993), Walk In (1997) and Love and Sex Among the Ruins. Some other films: F*** Off, From Zero to Hero, The Legend of the Wolf and The Magic Touch.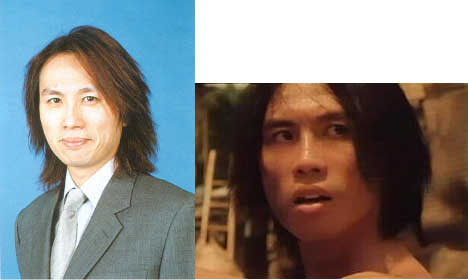 ---
Dean Shek Tin
Born in 1950 in Peking
Shek became an actor for Shaw Brothers and made his first film in 1969. With his thin Fagin like face, he was usually cast as a conniving bad guy – and appeared in some of Jackie Chan's early films – Drunken Master, Snake in Eagles Shadow and Fearless Hyena.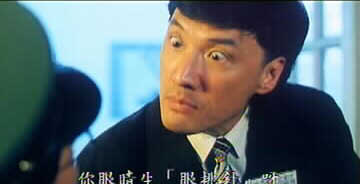 In 1980 along with Raymond Wong and Karl Maka, he formed Cinema City – a production company that had much success during the 1980's. He made appearances in a number of these – The Family Affair and Kung Hei Fat Choy but by 1987 his star was considered on the wane. This is when Tsui Hark offered him a large role in A Better Tomorrow II – many say as a favor to Shek. Unfortunately, his role is the worst part of the film.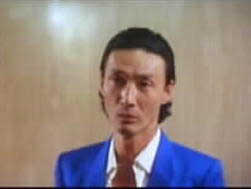 A few other enjoyable films that he later appeared in were Dragons From Russia and The Raid (1991) after which he seems to have retired.
---
Deannie Yip Hak Han/Deannie Ip
The expression "tough broad" comes to mind whenever viewing Deannie – tough and in your face is how she usually plays it. Two great roles that exemplify her are Prince Charming in which she refers to her son, Andy Lau as "asshole" and in Murder when she (as a nurse) leans over a patient and says " Are you still alive?" As the protagonist in Soul - a HK version of Gloria - Deannie gives a brilliant performance as a woman having to protect a child from gangsters and trying to discover what the last fifteen years of her life has meant. She actually began her career as a singer and from what I have read she is a wonderful one.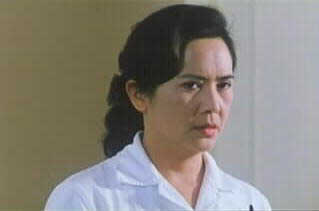 Some other good roles are in Carry on Pickpocket, Pom Pom, Spiritual Love, Dragons Forever, New Legend of Shaolin and Thanks for Your Love.
---
Dennis Chan Kwok-san
He has primarily appeared in small roles in a number of films – though on occasion he gets a sizable one. Some of his better roles were in Welcome, It's a Drink, It's a Bomb, Fight Back to School, Double Fattiness, Millionaire Cop (the father), the bad guy in Soul and Perfect Girls. He has also directed a couple of films – Perfect Match and Love and Let Love. Dennis also appeared in a few American films - he played Jean-Claude Van Damme's Thai teacher in three Kickboxer films.

---
Derek Yee Tung-sing
Derek is the brother of David Chiang and character actor Paul Chun Pui (And if you're wondering which is their real surname, they are all screen names). He is the brother of character actor Paul Chun Pui and was a successful actor in the early 80's in such films as Magnificent Warriors (with Michelle Yeoh), My Darling Genie, Love with the Perfect Stranger, Seven Foxes (with Brigitte Lin) and many more. After he began directing in 1986, his acting decreased but he still appeared in films through the 1990s. Some of these were Kawashima Yoshiko, Sisters of the World Unite and La Peintre.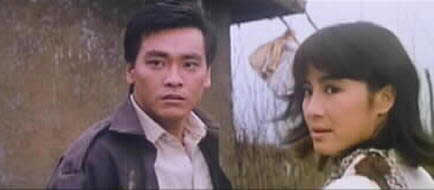 His directing has probably received more accolades – his first film was The Lunatics followed by People's Hero, Bachelor's Swan Song, the huge hit C'est La Vie Mon Cherie, Full Throttle, Viva Erotica and The Truth about Jane and Sam in 1999.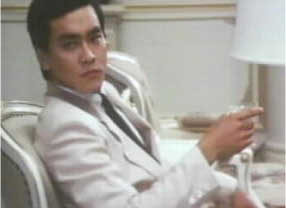 ---