---
Waise Lee Chi-hung
Born 12/19/1959 in Hong Kong
Perhaps the receding hairline never really gave Waise a chance to be more than a character actor/villain, but at least at the beginning he appeared to be headed in the direction of leading men roles. Before films he worked as a model and was noticed by Tsui Hark in a TV commercial and asked to come in for an audition.

At the time Tsui was in the process of producing a little film for an old friend who seemed to be running out of career options. The friend was John Woo and the film was A Better Tomorrow (1986). Tsui liked what he saw and cast Waise as the slick well-dressed villain in the piece who has to match wits and firepower with Chow Yun Fat and Ti Lung. Tsui followed this though with two solid good guy roles for Waise – the brutal but brilliant The Big Heat (1988) in which Waise ably portrays a conflicted dedicated cop and in Gunmen (1988) as one of the small band of honest cops fighting corruption. Though Waise had no training whatsoever in martial arts, he managed to look fairly convincing in his action scenes in these early films and in later films as well. In 1989 he was to appear in one more Tsui Hark film, the anaemic comedy Spy Games.

In 1990 he had a solid role as the honorable Swordsman Hu in A Chinese Ghost Story II, but his most famous role to date was back with John Woo as one of the three friends in A Bullet to the Head. This was a challenging role in which Waise's character shifts from being a good loyal friend to a man obsessed with gaining wealth to the point of betraying his boyhood friends. I've always felt the writing let his character down, as the transition from good to evil was much too abrupt and never quite convincing.

Though Waise has made some forty more films since A Bullet in the Head – occasionally as a good guy but more often as the villain – this was to a large degree the highlight of his career. After this his roles became generally smaller and many of the films were of the low budget action variety. Some of these action films are Pink Bomb, Lady Supercop, The First Shot, Forbidden Arsenal, The Avenging Quartet, Murders Made to Order, A Taste of Killing and Romance, Red Zone, The Cat, Roar of the Vietnamese and Tough Beauty and Sloppy Shop.

Waise still had a few opportunities to appear in some other types of films though – as Asia the Invincible's ally/enemy in Swordsman II, a silly comedic role in the classic Wing Chun, the villain in both Running Out of Time and Conman, Hu Du Men, 13 Cold Blooded Eagles and a doctor in the creepy Inner Senses (2002).

Besides his film career, Waise has been in many TV series at TVB over the years. He now lives in Canada but returns to Hong Kong whenever he can to act in films. Though much of his career/roles were in forgettable films, he always has brought a certain combination of sleek swagger and suaveness that has set him apart from nearly all of the other Hong Kong villains that have populated films and has made him one of the better recognized actors around.
---
Walter Cho/ Cho Tat-wah/ Tso Tat-Wah/ Cao Da Hua
Born in 1916
With a body of work encompassing seven decades and around 700 movies, Cho Tat-wah comes across as one of the more prolific and enduring actors ever, not just of Hong Kong cinema but of the whole world as well. Of the lot, about 200 were martial art films alone and he also performed in nearly fifty spy and detective movies. In the eighties he could often be caught in either one of these colourful martial outfits or in his trademark fedora and overcoat playing a police inspector - twinkle eye guest appearances that evoked his earlier famous brand of roles.

Cho was born in Guangtung province in 1916, but his parents soon settled in Hong Kong. As a student he would sneak out of school to watch silent movies and it was while viewing a martial art film THE HERO OF GUANGDONG that he decided to become an actor. At the time though there was no movie making in Hong Kong so he went to Shanghai, the booming centre of the Chinese film industry. This was 1931 with Cho a mere fifteen years of age. There wasn't much work beyond being an extra or getting a bit part however. His first sound movie was in 1935, with FRENZY an anti-Japanese propaganda film.

Soon after when movie studios began to emerge in Hong-Kong, Cho moved back to his native city where he managed to get a job as an assistant director for a company. It wasn't long though that he found his way in front of the camera with BANDITS FROM SHANTUNG and other bit parts. As time went on though his roles became bigger, he got noticed in a supporting role in UNARMED COMBAT (37) although his first lead role wasn't until THE JOURNEY OF THE HEROINE (1939). His sister Tso Yi-man was one of the leading actresses of the late 1930's and his young daughter Tso Man-yee became a child actress. For the next two years Cho played in more than eighteen movies, but in 1941 however the Japanese invaded H-K bringing the movie industry to a complete stop.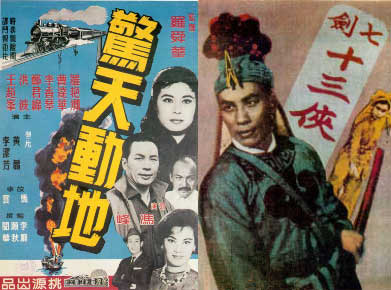 By Cho's own account the occupation period was very tough, but he actually thrived by entering the business of selling second-hand items at a much higher price that he had paid for it. Cho became a very rich man that way, enough to indulge in his taste for expensive cars as well as to eventually start his own studio Yau Kin in 1948.
Cho went back to being in the movies in 1946 with the Mandarin production GONE WERE THE SWALLOWS WHEN THE WILLOW FLOWERS WITHERED. He returned to the local Cantonese spoken cinema the following year with TEARS OF RECOVERY. Besides owning a movie studio he also managed and organised a couple of others, the bulk of their production being martial art movies such as the long running serial SEVEN SWORDS AND THIRTEEN HEROES (49-67), and the WORLD OF FIST.

In 1949, Tso was cast as Leung Foon, the head disciple of Wong Fei Hung in the famous titular black and white serial that lasted for more than two decades. In all he played in 49 of the 65 WFH first run films from the late forties to the early sixties. Cho wasn't actually a martial artist at all, although with some preparation he could mimic some moves, but his starring name was a guarantee for both financial sponsors as well of course for an audience. Besides the Wong Fei Hung movies Cho also starred in other Southern martial myth related movies such as the Shaolin Temple, the Ten Heroes of Guangtung, Hung Xie Kwan, and even the Iron Monkey. Given his physical limitations though Cho was most much more comfortable starring in "Palm power's" - Cantonese swordplay films which featured mostly special effects instead of real kicks or punches. So he became one of the sub-genre lead stars throughout the fifties and sixties starring in such classics as THE BURNING OF THE RED LOTUS MONASTERY (50) or the BRAVE ARCHER (51) among hundreds of titles. It was also in the fifties that he started doing detective or spy thriller movies. Through the years he made around fifty of those, the most famous being THE KIDNAPPERS (61) and SECRET AGENT NO 1.

Despite a rich career, Cho had a couple of setbacks. In 1951 an uninsured Cho saw his studio burn down to the ground in a blaze. With the help of Singaporean partner he regrouped and launched another studio two years later. Another problem for Cho was also his consummate gambling habits with horses and Macao's casinos. Once as he drove by the new Jockey Club administrative building with a friend the latter said " Look you built that". Cho never worried about this though and every-time he lost too much money he would sell one of his properties. In the end though he had sold everything and had nothing left.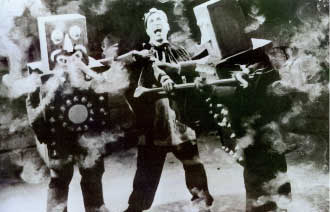 In the early sixties Cho starred in the highly popular "BUDDHA PALMS" (4 movies 1964-1965). By then though despite remaining a presence in the Cantonese martial art movies, his favourite brand of films were the thrillers showcasing the fedora, overcoat wearing intrepid inspector Wah. With the decline of Cantonese cinema, Cho in the second half of the sixties started taking some time off from the movies and starred in only a few, such as the SUPREME SWORD (69) and SECRET AGENT NO 1, his one directorial effort. The same year Cantonese cinema collapsed entirely putting a definitive end to Cho's film golden years.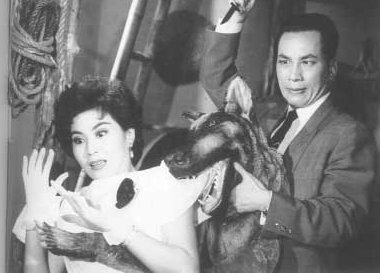 In the first half of the seventies, Cho made a unique film appearance in COUNTRY BUMBKIN IN STYLE (74). In 1976 he started acting in TV starring as, what else, a police inspector in the drama series MALE AND FEMALE KING KONG. He also took part in many martial art TV serials such as LEGEND OF THE CANTON HEROES and BOXER FROM CANTON among many others. Starting in 1979 he returned more constantly to the film world with parts in an handful of Shaw Brothers martial art movie such as Chang Cheh's SHAOLIN RESCUERS (79), CONVICTS KILLERS, THE KILLER CONSTABLE, TWO CHAMPIONS OF SHAOLIN (all 1980) and MY YOUNG AUNTIE (81).

The Eighties saw Cho put-up many of his special guest appearances as police chief, inspectors or secret agents in such action comedies as ACES GO PLACES, MY LUCKY STAR and TWINKLE TWINKLE LUCKY STAR. In WINNERS AND SINNERS he could even be seen clothed in his old WFH Leung Foon outfit again, playing a street performer (alongside another Wong Fei-hung veteran actor, Sai Gwa Pau). He was cast in a couple "Palm Power" modern pastiche BUDDHA PALM (83) and much later KUNG-FU VS ACROBATIC (93), as well as playing second fiddle to either Kwan Tak-in the original Wong Fei Hung in ACES GO PLACES IV and IT'S A WONDERFUL WORLD, or even Sek-Kin (who played the perpetual bad guy in the WFH serial) in WIDOW WARRIOR (89).
In 1990, Cho immigrated to London for a while, before coming back to H-K in 1993 because he felt like a third class citizen there, and started doing TV again. He took a new leave of absence in 1997 to take care of his ailing wife who had kidney problems, but returned upon her death in the summer 2001. While he has grown estranged from contemporary movies, he doesn't mind the occasional role. Thus he could be seen in A GAMBLER STORY (2001) and he expresses the desire to make a guest starring appearance for old time sake in a new BUDDAH PALM like movie project.
(Written up by Yves Gendron)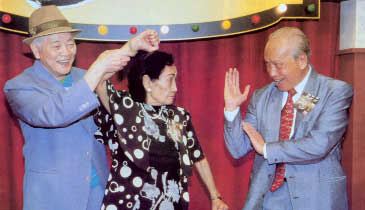 (Walter Cho with fellow legends Lau Kau and Chin Tsi-ang in 2002)
---
Wan Kong
He is best known as a popular Cantonese singer, but from time to time he has taken on bit roles in films – such as in The Banquet as one of the waiters.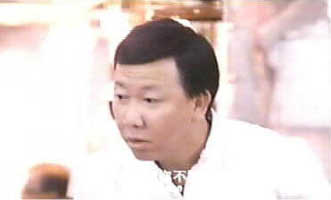 ---
Wan Tin-chiu, Eric
Eric is most famous in Hong Kong for his role as a vampire killer in the quite popular ATV series – My Date with a Vampire that has run for the past few years. Some of his other TV series have been Chameleon 97, Reincarnation II, A Lawyer Can Be Good and Vampire Expert 2.

He has also crossed over to films on a few occasions – primarily in the horror genre. These are House of the Damned, Erotic Nightmare, Horoscope I and Ghost Promise. Other than these horror outings, he has shown up in the solid action flick, Sharp Guns and Century of the Dragon.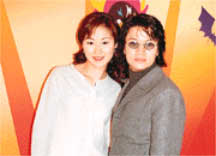 ---
Wanda Yung Wai-tak
Wanda only had roles in a very few films and her tall gawky build is not necessarily one you would remember, but because of my first odd viewing experience with her she is someone I find difficult to forget.
While watching the Frankie Chan film, Oh! Yes Sir (1994), his male police partner constantly puzzled me. There just was something wrong with him, but it was never part of the story so I thought I was imagining things. I swore that he had breasts, but was never able to verify this. Then co-incidentally I watched Skinny Tiger and Fatty Dragon (1990) only a few days later and lo and behold – there was the same actor – but this time as Karl Mak's girlfriend. And this was of course Wanda Yung. It still bothers me – why did they choose a female to portray a horny male police cop in Oh! Yes Sir? I guess I will never know.

Two other films in which I have come across Wanda (as a female in both!) were in The Romancing Star III as one of the sisters and in the terrific1994 volleyball film, Victory, in which she plays the head coach of the opposing team. She was credited with a 2000 film, Treasure Hunter in which she plays an assassin.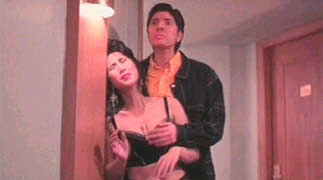 ---
Wang Lai/Wong Loi
Born in Beijing in 1927
She was a big star back in the Hong Kong Mandarin films of the 1950s and 60s. The book The Cathay Story refers to her as "The eternal Wang Lai, in many minds the most important character actress in the history of Hong Kong Mandarin cinema". After graduating from the Peking Teachers College, she joined the Film Workers Drama Troupe in 1943. In 1951 she began acting in films and the next year she went to Hong Kong and acted in The Handsome Man. With roles in over 200 films she became known as the "actress with a thousand faces".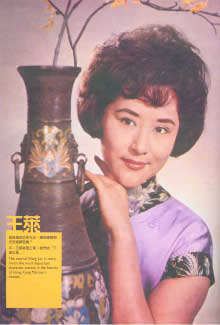 She worked for a number of studios before joining Cathay (formerly MP & GI) in 1958. She made over fifty films for this studio from 1958 to 1967 – among them well regarded films such as The Wild, Wild Rose, Father Takes a Bride, Golden Lotus, Her Tender Heart, Sister Long Legs and Father and Son (for which she received the Best Supporting Actress award).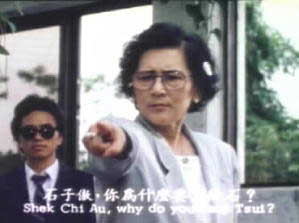 After this she became a freelance actress working for studios in Hong Kong and Taiwan – and some of these films were Back Alley Princess, Naughty! Naughty!, Love by Post, Broken Oath and The Secret. She is now retired – her last films being roles in Ang Lee's Pushing Hands (for which she received the Golden Horse Best Supporting Actress Award), The Widow Warriors (the matriarch) and Ann Hui's My American Grandson.

(Information gathered from the book – The Cathay Story)

---
Wang Lung-wai/Johnny Wang Lung Wai/Johnny Wong.
In Chinese " Lung Wai" means "as Invincible or as Mighty as the Dragon". With his fierce, burly looks, his ruthlessly minded characters and his superb screen fighting skills, none are much more deserving of such a name than Shaw Brother's studio powerhouse k-f villain Wang Lung-wai. His attitude and spectacular bouts with the likes of Chen Kwan Chun, Fu Sheng, Lau Kar Fei (better known as Gordon Liu or Lau in the West) and the Venoms have made him one of classic k-f 's favourite heavies

Nothing is known by this reviewer of Wang Lung-wei's history before he started appearing in movies, or how he got into them. It seems likely however that he already had an extended background of martial arts just as Gordon Liu did. An interesting titbit though, Wang is known to have expressed the desire to challenge Bruce Lee before the man's death put an end to such an aspiration, which may say something about his level of skill and ego. Either he was spotted as a stuntman on a studio set or more likely entered the Shaw's Studio acting course. In any case, Wang eventually found his way to Taiwan working on a film by Shaw top-Martial director Chang Cheh: SHAOLIN MARTIAL ART (74) which also saw the debut of the likes of Leung Kar-yan and the aforementioned Gordon Liu. His part as a specially trained Manchu super-fighter called for him to remain mute with a blank expression throughout the film. This didn't give him much opportunity to shine - until he got to fight that is, when he started kicking some major ass. This was a great promising beginning.

Wang spent the next three years working in Taiwan exclusively for Chang Cheh, playing either Manchu fiendish henchmen or traitorous Chinese collaborators in such films as FIVE SHAOLIN MASTERS (74), MARCO POLO (75), NEW SHAOLIN BOXERS (76), SHAOLIN TEMPLE. Back in Hong-Kong and the huge Shaw studio lot, Wang continued to do films with Chang such as BRAVE ARCHER (77), THE CHINATOWN KID and cult favourite FIVE VENOM (78) where he got an all too rare non-fighting part as a corrupt judge. He was probably one of Shaw's busiest performers as he played movie villains for a good dozen of other Shaw Brother's movies throughout the years including such classics as AVENGING EAGLE (78), TREASURE HUNTERS (82) and LADY ASSASSIN (83) among others.

What made him such an invaluable player was not just his mean look and great screen fighting skills but also his ability to "sell" his opponent as great fighter even though they were actually not as proficient as him in real life. That's not as easy at it sounds. Superb bootmaster and screen villain favourite Hang Jang Lee frequently so completely dominated his opponents in his bouts that when finally he had to be beaten it looked lame and thus diminishing the believability of the spectacle. Not so with Wang Lung Wei who would deliver a superb fighting performance and then look convincingly beaten without the fight ever losing it's edge or credibility, an aspect of screen fighting which involves much more than martial artistry or plain choreography but fine physical "acting" skills as well.
Of all the Shaw Brothers's directors, none used him as well as martial art master filmmaker Lau Kar Leung, who cast him in more elaborate parts than just the plain movie fighting bad-ass. In DIRTY HO for example instead of his usual powerhouse k-f opponent, he played a suave, wine tasting assassin who tries to do Gordon Liu in with a fan and subtle k-f strokes all the while holding a courteous conversation with his target. In MY YOUNG AUNTIE he played the greedy older uncle who is challenged by Lau Kar Leung himself at the end. His best part though was in MARTIAL CLUB, where he played not a villain for once but an honourable Northern master duped by the film's bad-guys into fighting Gordon Liu. He engages Liu in the film's showdown in a riveting duel down a shrinking alley where each fighter has to change their fighting approach to adapt for the other and the changing environment. This part is an all time favourite for most of Wang Lung- wei fans and perhaps more reflective of his actual personality as a k-f passionate than his usual part of a ruthlessly minded bad-guy.

Wang Lung Wei strayed occasionally from the Shaw Brother movie lot. Among the half dozen non-Shaw movies he did was in TWO TOOTHLESS TIGERS (79) that was produced by and starring Sammo Hung. He plays a long grey haired ruthless bounty hunter who goes toe to toe against Golden Harvest's regular bad guys Lee Hoi- San and Chung Fat, as well as the big-man himself at the end - all the way looking fiercer than ever under Sammo's customary fierce and brutal brand of choreography. In 1981 he had another all too rare good guy part in Kirk Wong's post- apocalyptic actioner HEALTH WARNING (81).
After Shaw's closure in 1984, Wang continued to play the henchmen or bad ass for other studios or companies. In 1988 he could be glimpsed in Jackie Chan's PROJECT A II (88), but as Jackie's brand of action by that time was of the stunt or one against many variety, it meant Jackie never came to truly duel Wang, who was quite wasted in the film as a secondary crony unworthy of his repute and talent. Just as briefly but far more memorable was his turn in Sammo's 1986 all star caper MILLIONAIRE EXPRESS playing a fierce looking thug in the film's extended finale that has him thrashing Meng Hoi and his former Shaw Brother confederate Hsiao Ho. Another noticeable appearance was his turn as a vengeful and gun-toting triad boss in the first third Of Yuen Woo Ping's TIGER CAGE (89).

At the same time, Wang Lung Wei tried his hand at directing in 1985 with THIS MAN IS DANGEROUS, which he also wrote. His genre of choice would be the urban potboilers and for the next seven years he made seven other films. These included HONG KONG GODFATHER (86) (also wrote again), INNOCENT INTERLOPER (87), CITY WARRIOR (88) and WIDOW WARRIORS (89). His last effort was the exploitation ESCAPE FROM BROTHEL (93), mixing action, melodrama and skin, sporting probably one of the tackiest sights ever in a H-K film: female gweilo action performer Sophia Crawford fighting bad guy Billy Chow completely in the nude. Future Buffy stunt double in the buff, the ultimate jiggle show. Yikes!

Wang Lung Wei has considerably slowed down his film activity in the nineties although he still makes an occasional appearance at least once a year. Thus once again he became a Manchu fiend for Jet Li's NEW LEGEND OF SHAOLIN (95). Arguably, however his most memorable turn was as the gold chain wearing triad boss of YOUNG AND DANGEROUS (96) scaring the hell out of Jordan Chan's character who is going out with his daughter.

Wang's last reported acting gig in film was in the reportedly crappy MILLENIUM DRAGON (99) starring Yuen Biao. He is also credited as executive producer of the reportedly dreadful THE BARONESS (2000). Like Gordon Liu, Wang still remains an active player on TV, and both men can be seen in the recent FIST OF HERO starring Chiu Man Chuck and Wang still looks quite sharp.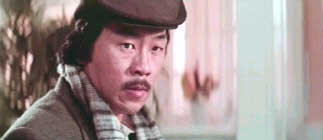 Besides the aforementioned TWO TOOTHLESS TIGERS, MY YOUNG AUNTIE and MARTIAL CLUB, Wang's best fighting displays can be found in NEW SHAOLIN BOXERS, INVINCIBLE SHAOLIN (Wang's best showcase in a Venom movie) and YOUNG VAGABOND (81).
(Written up by Yves Gendron)

---
Wayne Lai Yiu-cheung
People may talk about the slowdown in the Hong Kong film industry, but Wayne Lai certainly hasn't noticed it. Beginning his film career in 1997, Wayne had already appeared in over 60 films by mid-2002! That is close to a film a month. Admittedly in a number of these films his parts were small and many of these films are low budget one week knockoffs but that's still a lot of films.

Like one of the other HK premier character actors, Lam Suet, Wayne is almost chameleon like in his roles – playing every imaginable type of character and in every type of genre – and often looking totally different from one film to the next. In many of his films – especially the low budget ones that have you wondering what you were thinking when you purchased it – it is often only Wayne's often bizarre or inspired character depictions that keep you watching.

Not that I have seen all that many of his 60 films, but a few that I recall are Killing Me Tenderly as the shy fan of Sammi Cheng and in Storm Riders he has a small but intriguing part as Mud Buddha. One of my favorites was in PR Girls as the sexual Hello Kitty pervert into kinky games. He has shown up in loads of horror films – a number of the Troublesome Night series, Bio-Zombie (store owner), Fourteen Days Before Suicide, Men are from Venus (the gay DJ), Last Ghost Standing (chops off his own arm), Human Pork Chop, Vampire Contoller, Wicked Ghost III and Sound from the Dark (the depressed suicidal fellow).

With his acting versatility though he has also managed to find character roles in some quality films as well – Victim (Tony Leung's cop partner), Four Chefs and a Feast, Where a Good Man Goes (Lau Ching-wan's follower), Bullets Over Summer, Gen-X Cops, Clean My Name Mr. Coronor, Paramount Hotel (a cop), Intruder (the victim), Master Q (Michael Chan's lieutenant) and Visible Secret. With his average everyday looks it is unlikely that he will ever reach leading man status, but he certainly seems to have no problems finding work and staying very busy.

Of course like most of the HK actors, Wayne somehow also finds time to do TV – such as the very popular Journey to the West in 1997 or So Tung Bor (2001).

---
Wei Pei.
Wei Pei (Wai Pak in Cantonese) could be termed either the forgotten or unknown Venom. The Venoms were of course the Shaw Brothers studio's cult favourite team of acrobatic fight performers extraordinaire who awed audiences with their jaw dropping near surreal brand of choreography showcased in a dozen or so late seventies-early eighties movies by master martial filmmaker Chang Cheh. His background would appear to be different then his brethren, his physical skills more limited and he was cast in only in a few of these "Venom" movies, with the result that he is usually not considered as a "true" Venom at all by most fans, some of whom dismiss him as a decorative pretty boy. Instead Wei Pei is nowadays mostly remembered as a second banana player for the Golden Harvest's movies of Sammo Hung and Jackie Chan.
This reviewer does not know the details of Wei Pei's background or how he came to the attention of the Shaw Brothers, but most likely he was a contract player for them. He can first be glimpsed in the non-Chang Cheh Shaw martial art classic THE FLYING GUILLOTINE (1975), as well as in the Chang Cheh Taiwanese production DEATH CHAMBER (1976). In 1978 Chang Cheh thought out a new brand of martial pictures by banding together a bunch of mostly Taiwanese stuntmen selected for their great skills and unique looks in stories combining bloody mayhem, a pulp fiction-like narrative sensibility along with incredible choreography - and Wei Pei was part of that group. The first film of this new breed was FIVE DEADLY VENOMS where Wei play Venom no 2: the Snake a spoiled rich young man, who conspires and kills to gain even greater fortune and power but who develops a tormented conscience toward the end. In retrospect some have dismissed Wei' s part into the movie as a forcibly grafted " glamorous pretty boy " interloper, but in reality however his Snake character fitted into the story just as well as the other Venoms and he was quite involved in the action despite his conspicuously more limited physical skills.

Wei Pei played in a couple more so-called "Venom" movies (a tag name which was actually given at a much later date by Western fans) such as TEN TIGERS OF KWANTUNG (78) INVINCIBLE SHAOLIN (79) and THE KID WITH THE GOLDEN ARM (same). It's at this point that Wei Pei left Shaw and found his way to its H-K rival Studio Golden Harvest. How he got there is not known. Did he go on his own or did Shaw sell his contract for some reason; an unheard of move. It might be that Wei Pei actor's contract was with director Chang Cheh alone (as were the other Venoms), whose stipulations were much more lax than those found usually in Shaw and which allowed him to do his studio switch. In any, case at first glance this may have appeared as a lucky break because while the first couple of Venom movies had some success the rest got quickly buried while Golden Harvest martial pictures were riding a high wave with the k-f comedies film of Sammo Hung.

Wei Pei's first Golden Harvest production was ironically enough in the Shaw Brother type swordplay LAST HURRAH FOR CHIVALERY that was directed by a former Chang Cheh assistant director named John Woo. He played an intrepid young swordsman coming out of retirement for the sake of friendship but unaware that he's being manipulated. Actually this was Wei Pei's very best role of his career but the film was a terrible disappointment at the box-office. Years later after John Woo had become a household name; Golden Harvest pulled the movie out of its vault, restored it and marketed it to the west. As a result LAST HURRAH became an all too rare seventies swordplay film that was available to westerners in subtitled, letterbox format, a feat not even the dozen or so Venom movies can claim.

Next Wei Pei worked in the Sammo Hung/Yuen Woo Ping collaborative work MAGNIFICENT BUTCHER (79) as one of Sammo's fellow students of Wong Fei Hung (Kwan Tak-hing). It was a relatively brief part where Wei Pei had an extended showy fight against a pole monkey fighter (former little seven fortune Yuen Mo). After that, Wei was cast in Jackie Chan's Golden Harvest debut YOUNG MASTER (80). At first his role looked substantial as he played Jackie's wayward brother Tiger, who after leaving in disgrace from the martial art school leans towards a life of crime. Once Jackie goes in search for him though, We Pei disappears from the picture making only a couple of brief appearances - seemingly the victim of a then novice director Jackie's improvisational approach to storytelling.

It's only after YOUNG MASTER that Wei Pei got a starring role in a custom made movie. THE CHEEKY CHAP (81) was a k-f comedy trying to fit Wei within a Jackie Chan naughty kid type of role. It was however considered a sub-standard Golden Harvest offering. Next came the more esteemed PHANTOM KILLER. That was it as far as Wei Pei's lead player career would go. His next part was in a very secondary role in Sammo's martial art masterpiece PRODIGAL SON (82), as a skirt-chasing Peking Opera leading man. While Wei's introduction seemed to suggest that he might be a relevant player in the movie, he has no fights, makes only a couple of appearances and disappeared early on, a complete throwaway part that could have being played by any character actor and likely given to Wei to do him a favour or to keep him visible.

Afterwards Wei Pei was not seen in movies for years. Meanwhile as the Venom movies were shown on American TV, a cult following developed around the group by American teen and martial art movie amateurs. While the likes of Kui Chok, "Cuttie Pie" Chieng Sheng and Lo Meng became the favourites of a new generation of martial cinema devotees, very little attention at all was given to the wayward Wei Pei.

Wei Pei made a one-time return in a big screen's lead role for the 1988 supernatural comedy THE DEVIL AND THE GHOST BUSTER. His final screen appearance was an all too brief part in John Woo's HARDBOILED (94). All these years Wei Pei worked as a TV actor for TVB, a TV station owned ironically by Shaw, the studio Wei had left all these years ago.

Because of his good looks and his bad luck, many have taken a slight view of Wei Pei summing him up as just a pretty face without that much actual talent. In truth it seems that he had solid enough acting and physical skills, but that he had the misfortune of playing alongside more flashy players who overshadowed him or in the wrong movies at a time when martial art cinema was winding down.
(Written up by Yves Gendron)

---
Whang In Shik
Born in Korea in 1940
Whang In Shik is one of those famous "bootmasters" who back in the k-f cinema good old days marvelled the audience with their spectacular kicking. Unlike most of his kindred though who were for the most part Takwendo exponents, Whang is unique as his expertise is in the Korean fighting art of Hapkido. Whang also has one of the most superb track records of all as through the years he had bouts with the likes of Bruce Lee, Angela Mao, Kwan Tak-hing, Sammo Hung, Jackie Chan and Cynthia Rothrock.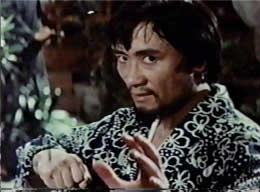 Whang was born in 1940 in Korea naturally. He began receiving instruction around the age of 13 under the tutelage of Hapkido's founding fathers themselves, Choi Yong Sool and Ji Han Jae. Similar to the Korean Martial art style of Takwendo, Hapkido is a style centred around kicking techniques but some of the moves are unique to that style such as the famous "spin kick. But Hapkido also includes elaborate punching, throwing and hooking moves. Whang developed into one of the most consummate Hapkido exponents of all, able to perform 360-degree spin kicks within a split second. Interestingly enough, Whang also learned chiropractic and acupuncture skills so as to be able to heal as well as to hurt.

In the early seventies, Whang was part or a Hapkido tour showcasing in H-K. The show attracted the attention of movie people and soon enough both he and some of his fellow Hapkido exponents began teaching their art to Golden Harvest female star Angela Mao as well as Golden's own house action choreographer Sammo Hung. Bruce Lee had just recently revealed the spectacular cinematic power of high kicks and this drew attention to any martial style which features kicking techniques including among them Hapkido. It was also thought that teaching Hapkido to Angela Mao would make her distinct from other female martial art stars of the time. Not surprisingly, Golden soon started making a film around the Korean fighting art called HAPKIDO starring Mao in which the art "founder" Ji Han jao had a small guest starring part while Whang was cast (big surprise) as Angela's own Hapkido instructor.

While filming HAPKIDO, Whang was throwing his weight around and hitting stuntmen for real in the fight scenes. It seems that he was keen to show Hapkido's superiority over Chinese fighting art. Word of this got to Bruce Lee who was working on a nearby set for his own film WAY OF THE DRAGON. He hired Whang and proceeded to show him who was really the boss during their own fight scenes. He did not hurt him, but Whang most certainly came away with a new appreciation if not for Chinese fighting at least for Bruce Lee. On the WAY OF THE DRAGON movie set, Whang also met kick-boxing champion Chuck Norris. In the movie Chuck easily trashes Whang's fighting henchman character but things were not so one sided in real life. "Just let go, I can take it", Chuck said to Whang as they were about to film their fight. As he proceed to almost getting knocked off his feet, Norris suddenly became much less keen to be at the receiving end of his opponent's feet

In HAPKIDO Whang actually played the good guy, but his fierce looks made him more suited to play fiendish villains. So in his other Golden Harvest films starting with WHEN TAKENWENDO STRIKES (73), which saw the near historical encounter between Whang's Hapkido and the Takwendo mastery of the film's special star Korean American master Joon Rhee who had been instrumental in importing his art to the USA. It was in SKYHAWK (74), that Whang had his most striking part as a long grey haired evil martial art master which saw him battle martial art cinema's legend Kwan Tak-hing; the original Wong Fei Hung actor. Actually though, Whang hated acting but he continued to do movies as a favour for his students Angela and Sammo. He lasted for a total of three years and was in eight movies including FIST OF THE UNICORN (73), THE TOURNEMENT, DEVIL'S ISLAND, STONER (all 74) and the ASSOCIATION, calling it quits in 1975 at a time when the once booming k-f trend was at all time low.

Whang came back to the movies in 1980 for Jackie Chan's YOUNG MASTER as the thundering kicking villain. For the finale, Jackie showcased Whang's Hapkido fighting techniques in rich detail, not only the kicking but also the joint lock, the throws and the punches. The resulting showdown is far too long for it's own good (nearly twenty minutes), but remains the finest Hapkido oriented fight displays ever put on screen. At one point Whang even applied nearly half a dozen painful locking joint lock techniques on a poor hapless Jackie. In the end the audience was left as much in awe with Whang's superb techniques as with Jackie's capacity to endure pain. The film remains Whang's best showcase and his own favourite film appearance for obvious reasons and is his best known movie.
Whang returned for another gruelling fighting session with Jackie for his DRAGON LORD (82) and fought minor k-f cult star Billy Chow in FISTFUL OF TALONS (83). His last screen appearance was in BLONDE FURY (87), starring Cynthia Rothrock. Since then Whang has immigrated to Canada, where he teaches Hapkido. A couple of years ago he was a guest at a special showing of YOUNG MASTER in Toronto by the now defunct local branch of the Fantasia Film festival.
(Written up by Yves Gendron)

---
William Ho Kar-kui
With a cinema that simply gorges itself on sick perverse villains and always seems to have room for another, an actor with the leering scowling cruel face of Ho had no worries. There have been roles I am sure in which he has played a fine outstanding fellow, but he is certainly most memorable for the sleazy characters he has played in Cat. III films and the very nasty things he has done to Lily Chung.

A small choice selection from his lengthy filmography would be: Daughter of Darkness I (the father) and II (1993), Brother of Darkness (brother), Sex for Sale, Devil Sex Love, Bloody Beast, Possessed, The Six Devil Women, The Story of Ricky (the warden).

---
Wilson Lam Chun-yin
Born on 10/23/1961
Whatever happened to Wilson Lam I wonder? From 1988 to 1993 he brought his innocent good looks and his solid physical skills to bear in a number of HK films and then seems to have disappeared from films. His filmography during this short period was a mix of action, comedy and drama that seemed to indicate that a solid if not great career lay ahead of him.

Some of these films are: How to Pick Up Girls – a goofy Wong Jing comedy, News Attack, Reincarnation of Golden Lotus, Fortune Code (one of the pilots), Perfect Girls (the lead character looking for love), Magic Cop (one of the two cops), Kickboxers Tears (the pickpocket who teams up with Moon Lee, Angels Force (Moon's boss), The Enigma of Love (Maggie Cheung's supervisor), Mary from Beijing (Gong Li's boyfriend), Lethal Contact (the cop from Borneo) and My Hero (the cool hero). This doesn't make a hugely impressive collection of films, but it still puzzles me that he vanished soon after from the film scene.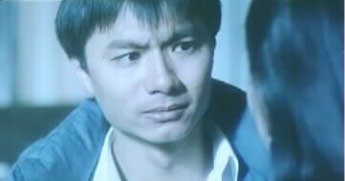 He has also appeared in a few TV series where he got his start in 1982 – The Key Man, The Foundling's Progress and Withered in the Wind.

---