---
Wilson Tong Wei-Shing Aka: "The Foot Doctor".
With his tall build, high forehead, sharp features and cold piercing eyes, Wilson Tong has the word "assassin" written all over him. With his remarkable Peking Opera trained skills in acrobatics, weapons displays and fancy footwork (which earned him the tag "The Foot Doctor"), this is precisely the sort of role he almost exclusively played during kung fu cinema's golden age of the seventies for the films of Sammo Hung, Lau Kar-leung and Lau Kar-wing. Later on he became a director in his own right, making a handful of minor if quirky k-f comedies while continuing to make near scene-stealing appearances in other movies.
Wilson Tong was born in Mainland China. He got to Hong-Kong at a young age in a way similar to Jet Li's character in ROMEO MUST DIE, using a float to help get into the colonial territory via the sea. It is not known to me if he completed his Peking Opera training before or after his arrival in H-K. Like with many Peking Opera trainees, Tong became a stuntman/fighting extra for the then booming martial arts cinema of the early seventies. His first recorded appearance was in BRUTAL BOXER (72) a film also sporting a tiny glimpse of a young Jackie Chan as well as his future stuntman buddy Mars.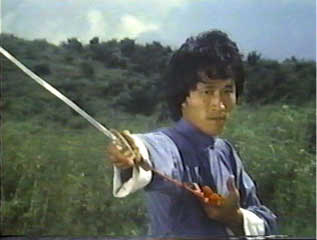 Shortly afterwards, Wilson Tong became a member of Sammo Hung's Golden Harvest stunt-crew, and in between 1973 and 1976 can be glimpsed in nearly a dozen productions - WHEN TAEKWANDO STRIKES, ENTER THE DRAGON (both 73), THE SKYHAWK, THE TOURNAMENT, STONER, LAND OF THE BRAVE (all 74), THE ASSOCIATION (75), HAND OF DEAD (sic.) (76). Through those years, his most substantial part was in THE MANCHU BOXER (74), playing a murderous Japanese henchman, where he got to show off his fighting ferocity and acrobatic talent.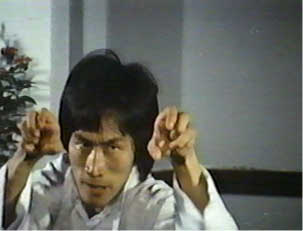 In 1976, Tong switched teams, going from Sammo's stunt crew to that of master filmmaker Lau Kar Leung. The previous year, Lau had been the first action choreographer of modern martial arts cinema to become a fully-fledged director. Now at the Shaw studio he was revolutionizing the k-f sub-genre with movies featuring not only novel plot ideas and inspired fight choreography but also by displaying a take of the martial arts essence that was truer, more authentic and profound than had been previously found in any other fighting film. Quite ironically though, shortly afterwards, some of Lau's own stunt-crew (including favourite heavies Fung Hark-Onn and Lee Hoi-san) would switch over to Sammo's own k-f revolution enacting team. Tong's first Lau film was CHALLENGE OF THE MASTER (76), than came EXECUTIONER FROM SHAOLIN (77). In 1978, he graduated to being the assistant action director for Lau's seminal 36 CHAMBER OF SHAOLIN and worked in that position too on the two other movies Lau made that year (SHAOLIN MANTIS and HEROES OF THE EAST).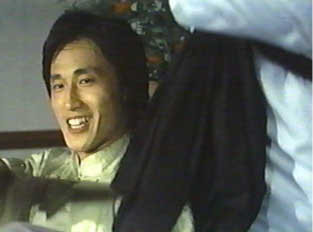 Tong also worked simultaneously for others; thus he was involved in the directorial debut work of both martial art star Chen Kwan Tai's independently produced IRON MONKEY (77) as well as Lau Kar-leung's younger brother Lau Kar-wing's HE HAS NOTHING BUT KUNG-FU (also 77). The next year, he played the main heavy in the younger Lau's second movie DIRTY KUNG-FU (78). This role furnished him with the opportunity to perform some superb classic swordplay as well as acrobatics and "spiritual" k-f. His other outstanding showcase of this period was SHAOLIN MANTIS. In this movie, he wielded a kwan-do or Chinese halberd, using it with great virtuosity often against two or even three enemies at a time.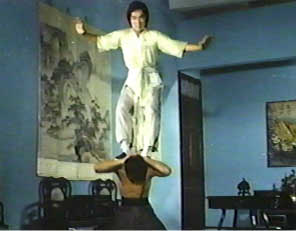 1978 also saw Tong going along with fellow stunt-mate John Chang (not to be confused with Shaw Brothers star David/John Chiang) to work for an independent film company named Goldlit which would give them some major career opportunities. Indeed, their first film for this production company, DUEL OF THE BRAVE ONES, was a starring vehicle for the pair as well as the first feature film choreographed by Tong on his own. The next year saw two more films where Chang was the lead, both choreographed by Tong and directed by a fellow named Cheung Sam, TWO WONDEROUS TIGERS and SNAKE IN THE MONKEY'S SHADOW. The latter - a knockoff of Jackie Chan's highly successful SNAKE IN THE EAGLE'S SHADOW - was also co-scripted by Tong, his first piece of writing. Next, Tong graduated to being a full-fledged director with KUNG-FU GENIUS (79). In doing so, he was following in the footsteps of the Lau brothers, Sammo Hung, Yuen Woo Ping and Jackie Chan as an action choreographer turned auteur. Tong though did not give himself the lead role, remaining content to play his usual assassin role. Still, this not prevent him however from choreographing a standout showcase for himself that involved his villainous character fighting the film's hero using only a paper fan against a variety of weapons.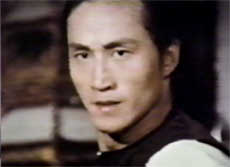 The end of 1979 and the beginning of 1980 saw Tong directing and releasing three k-f comedies in quick succession - SNAKE DEADLY ACT, DAGGER 8 and YOUNG AVENGER, the two first released within a week of each other. These were rather slight efforts overall but both feature intricate and colourful choreography as well as off-beat takes on some established formulae of the genre. E.g., in SNAKE, the young hero's master (played by Fung hark-onn is quite obviously an evil man who wants to dupe him into committing a frightful crime. In DAGGER 8, the young hero has a string of masters (including a woman) who are all killed one after the other. And in YOUNG AVENGER the young hero (Wong Yu) is asked by a ghost to avenge him. None of these films appear to have been highly successful, DAGGER 8 was taken out of theatres within days of being first released. Tong's short-lived association with Goldlit ended sometime in the mid-1980s but it appears to have given him a taste for directing.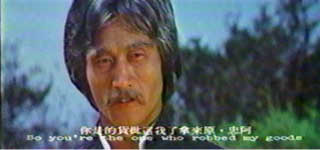 During his Goldlit ventures as well as afterwards, Tong continued to appear in other movies such as IRON FISTS and BIG RASCAL (both 79). For Lau Kar-leung's DIRTY HO he played an assassin masquerading as an antique dealer equipped with razor-tip shoes who engaged in a deceptive jig of death with Gordon Liu. He did a one-shot comeback for his old-boss Sammo Hung playing a fleet footed assassin in THE VICTIM. It was for doing a complicated leg form in this movie that he earned the title of "The Foot-Doctor" that was given by Sammo himself. 1981 saw him play two nearly opposite type of roles for Lau Kar Leung. I.e., in MY YOUNG AUNTIE he plays a sword wielding body guard who just keeps fighting the film heroes while in MARTIAL CLUB he is a benevolent master art teacher who has no fight scenes. That year, Tong also paid back an old favour by appearing in GOLD HUNTER the directorial debut of his old comrade Fung Hark-onn. Finally, 1982 saw him do another fighting bit in Lau Kar-wing's TREASURE HUNTER. For a change, it was his turn to find himself at the other end of an assassin's weapon - with the person on the "right" end of it coming in the unlikely form of a machete wielding pigtailed young girl: wu-shu stunt-woman Yeung Chin Chin.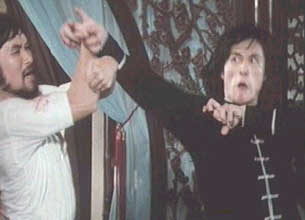 In 1982, Tong made a return behind the camera. By that time, the old school martial arts genre was dying, so Tong made a supernatural comedy instead entitled GHOST NURSING. Actually, from this point on, the supernatural comedy thriller would be his genre of choice and others that followed over the years were INVITATION OF GHOST (84), GHOST BALLROOM (89), MUSICAL VAMPIRE (90), GHOSTLY BUS (95), Occasionally though, he strayed with TWO JOLLY COPS (85) and THE SNIPING (90). Both GHOST BALLROOM and MUSICAL VAMPIRE were his own productions as was the wire-fu period extravaganza ALL MEN ARE BROTHERS (93).

His return behind the camera saw him disappear in front of it. Indeed, besides two of his own films, INVITATION OF GHOST and GHOST BALLROOM, he has been seen only in his mentor Lau Kar-leung's action comedy TIGER ON A BEAT II, playing -- oh big surprise -- an assassin.
It is unclear what Wilson Tong was doing in between his at times extended leaves of cinematic absence between films. Most likely TV work. Despite the decline of H-K cinema in the nineties, however he continued to make movies on a regular basis: most of them low budgeted thrillers: DANGEROUS DUTY (96), THE PROFESSIONALS (98), VAMPIRE COMBAT (2001).

Although Wilson Tong has, for all intent and purposes, not performed on the screen for two decades now, he still leaves behind an outstanding legacy of physical virtuosity as anyone who has seen SHAOLIN MANTIS, DIRTY KUNG-FU, DIRTY HO and THE VICTIM, among others, can testify.
(Written by Yves Gendron)

---
Winnie Lau Siu-wai
Born 07/24/71 in Hong Kong
Winnie was primarily a popular singer in the 1990s. Her first album (In Your Dreams) was released in 1991 and more than 10 more albums were to follow over the next five years. In 1997 she announced her retirement to the press, but I believe that she still performs occasionally.

She dabbled in a few films as well – in fact she began in film before launching her singing career – Path of Glory (1989), Widow Warriors (1990 - Tien Niu's character's daughter),The Magic Touch (Hui's secretary), Twin Bracelets (1991), Gangs 92, Future Cops (1993 - the snooty girl who falls for Jacky Cheung) and Legend of the Liquid Sword (one of the three sisters).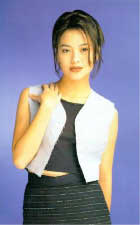 ---
Winston Chao Wen-hsuan
Since his first big role in 1993 (The Wedding Banquet), this dapper, sophisticated Taiwanese actor has seemingly opted to appear in very few productions and almost always ones with a fine pedigree. The Wedding Banquet was a surprise hit in the States and his role as the gay lover who has to deal with his visiting parents from Taiwan brought him a fair amount of publicity.

He followed this with another film from director Ang Lee – Eat Drink Man Woman – another international film that received broad and positive recognition. In this film as the co-worker of Wu Chien-lien his slightly distant and reserved characterization was often to be repeated in other films.

After these two films, Chao was to work with fellow Taiwanese Sylvia Chang in three films -–The New Age of Living Together (1994), I Want to Go on Living (1995) and Tonight Nobody Goes Home (1996). Besides these Taiwanese connected films, he also has appeared in a few Hong Kong films – Stanley Kwan's Red Rose White Rose, The Soong Sisters (as Sun Yat-sen), Intimates (Teresa Lee's boyfriend), Destination 9th Heaven, Thunder Cop (1996) and Island of Greed (1997). Additionally, he has a cameo role as Michelle Yeoh's character's father in The Touch (2002).
---
Wong Ching
This gap-toothed actor often played the comic buffoon or the dastardly bad guy in a number of films in the 1970s and 1980s. During the old school kung fu era he appeared in films such as The Heroic Ones, Chinese Boxer, King Boxer, Boxer from Shantung, Heroes Two and Spiritual Kung fu.

From the 1980s on, he shifted more towards a comic persona with The Greatest Lover (the wealthy nitwit), Till Death Do We Scare (the gangster), Happy Ghost 3 (the head gangster again), Lucky Stars Go Places, Heartbeat 100 (the creepy peeper), The Thirty Million (Dollar) Rush (the Inspector), Fractured Follies (Chow Yun Fat's brother).

He still played the occasional nasty non-comical villain as well – one of the rapists in Her Vengeance who gets what he deserves and as one of the Twin Villains in Handsome Siblings. He has no credits in the HKMDB after 1992.

---

Wong Chi-keung

This fellow showed up in the occasional film in the 80's almost always as a creep. He has a small cameo in She Shoots Straight, is the main bad guy in Midnight Whispers, Three Against the World (Boss Sung), Stars and Roses (devil prison director), Rich and Famous (one of O Chun Hungs gang), Its Now or Never and My Heart is that Eternal Rose

(Thanks to Michael Kistner for the information)

---
Wong Chi-yeung/ Karel Ng
Born on 08/10/67
Almost always a sleazy but good-looking bad guy, Wong has been in numerous low budget action/triad films throughout the 1990s and into the 2000s. A number of these were in the "Girls with Guns" genre – Angel Terminator II (the main bad guy), Yes Madam '92: A Serious Shock (the bad guy who teams up with Moon Lee), The Real Me, New Kids in Town (killer), Golden Nightmare, Raging Angels and X-Cop Girls (again as the main bad guy).

A few of his triad related films are Killers Love (the hitman), Triads: the Inside Story (kills veteran actor Tien Feng), Gangs 92, Young and Dangerous 5 and Story of a Prostitute. He is still quite busy these days playing the bad guy and appeared in 8 films in 2000 and 4 films in 2001 including Fing's Raver, Cop Shop Babes and Cop on a Mission. A few other films that he has appeared in are Fight Back to School (the cop/boyfriend of Cheung Man) and Off Track (a racer).

A few years ago the magazine Eastern Heroes had an article on him and included this information: He grew up in Hong Kong and initially considered a career in modeling but entered a "Search for a Star" contest along with over 5,000 others - and came away with an acting contract with TVB. His first TV series was Flying Tiger SWAT Team co-starring with a young Donnie Yen. Even though he had no martial arts training, he took well to being directed in action scenes and most of his films over the years have been in the action/crime genre.

Even with his early boyish good looks he was cast as the villain right from the beginning in his film debut The Last Duel in which he plays a corrupt cop. One of his most famous roles was as the Manchurian commander in Once Upon a Time in China alongside Jet Li. Karel says he doesn't mind being slotted as a bad guy and has even spent time talking with criminals and gang members in order to make his performances more realistic.

---
Wong Ching Lam
This fellow plays a villain in a number of Taiwanese low budget action and girls with guns films (Pink Panther).

---
Wong Hai/Hoi
He's part of Sammo's boys. He was also in Encounter's of the Spooky Kind as the guy who was sleeping with Sammo's wife. He's in the Deadly Challenger as the boss of a school, he's in Dirty Tiger, Crazy Frog as one of the men in the beginning who tries to catch Lau Kar Wing. He was Sammo's second challenge in The Victim.

(Write up by The Silver Fox)

---
Wong Hei/Wong He
A very popular TV actor on TVB, Wong Hei has appeared in only a few notable films to date – Passion 1995 (Christy Chung's creepy boyfriend), The Accident (as the Mainland homosexual), Mad Stylist and Undercover Blues (2000).
He has also done work as a radio personality, but got into trouble for using foul language on the air. Alternatively, has made his many female fans happy by publishing a nude pictorial book of himself.

A little more on Wong Hei from C.Y. Szeto:
Wong Hei gets into trouble a lot for his habit of rewriting scripts (he claims it is so the dialogue goes smoother). What is probably true is that he has intentions to get more involved behind the scenes and maybe even become a director. He has directed an MTV video and has co-written some scenes in his TV serials.
He has also been covering all the bases of becoming a well-rounded entertainer. A former cop, he's been a DJ, VJ, TV actor, movie actor, and most recently, pop singer and lyricist. Can we say ambitious?

---
Wong Jing
Born in 1956 in HK
Though his films are often vilified and treated with contempt by many people, it is difficult to even imagine the Hong Kong film landscape of the 1980s and 1990s without the presence of Wong Jing. In his roles of producer, writer and director, Wong was responsible for a huge number of films that touched upon nearly every genre that existed. Admittedly, he often followed trends set by other directors but he almost always added his own trademark slick style and common touch that made them his distinct product. An art film is anathema to Wong – he never attempted to make a film that would travel the international film circuits but, instead, made films for the working class HK audience. He succeeded admirably for many years with an amazing sense of what would play well - and his films often were among the biggest box office hits.

Criticize him all you want for bringing down the level of HK film – snigger for his output often being crude, stupid, nonsensical, tasteless – but what would HK film be without the following:
Magnificent Butcher (writer)
Prodigal Son (writer)
The Seventh Curse (writer)
Evil Cat (writer)
The Fortune Code (writer)
My Neighbors are Phantoms (writer)
The Banquet (writer)
Flying Dagger (writer)
The Romancing Star (director/writer)
Casino Raiders (director/writer)
God of Gamblers/II/III/Returns (director/writer)
The Big Score (director/writer)
Royal Tramp I & II (director/writer)
Casino Tycoon I & II (director/writer)
Holy Weapon (director)
City Hunter (director/writer)
Raped by an Angel (director)
Kung Fu Cult Master (director/writer)
Boys are Easy (director/writer)
Last Hero in China (director/writer)
The New Legend of Shaolin (director/writer)
Hail the Judge (director/writer)
Whatever You Want (director/writer)
High Risk (director/writer)
Ghostly Vixen (producer/writer)
Queen of the Underworld (producer/writer)
Fight Back to School (producer)
Lee Rock I & II (producer)
Deadly Dream Woman (producer)
Naked Killer (producer)
She Starts Fires (producer/writer)
Millionaire Cop (producer)
To Live and Die in Tsimshatsui (producer)
My Father is a Hero (producer)
Lover of the Last Empress (producer)
Young Policemen in Love (producer)
I'm Your Birthday Cake (producer)
Forbidden City Cop (producer)
Sexy and Dangerous (producer)
Sex and Zen II (producer)
Ebola Syndrome (producer)
Her Name is Cat (producer/writer)
Cheap Killers (producer/writer)
No, they are not all classics but many of them are certainly a lot of fun and that's what Wong Jing primarily sets out to do – to entertain for ninety minutes or thereabouts with his films – and, of course, to make a lot of money! So he throws in anything he can think of from sex with an infected corpse and a piece of meat (Ebola Syndrome) to female killers in hotpants (Naked Killer) to a ghost that needs to perform oral sex on 100 virgins and suck out their life force to reincarnate (Ghostly Vixen). It isn't art but it entertains.

Along with the outrageous films with which he is most associated, he certainly should get some credit for a number of quality films as well – The God of Gambler series, the sublime Forbidden City Cop with Stephen Chow (along with two other Chow films - Fight Back to School and Hail the Judge), the Jet Li vehicles (My Father is a Hero, Kung Fu Cult Master, The Legend of Shaolin and High Risk), Portland Street Blues (credited as Presenter) and the wonderfully zany Boys are Easy.

He is the son of Wong Ting-lam a well-known producer/director in film and TV from the 1950s through the 80s (and who has turned to acting recently in films like The Mission and other Milkyway Image offerings). While studying at Chinese University he began writing scripts for TV. He asked his father for permission to study film in England, but his father said "just observe and you will learn the craft" and that is what he proceeded to do (thankfully, can you picture Wong Jing as a director of Masterpiece Theater!). With some success there, he next began writing scripts for the Shaw Brothers' film arm – his first for a film called Cunning Tendency in 1978, Mahjong Heroes in 1982 and Hong Kong Playboys in 1983. He also wrote for Golden Harvest and helped produced the scripts for the two classic Sammo Hung films – The Magnificent Butcher and The Prodigal Son. His first duties as director were also for the Shaws – the 1981 Challenge of the Gamesters.

Over the next six years there was very little that Wong Jing came up with that would foreshadow his rise as one of the top movie makers in Hong Kong – director of Maggie Cheung in the cute Girl with the Diamond Slipper and the writer of the cult film, The Seventh Curse. It really wasn't until the late 1980s – perhaps not coincidentally until after connecting up with his muse, actress Chingmy Yau, that he began to show his commercial genius. Casino Raiders with Andy Lau was a big hit in 1989 and actually began the gambling film craze that Wong was to capitalize on with the tremendously popular God of Gambler films. With these successes under his ever expanding belt – he nearly became a one man industry – directing, writing or producing 9 films in 1991, 9 films in 1992 and 12 films in 1993, 5 films in 1994, 12 films in 1995 and 11 films in 1996. Even with the downturn in the HK film industry when so many have deserted the HK film industry, Wong has continued to pump out product. Though in truth his films seem to have lost that outrageous element and he seems to have lost his instinct for what the audience wants to see. There are still a few gems in his recent films though – Her Name is Cat (1998), Mr. Wai-Go (1998), Erotic Nightmare (1999) and The Irresistible Piggies (2002).

Of course Wong Jing is in this section because he has also acted in a number of films over the years – often just cameos – but especially in the early years he had substantial roles in some of his films – primarily of a comic nature. Some films in which he performed are Girl with the Diamond Slipper (Slipper), The Ghost Snatchers (the main character), How to Pick Up Girls (chases after Chingmy), Ghost Fever (married to Pat Ha), Innocent Interloper (a student), The Romancing Star III (one of the three guys), The Big Score, Cop Shop Babes (the insane doctor) and many others. Lets just say though that it's good that he didn't have to make his living through his acting skills!

Of special importance to a few of us is his utilization of the luscious Chingmy Yau in many of his films. He turned her from basically a cute small time actress in romantic comedies – i.e. Crazy Companies, How to Pick up Girls – in the late 80s to one of HK's sexual icons in the 1990s with films like Naked Killer, Lover of the Last Empress, Raped by an Angel and I'm Your Birthday Cake. Some of their other collaborations were – Deadly Dream Woman, She Starts Fires, Casino Tycoon, Ghost Lantern, Millionaire Cop, Legend of the Liquid Sword, High Risk, Blind Romance, Royal Tramp I and II, City Hunter, Kung Fu Cult Master, Boys are Easy, New Legend of Shaolin and Return to a Better Tomorrow. For this, many of us are very grateful. By the late 90s the two had gone their separate ways and Chingmy married someone else and retired in 2001. Wong is always on the look out for his next big starlet – Kelly Lin/Lam being one of his recent discoveries – but none have inspired him in the same way as did Chingmy.
---
Wong Kam-kong
Wong Kam-kong has lent his wonderful authoritative bad guy image to a few notable films – Gunmen (1988 – Adam Cheng's main man), Angel Hunter, Sam the Iron Bridge & One Arm Hero (the Governor), Burning Paradise (Elder Kung), From Beijing with Love (Stephen Chow's supervisor), Wonder Seven (Colonel Yim).

In the film Murder – Wong has one of his few good guy roles as the investigating detective and an intriguing one in God of Gamblers Returns.

---
Wong San
He was one of those wonderful character actors that popped up in bit parts in so many films that after a while you grow a sense of affection for the fellow. His elderly gray haired genial fish eyed persona usually formed his characters. He generally played a slightly comical role in films like Seven Years Itch, It's a Mad Mad Mad World II, Crazy Companies II, Miracles (hotel reception), God of Gamblers, Spy Games, Fight Back to School II (Cheung Man's father) and Happy Ghost V. He has credits going back to the 1970s and can be spotted in Michael Hui's Games Gamblers Play as the lecherous cardplayer with Betty Ting Pei.

One of his best roles and a favorite of mine was as Chow Yun Fat's butler/major domo in The Fun, The Luck and the Tycoon. As a cupid of love, he does what he can to get Chow and Sylvia Chang together. A film I have not seen, A Chinese Torture Chamber Story II, has him credited as the "heart-eating warrior" which sounds interesting! This role in 1998 was his last. Wong San died in 1999 at the age of 73.

---
Wong Tao Aka: Don Wong/Don Wang /Wang Tao.
His name may not be well known in the West outside of the Old-School field. Inside it though, Don Wong/Wang Tao is widely acknowledge as one of the most appealing and reliable independent players of Chinese martial-arts cinema. Handsome and charismatic, he was an able actor whose range went from the intense brooder to the cocky fighter. Trained in the hand/arm centred fighting arts of Mantis Fist and Southern style's Hung Gar, this had him typecast as a "puncher" but equally trained in Taekwando he was a great kicker as well and consequently one terrific screen-fighter. In all, from the mid-seventies to the mid-eighties, he played in around three dozen martial arts productions -- a good deal of them minor classics of the genre -- and was often paired with other renowned independent players as John Liu, Tang Tao Liang, Chan Sing, Chang Yi, Chen Kwan Chun, Chang Yi, Lo Lieh and Angela Mao (after her Golden Harvest days).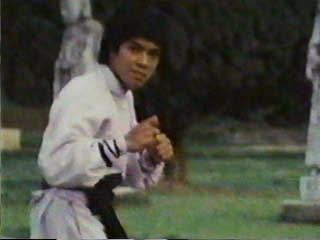 Don Wong appears to have been a discovery of Lo Wei, the director who for a long time was credited with having "discovered" the two k-f cinema greatest icons Bruce Lee and Jackie Chan (actually in Bruce Lee's case he only directed his first two movies for Golden Harvest studio). In response to Bruce Lee's huge success, the search was on for another like him - a genuine martial artists with a potent screen-presence, and with his strong square jaw, fierce piercing eyes and near feline like allure. Wong not only fit the desired profile but bore a more than evocative likeness to Bruce Lee, which naturally added to his appeal at least in Lo Wei's eyes. How he discovered Wong and what Wong did before his movie days is not known by this writer. It is said that he was originally a Californian cop and this was in fact the role that he played in his very first screen appearance: CHINATOWN CAPER (May 1974). His part was actually a very brief one though, as he was on screen for less than five minutes before the ending to kick ass. As it turned out, his late appearance was likely a prelude for his first true starring vehicle that would be released a couple of months later: THE YELLOW FACED TIGER (August 1974 -- also known as SLAUGHTER IN SAN FRANCISCO). The film showed Wong with great screen-fighting skills as well as a good screen presence and dramatic talent but he was impaired by having to imitate Bruce Lee especially in the way he fought and he was outshone by the cartoon villainy of the film's main heavy: American hard-contact champion Chuck Norris. It was a dreadful and inept film in nearly every respect and a well-deserved dud at the box-office. Lo Wei reacted by immediately dropping Wong, oblivious to the fact that it was the movie itself which had dragged down his protégé's great potential and not the other way around. This left Wong out to dry with a film career dead in the water before it even had the chance to start.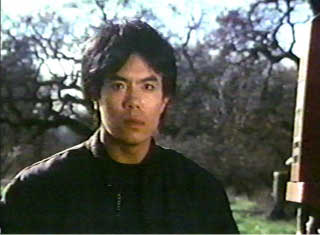 Some sources state that YELLOW FACED TIGER was originally meant as a vehicle for Bruce Lee. The story goes that after FIST OF FURY, Golden Harvest planned a third Bruce Lee film to be directed again by Lo Wei but Bruce wanted nothing to do with the director despite the huge success of those star-driven productions that had given Lo Wei the title of "Millionaire Director". Lo was in fact little more than a hack who, while filming, concentrated more on the horse racing that was broadcast on the radio than directing. Actually, the planned third film was MAN CALLED TIGER with (Jimmy) Wang Yu acting as replacement, not YELLOW FACED TIGER which was done nearly one year after Bruce Lee's death. Interestingly enough though, beyond their evocative likeness to one another and their Scottish Surname, (Bruce and Don as in Donald) Wong and Bruce Lee did have a surprising number of less superficial points in common e.g., both were the sons of character actors, as Bruce Lee's father was the famed Opera performer Lee Hoi-chan while Wang Tao's father was George Wang Jiu a bit player in a couple of small Italian and American productions in the sixties and seventies. Also both had a mixed-race background as Bruce Lee's mother was a half-German Eurasian and Wong's father had some mix-Italian ancestry (which may also account for Wong's personal name of "Don").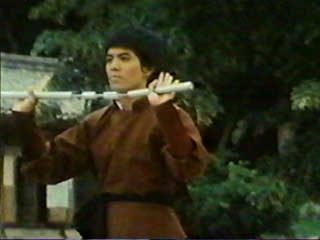 Had Don Wong's career ended after the YELLOW FACE TIGER debacle, his name would have more than likely ended-up in the dustbin of history along the with the dozen of Bruce Lee wannabes who tried to become k-f stars by imitating the Little Dragon. A couple of years went by in Wong's life that are not known to this author until he somehow crossed the path of the canny and astute maverick independent filmmaker Ng See Yuen. Ng saw potential in him beyond his Bruce Lee likeness, gave him a second chance and cast him in his new movie SECRET RIVALS along with two other promising martial art talents who also had false starts: super-kickers John Liu and Hwang Jang Lee. Besides utilizing these new actors, the film also rested on the ingenious gimmick of pairing a leg fighter with a Southern style puncher (in that case Wong), and have the pair of them fight together against a superior near invincible villain. The film turned out to be a huge success finally putting Wong's career on solid footing. If he may have had Bruce Lee's shadow hanging over him in YELLOW FACED, in RIVALS he only momentarily evoked him with an impromptu display of nunchakus. Otherwise, he totally dispelled the comparison to Lee with his distinct southern fighting style and his own cocky charm. Don Wong was truly his own man now. A couple of years later Ng See Yuen working as a producer would once again salvage the career of another seemingly ill-fated Lo Wei protege and make a star out of him: his name: Jackie Chan.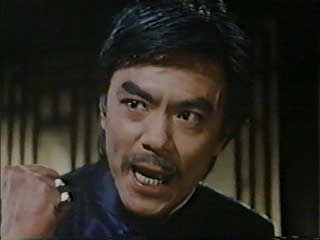 Shortly afterwards Don Wong starred in THE HOT THE COOL AND THE VICIOUS, an easy but genial SECRET RIVALS knockoff, this time co-starring none other than John Liu mentor's Tang Tao Liang. The film was produced by Wong's own father, George Wang, who also played one of the film's heavies. This was the elder Wang's first H-K film appearance. The film was directed by Lee Tso Nam, probably one of the best independent martial arts cinema directors from Taiwan who often put either some convoluted intrigue or an enjoyable level of quirkiness into his films. The action choreography and chief villainy was provided by trained Peking Opera performer Gam Ming, also known as Tommy Lee. Both Lee and Gam would time and time again encounter Wong through the years in several other k-f movie productions.

For the next eight years Don Wong made an average of 4 or 5 movies a year, initially alternating between H-K and Taiwan before focusing more on Taiwan. He rarely went into a solo-act and most of his films saw him either co-starring with a heroic partner or as part of an ensemble cast. This was the way martial arts cinema was largely operating in this period. The day of the lone single hero was over. Having Wong paired with a co-hero/co-star was the best way to capitalise on his charisma and abilities and stimulate both the narrative and action within the film.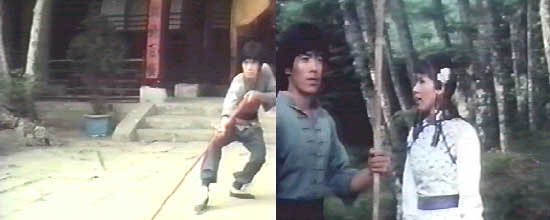 1976: STRUGGLE WITH DEATH (co-starring Phillip Ko-Fei). 77: THE DAMNED,(also known as BANDITS
PROSITUTE AND SILVER) with Angela Mao and Lo Lieh, TWO ASSASSINS (Chang Yi), ALONG CAME A TIGER (reputedly one of his best, directed by Wu Ma), EAGLE CLAWS (directed by Lee Tso Lam, co-starring Chen Kwan Chun), DUEL IN THE DESERT (with Angela), FIGHT FOR SURVIVAL (co-starring k-f leading female stars Chia Ling and Polly Shang Kwan Ling-feng) 78: SHAOLIN IRON CLAWS (Chang Yi, Chan Sing), SNAKY KNIGHT FIGHT MANTIS (Chang Sing again, Carter Wong), SHAOLIN KUNG-FU MASTER (Chang Yi), ASSAULT ON FINAL RIVAL. 79: SHAOLIN INVINCIBLE STICK (co-starring the leggy Hsia),SHAOLIN DEVIL AND SHAOLIN ANGEL (Stephen Tung, Chan Sing), TEN BROTHERS OF SHAOLIN (an ensemble cast movie co-starring Chia Ling, Chan Sing, Chang Yi and Stephen Tung), MOONLIGHT SWORD AND JADE LION (co-starring Angela Mao), DEATH DUAL OF KUNG-FU (John Liu, Phillip Ko-Fei), PHANTOM KUNG-FU, (directed by Lee Tso Kam co-starring Chang Yi), EUNUCH OF THE WESTERN PALACE. 80: THE PIONEERS (co starring King Hu players Hsu Feng and Shi Ji), THE IRON SWALLOW, CHALLENGE OF DEATH (directed by Lee Tso Lam, co-starring Tang Tao Liang and Chang Yi), FATAL NEEDLE VS FATAL FISTS (Lee Tso Lam again co-starring Lo Lieh), 18 SWIRLING RIDERS (Chia Ling, Chan Sing, Lo Lieh). 81: BATTLE FOR THE REPUPLIC OF CHINA Wang Tao only Shaw Brother involve production, ADVENTURE FOR IMPERIAL TRESURES. 82: REVENGE OF KUNG_FU MAO (with Angela Mao and Jimmy Wang Yu ), WARLOCK OF THE BATTLEFIELD. 83: IMPOSSIBLE WOMAN, RIGHT
OVER-COME MIGHT (with Chan Sing).

In time as martial arts cinema became more and more an obsolete genre, Wong slipped into supporting roles and character parts: DRUNKEN TAI-CHI (84), ISLAND WARRIOR WILD PANTHER (all 84), CRISIS (85), THE STORY OF DOCTOR SUN YAT SUN (86).
At some point, Wong left the H-K/Taiwan martial arts scene altogether and moved to Thailand where he became a successful TV soap opera star. He has not been seen in H-K since except for a small part in the recent part VI of the Young and Dangerous series: BORN TO BE KING (2000) where he could be seen playing alongside his father George once more.

SECRET RIVALS, THE HOT THE COOL AND THE VICIOUS, EAGLE CLAWS ALONG CAME THE TIGER, CHALLENGE OF DEATH, FATAL VS FATAL NEEDLE and THE DAMN are reportedly the best Don Wong films.
(Written by Yves Gendron with special input by Linn Haynes)

---