---
Valerie Chow Kar-ling
Born in 1970 in Vancouver
It still surprises me that someone with the classy beauty and solid acting skills of this actress did not become a bigger star in either Hong Kong or the United States. I recall seeing Twenty Something in a film festival long before I became a real HK film fan and being quite impressed with her. At that early stage of my Hong Kong viewing I didn't at all connect her with the playful sexy heartbreaking air hostess in Chungking Express that I had seen somewhat earlier. Her role in Chungking along with a similarly small role in The Blade (the prostitute) will always make me a fan of hers. Though her screen time in both films is limited, they both have moments that have stayed with me – in Chungking it is the "flight preparation" demonstration she gives to the music of "What a Difference a Day Makes" before rolling into bed with Tony Leung and in The Blade it is simply that first cat like look at her on top of the wagon staring down – when both On and Iron Head are overwhelmed with her beauty.

She was born in Canada and went with her family to Hong Kong in 1991 where she entered Hong Kong University (from where she graduated with a law degree) and the Hong Kong Beauty Pageant in 1991 in which she was runner up. Before getting into film, she became a popular TV host on shows like Eye on Hong Kong. After her debut in Twenty Something (1994) she went on a run of 12 films within two years. Outside of the two previous films mentioned, the most memorable of these were High Risk (the female terrorist), The Case of the Cold Fish (the girlfriend) and the fun action film, Red Zone. Although she played second fiddle (like everyone else) to Chingmy Yau in Lover of the Last Empress, she also impressed in that Category III period piece. Many of the films from these years though were quite forgettable.

After this spate of films and ones in the tawdry Street Angels (1996) and Hero (1997), she began to become dissatisfied with her career in Hong Kong and moved to Hollywood to try her luck. Switching her name to Rachel Shane, she became a Revlon covergirl and appeared in a selection of B films – Futuresport, Bridge of Dragons and Phantoms – that didn't do much for her resume. She lived in New York City for three years and in an interview said that she loved it. With her acting career in the U.S. going nowhere, Valerie returned to Hong Kong in 2000 and started working as a Public Relations Officer for a banking firm. At the same time, she also appeared in some TV shows and a few films – Sausalito (the head of the company), Healing Hands (cameo) and Inner Senses. She has announced (2003) that she has left acting for the most part and will work in the marketing area of Peddar, a shoe company.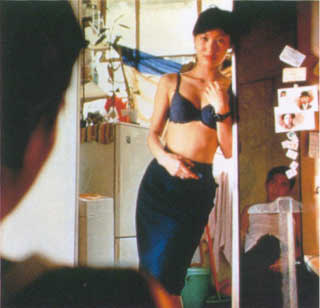 ---
Veronica Yip Huk-hing
Born in 07/25/66 in Hong Kong
In the early 1990s there wasn't anyone more scrumptious than Veronica Yip. Or more unclothed. She is like a big slurpy melting ice cream cone in those early films of hers – a gorgeous round face and a smashing smile – and a voluptuous body that made men's knees shake, rattle and roll. She started her entertainment career by receiving the Runner-up position in the Miss Asia Beauty Pageant and then went on to join the ATV television station. For the next six years she whiled away there without a huge amount of success. Then she decided that her career needed a boost – with her bust!

The film Love and Sex in Eastern Hollywood has a character supposedly modeled after Veronica (played by Angie Cheung) in which she decides to enter into the world of Cat. III films (after some enhancements performed) and to reveal her plentiful assets. Veronica in fact did this and in 1991 performed in three erotic films – Hidden Desire, Take Me and Pretty Woman – that turned her into a star/celebrity in no time. Not that you can really tell by this trio of skin baring films, but there was actually some acting talent lurking behind those saucy eyes and it began to emerge in the following year.

In 1992 she still made some racy films – but they were of a higher and more mainstream status – Call Girl 92, Cash on Delivery and Gigolo and Whore II – and her roles were more dramatic and much more than simply shedding her clothes – and in one film Rose – she plays a vulnerable and lonely friend of Maggie Cheung's and was quite wonderful in it. This success seemed to encourage her to take on more challanging roles and to leave her Cat. III roles in the past.

In the following year she embarked on a series of good films and good roles – Rose Rose I Love You, Retribution Sight Unseen, Three Summers, The Eagle Shooting Heroes (where she was one of the few cast members who didn't also appear in the work that it's widely seen as a spoof of -- Ashes of Time), Love Among the Triad and the wonderfully acted A Roof with a View. Over the next few years she took on some other solid roles – Law on the Brink, the serious drama Red Rose White Rose, 1941 Hong Kong on Fire and the difficult role of a rape victim in Scarred Memory.

To some degree though her Cat. III image stayed with her and she was never taken seriously as a dramatic actress which is a shame because she has given a few terrific performances. Part of this may also be due to her having some well publicized love affairs during those years. Her last film (the dreadful Hong Kong Showgirls) was in 1996 after which she retired, married a wealthy businessman, moved to New York and in 2000 had an adorable little baby girl.

---
Vicky Zhao Wei
Born 03/12/76 in the Anhui province in China
Vicky has made a recent splash in Hong Kong and was in fact the highest paid entertainer in Hong Kong in 2001. Her popularity began in China where she became a huge star while appearing in several television series after she was chosen from Beijing's Film Academy at the age of 21. For her role in Princess Returning Pearl she received the Golden Eagle, which is the top TV award in China. She also recorded some musical albums - though in an interview she stated that she didn't much like them!

In 1999 she made the jump to HK film in the mediocre Déjà Vu, but has since appeared in high profile films – The Duel, Shaolin Soccer (in which she made herself very homely) and Chinese Odyssey 2002. She clearly has a very appealing personality that comes through in her films. Recently she ran into a hailstorm of criticism when she allowed herself to be outfitted in a dress with the Japanese military flag motif in a print ad – and she was condemned by many for being unpatriotic or simply not being very smart.

This faux paus of hers gained further notoriety when it was announced that the Mainland Chinese government planned to refer to it in school text books. Hopefully however, this will be far from what she will be most famous for in years to come.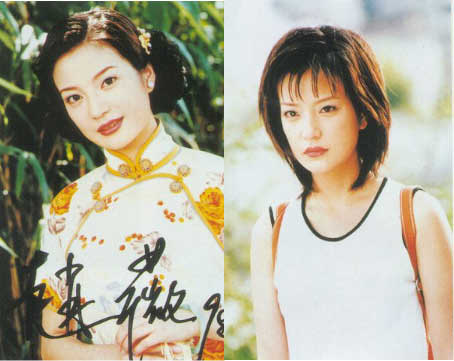 ---
Victor Hon Kwan
This character actor has appeared in loads of films – generally in fairly small roles – since the mid-1980s. Some of the better known ones are: Prison on Fire I & II, School on Fire, Lee Rock, Full Contact, Daughter of Darkness II, Operation Scorpio and The Young and Dangerous III.

---
Vincent Kok/Kuk Tak-chiu
Born 08/15/65
Another film renaissance man, Vincent has directed, written, produced and acted in films since the mid-1990s. Most of his acting roles tend to be small – often in films in which he has a behind the camera role – but often memorable due to the eccentric characters he has portrayed. Some of these were in Love on Delivery, The Golden Girls, Forbidden City Cop, Sexy and Dangerous, Viva Erotica!, The God of Cookery, First Love Unlimited, Metade Fumaca, Okinawa Rendez-vous (where he threatened to steal the show from the likes of Leslie Cheung and Tony Leung Kar Fai), Summer Holiday (the boss), Shaolin Soccer and Merry Go Round (the customer).

He has thus far directed only a few films – Only Fools Fall in Love, the classic Forbidden City Cop, Jackie Chan's Gorgeous and the perhaps not such great Chinese New Year film, Marry a Rich Man. Where his real talent seems to emerge is in his scripts where he brings a sly wit to bear – a number of them being Stephen Chow vehicles. Some of these writing credits are All's Well Ends Well, Flirting Scholar, Love on Delivery, Satin Steel, From Beijing with Love, Forbidden City Cop, God of Cookery, Hitman, You Shoot, I Shoot and 2002.

Kok began his career while in Canada where he went to study communications. While there he met producer/director Clifton Ko in 1991 and penned many scripts for him over the next few years – Mad Mad Mad World II, Beyond's Diary, Stooges in Hong Kong, Crazy Love, Daddy, Father, Papa, Summer Lovers, Laughter of "Water Margins", Vendetta and others. His niece is actress-singer Jo Kuk.
---
Vincent Wan Yeung-ming
One of the more solid character actors of the 90s, Wan has generally gone unrecognized and only had the opportunity to star in a few low budget films. In the early 90s he showed up in many films – All for the Winner, Fist of Fury 1991, Prison on Fire II, Call Girl 92, Love Among the Triad, Can't Stop My Crazy Love for You – but it wasn't really until the later 90s that he became more familiar to viewers.

A major part of this was due to his appearances (as branch boss, Ben Hon) in the Young and Dangerous films and their spin-offs – Young and Dangerous IV and V, Portland Street Blues, Those Were the Days (2000) and Born to be King. As an honorable and likable triad member plus good friend (and progressively more) of Sister 13 he became one of the more popular side stars in the series. Other prominent films that he appeared in were The Storm Riders, Love is not a Game, but a Joke (the object of Hsu Chi's desire) and Metade Fumaca. In low budget films such as The Warning Time (which he also co-directed) and Cold War he has taken on leading roles.

---
Vivian Chow Wai-man
Born on 11/20/67 in Hong Kong
As the girl next-door type (and perhaps quintessential Jade Babe), Vivian was tremendously popular as both an actress and a singer from the late 80s through her retirement in the mid-90s. She -- whose occupying of a significant place in Hong Kong pop culture for a time can be seen in their being "in-joke" references to, along with a cameo appearance by, her in movies like Tom, Dick and Hairy (1993) -- started off her career in entertainment at an early age when she entered a singing contest at 16 and though she didn't win she received a fair amount of attention and was soon working for TVB.

After moving to film, she made a quick mark with a series of family type romances in which she played a sweet innocent – Heart to Hearts, Heart into Hearts, Unmatchable Match, The Perfect Match and Heart Against Hearts. By 1992 though she was playing more adult roles – Angel Hunter (a convert to a dangerous cult), Summer Lovers and Girls Without Tomorrow (the TV actress daughter of Petrina Fung Bobo's character).

Still with later films like Family Affairs, To Love Ferrari and Top Banana Club she returned to her "good girl" image and soon after retired from film. Much of her popularity stemmed from her singing career in which she has had hits in Cantonese, Mandarin and Japanese.
---
Vivian Hsu
Born on 03/19/75 in Taiwan
This small (5'2'') Lolita like cutie pie has managed to have a fairly successful career without a lot of discernable talent in either acting or singing – but by exploiting her youthful sexuality in an almost innocent manner (even when nude) and she has attracted many fans and has many websites devoted to her.

She began by winning the Taiwan CTS TV Entertainment Beauty Girl Contest in 1990 and soon joined a girl band called "ShaoNuDui" that was popular for a while. Soon she went solo and released a nude pictorial book in Japan where she is hugely popular. Her singing career dwindled down, but she appeared in some Japanese TV series and was part of a comedy group as well called Black Biscuit Bang.

Her film career has been spotty as she has focused to some degree on the more lucrative Japanese market. She has appeared in films made in both Taiwan and Hong Kong. Her first film was in 1994 – the cutesy Shaolin Popey – but she followed this with the violent Hunting List and then in 1995 was in two Cat. III films – Angel Heart and Devil Angel.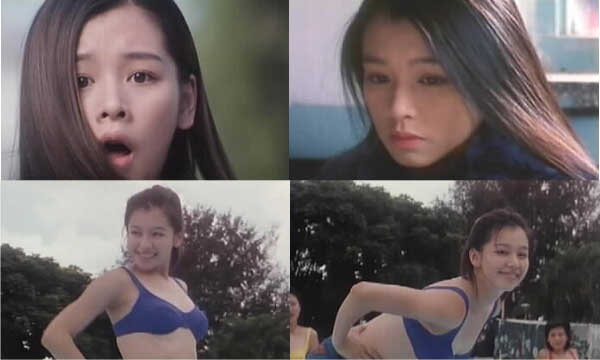 Since then though she has gone back to making family films – almost like those other films were a bad dream – with Dragon in Shaolin, Adventurous Treasure Island, L..O..V..E Love, Your Place or Mine and Jackie Chan's The Accidental Spy in 2001. Even in this latest film at the now ripe age of 26 she still manages to look sweet sixteen.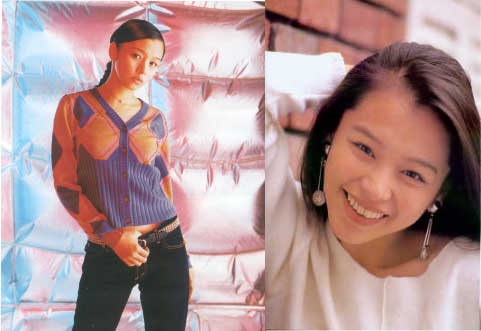 ---
Vivian Wu
Born in 1966 in Shanghai, China
She is the daughter of a famous Mainland actress, Zhu Man-Fang, and began acting herself while still a teenager in various television shows in China. She later came to the United States to study at Hawaii Pacific University.This lovely actress has apparently only appeared in one Hong Kong film – as Madame Chiang Kai- Shek in The Soong Sisters.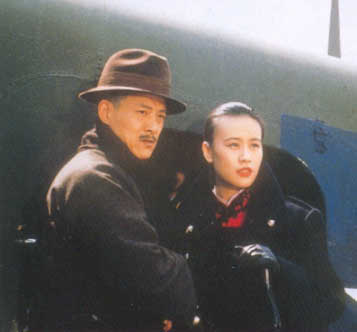 Her first major role outside of China was in Bernardo Bertolucci's The Last Emperor (1987) as the titular character's second wife. After this she was in some other high profile films – Heaven & Earth (1993), The Joy Luck Club (as the scorned yet filial daughter who cut some of her own flesh to make a nourishing soup for a physically ill parent) and the sensuous The Pillow Book (with Ewan MacGregor) in 1996. During these years she was also in the TV series – The Vanishing Son. Since The Soong Sisters in 1997 she has appeared in A Bright Shining Lie (an HBO special), 8 1/2 Women directed by Peter Greenaway and a Chinese film called Roses are Red. She also has made guest starring appearances in American TV series like E.R.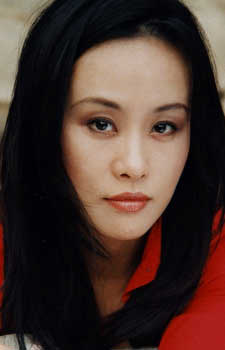 ---