---
To Gai Fa
This tough lady appeared in a number of primarily Taiwanese "girls with guns" films in the 90's. She is not one of the better looking actresses in the genre, but she brings a real authenticity to her action roles. Some of her films are Pink Panther, Big Circle Blues, Braveful Police, Caged Beauties, Lady Killer, All Mighty Gambler and Pretty Women at War.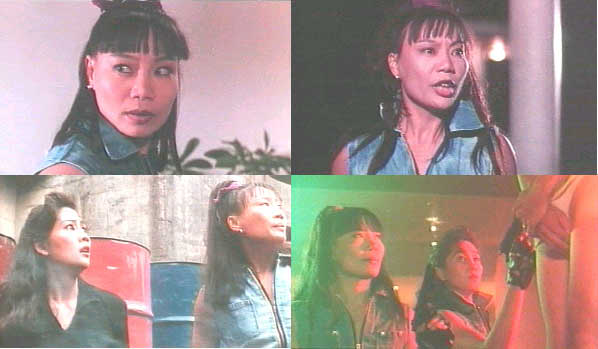 ---
To Siu Ming
This cross eyed actor appeared in many films from the 1970s through the early 1980s usually in roles that utilized his looks for comic relief. He had roles in many of the kung fu comedies during this period.

Some of his films are Dirty Tiger, Crazy Frog, Odd Couple, His Name is Nobody, The Young Master, The Buddhist Fist, We're Going to Eat You, From Rags to Riches, Encounter of the Spooky Kind, Aces Go Places, Project A and Crazy Companies.

---
Tom Poon Jan-wai
This fellow was lucky enough to be the recipient of Loletta Lee's affections in two of her Cat. III films, Crazy Love and Spirit of Love. From the early 80s with Coolie Killer to 1999 he has been appearing in films. Some of his others are Evil Cat, Wonder Women (Cecilia Yip's character's two-timing hair stylist boyfriend), On the Run, Vengeance is Mine, Pantyhose Hero. After 1993, he seems to have dropped out (perhaps two films with Loletta Lee in that year exhausted him!). But in 1999 he returned with appearances in some Cat. III films such as Jade Stalk, Karma of Sex and Secret Dalliance.

---
Tommy Wong Kwong-leung
His flat nose and fishy eyes have helped Tommy through a lengthy career in which he has shuttled back and forth between bad guy roles and comedic ones. His career began in the mid-80s and is still continuing into the new century and has consisted of over 60 films.

In the late 80s he appeared in a number of Ringo Lam films Prison on Fire (I and II), School on Fire and Wild Search (Chow Yun Fat's partner) along with many others. Some of his better known films were A Moment of Romance, Fatal Vacation, Ghost Lanterns, A Day without Policeman, Madam City Hunter and many more. He also appeared in the Stooges in Tokyo and Stooges in Hong Kong along with his brother, the composer/actor James Wong.

---
Tony Ho Wah-chiu
Making an impressive debut in The Longest Summer as the ex-army sergeant older brother of Sam Lee's character, he has followed this up with roles in Metade Fumaca, Immortal Spirit, Sexy and Dangerous, Hit Team, Horoscope II (the sorcerer), Cop Shop Babes (the bad guy) and Cop on a Mission. A Fruit Chan favorite, he made a cameo appearance in Little Cheung plus is slated to co-star -- along with The Longest Summer co-star, Jo Kuk, and two currently unknown Mainland actors -- in director Chan's 2002 production (the strangely tentatively titled Public Toilet).
---
Tony Leung Chiu-wai/Little Tony
Born in Guangdong Taishan in 06/27/62
Tony Leung Chiu Wai has become one of the more recognizable faces in international film, as auteur Wong Kar Wai's films have been presented in practically every film festival world wide and led Wai Chai (or Jai -- i.e., the Cantonese word for 'male kid') to win consistent praise for every film. I truly believe he is one of the finest actors in the world. Chow Yun Fat may enjoy instant recognition, but it is Little Tony who swept the major best actor awards - 8 times. Going by Wong Kar Wai's filmography alone, Wai Chai has won the best actor and best supporting actor awards for Chungking Express in Taiwan and Hong Kong, Happy Together in Hong Kong and Taiwan (also nominated in Cannes), and In the Mood for Love in Hong Kong and Cannes, the first Chinese to ever do so. He also won awards for My Heart is the Eternal Rose, People's Hero and Love Unto Waste.

Blessed with boyish good looks, Wai Chai started his TV career by enrolling in TVB classes and hosting a children's show called 430 Space Shuttle - the equivalent of Sesame Street in the early 80s. 430 Space Shuttle also introduced Margie Tsang and Stephen Chow to audiences. In an interview, Stephen Chow discussed his early struggles and intimated that Wai Chai's charming looks gave him an easier time in penetrating the Hong Kong entertainment Kong Wu circuit. In fact, it was Stephen Chow who encouraged Tony to apply to TVB in 1982. In 1999's King of Comedy, Stephen Chow satirizes himself as an "extra" (ka leh feh's, a more derogatory, nuanced term for "extra"), but in the early 80s Chow indeed had to take up the most obscure and forgettable extra roles that at best gave him two lines, while Wai Chai was already parading as the leading man in many series.

By the mid-80's Tony was riding high in TVB, having delivered beloved performances in Police Cadet '84, Duke of Mount Deer, Heaven Sword and Dragon Sabre, etc. His TVB accomplishments made him a household name and a sensational favorite throughout the Chinese communities world wide. There's probably no Chinese kid of a certain generation whose consciousness doesn't involve the memory of Wai Chai's roles Kit Low from Police Cadet or Siu Bo from Duke of Mount Deer. Just as Jackie Chan and Sammo Hung are a part of the collective Chinese childhood, so is Wai Chai.

Nice life, you think? But Tony's formative years weren't as smooth. His father was a gambling alcoholic who abandoned his family - Tony, his mother, and younger sister. By age 15 Wai Chai quit school and began earning extra income with odd jobs to ease the financial burden of a fatherless working-class family.

Tony has remained as one of the most desirable men in Hong Kong, a constant paparazzi favorite. His perpetual on and off relationship with Carina Lau has lasted around 13 years. The press likes to apply Freudian theories as to why Wai Chai has never married, although he's been in quite a few serious relationships, unconsummated in marriage as they were. They say Wai Chai suffers from abandonment, intimacy, and unresolved father figure issues. We'll never know unless he says so himself. Margie Tsang, Kitty Lai, Carina Lau, etc. were all his companions at one point or another. The newest gossip is that during the filming of Heroes, he and Maggie Cheung have sparked the repressed In the Mood for Love-esque feelings they've had for each other since their TVB collaboration from the 80's. The paparazzi even provided us with a map that traces the noodle shops, hotels, and bicycle trails that he and Maggie graced in a Chinese city during the filming. How kind of them; a true product of devoted scholarship. The press even claims that Maggie's marriage with French auteur Olivier Assayas is on the rocks because of Wai Chai. Uh huh.

Only 39 years of age, Tony's career spans 20 years, including over 50 films and 25 TVB series. Actually, I didn't have the time to count carefully, which indicates how gung-ho and maniacally productive the Hong Kong film industry is. Quantity may not imply quality, but Tony's performances are often of the best caliber. Other "actors" and "actresses" may be talked about because of their incredible looks, romances, surgical enhancements, problems with the law, drug addictions, and anything considered to be newsworthy, but Tony can be talked about solely because of his acting.

Angelina Jolie may be labelled talented when she plays a schizoid, but the average Hong Kong actor has already done that 100 times and more in film and TV, plus the incredible range of roles most HK actors have accomplished without even being internationally recognized. Compare Russell Crowe to a typical HK actor, and he instantly shrivels up into a prune. Wai Chai is no exception. Wai Chai has done every role imaginable or unimaginable: The gay, prissy, and pink-clad make up artist in Gorgeous. The gay (yet again), morose, love-torn boyfriend of Leslie Cheung (Leslie wishes it were real) wandering in Argentina in Happy Together. The hilarious, illiterate, and crass Wai Siu Bo (the character who Stephen Chow later portrayed in Royal Tramp I and II), a brothel courtesan's son, who, through sheer luck and less than honorable cover-ups, turned into a highest-ranking mandarin and best buddy of the Emperor (Andy Lau) in the TVB series of Duke of Mount Deer. The conscience-ridden undercover cop who had to kill and betray against his will in Hard Boiled. These are just a few vignettes my mind conjures when Tony is mentioned.

His acting ability needs no apologies. I believe that his talent is particularly there for all to see in his In the Mood for Love performance. His character Chow is a journalist who wishes to be a martial arts novelist in the 60s. Here is a man whose emotional life only finds expression and freedom in martial arts novels and whose career, symbolic of his social obligations, demands the objectivity and clarity of journalism. His heart belongs to the gravity-defying, fantasy world of the artistic novel, but his reality is a monotone of the working-class environment aggravated by a crumbling marriage. Whether Tony is a method actor or not, one thing is certain: his style of restraint evokes the Chinese emphasis on endurance. His face tells it all: It is that of the most placid and serene face that masks the stormy seas of his heart and suffering. His style is simple and minimal yet it masterfully conveys the tension of his emotionally repressed and unfulfilled soul.

I don't have a source on this, but I believe his role for In the Mood for Love may be a portrait of Jing Yong, the 60s martial arts fantasy novelist (who happened to also be a journalist), who penned many works that inspired TVB to produce several series - quite a few that starred Tony as in Duke of Mount Deer and Heaven Sword and Dragon Sabre. Wong Kar Wai's Ashes of Time -- whose cast includes Tony -- is based on Jin Yong characters as well. The character Chow must be an honor for Tony and an honor for the Chinese. The In the Mood for Love character represents the strong tradition of martial arts fantasy and how it is the only outlet where the organic force of fantasy and imagination freely reigns in a culture that stresses propriety, Confucian conformity, and eliminates the road where the heart and mind wishes to take. It is ironic to me that Tony portrays the creator of the very roles which established his roots to become the finest actor Hong Kong has ever produced.
(Written by Anabela Voi You)

Just a few words of my own on Tony. There are few if any actors in the world that can project his combination of drop dead easy charm and thoughtful charisma. Whether he is indulging in silly comedies (like The Eagle Shooting Heroes and Days of Being Dumb), generally light or nostalgic UFO romances (e.g., Tom, Dick and Hairy, and He Ain't Heavy, He's My Father), serious drama (of the art house or more melodramatic variety) or cutthroat action (in period swordplay as well as contemporary gun plus bullet-filled works), he brings an incredible naturalness to his roles and nearly always becomes the focus of the audience's attention. Whenever he wants your attention, he only needs to give you that puppy dog look and you are captivated. No matter what the genre, the role or the period is, Tony is able to look comfortable and meld into his character. In his very lengthy, diverse and transnational -- Tony's appeared in a couple of Taiwanese director Hou Hsiao Hsien's films (and a Vietnamese one as well as Hong Kong works -- career there are for me a few film roles that truly stand out – Anabela already has mentioned Happy Together and In the Mood for Love, but here are a few others:

My Heart is that Eternal Rose (1988) – even though Tony had a strong TV career underway at the time that this movie was being made, this was one of his first film roles that really sent him on his way towards being a film star. Though he plays a secondary role to Kenny Bee, he steals the movie as the triad watchdog who falls in love with the boss's mistress, Joey Wong.
Bullet in the Head (1990) – Tony is simply brilliant in this John Woo classic as he and his two friends travel from youthful innocence to hard edged reality.

Hard Boiled (1992) – though Chow Yun Fat is in theory the star of this film, it is Tony's complex and confused undercover cop who pushes the emotional texture of the film.
Chungking Express (1994) – After his girlfriend leaves him, Tony talks earnestly to his soap and to his washcloth but doesn't even notice the intrusion of Faye Wong into his life until it is almost too late in this wonderfully offbeat romance.

Ashes of Time (1994) – in this brilliant, complex and enigmatic maze of a film, Tony's character as the swordsman going blind and needing to fight one more time in order to see his lost love is heart wrenchingly powerful.

Cyclo (1996) - Tony took some time out from Hong Kong to act in this film from Vietnamese director Tran Anh Hung as a totally immoral character in the hard luck streets of Ho Chi Minh City. He is despicable but brilliant.
The Longest Nite (1998) – in the noir drenched streets of Macau, Tony in a rare bad guy role plays a brutally corrupt cop who still manages to gain our sympathies.
Tokyo Raiders (2000) – suave, urbane and utterly charming Tony is an umbrella toting mystery man in this capricious Avengers like action film.

---
Tony Leung Ka Fai/Big Tony
Born in Hong Kong on 02/01/58
With his angular face, slightly odd shaped cranium and close set eyes, it might seem unlikely that Tony Leung Ka-fai would become one of Hong Kong's most accomplished actors but he has managed to do so. Though it seems that few people really take Tony to heart – those beady eyes I suspect – and in fact his sometimes very nasal plus high pitched voice that he uses for comedy often annoys people – I find his performances to be some of the more interesting in Hong Kong film. He has a stunning range and has willingly taken on roles to display this. Anyone that could take on as diverse roles as he played in Boys are Easy (an effeminate cowardly gigolo), Rose Rose I Love You (in a terrific parody of old time detective shows that was a follow up to 92 Legendary La Rose Noire ), Ghost Lantern (he plays two characters – one suave as silk, the other a low life triad potato), He Ain't Heavy, He's my Father (in which he plays the same character as a crotchety old man and as a young idealistic working class hero), Flying Dagger (the crazed out Big Dagger), The Eagle Shooting Heroes (his character goes througha number of changes from man to woman to body-less immortal-to-be to "peach-less" immortal) and Roof with a View (a lonely gentle man who falls in love) is a national treasure. Oh, and these were all in 1993.

He has an enormously impressive filmography that encompasses every sort of film and he does a terrific job in nearly all of them. In his debut film, The Burning of the Imperial Palace (a work that was shot in Mainland China -- an almost unheard-of location for a Hong Kong film at the time), in 1983 he won an acting award and though the years following this were lean (more on this below) by 1987 his film career was going strong. Co-starring with Brigitte Lin in Lady in Black his nasty character earned our enmity in spades, but he followed this with two sympathetic portrayals in Prison on Fire and Gunmen and appeared as an out of his depth killer in the first HK film to get a Cat. III rating, Sentenced to Hang.

He continued in this vein of alternating between serious drama and more commercial fare – and in the early 90s he was in such classics as the "Girls with Guns" She Shoots Straight, Clara Law's depressing Farewell China, the sumptuous Au Revoir, Mon Amour, King of Chess, Tsui Hark's Dragon Inn, 92 Legendary La Rose Noire (Best Actor award) and Wong Kar Wai's Ashes of Time as Huang Yaoshi, the man who can't forget Maggie Cheung. He also appeared in a French film in 1991 called The Lover which received much acclaim as well as controversy for his character having an affair with a young French girl in Vietnam.

After 1995 he cut dramatically back on his work. In fact he made more films in 1993 than he did from 1996 through 2001. Over these years he appeared in only seven films and his presence has been badly missed in HK films. From what I have read he simply tired of making films and wanted to do other things (he is a singer among other things and does so in a few films – the famous bowling song in Boys are Easy and the hilarious
school class one in Rose Rose I Love You). Most of these recent films have been interesting ones that provided him with intriguing roles to play – The Island of Greed, his cop in Ringo Lam's Victim, the almost Walter Mitty like character in Okinawa Rendez-vous and his brilliant characterization of a triad leader in Jiang Hu: The Triad Zone.

James Chang writes about Tony's formative film years.
Tony Leung was born in 1958 and he entered the TVB actor training class in the early 80s,being the oldest in the class (among his classmates were Andy Lau and Carrie Ng). He graduated in 1981. However,shortly afterwards, he left TVB to become a reporter. During an interview with the legendary director Li Han Hsiang (Lee Hon Cheung, 1926-1997,who also discovered Michael Hui), the director found him to be extremely suitable for the role of the emperor in two of his epic films about the Second Opium War (1856-1860).
Thus, he made his debut in these films (The Burning of Imperial Palace and Reign Behind a Curtain) in 1983, the former of which got him the best actor award at the HKFA that year. Both films were jointly invested in by Li and the Chinese government. However, the left-wing film companies in HK, which Leung now worked for, had always been burdened by bureaucracy and 'political correctness', with most of their chief executives being mainland officials who previously worked in the propaganda departments of China. These people lived in HK but had poor knowledge of how people here actually lived. They had no idea of how to keep a star 'hot'. That's why Cherie Chung left them in 1981 and Jet Li had to face his hard times after 1984.

Leung faced the same problem. He wanted to work for local companies, however, none of them dared to hire him -his films were all banned in Taiwan and the leftists threatened to sue him. He had to make his living by hawking on the streets! Policemen wouldn't charge him because they thought he was making a movie!

Finally, in 1987 he signed with Cinema City and publicly declared that (as a gesture aimed at the Taiwan government) he would never work in the Mainland anymore. Ironically, 4 years later when both governments became closer, he went back to China to shoot The Dragon Inn and its box office in Taiwan was a tremendous success. The leftists did nothing to stop him and Li Han Hsiang called him the 'most ungrateful traitor' on Earth.

At this point Tony began the second phase of his career. He worked frequently with big filmmakers like Karl Maka, Ringo Lam and Tsui Hark. However, he was still unable to become a superstar, credits went instead to Chow Yun Fat, not him. During this time, he had also become an excellent columnist. I have read his articles and they were very well written and can be compared to those in the New Yorker magazine.

Then in 'Hong Kong Babylon', Frederic Dannen reports that:
"Toward the end of 1994, [Tony's] career was once again in jeopardy. He had displeased the actress Cheung Man, who had been given a production company by the powerful, and feared, movie producer Jimmy (brother of Charles) Heung, whose father founded the Sun Yee On triad society. The actress had cast Leung in her film Dream Lover, and, after shooting had wrapped, she demnaded that he postpone his next movie assignment to reshoot some scens. Leung declined, even after Cheung Man held a tearful press conference accusing him of reneging on his contract. He was reluctant to talk about the contretemps, although, he says, "What she tell the newspapers is not true..."

---
Tsang Chor Lam (Tsang Choh Lam)
He was in a number of films in the 70s and 80s - The Private Eyes, Righting Wrongs, Games Gamblers Play, Dirty Tiger, Crazy Frog and His Name is Nobody.

Michael Kistner writes in the following:
Credited with this name in Snake in the Monkeys Shadow (not the Chan movie), in Magnificent Butcher, he plays a Gambler in Woo's Heroes Shed no Tears and the spoiled son's servant in Two Wonderous Tigers (1979)..

Andrew writes in the following about this fellow: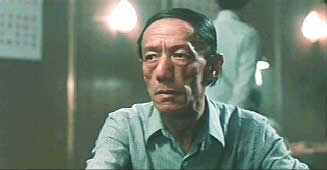 I think he's passed away for at least 10 or 15 years. He was one of the best supporting actors of local TV in 70s and 80s. It's remarkable that he graduated at St Joseph University, Shanghai. Many old China and Taiwan politicians also finished
school there. He probably could speak good English. Rarely did you could find a graduate in the HK film industry, especially a supporting character actor at that time.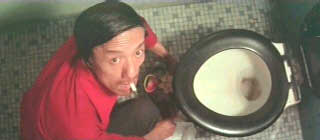 ---
Tse Wai-Kit
Tough punk is written all over his face and thats often the role he has played in films such as Moment of Romance 2, Fight Back to School and Blue Jean Monster among others.

---
Tsui Ah Fai
The only role I know him from is the memorable one as Flying Monkey in Wing Chun. I believe he may be a Mainland actor.

---
Tsui Hark
Born 01/0251 in Canton
I won't spend a lot of time writing about Tsui Hark since this is an actor's index as opposed to a director's index. To get more information on his films I would recommend that you get a copy of Lisa Morton's book The Cinema of Tsui Hark (2001). Needless to say that from the early 1980s to the mid 1990s he was the most influential producer/director in Hong Kong film and simply turned the film industry and film style on its head. This period of film history is considered by many to be Hong Kong cinema's Golden Age and a large portion of that can be attributed directly to Tsui Hark.

During this period Tsui was a creative force behind more classic films than possibly any other filmmaker in the history of cinema and one of the remarkable things about this achievement was that it occurred in so many different genres. A short list of his classic films reads like a litany of the best and most influential films of Hong Kong – Zu: The Warriors from the Magic Mountain, Shanghai Blues, Peking Opera Blues, A Better Tomorrow I, II and III, A Chinese Ghost Story I, II and III, The Big Heat, The Killer, The Swordsman Trilogy, The Once Upon a Time in China series, Green Snake, The Lovers, Iron Monkey, Dragon Inn, Wicked City and The Blade. It is a remarkable record of quality. This isn't to say that all of his films are classics – he has had his bad days - The Master, Spy Games and Tri-Star - but they have been rare. He has come in for a fair amount of critical pans over the past few years with his forays into Hollywood action films and the stylistic meanderings of Time and Tide and Legend of Zu, but one certainly has to admit that Tsui is still continuously trying something different and trying to learn more of his craft.

From time to time Tsui was also likely to pop into his own or other people's films generally portraying totally goofy oddballs. Tall and thin with his long narrow face, goatee and crazed expressions, Tsui created some genuinely memorable characters that one would assume were as far from his real personality as one could get. But one senses that he loved these opportunities to be plain silly in some of the comedies of the 80s. With the exception of a cameo in Twin Dragons (one of the card players) he stopped doing this in the 90s. Some of his bigger roles were in Aces Go Places II (the mental patient), All the Wrong Spies (the Japanese diplomat), Working Class, Yes Madam (one of the threesome) Happy Ghost 3 (the gatekeeper to heaven) and I Love Maria (Whiskey). One appearance that he made that has to be set aside from these was in Final Victory (1987): the Patrick Tam helmed, Wong Kar Wai scripted work in which he -- who got a HKFA Best Supporting Actor nomination out of it -- gives his only serious performance as a not very nice guy and he is amazingly chilling.
Though he was born in China, Tsui moved with his family to Saigon at an early age (explaining his interest in Vietnam as displayed in A Better Tomorrow III) and he lived there until he went to Hong Kong at the age of 14 to go to school (BTW, his father's being a pharmacist -- maybe not all that unlike Tony Leung Kar Fai's Vietnamese Chinese character's father in ABT III -- may also explain the man's seeming to delight in having pharmacist heroes in films like the OUATIC series together with Iron Monkey). Somewhere along the way he developed an interest in film and journeyed to Texas to take up film studies. In 1976 he returned again to Hong Kong and quickly found his way into television. At the time, the work being done in HK television was much more innovative than that being done in film and most of what were to become the "New Wave" directors were working in that medium. Tsui had a huge hit with a series called Golden Dagger Romance and from this was able to get his first
director job in the 1979 The Butterfly Murders. After his first three edgy films failed at the box office, Tsui took on more commercial fare at Cinema City and was soon on his way. But, the question that always must be asked about Tsui as a director/producer is - did he really change the HK film language - was he a film rebel - or was he in fact a very traditional filmmaker - treading much of the same ground but only doing it better than anyone before him.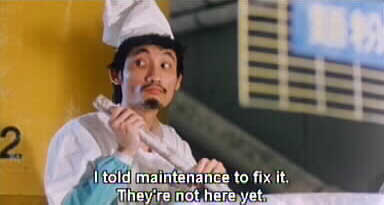 ---
Tsui Kam Kong/ Elvis Tsui
The classic image of Tsui Kam Kong that amusingly captures his film persona and encapsulates much of his film career takes place in the film The Eternal Evil of Asia when a magic spell turns his character literally into a "dick head". In a career that spans nearly twenty years and over one hundred films, Tsui has made himself into the King of Cat. III films. His bald head, moustache and fierce demeanor are as much Hong Kong landmarks as the Star Ferry.

He has probably had more simulated sex logged in than most airline pilots have miles. He has probably had more naked breasts thrust into his face than any other actor on earth has. He has likely recited more lines about his "mandom" than a Shakespearean actor would of lost love. But none of this seems to have really affected him very much and by all accounts he is a terrific family man who is a very talented painter and photographer. Being the King of Cat. III films was certainly not his intent in the beginning of his career, but something has to pay the bills.

To list his entire Cat. III efforts would take some time, but some of his most famous are: Sex and Zen I (in which he and Amy Yip have a steamy tub scene), II and III, Girls Unbutton (in which he and Loletta go at it), Chinese Torture Chamber Story (in which he takes sex into a tree), Ancient Chinese Whorehouse, Spike Drink Gang, Trilogy of Lust II and The Fruit is Swelling. In most of these films Tsui has little more to do than shout, bare his chest and act like a sex god. But if one looks at his entire filmography it is clear that Tsui is a much better actor than his Cat. III offerings would lead one to believe.

In the 1980s Tsui had yet to really enter into the Cat. III world – instead he acted in a number of solid dramas such as City on Fire, Tragic Hero, Gunmen and Sentenced to Hang and shows a much more subdued and interesting style of acting than he has become famous for. With the fame of Sex and Zen in 1991 though he was to begin taking on a large amount of Cat. III films – but still was cast in many mainstream films. Some of the best were Prison on Fire II, Lover's Tear (in which he gives a terrific performance), Lord of East China Sea I and II, The Lovers (as Charlie Yeung's character's father), God of Gamblers Returns, Full Throttle (another small but solid performance as the bartender-owner who's a good friend to Andy Lau's biker characters and other young speedsters), Street Angels (which might be Cat. III but Tsui's role as the loyal bodyguard is excellent) and Too Many Ways to be No. 1. One of his most interesting and touching performances was in fact as a Cat. III actor in Viva Erotica in which he showed how different his off screen personality was from his on screen one. Tsui is definitely one of the more underrated actors in Hong Kong when given the opportunity.
---
Tsui Siu Ming/Xu Xiao Ming
Tsui's father was an artist in the Guangdong Chinese Opera and Tsui began training with him at a young age. By the time he was five Tsui began training and touring with a Chinese Opera troupe and also appeared in some child acting roles – one of them alongside Bruce Lee in The Orphan (1960). By the time he was 17 he was choreographing action scenes in films - Arhat Fist, Buddha Palm. He has also directed a few films – Buddhist Fist (1983), Mirage (1987), Miracle 90 Days and his most famous film, the Moon Lee vehicle Bury Me High. His largest role was in Bury Me High, but he also appared in Mirage. Though he only has a few film credits, he has an amazing reputation among kung fu fans. He has also directed some televison shows. He can also take some major credit for turning Moon from dancer to "girl with guns" star as she trained in martial arts with him. His brother is actor Norman Tsui.

When Jet Li's attempt at directing, Born to Defense, started falling apart, Tsui was brought in to finish it.

According to the Chinese Martial Arts website, Tsui has studied Praying Mantis Fist, Tai Chi Fist, Hung Gar, Iron Cloth Shirt to name a few.
---
Tsui Tin Yau/Chui Tien Yu
Born 05/16/83
This young actor/singer stars in Gimme Gimme (Lobo), Glass Tears (as Tofu), Summer Breeze of Love (the playboy that Charlene Choi's character had the hots for), The Mummy, Age 19. He is even better known in HK though as a member of the boy-band, Shine, that's been feted as the male Twins (and also part of the EMI talent stable) and styled as J-popsters (IMHO, he's better looking but less talented at acting than his musical partner, Wong You Nam).

---
Tze Miu
One of the more recurring posts in newsgroups is an inquiry as to where is Tze Miu these days. As the kung fu wonderkind in the Jet Li films, My Father is a Hero and New Legend of Shaolin Tze amazed audiences with his martial arts skills. Other films of his are God of Gamblers Returns and Teenage Master. The last I heard Wong Jing had told enquiring folks that the now teenaged boy was going to school full time and possibly appearing in a television series.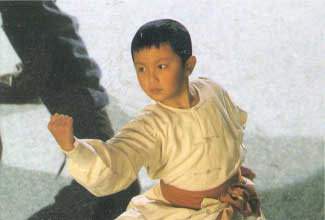 ---