---
Ti Lung/Di Long
Born 08/31/46
In the good old days of Hong Kong Old-school martial-art cinema there was probably no greater sight than that of a bare-chested Ti Lung in one of those "one-against many" operatic brawls in which his character heroically sweeps his opponents aside with a sword, a knife, a hatchet, a spear or just with his bare hands. It is a spectacle of sheer whirlwind energy and raw magnetism that only Bruce Lee could top. Ti Lung was of course one of the Shaw Brothers studio classic leading martial players. Dark, intense and handsomely majestic he had a great start with the "Blood Brothers" series of martial tragedies by master filmmaker Chang Cheh who apparently loved nothing more than to showcase Ti Lung in one of these blood-soak brawls. But even after his blood-brothers and his bare-chested days were behind him, Ti Lung continued to be a superb leading player of martial art cinema. What is most astonishing about his career though is that unlike most of the kung fu players who sadly drifted into obscurity after Shaw ceased producing films, Ti Lung through a stroke of luck and a memorable performance in a box-office success has to this day remained one of the most recognisable and appreciated figures for both old and new Western fans of Hong Kong cinema.

Ti Lung's real name is (in pinyin) Tam Furong and he was born in Guangdong (or Canton). He attended Hong Kong's Eton School before working for a while in the tailoring business after graduation. He entered the movies by auditioning for a lead role in Chang Cheh's DEAD END as a sensitive delinquent, got the part and became a contract player for the Shaw Studio. His name was naturally changed to fit that of a movie star. In Chinese Ti Lung means "Dragon Ti" Ti (or Di) being the name of an ancient tribe which caused much trouble for the Han Chinese before being assimilated into them. But there is another meaning to the "Ti Lung" moniker. In Chinese Ti Lung sounds like "De Lon" as in Alain Delon a popular French star who like Ti Lung was dark, intense and handsome. While being arguably more of an actor than a martial artist Ti Lung appears to have genuine expertise in the field. He has been described as a flexible and skilled martial artist and besides the screen-fighting course given at Shaw a renowned master taught him Wing-Chun. He looks especially proficient (at least on screen) with the pole and the sword.

After a couple of movies such as RETURN OF THE ONE ARMED SWORDSMAN (1969) and HAVE SWORD WILL TRAVEL, Ti Lung began his long association with David Chiang in VENGEANCE (70). Actually, they share only a couple of scenes together and Ti Lung was dead 20 minutes into the movie, but it was nonetheless the beginning of an extended series of films, generically called (by this reviewer) "Blood Brother" movies. These films were characterized by blood-soaked, angst- filled martial art tragedies in which Ti Lung and Chiang were paired as either actual or sworn brothers. Ti Lung tall, dark, impetuous, overly-masculine, stoic and Chiang small, effete looking and wily were an intriguing and magical study in contrasts and thus made the perfect pair. Each acted as the foil for the other, although frequently Chiang upstaged Lung as the real dramatic centre of the film. The Ti Lung parts were also often defined by the suffering he endured - either physical (being blinded or disembowelled) or mental (being tormented or anguished), and it is often Ti's misery or tragic fate which would prompt the Chiang character into action. Suffering superbly was something Ti Lung did very well and it would remain a permanent staple of his screen persona. Ti Lung and Chiang made a good dozen films together in the space of three years, around half of them among the top grossing films of the period. HEROIC ONES (70), DUEL OF FIST, DUEL OF IRON FIST, NEW ONE ARMED SWORDSMAN (all 71) DEADLY DUO, THE ANGRY GUESTS (72) among others. Undeniably they were the martial art sensation of their day, that is until the series began to stale as a new martial player came into town: Bruce Lee.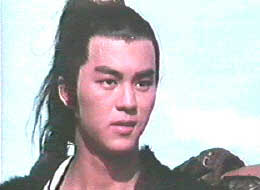 For a period, Ti Lung starred (along with Chiang of course) in a handful of more mundane martial art yarns such as THE WATER MARGIN (72), until BLOOD BROTHERS (1972) which showed him come of age as an actor playing a single-minded, ruthless yet lovelorn general. He appears to have lost a bit of the intense magnetic charisma of the earlier days but in turn gained a more mature, and dignified presence, giving him a greater inner majesty. The following year saw him playing a kung fu fighting sidekick sort of role for the Anglo/H-K co-production, SHATTER. It gave him the opportunity to speak English and a tentative shot at international stardom that went no where because of the utter dullness of the film. Shortly afterwards economic difficulties and the disarray of the martial art genre following Bruce Lee's unexpected passing forced Shaw to reduce it's operation and to release many of it's main stars. Unlike Chiang who after becoming a freelancer would only work intermittently with Shaw again, Ti Lung stuck almost totally with the studio becoming their great martial art leading man.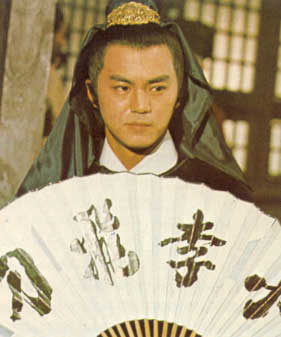 His continuous association with Shaw allowed him to work with filmmakers other than Chang Cheh, to whom he had worked almost exclusively with until then. With this came a greater variety of roles such as the young Quin Emperor Guangxu for director Li Hanxiang's period diptych THE EMPRESS DOWAGER/ THE LAST TEMPEST (1974) a rare non martial part, as the lead in the horror thriller BLACK MAGIC (1975). He remained faithful to Chang however. Chang made a deal with Shaw to make movies in quasi-autonomous fashion back in Taiwan with the money the studio earned there and Ti Lung journeyed to the island on many occasions to star in his mentors films - usually as part of a stellar ensemble cast such as in FIVE SHAOLIN MASTER (AKA: FIVE MASTERS OF DEATH) (75), ALL MEN ARE BROTHERS, SHAOLIN TEMPLE (1976), SEVEN MAN ARMY and NAVAL COMMANDOS (both same). Tempted briefly by directing himself it was Chang Cheh who produced his YOUNG LOVERS OF THE FLYING WHEELS (74), and YOUNG REBELS (75) where he paired again with his old partner David Chiang. Earlier Ti Lung had co-starred in Chiang's own debut THE DRUG ADDICT (74) and he had also made a special cameo appearance in SPIRITUAL BOXER (75) the ground breaking debut of Chang Cheh's own fight choreographer Lau Kar-leung.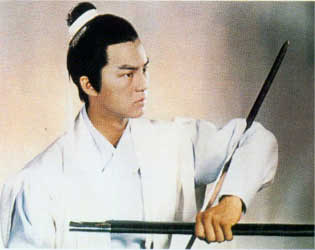 Ti Lung did a couple more films for Chang Cheh upon the latter's return to Hong Kong and the Shaw Studio in late 1977 like TEN TIGERS OF KWANTUNG (78), and the BRAVE ARCHER series (78- 83), but the great days with the director were behind him. Instead, Ti Lung found himself working for other Shaw Brothers noteworthy martial art directors such as Sun Chong with whom he did three films: AVENGING EAGLE (78) where as a tormented assassin rebelling against his master he won an Asian acting award, KUNG FU INSTRUCTOR (79) and the DEADLY BREAKING SWORD (1979). By far however, his most prolific and successful association was with director Chor Yuen, doing nearly a dozen martial films in the span of eight years. Starting with the MAGIC BLADE in 1976, Lung's dark, intense and tormented outlook peculiarly suit him for the director's brand of Byzantine near metaphysical swordplays that were screen adaptations of famed wuxia novelist Gu Long. Others movies include: THE SENTIMENTAL SWORDSMAN (77), THE JADE TIGER, CLANS OF INTRIGUE, LEGEND OF THE BAT (78), RETURN OF THE SENTIMENTAL SWORDMAN (81) and PERILS OF THE SENTIMENTAL SWORDSMAN (82). Ti Lung's other substantial association with a Shaw Brothers director was with Tang Chia, who was Lau Kar-leung's associate in choreographing Chang Cheh movies as well as the choreographer for the Chor Yuen swordplays. His directorial debut was SHAOLIN PRINCE (83), which saw the pairing of Ti Lung with none other than David Chiang's own younger brother Derek Yee. This film gave him the opportunity for once to leave behind his usual stoic screen presence and to play the wily hero and thus upstage his screen partner. SHAOLIN RESCUERS came soon afterwards, then finally OPIUM AND THE KUNG- FU MASTER one of Ti Lung's best regarded film where he plays a drug addicted martial art master.

As time went on the kung fu genre's popularity slowly declined and the films made by Shaw looked increasingly stale and dated in comparison with other action oriented movies being made by performers such as Jackie Chan and Sammo Hung. By the early eighties the Shaw Brothers productions pretty much plummeted regardless of the actual quality of the films and by 1984 the studio gave up by closing it's movie making facilities. This left Ti Lung and the other Shaw players in a difficult situation, utterly typecast in a now spent unpopular genre. Thus for a while Lung's acting prospects seriously diminished and he began retreating into heavy drinking as a result.

Ti Lung's great opportunity came when he was cast as the lead in a novel sort of film being directed by one of Chang Cheh's former assistant directors, a fellow by the name of John Woo. The film A BETTER TOMORROW imbued with the spirit of tragic heroism, honour and male bonding once promoted by Chang but set in modern times and with guns instead of swords or hatchets. By this time, Ti Lung of course could no longer play the young dark impetuous warrior but the weary veteran could still project the torment and long suffering as in the old days. The film was of course a tremendous success, which would change Hong-Kong cinema forever and gave a new lease of life to Ti Lung's career. He could be seen next in such fare as the BETTER TOMORROW sequel (87), PEOPLE HEROES, CITY WARS, RUN DON'T WALK (89), and KILLER BLUES (90). In 1989, he played in JUST HEROES a benefit film with a dozen of Chang Cheh's old confederates to finance the old masters retirement.

With the return of the period martial art epic in the early nineties, Ti Lung made a tentative comeback to the genre that had made his fortune. Thus he returned in a Gu Lung screen adaptation called A WARRIOR TRAGEDY (93) as well as a Chang Cheh inspired film such as THE BARE-FOOT KID (93) and BLADE OF FURY (93), an unaccredited quasi-remake of Ti Lung's early classic BLOOD BROTHERS. For the most part it showed him in good form but hardly any of those films were either a critical or box-office success. Unquestionably his best turn was as Jackie Chan's stern, righteous martial art father in DRUNKEN MASTER II, which saw him rekindle one last time with director Lau Kar Leung.

With the end of both the Heroic Bloodshed and martial art epic cycle and the general decline of Hong Kong cinema Ti Lung temporarily retired from the movies in the mid-nineties. In recent years though he has again graced the silver screen with his now elegant mature presence usually as a character actor in such film as THE KID (99), HIGH Q (2000), PARAMOUNT MOTEL and CLEAN MY NAME MISTER CORONER (as the movie's villain). Ti Lung is still a very much active and a respected player of Hong Kong cinema to this day. His son Shaun Tam has followed in his father's footsteps and started an acting as well as a singing career of his own. As of this writing father and son are scheduled to star together in an action thriller. Like many of his Shaw Brothers cohorts Ti Lung has probably done some substantial TV work but nothing is known of his work in this field by this writer.
Written by Yves Gendron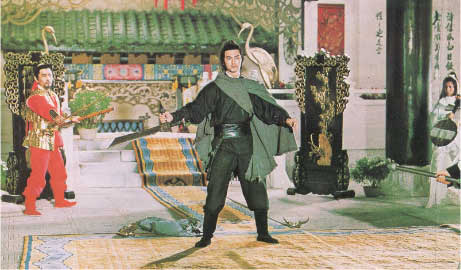 ---
Tien Ching
Born in 1935 in Shanghai
With close to 90 credits on the HKMDB, it is surprising that this actor seems to be so little known today. In 1957 he joined MP & GI (later Cathay) and was with this studio for a number of years until he joined Shaw Brothers in 1970. He had a career that spanned over four decades and appeared in such films as The Wild Wild Rose (1960), Three Smart Girls (1965), Boxer from Shantung (1972), The Blood Brothers (1973), The House of 72 Tenants (the landlady's husband) and Clans of Intrigue (1977).

Born in Shanghai he came to Hong Kong in 1949 where he completed his education. He first joined International Films and debuted in 1956 in Green Hills and Jade Valleys. After joining Cathay he became one of their main young character actors and appeared in many of their films - Our Sister Hedy (the pilot husband), All in the Family, Sun, Moon and Star and many others.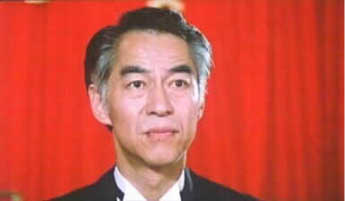 By the 1980s he was playing generally small supporting roles – easily recognizable with his thin build and gray haired genteel demeanor. Some of these later films are Peking Opera Blues (the contact Mark Cheng's character first met in the Opera house and who introduced him to Brigitte Lin's - Comrade Soong), Miracles (1989), Mighty Gambler, the father in Crystal Hunt, a bank employee in People's Hero, Shanghai Blues (Kenny Bee's character's uncle, the clown), Crazy Love (Loletta's father) and many more films. He's also among the scores, if not hundreds(!), of film folk who made a cameo appearance in Tsui Hark's 1991 made-for-charity work, The Banquet. His last credited role in the HKMDB was in 1995, but according to The Cathay Story he died in 1993 t the age of 58.

---
Tien Feng/Tin Fung
With a career that spanned from the early 1960s into the 1990s Tien Feng appeared in numerous landmark films always bringing an authoritative serious presence with him. Often he was cast as the villain, but he brought a level of depth to these characters that made them both memorable and human. In the wuxia films of the 60s through the kung fu of the 70s and then into older character roles in the 80s and 90s, Feng left his foot prints all over Hong Kong film.

Some of his more important wuxia films were: Temple of the Red Lotus (1965), The Twin Swords (1965), The Trail of the Broken Blade (1967), One Armed Swordsman (1967), The Assassin (1967), Return of the One Armed Swordsman (1969), Twelve Deadly Coins (1969) and as the title character in King Hu's The Fate of Lee Khan (1973).

With the advent of kung fu films in the 70's Tien easily moved into this genre with Fist of Fury (1972), King Boxer (1972), A Man Called Tiger (1973) and Master with Cracked Fingers (1974). When Patrick Tam tried his hand at wuxia in the classic film The Sword in 1980 he cast Tien as the rival/mentor of Adam Cheng's. Jackie Chan was also to use him in The Young Master in the same year and Dragon Lord in 1982.

After this Tien began appearing in fewer films, but had some small roles in some well-known films – A Better Tomorrow (Ti Lung and Leslie Cheung's father), Sentenced to Hang (the kidnapped businessman), Miracles (the father of the groom), Sex and Zen, God of Gamblers III and Green Snake.
---
Tien Niu/Tiam Nau
In Widow Warriors there is a poignant scene in which Tien Niu's dignified middle-aged character shows her spoiled daughter what her background is by removing her blouse and showing her tattoos from her triad youth. That one scene crystallizes the toughness and sexiness of this actress. She has a mature smoky sensuality to her that hints to us that she has been around the block a few times and taken a few blows but is still standing up. The small mole on her left cheek just accentuates this smokiness. Other good roles for her in the late 80s/early 90s were as the singer who bewitches Chow Yun Fat in City War, the wife in Just Heroes, the girlfriend in Shanghai, Shanghai. Then in the silly Stephen Chow comedy The Magnificent Scoundrels, she did everything she could to look plain and frumpy.

It turns out that she has a much more interesting background than I would have guessed. She was born in Shanghai in 1958 and at the age of 8 she joined a Peking Opera School. Her first films were in the early 1970s in which she appeared in some Taiwanese weepies - Brigitte Lin's debut Outside the Window and another Brigitte film, The Unforgettable Character. From these types of films she proceeded to make many appearances in Shaw Brother's films in the 70s into the 80s. Though a number of these were melodramatic love stories, she also had roles in some kung fu films – the Brave Archer series, Lackey and the Lady Tiger (in which she teaches Mars the snake and crane technique)and Invincible Shaolin. Her appearance in these early films was much more of the cute as a button variety - though with the mole already in place - and it wasn't until the 80s before she began acquiring that more mature and sexy presence. During her career she made about 60 films in either Hong Kong or Taiwan, but retired from the silver screen in 1991 to concentrate on a singing and stage career. However, she is credited with a role in the 2001 film, Para Para Sakura.

She was married to actor Alex Man from 1989 to 1996 and their wedding ceremony was actually broadcast on TVB!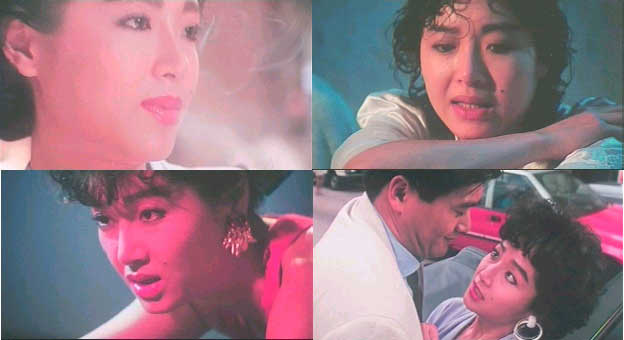 ---
Tin Sum
Well, she has only been in a few films - My Loving Trouble 7 (1999), The Duel and Woman Soup - but how could I pass up the opportunity to use these pictures! Apparently, she also was in the same elementary grade class as Hsu Chi in Taiwan - that must have been some cafeteria food!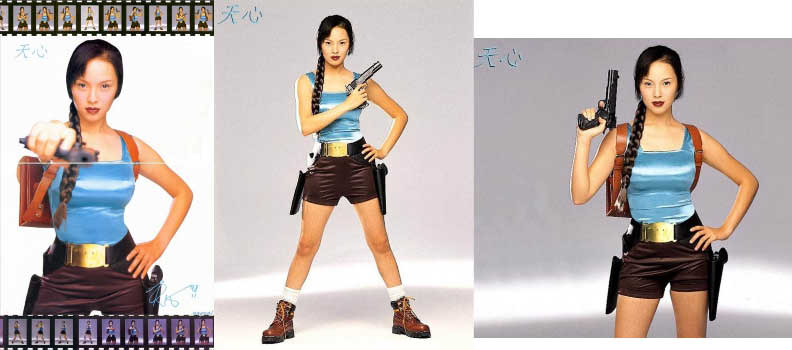 ---
Tina Leung/ Di Na/Tina Ti Na
Tina was one of the first actresses to gain notoriety by acting in sexually liberal films that sprung up in Hong Kong in the late 60s into the 70s. Though this was before the current categories were set up in Hong Kong, these films would be considered Cat III type films with many sexual situations and nudity within. One of her most famous films was The Warlord (as the wife of Michael Hui) . In the 1997 film Those were the Days she is portrayed by the woman in the bath. Later on, in the early 70s, she became the first female host of a HK TV program, working for the TVB for 3 years. Then, she shocked everybody by declaring herself an advocate of the Communist government in the mainland and became the first HK investor in Mainland China. She became extremely wealthy and donated a lot of money to the Left-wing communities in HK, and it as reported that each time she visited the Peninsula Hotel, she paid hundreds of dollars as tips for the butlers. This extravagant style of spending may have contributed to her suffering from bankruptcy three years later.

However, after another 3 years she reclaimed most of her wealth and the court cancelled the order of bankruptcy. She was the only person who was able to do so in HK history. Today she lives in Hong Kong and is still pretty active as a businesswoman.
Some of her films were The Crimson Rose (1968), Joys and Sorrows of Youth (1969), Diary of a Lady Killer (the artist), Wise Wives and Foolish Husbands and Lucky Seven.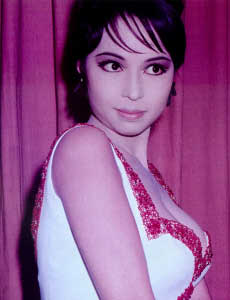 (Written up by James Chang)

---