---
Tai Bo/Tai Po
He has one of those faces that you spot in a lot of films during the 1980s in supporting or cameo roles. There was the occasional film in which he had a larger role, but more often than not he just gets a few minutes of screen time. But the fact that many of these roles were in films from Jackie Chan, Sammo Hung or Yuen Biao has made him a well-recognized figure. Like Mars and most of the Sammo and Jackie crew, Tai Bo has probably also served quite extensively in a stunt-man capacity. Not surprisingly perhaps he attended the Chinese Opera School run by Fan Fok Fa that others such as Lam Ching Ying, Mars and Chung Fat attended. Reportedly, he and Jackie are great friends off screen.

Some of these films are: Young Master, Dragon Lord, Winners and Sinners, Heart of Dragon, Righting Wrongs, Wheres Officer Tuba, Iceman Cometh, The Dead and the Deadly, Rosa, Naughty Boys, Yes Madam, My Cousin the Ghost and Sister Cupid. In a very early role he can be spotted as one of the henchman who attacks Angela Mao in Enter the Dragon.

In the 90's his work slowed down considerably but he still appeared in the occasional film – Beauty Investigator, Touch of Evil, Dangerous Duty – and is in the recent Alman Wong film, Her Name is Cat II.
(Information provided by Yves Gendron)

---
Takeshi Kaneshiro/Gum Sing Mo/Jin Cheng Wu/Aniki Jin
Born on 10/1173 in Taiwan
One could possibly pinpoint the beginning of Hong Kong's movie infatuation with longhaired pretty boys on Takeshi. Beginning in the mid-90s he brought his soulful eyes and sensitive good looks to Hong Kong and was soon elevated to an Idol status among teenage girls and having his face plastered across innumerable glossy magazines. Admittedly Ekin Cheng was on the scene before Takeshi, but he didn't really achieve idol status till his Young and Dangerous films. The difference for me though between Takashi and the idol boys that have followed is that Takeshi is actually very talented.

When he turns to Brigitte Lin in Chungking Express and tries talking to her in four different languages (i.e., Cantonese, Japanese, English and Mandarin), it gives a hint as to his multi-cultural background. Half Japanese and half Taiwanese Chinese, Takeshi grew up and attended a predominantly English-language International School in Taiwan and began appearing in commercials at the age of fifteen. A few years later he began making music and released six albums between 1992 and 1993. This brought him to the attention of filmmakers in Hong Kong and it wasn't long before he was starring in films.

In fact his first film was the sequel to The Heroic Trio, The Executioners, in which he plays a messiah like figure in a futuristic world – sort of a different kind of idol. He followed this with a small role in Mermaids Gets Married, but his next film shot him into the stratosphere with his charming turn as a lovelorn policeman in Chungking Express who flirts with a mysterious femme fatale but ends up only eating plates of chef salads and chips plus cleaning her shoes while she sleeps. Director Wong Kar-Wai clearly liked his performance enough to cast Takeshi in his next film – Fallen Angels in 1995. In one of his most bizarre roles, Takeshi plays a mute character who breaks into various business establishments after closing to re-open them for business.
Christopher Doyle -- the cinematographer of Fallen Angels (and quite a few other notable films) -- wrote the following about the sometime Prada model in his "Angel Talk" (that functions as an unofficial photobook of that 1995 Wong Kar Wai film):-
"Takeshi became an actor somewhere between the shooting of Chungking Express and Fallen Angels.
He used to be just another pretty face, and a bit of a "Diva" if you'd have asked me at the time. An "idol" who usually tried to find the easiest way to get through a scene or the cutest way to do a shot.
He surprised me this time by showing that he'd learned somehow that an actor has to "give" and not "protect his image" or himself. Somewhere he'd come to realize that we all had his and the film's best interests in mind. That acting is about "truth" and that film making is about "trust".
Fallen Angels couldn't be the way it is without Takeshi's exuberance and increasingly inspired ideas [One of which got him giving a dead pig a massage!]. He went out on a limb this time and his courage really paid off" (1996:34).

Around these two classic films, he -- who sadly does not seem to have received any acting awards or even nominations thus far -- also appeared in a number of lesser ones – the amusing Young Policemen in Love, Ching Siu Tung's Dr. Wai in 'The Scripture with No Words', Don't Give a Damn, Yes Sir, School Days – but by 1996 he was becoming fairly selective in his film selection and for the most part he only appeared in high profile films from that time on. Some of these are Lost and Found (which established him as a UFO film favorite plus made him a popular choice of leading man opposite Kelly Chan (with whom he would later co-star with in Anna Magdalena and Lavender)), The Odd One Dies (a quirky Milkyway Image crime drama), Downtown Torpedoes (whose good-looking young stars are among the most capable of their generation), The Sleepless Town (a Hong Kong-Japan co-production helmed by the director of Lost and Found, Lee Chi Ngai, which has his character getting involved with another femme fatale and Japan-based ethnic Chinese gangsters along with the yakuza) and Tempting Heart (a romantic film directed by a fellow Taiwanese talent in Sylvia Chang that was partly filmed in Japan as well as Hong Kong). Takeshi -- who does not seem to have appeared in a single Hong Kong film in the year 2001 (but hopefully has not given up on the HKSAR's movie industry) -- brings a certain lost sweet innocence to all of these films that can be very effective.

In recent years, Takeshi has also made an effort to break into the Japanese market – he speaks Japanese fluently – and has appeared in Japanese films (like Space Travelers), television series and tv commercials. In 1998, he also co-starred in the unfortunately not very much liked Too Tired to Die with Mira Sorvino.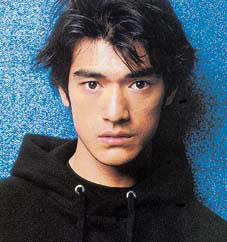 ---
Tam Sin Hung
According to the hkmdb.com, her film career began in 1953 and she has been in tons of films before seemingly ending her film career with The Queer Story in 1997.
These days, Tam Sin Hung is probably most remembered for her role as Rong Yi in the longest running TVB series to date, A Kindred Spirit. Although she was not one of the lead characters, her supporting part was not small either as she plays Lai Suen's character's maid and featured in the majority of the over 1000 episodes. As the series progressed her character reunites with several long lost children, one of whom would turn out to be one of the main villains in the series and the other would be the simple minded Ah Qiong (Kingdom Yuen).
Tam Sin Hung also acted in several other TVB series, all of which I cannot seem to recall now except for Time Off (1998) which also starred Felix Wong Yat-wah and Monica Chan. Tam Siu Hung has since left TVB and is still acting in television, mostly appearing in TVB's rival station ATV's productions or Mainland productions.
Some other post 1980 films that she appeared in were Rouge, Hong Kong Gigolo, Encounter of the Spooky Kind II, Hu-Du-Men and A Fishy Story.
(Information and write-up from Caroline Chai)

---
Tang Siu Chuen/ Deng Zhao-zun/Johnny Teng Siu-juen
Often portraying a smug little creep, Tang made snide appearances in a number of films in the early to mid 90s.

Caroline Chai had some additional information on him:
He shows up regularly in TVB dramas in often meaty supporting roles. Off the top of my head I remember him as Jade Leung's cousin in Burning Flame I and Ada Choi's brother in A Matter of Business. He's been with TVB for quite some time but I don't know if he's still with them.
Some of his film roles were in: Love in the River (1998), You Light Up My Life (1998), Blind Romance (the brother,1996), Bodyguard for the Dead, From Beijing with Love, Kung Fu Scholar, Rebekah, Sixty Million Dollar Man and A Taste of Killing and Romance (the informant).
Another reader adds this information "he is the son (real son) of "Shan Ma Zai", who was a very popular actor in the 1960's/1970's and his son just looks like him.

---
Tang Tao-Liang/Dorian Tang Tao Liang/Flash-Legs.
"Bootmaster" is the name often given to martial art's performers gifted with spectacular and superlative kicking abilities. One of the first to appear in modern kung fu cinema and certainly one of the greatest to this day would be Korean born ethnic Chinese Tang Tao Liang, who throughout the seventies astonished viewers with the amazing dexterity, power and versatility of his kicking techniques. Most of the time he didn't make any use of his hands at all. While he never really became a huge genre superstar like Bruce or Jackie, or made any really outstanding films, he is still to this day one of the genre's favourite cult figures.

Tang was born in Korea from Chinese parents who had immigrated there to escape the trouble of their war-torn native land during the Japanese invasion of the thirties and forties. At the age of seven he began training in the country's national martial art of Taekwondo and eventually he would become one of the great world masters of this art. During his competitive days, he developed his trademark prodigious leg dexterity as well as his "hopping" manoeuvre, a spectacular move where he would hop towards an opponent in between powerful kicking strikes up in the air. Eventually Tang became a great champion, winning countless national tournament events consecutively. Besides Taekwondo, Tang was also taught a peculiar brand of martial art called Gecko, not a fighting art but a climbing technique to scale walls using both legs which would be featured later in some of his films.

In 1971, Bruce Lee with his Hong Kong martial film debut, THE BIG BOSS had revealed the stunning screen power of the Taekwondo like kicks. This led to a search by movie producers for equally proficient "leg-fighters" with Tang becoming one of the first if not the first outright of such a new kind of martial screen performer. His debut was with THE HERO OF CHIU CHOW on 3 January 1973.
For the next couple of years Tang would make occasional appearances in kung fu movies including: TORNADO OF PEARL RIVER (1974) DYNASTY (1975) and YOUNG HERO OF SHAOLIN. In 1975 however, Golden Harvest, the studio that had "discovered" Bruce Lee at the dawn of the seventies, hired Tang. He made two movies for them: HAND OF DEATH, whose aim seemed to be to make a big league martial star out of Tang, but is now a film more famous for the uniqueness of bringing together John Woo, Jackie Chan and Sammo Hung than for it's involvement with Tang. Then the same year he did THE HIMALAYAN, co-starring Harvest female martial star Angela Mao, which is considered to have one of his finest fighting displays.

Perhaps disappointed by the films unsatisfactory box-office results, Golden Harvest did not retain Tang's services for any more movies. However the films were good enough to make Tang one of the lead players in the low budget independent martial art movie market. For the next five years Tang appeared in nearly 30 or so low-budget kung fu movies, many of which would become appreciated as cult favourites such as THE HOT THE COOL AND THE VICIOUS (76) pairing him with southern stylist Don Wong. Other names he was occasionally paired with were: Lo Lieh, Meng Fei, Angela Mao and even ENTER THE DRAGON's Jim Kelly for the TATTOO DRAGON (78). One of the highlights of his career was with THE LEGS FIGHTERS where besides his usual kicking feats he also played a stern no-nonsense teacher to his mischievous undisciplined co-star the wonderfully leggy and flexible Hsia Kwan Lee. Another fateful encounter was in SEA DRAGON GODESS starring kung fu female wonder Polly Shangkwan Ling-feng where he played the typical white haired villain, the same sort he had fought himself as the hero in many previous movies.

In between films Tang Tao Liang spent time teaching. One of his students John Liu followed in his master's footsteps and he too became a favourite "bootmaster" performer in such kung fu films as SECRET RIVALS (76) and THE SNUFF BOTTLE CONNECTION (77). He also came up with his own kicking techniques, which he named "Zen Kwan-do". Another of Tang's students was Yuen Biao.
As martial art cinema was declining at the dawn of the eighties, Tang left movies, his last appearance being in GODFATHER OF FURY (82). Since then he has relocated to California and opened his own school. In the late nineties he taught Shannon Lee, Bruce Lee's daughter, the man whose kicking prowess had brought attention to the kicking oriented performer in the first place. Thus in a way, Tang had come full circle.
(Written up by Yves Gendron)

---
Tats Lau Yi-tat
Born on 02/27/63 in Hong Kong
Tats is another film composer turned actor – an odd anomaly that HK has a few of. He has composed the film music for over 25 films - some of these being The Log, Temptation of a Monk, Queen of Temple Street, Three Summers, Autumn Moon and Forbidden City Cop. His looks have led to him portraying film characters that tend to be a bit on the eccentric but unforgettable side. Some of these are Who's Like a Ghost in Forbidden City Cop, the Shaolin Abbot in God of Cookery, Jackie Chan's assistant in Gorgeous and the rather incompetent assassins in Master Q 2001, You Shoot, I Shoot and a father in Glass Tears He also played an oddball killer in Timeless Romance in which he partners up with Theresa Lee.
Other than his film work, Tats Lau is also an accomplished musician and has been termed the "Godfather of Alternative Music in Hong Kong". He and Anthony Wong Yiu Ming formed a band in 1986 called Tat Ming Yat Pai that was heavily influenced by European electronic music. Tats played all the instruments and his partner did the vocals. The band broke up in 1990 and Tats has released solo albums since. One media source had this to say about the band "Their music, cerebral and poetic, touched on a wide range of social issues such as youth, politics and sexuality - topics widely regarded as taboo.

---
Teddy Robin Kwan
Born in 1948
This bantam sized actor/producer/composer/singer certainly had an interesting career and during the 1980s he was one of Hong Kong's more popular celebrities. He rose to prominence in the mid-1960s by heading the popular pop band Teddy and the Playboys (the name Teddy came from the term 'teddy boys'). After a number of hits, he took an acting role in a Shaw Brothers film called The Price of Love in 1970. I have never seen this film, but I can't imagine it was a kung fu film – Teddy instead created a film persona as a slick urbane schemer with a good heart buried deep down.

At some point after this he emigrated to Canada where he lived until his return in 1979 to direct one of the more influential crime films during that period – Cops and Robbers. Some other films that he directed over his career are Shanghai Shanghai and Legend of Wisely. He has also produced serious films such as The Story of Woo Viet, Victory, Temptation of a Monk and composed the score for As Tears Go By. But he is best known for his film roles - the little guy making his way in a big world by way of his wits. He teamed up three times with George Lam in the early 1980s – All the Wrong Spies, All the Wrong Clues and Banana Cop. Some of his other films were Run Tiger Run (directed by John Woo), The Great Pretenders, To Spy with Love, Working Class and Twin Dragons.

Some other films for which he has composed the score are Black Mask, The Adventurers, Aces Go Places, City on Fire and Tiger on the Beat.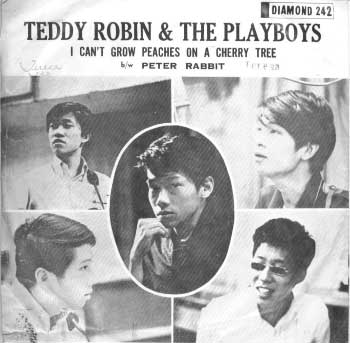 ---
Teresa Carpio
Better known as a singer, Teresa made a few appearances in some Hong Kong films – The Age of Miracles (the daughter), the Chow Yun Fat film, City War in which she amusingly plays the woman that friends try and set him up with, 18 Times, Happy Ghost (the nun) and Isle of Fantasy (the head of the troupe). From an ethnic Philipino background, she was born into a musical family and in 1963 at the age of 6 she won a music talent show in Hong Kong. She is still performing at the present time and is more of a jazz than a Canto-pop stylist. She recently appeared in the critically appreciated film Truth or Dare: 6th Floor Rear Flat (2003) as a concerned mother and has the opportunity to sing a wonderful song.

---
Teresa Mak Ga-kei
Certainly one of her most memorable images is as the shaven headed punk in the 1996 Streets of Fury, but most often Teresa looks quite normal and very attractive. She seems to get stuck in a lot of "best friend" to the main female types of roles, but always leaves you curious to see more of her tough fast talking characters.

She was in the 1993 Miss HK pageant and went on from there into show business and was appearing in films by 1994. Some of her other film roles were as Princess in The Mermaid got Married, one of the girl gang in Sexy and Dangerous, The Evil Queen in Erotic Ghost Story – The Perfect Match, Black Cat in Jail, Martial Angels, Electrical Girl and Love Me, Love My Money.

Apparently in 1996 her career had stalled and she moved to the UK where all that fatty food ballooned up her weight quite a bit. She lost it though and came back to HK where she got a prime TV role in Duke of Mt. Deer and her career has been quite solid since in both TV and film – and recently she has been doing commercials for breast enhancement cream. Don't laugh - she was reportedly paid HK$ 1MM for doing so!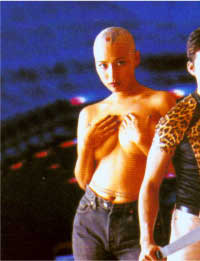 ---
Teresa Mo Shun-kwan
In the first four years of the 90s, Teresa was one of the most popular actresses in Hong Kong specializing primarily in comedy but also being Chow Yun Fat's love interest in Hard Boiled. She made over 20 films in this period – bringing a screwy but intelligent comic relish to many of her roles. Some of her better known work was in The Magnificent Scoundrels, Legend of the Dragon, 92 Legendary La Rose Noire (which landed her a Best Supporting Actress nomination), Now You See Me . . . Now You Don't, Perfect Couples, and the all-star Chinese New Year comedy trio of All's Well Ends Well, All's Well, Ends Well Too and It's a Wonderful Life. Teresa had actually been acting in TV for over a decade by the time she finally
became a film star - at an age when many HK actresses have already retired by.

After marrying director Tony Au (Dream Lovers, Touch of Evil, A Roof with a View, Au Revoir, Mon Amour), she retired and temporarily emigrated to Canada. Two years ago, she and her family returned to Hong Kong. Thus far though, she has only appeared in one new film -- as the HKFA Best Supporting Actress nominated role of the kooky woman in And I Hate You So (2000). Instead, she appears to have concentrated -- like fellow funny woman Sandra Ng -- more on talk show radio hosting.
BTW, a short while back, Teresa's All's Well, Ends Well and All's Well, Ends Well Too co-star, Leslie Cheung, caused a stir by publicly divulging that years ago, he actually had been in love with her and she had rejected his serious and sincere proposal of marriage.

---
Teresa Tsui
She appeared in a few cult like Taiwanese films in the 1980s – Pink Force Commandos (the woman in the cool white outfit), Golden Queen Commandos (the tattooed Amazon) and Woman Warriors of Kingsman.

---
Terence Yin Chi-wai
Born 05/19/75
One has to wonder why some good looking guys get the good guy roles, while others seem stuck in playing slimy villains. Yin seems to have a slight sneer to his countenance that has pushed him into the latter category – and he has done a fine job of portraying totally irredeemable nasties in Hot War, Gen – X –Cops, Metade Fumaca, Martial Angels and Bullets of Love. Two of his most intriguing roles though were actually when he played slightly morally ambiguous characters in Bishonen and X'Mas Rave Fever.

Hopefully he can apply his studies to cope with his being thrust into bad guy roles as he earned a degree in philosophy at the University of California, Berkeley. He came to Asia from Los Angeles initially to become a pop star, but when that didn't seem to be going anywhere he moved into film. Yin gets to play one of Simon Yam's henchman in the Hollywood film, Tomb Raiders: Cradle of Life. His mother is the incredibly beautiful Shaw Brother's actress, Jenny Hu and his father is Kang Wei, a respected director in the 1970s.

---
Theresa Lee Yee-hung
Born 02/27/70 in Hong Kong
In a rather astonishing rise to popularity, Theresa left Canada in 1994 where she had been raised since the age of six and returned to Hong Kong and within two years was a big star – even though her Cantonese was apparently quite awful. Upon returning to Hong Kong she entered the Miss Hong Kong Beauty Pageant and was runner up.

Her very cute petite looks and bubbly personality quickly led to roles on TVB, a winning movie debut (as a cheery prostitute who charms Andy Lau and Kenny Bee) in flawed but well-meaning What a Wonderful World, then roles in two terrific films in 1996 – Big Bullet (in which she speaks some English) and Who's the Woman, Whos' the Man. She was nominated as Best Supporting Actress for both films. In 1997 she duplicated this feat with her roles in Downtown Torpedoes (in which she plays a mute) and Intimates. In the same year she also appeared in the atmospheric Love is not a Game, but a Joke.

But in a strange turnabout, this seemed to cap her popularity – and since then she has really been in no films that were of this quality (or where she's had ample screen time). Timeless Romance was quite fun with her as a kooky gun toting femme fatale but it went nowhere, in Extreme Crisis she played second fiddle to Hsu Chi and was badly miscast, Love and Let Love was just plain boring, When I Fall in Love...with Both wasn't much better and in her most high profile film of recent times – Purple Storm – hers was only a small even if effective supporting part. Odd how these things happen – HK embraced her and then let her go. She still appears in a lot of television and her best role as of late was in a Canadian production, Lunch with Charles, in which she co-starred with her co-star from Big Bullet, Lau Ching-wan.

---