---
Sibelle Hu Hui Chung
Born 05/04/58 in Taiwan
In the early 80's the film characters that Sibelle portrayed seem a far cry from what they were to become within only a few years. Beginning her career in Taiwanese film, she was initially groomed to be the successor to Brigitte Lin in the Taiwanese melodramatic weepie market. By the end of the 70's Brigitte was of course getting older and a love scandal had made her future in this type of Taiwanese film somewhat questionable.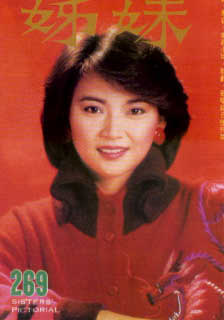 With Sibelle's debut in A Special Smile (1979) and appearances in a few other films – The Coldest Winter in Peking (in which her co-star was Brigitte's oft teamed co-star and one time fiance Charlie Chin) and the prostitute drama A Flower in a Storm – Sibelle gained enormous popularity. A Special Smile broke box office records for a Taiwanese film in Hong Kong. At the same time she was able to graduate with a history degree in 1981.

The days of the Taiwanese weepie were coming to an end though – and within a few years Taiwanese film would almost completely surrender to the onslaught of film from Hong Kong. Like Brigitte Lin before her, Sibelle turned to Hong Kong to further her career.

In 1985 she was invited to be the "dish" in My Lucky Stars. In this Sammo Hung produced series every film had a beautiful female who was the object of desire of the bumbling juvenile men in the cast. The film was a huge hit and Sibelle became a major star in Hong Kong. She also got away from her weepie image and got caught up in the hijinks and the action of the film. She had a classical confrontation with Michiko Nishawaki that was to some degree to foretell the rest of her career.

From this point on Sibelle became for better or worse a female action star and was an integral part of the "girls with guns" genre. The problem was of course that she had no training for this sort of thing and many of her action scenes felt less than authentic or graceful (at least compared to the other "GwG" stars). She was also doubled extensively in some of the action scenes. Nevertheless, her good looks and solid acting skills made her very popular. Though these films rarely called for stellar acting, in one of her few dramatic performances of the late 80's as the frantic mother in Inspector Chocolate she showed what a good actress she could be.

From her starring role in Inspector Wears Skirts in 1988, she starred almost exclusively in action films – Devil Hunters, The Dragon Fighters, Inspector Wears Skirts II, Raid on the Royal Casino, The Queen of Gamble, Bury Me High, Lethal Panther and The Big Deal were some of her medium budget female oriented action films. In the film Devil Hunters, she was badly hurt in a mistimed explosion and received burns over a good part of her body (this can be seen at the end of the film). She did get a plum role in 1993 as Michelle Reis's mother in Fong Sai Yuk in which she had a classic match up against Jet Li and Josephine Siao (who played Jet Li's mother in the movie).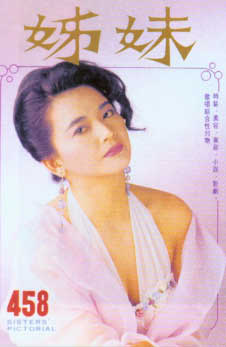 At one time Sibelle apparently had a romance with a Taiwanese triad chief, but in the late 1990's Sibelle retired, got married and recently (2000) had her first child. Her husband (Patrick Ho) is a doctor who was Chairman of the Arts Development Council and was just recently appointed to be the Home Affairs Secretary of Hong Kong.

---
Sihung Lung
This Taiwanese actor has been appearing in films for many years, but it is as one of director Ang Lee's favorite actors that he has come to the attention of many in the West. He has appeared as the father in Lee's "Father Knows Best" trilogy of Pushing Hands, Eat Drink Man Woman and The Wedding Banquet and of course was Sir Te in Crouching Tiger, Hidden Dragon.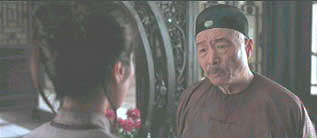 He has appeared in the occasional Hong Kong production – Requital, Lover's Lover and Four Chefs and a Feast. The veteran actor also has roles in Lee Chi Ngai's Japan-HK co-produced The Sleepless Town and the Sylvia Chang-directed Tonight Nobody Goes Home. He just recently passed away in 2002 at the age of 72. His last film was Michelle Yeoh's The Touch.

---
Simon Loui/Lui Yu Yeung
He works fast and he must work cheap because it often feels like Simon shows up in every low budget film that comes out of Hong Kong these days. He was in 27 films in 1999 alone! If a horror film is made without Simon it almost feels incomplete. He has actually been acting in films since the early 90's – Easy Money, Hero of Beggars, The Sting – but it wasn't really until the Troublesome Night series began in 1997 that he took on the mantle of the king of low budget horror.

He has appeared in just about every one of the Troublesome Night series – and a large array of other films. It's really difficult for me to understand quite why he has been thrust into these roles. His slight build is not at all intimidating, his looks are fairly ordinary – but he has a unique ability to play all types of roles in these horror films – often the villain but sometimes the victim.

Though much of his focus has seemingly been in horror, Simon has also appeared in a number of dramas and comedies as well. A sampling of his many films would include: Love Cruise, The Three Luskateers, The Young Ones, Horoscope I, Lamb in Despair, Fourteen Days Before Suicide, Last Ghost Standing, X Imp, Prostitute Killer, Ungrateful Tink, the sleeper like Playing With Strangers and Headlines. Recently Simon has begun writing a few scripts as well and they - among which was that for Last Ghost Standing - are very solid efforts. His writing and acting in Paramount Motel made that one of the better crime films in 2000.
---
Simon Yam Tat-wah
Born on 3/17/55
When Simon Yam first appears in the film Bullet in the Head – looking debonair and dashing in his white suit and stubble – he seizes the film from Tony Leung Chiu-wai, Jacky Cheung and Waise Lee and walks away with it. Simon has a way of doing that – he even did it with Chow Yun Fat in Full Contact with his over the top gay psycho killer character. He came close with Chingmy Yau in Naked Killer as an impotent cop looking for love in all the wrong places. Style just drips off of Simon like a spring rain. He has that confident male on the prowl walk and makes the clothes he wears look like they were freshly taken out of the pages of GQ magazine. Over the decade of the 90's Simon was one of Hong Kong's most charismatic and interesting actors - willing to play all different kinds of roles.

It took him a long while to grow into this though. He began with TVB in the 1970's and had his film debut in the 1979 film, Law Don. In his early films he appeared very boyish and almost a bit goofy. Some of these are He Lives By Night (cop), Tong – A Chinatown Story and Goodbye Mammie. In the late 80's his roles became more substantial as he matured and he showed a real talent for playing both heroes and villains. Even his heroes though tended to be shaded with grays. 1990 was a real turning point for his career when he started getting solid leading roles in films like Killer's Romance, Fatal Termination and Cyprus Tigers. This was also the year of Bullet in the Head – a film that in large part introduced Simon to the West. Another interesting film for him that year was Hong Kong Gigolo.
The gigolo film is almost a uniquely Hong Kong invention. Unlike the West that tends to belittle the gigolo, in Hong Kong films they are often heroes – sexual idols to aspire to. And who better than Simon to act this role? He was the perfect gigolo – suave, urbane, handsome and the perfect lover - he could take a lifelong lesbian like the "tomboy" played by Rosamund Kwan and make her go gaga in Gigolo and Whore II. He was to make a few more of these over the years – Gigolo and Whore I, Cash on Delivery and Friday Gigolo. In the cameo filled The Banquet, when there is a need for a gigolo, guess who takes upon this role?!

In the nineties Simon almost became the man who could not say no to a film offer – and he appeared in loads of films – some of them classics but many of them are totally forgettable. He showed up in a number of low budget female action films such as Mission of Condor, Queen of Gamble, Queen's High, Crystal Fortune Run and Sea Wolves but also a few of the "girls with guns" classics like Black Cat and Naked Killer. More recently, he has played a senior triad in a number of movies (among which are Young and Dangerous 1-3, The Mission and Juliet in Love as well as 1993's Love Among the Triad).

Simon was in so many films over this period of time that it is impossible to mention more than a few – but some of his best performances were in A Day Without Policeman, Love Among the Triads, Police Confidential, Scarred Memory, Expect the Unexpected and Powerful Four. Simon was also in a few of the top Cat. III crime films of this era – Dr. Lamb, Run and Kill and Can't Stop My Crazy Love for You – showing just how good he was at playing bad.
Somewhat ironically (considering the roles for which he is particularly famous in the West), Simon actually is reputed to be one of the nicest guys around. Word has it that because he is so gentlemanly and absolutely will not take advantage of women, he is about the only actor that many actresses are prepared to act out sex scenes with.
When Simon is not working he spends his time doing charity work, photography (his fourth photo book will soon be released), modeling (he is considered to be one of the best dressed men in Hong Kong), some traveling and spending time with his wife, the model – and major Hello Kitty fan -- Qi Qi (for whom Simon apparently dressed up as Hello Kitty's boyfriend, Dear Daniel…!). Recently, the multi-talented individual has also tried his hand at interior designing.

---
Siqin Gaowa/Stchingowa
This Mainland dramatic actress is very respected and popular in China, but has only shown her talent in a few Hong Kong productions – Full Moon in New York, Homecoming, Three Swordsmen (Brigitte's mother), The Day the Sun Turned Cold, Lord of East China Sea (Kent Cheng's wife) and A Home Too Far. Her ancestry is Swiss/Mongolian and Chinese.

---
Siu Ping-Lam
In the Mood for Love (Ping -- 2001 HKFA Best Supporting Actor and Best Newcomer nominee), Princess D (teahouse cashier). From the In the Mood for Love official website: "Born in Hong Kong, he entered the film industry in the 1980s as a props master. His many credits for props include Ching Siu-Tung's A Chinese Ghost Story (1985) and Swordsman 2 (1992), Once Upon a Time in China IV (1993) and Tsui Hark's Green Snake (1993), for which he also took care of the special effects props. He has worked in the same capacity on four of Wong Kar-Wai's previous films (Days of Being Wild, Ashes of Time, Fallen Angels and Happy Together).
He would have had only a crew credit on In the Mood for Love if Wong had not been struck by his 60s look and style and decided to write him into the film. Wong created the role of Ah Ping in December 1999, mid-way through the shoot; it gave Ping-Lam his first ever serious acting role, and he was glad to accept the challenge. He says he has enjoyed the experience, but intends to remain working as a props master for the rest of his career."

---
Sophia Crawford
Sophia was a barmaid in the United Kingdom before she moved to Thailand and then Hong Kong. Her powerful build (which makes her look much bigger than her 5'4'' dimensions) allowed her to get a number of roles in action films – particularly in the "girls with guns" genre. Though she had no martial arts foundation, she trained with Yukari Oshima and picked up some solid skills for the movies. In almost all of her appearances – which were often quite small – she played a gweilo villain.

Some of these films are New Kids in Town, The Vengeance, Cyprus Tigers, Beauty Investigators, Story of a Gun (one of her few good guy roles), Hero Dream, Angel Terminators II, Mission of Justice, Big Deal and Escape from Brothel. In the film Story of a Gun, she badly hurt her ankle in a fight with Yukari, but continued to do the scene though in great pain. She also did nude scenes in Beauty Investigators (the un-cut version) and Escape from Brothel (a fight in the nude against Billy Chow!). Living in the United States now, she has continued her martial arts training and is considered one of the top female stunt people in Hollywood today – one of her best known jobs was as the stunt person for Buffy the Vampire Slayer. Sophia also appears in the British made Top Fighters 2: Deadly China Dolls documentary production.
Here is a link to her Stuntwoman page:

And another good site dedicated to her.

---
Sophie Ngan Chin-man
Ah, sweet Sophie. She has hit the Cat III world like a ton of bricks and mortar and has in a very short time become a favorite of many. She brings a wonderfully sexy insouciance to her roles – sexy as a burning ember but always with a certain tongue in cheek humorous glint in her eyes.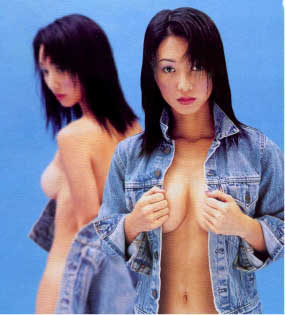 She received her first bit of celebrity or perhaps notoriety hosting a Hong Kong TV talk show about sex. While doing this, she appeared in her first films Horoscope II (she is terrific as the evil witch), Resort Massacre and Conspiracy. The interesting tease about these films was that though they pictured Sophie in revealing poses on the cover – the films actually had no nudity. She then did a pictorial layout for Hong Kong Penthouse – which was again very sexy but didn't reveal her points. It was still revealing enough though for her to be fired from her job on TV.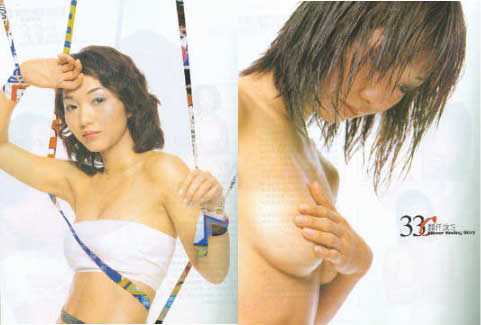 This though seemed to be the impetus that Sophie needed to stop the tease and go Cat III with a vengeance. Her first film in which she goes beyond the tease is the terrifically sleazy film, Naked Poison, in which she plays a rather nasty secretary. The follow-up to this film was Electrical Girl and though not a great film by any measurement (well maybe by Sophie's measurements!) it completely focuses on Sophie and her attempts to orgasm. A worthy effort in my book!

---
Spencer Lam Seung-yi
This mild mannered actor appears to have begun his film career in the mid-90's – at a time when he looks to already be in his 40's. His most famous role is as a priest – and Karen Mok's father – in the Young and Dangerous series. I am not sure if he is a Christian in real life – but he has carried over the role of playing a priest into a number of other films as well – Satan Returns, Haunted Mansion, My Loving Trouble 7 and Prince Charming.

A few of his non-priest roles were in Big Bullet (the cop who likes homemade soup), Midnight Zone (the caretaker), Killing Me Tenderly, Mr. Wai-go (Anthony Wong's father), Sexy and Dangerous (the prim father), Your Place or Mine (Tony Leung Chiu Wai's father) and I.Q. Dudettes (the principal).
---
Stanley Fung Sui-fan
Though Stanley began his acting career in the late 1960's and made some films in the 70's as well, it wasn't really until the 80's when he became one of Hong Kong's better-known film comedians. In the 80's he appeared in a multitude of comedies – often playing the straight man to the antics of Eric Tsang, Richard Ng or John Sham. He perfected the slow burn – initially taking the abuse or patiently watching the shenanigans of his co-stars until he would finally explode. This calm and dour mustachioed persona did him well and he appeared in many of the top comedies of that period.

Some of these are Pom Pom, the Lucky Star series (Winners and Sinners, Twinkle Twinkle Lucky Star, My Lucky Stars), Where's Officer Tuba, My Cousin the Ghost, The Romancing Star, Love Soldier of Fortune, Inspector Wears Skirts and many more.

---
Stephanie Che
Stephanie has just recently begun making a splash in Hong Kong films with her appearances in a few high profile films – Bakery Amour, Okinawa Rendez-vous and Clean My Name, Mr. Coroner.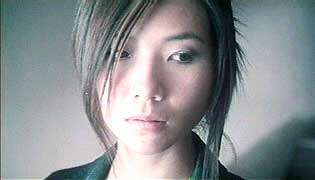 Although she is one more actress with a singing career (in fact, she may well be a respected singer turned actress), she is a welcome change of pace from the typical young idol squeaky voiced actresses residing on HK movie screens these days. Instead her characters come across as straight talking, straight shooting adults with a lively intelligence within.

---
Stephen Chan
This muscular bodybuilder appeared in a few films during the late 80's and early 90's – usually as someone's henchman. Some of these films were as the muscle man in Widow Warriors, Anthony Wong's "lawyer" at the end of Organized Crime and the Triad Bureau, a cop in Final Option, a gun dealer in She Shoots Straight and in The Long Arm of the Law II. He is now a HK based Wing Chun Kung Fu instructor.

---