---
Rain Lau Yuk-chui
Rain Lau hit the screen like a mini-tornado in 1990. As the sullen but spirited daughter of Sylvia Chang in Queen of Temple Street, she was a wonder and a delight. Her youthful, spirited, spit in your eye performance made her seem like no other HK actress I have come across. She received the Best Newcomer Award for this, but oddly her career never really seemed to flourish as one might expect. She has appeared in only some ten films and in many of these her role was minor. I wish I knew the reason why – perhaps her gritty characters just never sat well with Hong Kong audiences.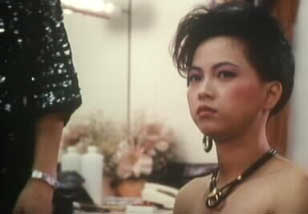 In It's Now or Never in 1992, she gave another tough girl performance – hard as rock candy on the outside and tender as marmalade on the inside. As Cheung Man's sister she nearly steals the film. Another solid part was as a young lesbian in Candlelight's Woman in 1995 (in which she takes on bad guy Shing Fui On in a gut wrenching fight) . Her short haired look and curled lip in these early films was very distinct and made her almost look like a tiny female version of Elvis Presley.

Since then she has had small roles in Ah Kam – the wife of one of the stuntmen, Tri Star and Troublesome Night 3.
Caroline Chai had this to add about what Rain has been up to since her film career slowed down:
Rain Lau Yuk Chui has been at TVB for quite some time now and is often cast in comic roles or used as comic relief. In her early days she actually did get fairly substantial roles, like her role in Man of Wisdom (1993, Lawrence Cheng, Ada Choi, Chui Kar Po). Sadly even though most consider her a good actress, she's considered too short and probably not pretty enough to be leading material at TVB. She used to sing too and has a few albums to her name but I think they are all out of print since I couldn't locate any when I tried to recently. Rain Lau sang two of the sub-theme songs for Man of Wisdom and she sounded quite good.

---
Ray Lui Leung-wai
Born 12/22/55 in Vietnam
Ray Lui is one suave sharp looking guy. Every crease looks right in place with this guy as if he just stepped out from being dry cleaned. It didn't matter if he was playing heroes or villains, he always looks like he has the world in his side pocket. He was great looking when he started in films in 1980 and he still looks great today. These good looks have made him a leading man in all types of films from triad to historic and from comedy to drama. This square jawed actor with the debonair air also has quite the reputation as a lady's man and his relationships with other actresses have been a staple of gossip pages for years.

He came to Hong Kong when he was twelve and after being encouraged by his father to join an actors training class, Lui was a fairly big star at TVB by the early 80's. The show that did this was the same one that made Chow Yun Fat a TV star – The Bund (aka Shanghai Beach; which was later brought to the big screen -- but san Lui and Chow -- by Tsui Hark as Shanghai Grand). He was in some interesting films in this decade – Dangerous Encounter of the First Kind, Health Warning, Project A II, Four Loves, but none of them made him a film star.
It was the 1991 triad film, To Be Number One, that did this for him. In this epic gangster film, Lui plays the main character and the film tracks his rise and fall in the triads. It was a bravura performance and the film was a smash hit (in the comedy Days of Being Dumb the two wannabe triad members Tony Leung and Jacky Cheung have a big poster from the film on their wall) and Lui was soon being overwhelmed with film offers. In many of these he played characters that were almost bigger than life - often based on real historical figures. Some of these were Man of the Times, Hero of Hong Kong 1949, Lord of East China Sea, Incorruptible and The Great Conquerors Concubine.

For the first half of the decade, Lui was one of the top male actors in Hong Kong. Since then his film productivity had slowed dramatically, but he is again appearing in a number of films – some recent ones are – The Suspect (1998), The Mistress (1999 – appearing as the promiscuous main man in his ex-wife Crystal Kwok's film), 2000 A.D., and Undercover Blues (which he co-produced as well as starred in).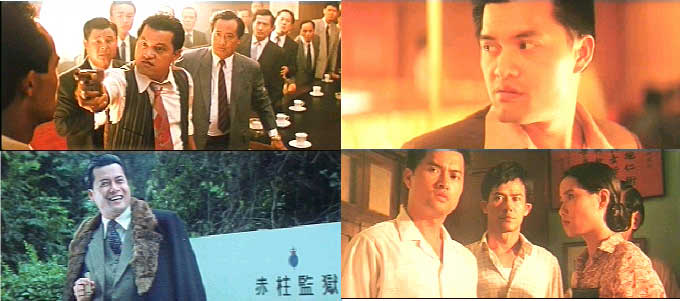 ---
Raymond Wong Ho-yin
This handsome young actor has shown up in a number of Milkyway Image films – generally very small roles, but they are incrementally getting larger. Perhaps he will soon graduate from supporting to starring role (not least since, unlike Lam Suet and Hui Siu Hung, his looks are not what one would associate with a character actor). He was in Johnnie To's Lifeline (the rookie firefighter) and also appears in Expect the Unexpected (the young cop), Sealed with a Kiss (the shy fireman that Yoyo Mung falls for), Where a Good Man Goes (the sympathetic cop), Help!!! (the final metamorphasis of the tramp and then the doctor at the very end), Needing You (the Internet entrepreneur) and Wu Yen (an 'ugly man' named Tsi).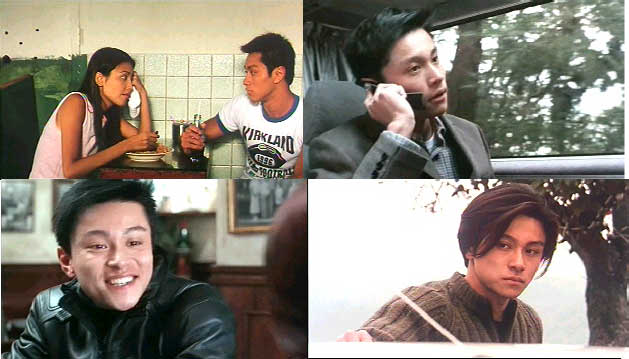 ---
Raymond Wong Pak-ming
Born in 1948 in Hong Kong
Raymond's crumpled pillowcase Howdy Doody face has been on the Hong Kong film scene since the early 1980's as an actor/scriptwriter/producer. A lot of HK film fans look down on his product with complete derision considering him as a second rate Wong Jing, but if you look at the totality of his career it is not at all unimpressive. Often the focus of this mocking tone is centered on his "boys chasing girls" juvenile comedies that he did with Cinema City, but he has produced some fine films as well.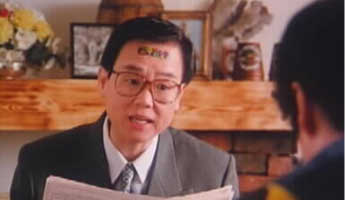 He began as a radio announcer in Macau and then went into the world of television. In 1980 along with Karl Maka and Dean Shek, he formed the film company Cinema City. For a number of years in the 80's Cinema City was highly successful with all three of the founders shepherding their films through. Raymond discovered the "Happy Troupe Girls" who consisted of a number of young actresses – Loletta Lee, Ann Bridgewater, Fennie Yuen, Bonnie Law and Charine Chan – and popularized them in a series of comedies. All five of them can be found in one of Raymond's most despised films, Isle of Fantasy, in which he ends up on a deserted island with all five of them. A fantasy indeed! Though no doubt these films can be puerile, the wonderful charms of his actresses make them enjoyable to some degree.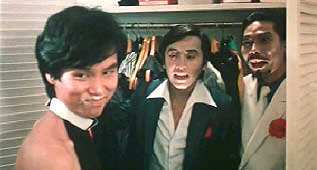 Many of his Cinema City films were quite popular in fact such as the Happy Ghost series. He acted in many of these films – his overgrown schoolboy lecher persona becoming his trademark character. The Occupant, Seven Years Itch and Goodbye Darling were good examples of this type of character.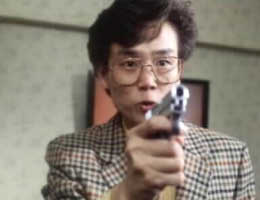 After leaving Cinema City, he continued producing, writing and acting – and his films tended to become a bit more mature and at times his films even ventured into the territory of being artistic. Some of these better known films in which he had a hand in were Girls without Tomorrow, Satin Steel, The Chinese Feast, The Phantom Lover and Eighteen Springs (a couple of which are produced under the aegis of his Mandarin Films, as was the Bride with White Hair -- look out for him, acting all serious for a change, in Tai Seng's "making of" special for the 1993 film that stars Brigitte Lin and Leslie Cheung). He has also been behind many of the star studded Chinese New Year films such as the All's Well that Ends Well series and Ninth Happiness. He has not slowed down much and has recently produced The Mirror in 1999, Paramount Hotel and Esprit D'Amour in 2000.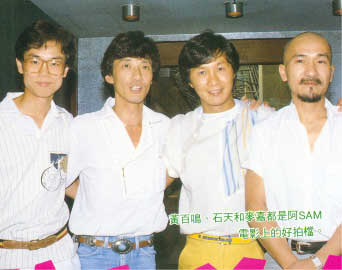 ---
Rebecca Pan Di-hua/Poon Dik-wah/Pan Wan Ching
Born in Shanghai
Rebecca has sadly only deigned to appear in a few films – generally highly regarded ones – but she always makes quite an impression. She is much more known for her singing career that was extremely popular back in the 1960s.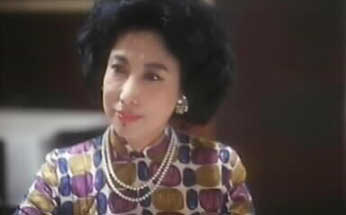 Her singing career began in 1957 when she stood in for an act that quit. She began singing in a band, but eventually broke off to go with a solo cabaret act that took the city by storm. She was a sensation with her mix of songs and styles – as she sang in Chinese, English, Japanese, French and Spanish. She took her act on tour all over the world and was the first entertainer to have a fan club in Hong Kong in 1962.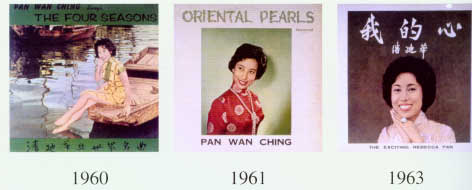 She also produced Hong Kong's first Mandarin pop musical, Madam White Snake, in 1972 and though it fared poorly at the boxoffice it is credited with being a major influence on the soon to emerge Cantopop scene. Sam Hui told her "'Have you forgotten? My idea came from your musical.' Her singing career slowed down in the 70's and 80's but she still appeared in Las Vegas and at other venues. For someone interested in her music, I strongly recommend finding "The Hong Kong Shanghai Legend - Rebecca Pan 101 Songs" that comes with a booklet that contains many terrific pictures of her.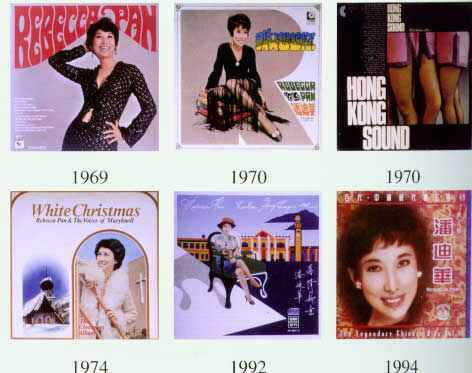 In 1988 she appeared in the Ann Hui film, Starry is the Night, and then a year later she had the terrific role as Leslie Cheung's foster mother in Wong Kar Wai's Days of Being Wild. After this another long acting sabbatical took place until 1999 when she appeared as one of the brothel owners in Hou Hsiao-hsien's Flowers of Shanghai. Her Shanghai roots allowed her to easily meld into the role and speak the Shanghai dialect that was utilized. In 2000 she returned for another Wong Kar-wai film – In the Mood for Love – as the landlady and one of her songs is played briefly in the film - the English version of an Indonesian folk song, Bengawan Solo (the full version appears on the sound track).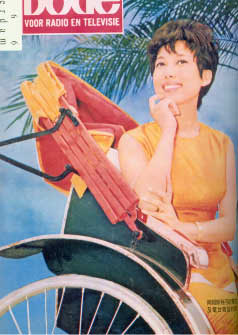 In the In the Mood for Love soundtrack album's liner notes, Wong Kar Wai is quoted as follows about the woman with whom he has had a long artistic association:- "I met Rebecca Pan before I filmed Days of Being Wild. She is very knowledgable about music in the West and she was instrumental in introducing me to the music of Xavier Cugat (used by WKW in Days of Being Wild). When we filmed In the Mood for Love, Rebecca let me listen to her rendition of 'Bengawan Solo', which she recorded when she was 18."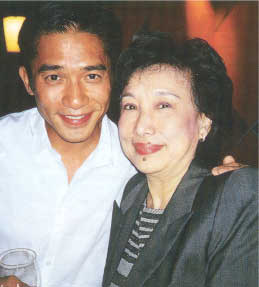 ---
Regina Kent/Kan Wai-ling
This sweet faced actress appeared in a few films in the late 80s - as one of the supporting cast. Sadly, she passed away from brain cancer in 2000 at the age of 31.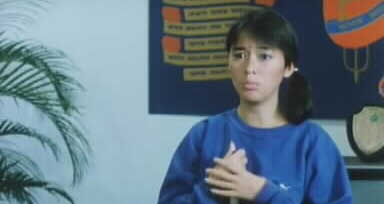 Some of her films were: Inspector Wears Skirts 1 & 2, Legacy of Rage (Brandon Lee's girlfriend), Chinese Cop Out, Club Girls, A Better Tomorrow II (the daughter of Dean Shek), Project A II (Regina), Ghost in the House (the maid) and Vampire vs. Vampire.

---
Richard Ng Yiu-hon
Richard Ng is something of an acquired taste I think for most Westerners, but his comic style was very popular in HK in the eighties until the early 90s (something which might account for the numerous cameo and supporting appearances he made in films as diverse as Yes Madam, The Banquet and Ah Kam). After spending many years in London (where he tells that he was so poor that he considered robbing an old lady walking by), he came back to Hong Kong and began as a TV actor in the 70s and gained some fame as a regular on the groundbreaking show from Michael Hui. In the 80s his arching eyebrows and wide mouth made him perfect for the often eccentric, often conniving characters that he took on. Many of these characters had a dour and pessimistic outlook on life, but Ng could still imbue them with a comic quirkiness that was endearing. His "invisible man" routine in Winners and Sinners is a classic.

The man given the nickname of 'Shoehorn' (for his prominent chin) was in two very popular series during these years - starting with The Lucky Star series (Winners and Sinners in 1983, Twinkle Twinkle Lucky Star, My Lucky Stars, Lucky Stars Go Places, Return of the Lucky Stars, Ghost Punting). In 1984 he also began his film collaboration with John Shum in the Pom Pom series (Pom Pom, Return of Pom Pom, Mr. Boo Meets Pom Pom and Pom Pom Strikes Back).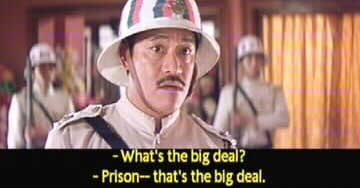 Besides these, Ng was in a load of other comedies (including Boys are Easy, in which he plays the father of the dream trio of Brigitte Lin, Maggie Cheung and Chingmy Yau) along with appearing as the comic relief in action films (e.g., Magnificent Warriors) and the kind of period fantasies that didn't seemed to know whether to take its genre seriously or not (to wit: Handsome Siblings). However, in an interesting detour, he also appeared in a generally serious supporting role in the melodramatic film Red Dust as Brigitte Lin's quiet admirer.
For the most part he has retired and lives in Singapore - but on two occasions in 2000, he returned to make small appearances - in Sausalito as Leon Lai's gay friend and in a cameo role in Jiang Hu: The Triad Zone as a street vendor in London.
(Info provided by Cissi)

---
Richard Norton
This Australian has been one of the more distinct gwielo bad guys in HK films with his long narrow face, disdainful looks and his ability to seem very nasty. Though he is usually the boss as opposed to a henchman, he still has shown some pretty tough moves.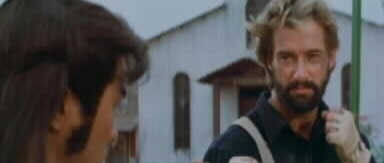 He was of course the main bad guy in Jackie Chan's City Hunter and Mr. Nice Guy and also showed up as a villain in two Sammo Hung films - Millionaires Express and Twinkle Twinkle Lucky Star. Magic Crystal is another HK film that he has appeared in.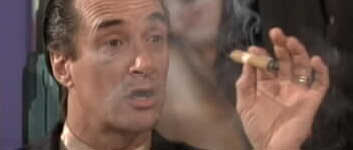 He has also shown up in a number of "B" action films made outside of Hong Kong such as The Octagon (1980), American Ninja (1985), Gymkata (1985), China O'Brien (1990 - which stars one of the rare Americans who is a Hong Kong movie fan favorite, Cynthia Rothrock), Lady Dragon (1992), Redemption (2001) and many more.
---
Richie Ren Xian Qi
This very popular Taiwanese singer has made a few recent film appearances. I can't say his acting ability has impressed me all that much, but he does have a genial personality that does come across on the screen.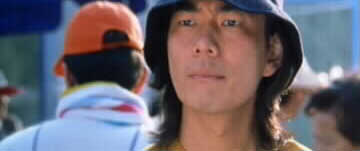 His best role was as the blind man who Cecilia Cheung falls in love with in the huge hit Fly Me to Polaris in 1999. He was also Hsu Chi's despondent boyfriend in Gorgeous and was Sammi Cheng's co-star in the easy going Summer Holiday in which he sings a couple nice tunes (but has his Cantonese dialogue dubbed by someone else here as well as in his other Hong Kong films)..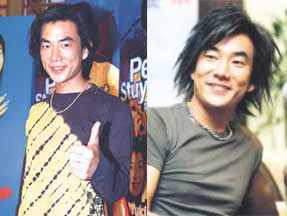 ---
Ricky Hui Goon-ying
Ricky is of course the third Hui brother to make a name in the world of HK film comedy. Although billed as the "third brother", Ricky was actually the second born. While Michael's screen persona was one of a droll wit and Sam was more the romantic/action leading man type, Ricky's comedy fell more into the tradition of being the slow dim-witted one. Upon seeing Ricky Hui's blank looking face, the immediate thought one might have is "here is a sap-headed born-loser", and naturally this is the kind of role Ricky has done since nearly the beginning of his career.
Originally a newspaper correspondent for the France Presse agency in Hong Kong, Ricky found his way into TV and then movies probably through his brother, Michael Hui. Ricky was a graduate of the Shaw Brother's acting classes but it was at rival studio Golden Harvest where he found his first substantial role. In his brother's directorial debut Games Gamblers Play he was a thug of all things. But it was in Michael Hui's classic Private Eyes that he took on what was to become his trademark characteristics as the long suffering bumbling sap who is forever the victim.
Ricky was to appear in many of Michael's films - even after the rift between Michael and Sam. These collaborations – some of which are considered classics - were The Contract, Security Unlimited, Happy Din Don (the bedroom suitor), Inspector Chocolate, Mr. Coconut, Front Page and The Magic Touch. In the films that he made with his brothers he was often the comic foil for their antics. With his Beatle like haircut, sleepy looks and slow moving expressions, he was the perfect easy target.

Though Ricky Hui is often identified with his brothers, he also had a successful career away from them. In 1977 Ricky got to star in his own movie becoming a comic star in his own right. In this film, Pilferer's Progress (Aka: Money Crazy), he co-starred with urban trickster Richard Ng and played his usual hopeless sap headed role. The film, directed by John Woo, was the second ranking box-office hit of 1977. This was the beginning of a fruitful collaboration between Ricky and Woo with Ricky coming back for Rags to Riches (1980), Woo's darkest comedy, Hell from the Devil (81) his most daring effort and Plain Jane To The Rescue (81) which co-starred Josephine Siao.

In the early eighties Ricky starred in a number of supernatural oriented comedy thrillers such as Ronny Yu's The Trail (produced and written by brother Michael), the bumbling disciple in Mr Vampire (1985) and Haunted Cop Shop I and II directed by Jeff Lau. Besides doing starring roles, Ricky also made many guest cameos in films throughout the eighties - Naughty Boys, Project A II, Inspector Wear Skirts I & II, Mr. Canton and Lady Rose.
In the nineties Ricky Hui made many fewer appearances in films - two films with his brother Sam in the 90's - Laughter of the Water Margins (in which he gets to sing) and All's Well End's Well, Too (in which he plays Sam's mother!). All but retired, he has appeared in only two other films in the past 8 years - First Love Unlimited in 1997 and then he joined Sam again in a Winner Takes All in 2000.
(Written up by Yves Gendron)

---