---
Paulyn Suen Kai Kwan/Paulyn Sun
This very attractive actress has been in some solid if far from great films – Love and Sex of Eastern Hollywood (the cheating wife), The Golden Girls (one of Anita Yuen and Ada Choi's actress colleagues), Love and Sex Among the Ruins (the woman who wants to seduce Dayo Wong), Mr. Mumble, Island of Greed, Troublesome Night 4 and Last Ghost Standing (the cop planning -- and thus secretly dressed accordingly -- to attend a rave after work!). One of her most interestingly kinky roles is as the S&M victim in the Japanese film Ichi the Killer.
Caroline Chai has been kind enough to send in some more information on Paulyn:
- Singaporean, Miss Singapore-Universe 1994
- she's been linked to Stephen Chow, tycoon Liu Luan Xiong (who is said to have dated Rosamund Kwan, Michelle Reis and Ada Choi)
- she's also been linked to property tycoon Lo Zhao Hui (who was also linked to Carina Lau, Anita Yuen and Maggie Q) and said to have been one of the reason's for his divorce. She was also rumoured to have been pregnant with his child at one point. When he commited suicide on his yacht last here, her tear faced picture headlined many gossip magazines.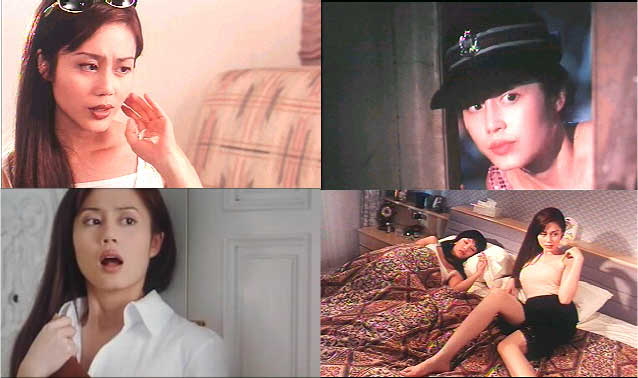 ---
Peter Ho Yun-tung
Pretty boys like this with their quivering bottom lips and the toughness of cotton candy could put an end to the macho male line in Hong Kong film. The English-, Mandarin- and Cantonese-speaking Peter was born in Los Angeles and brought up in both Taiwan and Toronto. He was spotted by a record producer in a karaoke lounge and invited to make an album.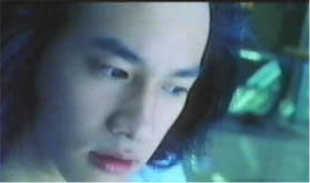 This inevitably led to a film – his debut The Truth about Jane and Sam in 1999 (in which he played a Singaporean journalist who goes to Hong Kong). In this first film his yuppie soft spoken looks played well for his bland character – but in his following films – Déjà Vu, When I Fall in Love with Both and Born to be King (aka Young and Dangerous 6) – this same bland characterization simply made for dull viewing.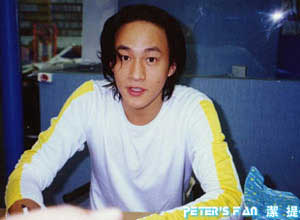 ---
Peter Ngor Chi-kwan
Peter is one of the better cinematographers in HK – Once Upon a Time in Triad Society, Walk In, Full Contact, Sex and Zen, Millionaires Express, Armour of God, On the Run, Dragon from Russia and C'est La Vie Mon Cherie – but occasionally he pops up in films in small roles.

Some of these are Viva Erotica! (the cinematographer!), Lady Reporter (the mental patient), Portland Street Blues (one of the nasty guys), Scarred Memory, Theft Under the Sun and Troublesome Night 6.
---
Petrina Fung Bo Bo/Bo Bo Fung
Fung Bo Bo has had one of the legendary HK acting careers. Her father was a director and the famed twisted mouth character-actor Fung Fung and her godmother was the famous actress Linda Dai – so not surprisingly Fung Bo Bo began acting at the early age of six. She became a huge child star – called the Shirley Temple of Hong Kong – and when she grew into her teens she was anointed as one of the Seven Cantonese Princesses (along with Josephine Siao, Connie Chan and Nancy Sit).

Starting from the 1960s, she acted in nearly 100 films before announcing her retirement and getting married in the 70s. After getting divorced in the mid-80s, she returned to acting – though now obviously in much more mature roles – often playing a mother to a child herself.
Some of these roles were Call Girl 88 (the wife who has to turn to prostitution), Eighth Happiness (the girlfriend to Raymond Wong), 92 Legendary La Rose Noire (one of the two eccentric women who think they are disciples of the crime-fighting Black Rose), Girls Without Tomorrow (the tough mother of Vivian Chow), C'est La Vie Mon Cherie (Anita Yuen's mother) and Mother of a Different Kind. In 1993 and 1994, she won the HKFA Best Supporting Actress awards (for her roles in 92 Legendary La Rose Noire and C'est la Vie Mon Cheri respectively). It is also worth pointing out that it is in reference to -- and a tribute to her -- that more than one child character in a UFO film (e.g., He Ain't Heavy, He's My Father) has been named Bo Bo.
Petrina has since retired once more, moved to Malaysia and just recently remarried. There are rumors every once in a while that she is going to make a comeback -- if not to the Hong Kong movie industry, then at least to acting by way of turning up in a film made in nearby Singapore.
One of her sisters as well as one of her brothers (Fung Hark-Onn) also had substantial careers in the film business. Toad face Ark-Onn was a noteworthy nasty villain in many of the kung-fu/action movies of Jackie, Sammo, Lau Kar Leung and Yuen Woo Ping from the mid seventies to mid eighties. He was also an action choreographer of note - in particular for early John Woo films and was Jackie Chan's chief action choreographer collaborator up to the early eighties.
(Some information provided from Yves Gendron)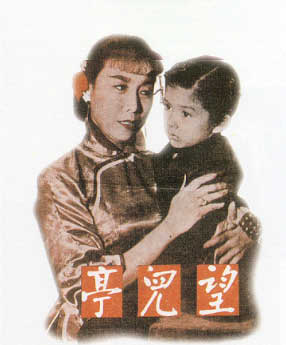 ---
Phillip Chan Yan-kin
Born in 1945
As with Danny Lee, Phillip Chan's very name is synonymous with "cop" in the Hong Kong movie world. Not only because his roles are often that of a law enforcement officer but also because he used to be one himself in the real world. For the past quarter of a century, Chan has contributed in a wide range of production roles - actor, writer, director and special consultant - to a string of police/crime urban thrillers many of which are now considered classics of the genre.

Phillip Chan had being a cop for nearly fifteen years reaching the rank of CID Superintendent when first time director Leong Po-Chi approached him to be a consultant to a film project (Jumping Ash) in which Chan ended up being credited as co-writer. Jumping Ash (1976) was to a large degree the precursor of the modern Hong Kong police procedural movie. With it's use of hand held camera, on location shooting and blending of genres, it is widely considered as a pre new wave anticipator. Within a year of Jumping Ash Chan retired from the police service to dedicate himself to a full time career as writer, special consultant and an unofficial liaison between the Hong Kong movie industry and the Territory Law enforcing agency. Within a year he worked again with Leong on the film Foxbat, was involved in a pair of popular TV series Operation Manhunt and New CID and co-wrote The Extras for emerging new-wave director Yim Ho. His directorial debut The Servant (which he also wrote) occurred in 1978.
Although Chan's first screen appearance goes back to Michael Hui's comedy classic The Private Eyes (1976), he did not get to do serious work in front of the camera until the early eighties (at least on the big screen - TV might be a different matter) and quickly developed into a solid
character actor. Of course, he naturally portrayed a cop on occasion - in films like the classic Night Caller and his best-known role as Chow Yun Fat's supervisor in Hard Boiled. In Night Caller – which he also directed - he is very effective as a tough and righteous policeman after a serial killer. Some of his other appearances were in Esprit D'Amour (head of the insurance company), Spy Games (the news station head), Widow Warriors (one of the family), The Magic Touch (in charge of the IRS department) and Police Story III.

While developing his acting career, he continued to work steadily as a writer/director throughout the eighties. In 1983 he wrote the urban thriller classic The Long Arm of the Law as well as its follow-up two years later. He also wrote, directed and starred in the aforementioned Night Caller and Tong A Chinatown Story (1986) – a film about Chinese gangs in New York City's Chinatown. Besides crime/police thrillers he also directed and sometimes scripted a number of comedies - Return of Pom Pom, Where's Officer Tuba, Inspector Chocolate, Carry on Yakuza and Front Page. In the late eighties he produced two films Path to Glory, a police academy type film, which he also wrote and A Tale from the East. Phillip Chan ceased all filmmaking/writing activities in 1990 although he still continued to act for a couple of more years. Since the mid-nineties though he has unfortunately not been seen on the big screen.
(Write up provided by Yves Gendron)

---
Phillip Ko Fei
Philip Ko has been making cheap low budget action films and acting as a heavy in films for years now.
He began acting during the kung fu days of the 70's in films like Hot, Cool and the Vicious and 18 Jade Arhats – and then in the 1980s continued in other action films – The Club, The Loot, Dreadnaught, Seeding of a Ghost, Boxer's Omen, 8 Diagram Pole Fighter. He worked with Sammo in some of his films – Heart of a Dragon, Dragons Forever, Twinkle Twinkle Little Star and Eastern Condors.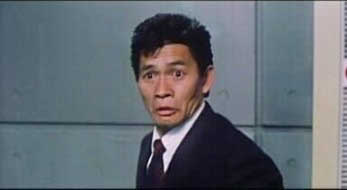 With the onset of the "Girls with Guns" he appeared in many of these – Angel's Mission, Angel Enforcer, Final Run. He has continued acting to the present time.
He was also either the producer or director for many of these low budget action films – Angel Mission, Cyprus Tigers, Killers Romance, Guns and Roses, Phantom War and the classic Fatal Termination and to some degree acquired a reputation as a low budget hack director.

---
Philip Kwok Choy/Kuo Chui
Born 10/21/51 in Taiwan
I admitted up in the introductory section to this index that I am less than knowledgeable about HK films prior to 1980 – so I could never quite understand the adulation from many HK film fans for the fellow in Hard Boiled with the eye patch. The character of Mad Dog is a terrific one – clearly one of the bad guys, but still with an intrinsic sense of honor – and his duel with Tony Leung Chiu Wai is one of the classic scenes in all HK film. Still though, I didn't get it.

Then at an old school kung fu film festival I saw Crippled Avengers – and watched it again - and then again – now I get it. His performance in this film is one of the most physically astounding things I have ever seen. I was dumbfounded – the acrobatics he performs seem to go against the law of nature and gravity – and as kung fu purists will remind you – it is done without the aid of wires.
An ethnic Taiwanese, Kuo Chui (as he was known back then) lost two fingers in an accident but still managed to study at a Peking Opera School. After finishing this he began his film career as a stuntman but was picked out by Lau Kar Leung to appear in Marco Polo in 1975. He followed this with roles in a couple of the Brave Archer series and in Chinatown Kid.

Director Chang Cheh was constantly looking for another intriguing manner to present kung fu films and he came up with the concept of having fighters with skills similar to poisonous animals – and thus was born The Five Deadly Venoms (1977). This film (in which Kuo Chui plays The Lizard) and ones that would follow it using the same five actors (though the characters are different) such as Crippled Avengers, Invincible Shaolin, Kid with the Golden Arm are considered classics by many kung fu fans.
Despite his lack of handsome leading man looks, Kuo Chui's skills and his undeniable Charles Bronson tough guy charisma had him regularly playing the lead "heroic" Venom. Besides being an actor he also served as action choreographer for many of the Venom films as well as other Shaw Brothers productions after the Venom gang disbanded in 1982.
Like so many kung fu actors his career slowed down considerably with the demise of that genre in the 1980s and for a while his career was pretty much restricted to TV as both actor and action choreographer.

In the late 80's he made a bit of a comeback with supporting roles in a few terrific films – The Big Heat (Waise Lee's partner), Hard Boiled, Forbidden Arsenal, Zen of Sword, Treasure Hunt (the taxi driver and has a fight with another kung fu legend, Gordon Liu) and The Cat (the cop). He also had some fine action choreography duties – Tiger Cage II, Once a Thief, Chinese Legend, Handsome Siblings, Hard Boiled, Treasure Hunt and the recent Comic King (2001). When Michelle Yeoh was cast in the James Bond film Tomorrow Never Dies, Kuo Chui was brought on to choreograph her scenes – and has a small cameo (as General Chang). He has recently (2001) been working on a French production (Brother of the Wolf) as the action choreographer and performed these duties for the Michelle Yeoh film, The Touch.
If like me you have not watched this fellow in some of his kung fu films – I highly recommend that you do – I guarantee that you will simply be in awe.
(Partial information and write-up provided from Yves Gendron)

---
Phyllis Quek
Phyllis is a Malaysian, but she came to Singapore when she was seven years old. Since then she has become a very popular artist in Singapore and was recently voted into the Top 10 Most Popular artists there. In 1995 she became a model and entered the prestigious Star Search awards and received 2nd runner up. She has starred opposite Simon Yam in a Tele-movie, 'Hope' and starred in a serial with Alex Man 'Brave New World'. Her first movie was 2000AD with Aaron Kwok and Daniel Wu. In 2001 she guest starred in the film Born Wild with Louis Koo and Daniel Wu and also starred in a Singaporean movie called The Tree.
She is staying busy be releasing her very first solo album, which will be hitting the market soon and is currently Singapore's LUX girl.
(Written up by Prisc Lim)

---
Pinky Cheung Man-chi
Born 09/30/73
5'6'' – 34-23-34
Pretty in Pink. The Pinkster is always a welcome sight for me in any film and over the past couple of years I have developed a sneaky affection for her. This affection really has little to do with the fact that she was voted "Most Perfect Body" in the Miss Asia contest in 1996, but really has to do with her very appealing screen presence and the tough characters she has played.

So far she is primarily associated with films that would fall into the "B" horror genre – and the English magazine Bizarre termed her the "The Exploitation Queen of HK films". Pinky seems to carry this perpetual twinkle in her eye and she manages to be wonderfully tongue in cheek sexy at times and very innocent at others. She has really been absolutely terrific in some of her performances – just giving it everything – and I would love to see her given an opportunity to be in a high profile film.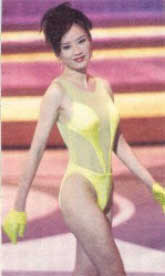 She grew up in Hong Kong, but spent some of her schooling years abroad in the USA and Japan. After the attention brought by her presence in the Miss Asia contest, she was signed up by ATV and was in a number of TV series – one of the most popular being My Date with a Vampire.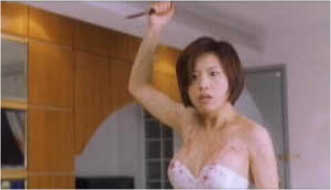 In 1997 she began her film career with small parts in Young and Dangerous 4, Chinese Midnight Express and Love Cruise – but it was her role in the third part of the Raped by an Angel series that made me a Pinky devotee. She has a scene in which Alex Fong has a fantasy about her stripping that will rip the wallpaper off your walls. The Pinkster never actually reveals much in her films – but the tease is well worth the price of admission. After this she embarked on a series of horror films – Horoscope I (the vengeful ghost), Fourteen Days Before Suicide, The Last Ghost Standing (one of the two nutty girls), Erotic Nightmare (an exhausting performance as an abused wife), Horoscope II (another amazing job), Raped by an Angel 5 and Paramount Hotel. A cute and sexy performance to look for is in the comedy Mr. Wai Go in which Pinky generously seduces Spencer Lam.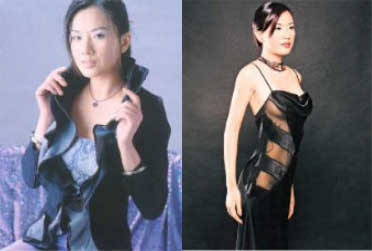 Here is Pinky on love:
"I don't have any illusions about love and leave my love life up to destiny. However, I'm not really that desperate to marry. You can't hurry love. Right now, I'm focusing on my work. The thing I worry about most is not having any work". I don't think she need worry about that!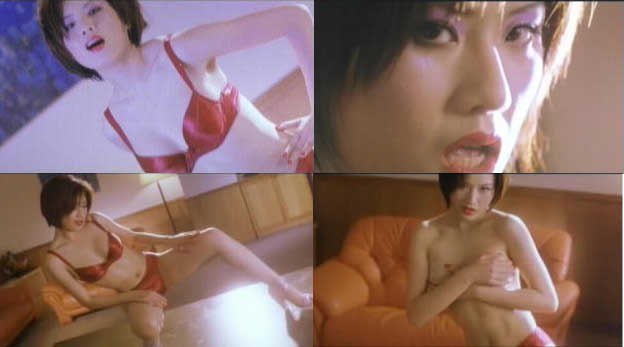 ---
Polly Shang Kwan Ling Fong
Born 10/10/49 in Taiwan
Polly was of course one of the top female kung fu stars of the 1960s and 1970s and though never quite becoming the legend that Angela Mao has, her off the wall cute personality, diminutive stature and terrific physical skills has certainly attracted a legion of fans. In some ways she is the yin to Angela Mao's yang. While Angela burned on the screen with her serious intense no nonsense determination, Polly delighted with her impish good humor, sweet cockiness, toughness and her willingness to take on silly roles. This in no way though diminishes her extraordinary athletic ability – it just adds another dimension.

In 1966 she joined the United Film Corporation and began studying martial arts. Over the years, Polly acquired black belts in taekwando, karate and judo – so even without the Peking Opera training that many of the other female stars had (Angela, Judy Lee) – Polly managed to pick up some highly proficient martial art skills that were utilized in over 60 films.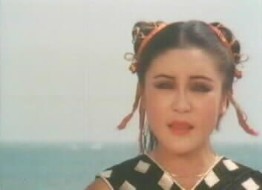 Just one year after joining UFC, she was chosen to be in the newest film from King Hu – (the original) Dragon Inn -considered one of the great classics of Chinese cinema (N.B. The 1992 Film Workshop production of the same name uses its main song as a tribute to it). In this she plays one of the patriots fighting the cruel rule of the eunuchs and has an opportunity to display her talents. A couple of her action scenes are among the highlights of this great film. From this point on Polly was set pretty much on the path of martial arts/kung fu films for more than ten years.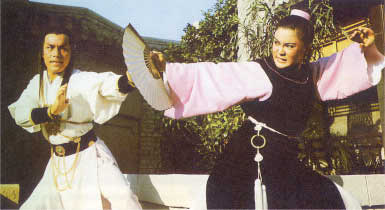 In 1970 she co-starred with Jimmy Wang Yu in Brave and Evil as a karate mistress. In 1972 she won the Golden Horse award for Best Actress for her delightful performance in Back Alley Princess (which co-starred a young Angela Mao). This is one of her rare films that took place in modern times and she and Sam Hui are great in it. They followed up with Chinatown Capers that moves their story to San Francisco and is also very good.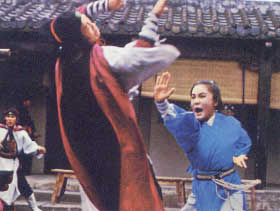 Most of her films though were simple kung fu films. In many of her films Polly cross-dresses and is taken as a male (a common device for many of the female kung fu heroines) and in films such as 99 Cycling Swords it leads to amusing sexual confusions. There is rarely time for Polly to engage in romance though – that is left for after the end credits roll – she is generally too busy kicking butt. In many of her films she is a loner – forced by circumstances to defend herself or protect others – and at least in every film I have seen of hers she is always on the side of good.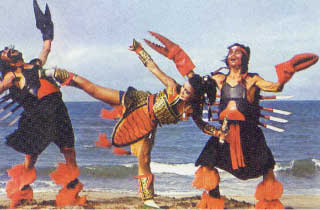 Some of her other films that have achieved a solid reputation are – The Ghostly Face, A Girl Called Tigress, 18 Bronzemen, Shaolin Kids, General Stone and 18 Jade Arhats. As I mentioned, she was willing to take on some silly roles or fight outrageous opponents – such as a pair of giant octopi in Little Hero or Lobster Men in Zodiak Fighters. She just liked having fun on the screen and it shows in all her films. In 1980 she bowed out gracefully from films with her reputation well in tact – the saying was "The Dragon is Bruce Lee, the Phoenix is Polly Shang Kwan Ling Fong".
She now lives on the West Coast of the U.S. There is a delightful interview -- conducted in English -- with her as well as various clips from her movies in a section of the 1998 low budget (but still worth looking out for) documentary, Top Fighter 2: Deadly China Dolls.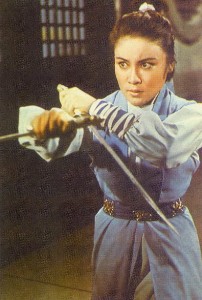 ---