---
Baan Ma Chai/Baan Yun Sang/Pan Yun San
According to Michael Kistner this fellow with the moustace has been in the film Rosa, We are Going to Eat You (first victim), Pantyhose Hero, Mr. Vampire 3 (one of Billy Lau's men), Enter the Fat Dragon (thug at the snack bar), Crazy Spirit (cameo as patient), Red Wolf and Sworn Brothers (cameo as thug). He appears to have been part of Sammo's stunt team.

Bey Logan mentioned at a forum, that he worked with the actor in Circus Kids and his name appears in the credits as action director. But in the credits of Eagle's Killer (1981) and Two Fists against the Law (1980) he appears as Baan Ma Chai/Ban Ma Tsai. I think he used two names."
Mike P writes in that was in Darkside of Chinatown and was also the action director of that film.
From Jude Poyer:
Just to let you know he is known by the English name of Zebra Pan (no kidding). Yes, he was a member of Sammo's team. Before that, he was one of the regular stunt guys who worked with/for Bruce Lee. He recently played one of the Chinese cooks in Zhang Zi-Yi's Visa commercial.

---
Bak Ka-san
This rotund lady won the Carlsberg Singing Championship in 1985 and has gone on to produce a number of albums. At the same time, she has periodically appeared in films.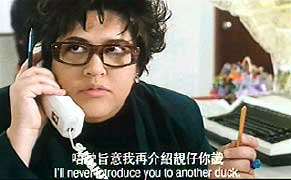 One of her bigger roles was in Twenty Something (1994), and she went on to appear in a few other UFO films as well - Heaven Can't Wait, Happy Hour and Those Were the Days (1996). Some of her other infrequent appearances were in Only Fools Fall in Love, 97' Lan Kwai Fong, Troublesome Night, The Kid, Moonlight Express and Expect the Unexpected (Yoyo Mung's co-worker and friend).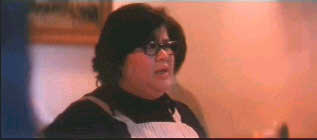 ---
Barbara Wong Chun Chun
This new welcome face on the HK film scene shows great promise. She is probably most infamous as the director of Women's Private Parts (a documentary in which women talk candidly about sex), but most memorable to me is her role in Runaway Pistol (for which she copped a HKFA Best Newcomer nomination) as the young hooker who massages a man's private part as she gabs on the phone. Her creditable follow up directorial effort was Truth or Dare: 6th Floor Rear Flat (an alternately amusing and touching young adult oriented offering in which she also has a small screen role – as Karena Lam's boss). She also has had roles in Among the Stars and a cameo in Mighty Baby.

She studied at the Performing Arts Academy and later when to New York to study film. To make her first film she financed it through her credit card and worked nights as a bartender. With the popularity of Truth or Dare, she should have no such trouble finding financing in the future.
(Partly written up by YTSL)

---
Barry Wong
Born 1946 in Wuzhou, Guangxi Province
Barry sadly died while working on Hard Boiled, but he left behind him a reputation as one of the better scriptwriters in HK. Some of the films that he helped script were - Kid from Tibet, Fight Back to School, She Shoots Straight, Outlaw Brothers, Eastern Condors, Righting Wrongs, Mr. Vampire, Yes Madam, Millionaires Express and The Dead and the Deadly. He also appeared in a few films - Truant Heroes, The Killer (Danny Lee's chief),Curry and Pepper (as Jacky Cheung and Stephen Chow's supervisor), The Other Side of Gentleman (the priest) and as Chow's supervisor in fight Back to School.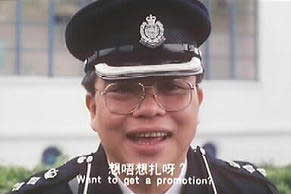 After graduating from the Chinese University of Hong Kong, Barry first worked in the government for a while and later as a secondary school teacher. In 1981, he became a full-time scriptwriter, producing the scripts for The Gold Hunters and Dragon Lord (1982). Before his death, Barry had written more than thirty scripts, either single-handedly or in collaboration with some others.
(Information and partial write-up provided by Sebastian Tse)
---
Becky Chan Pooi Kei
This actress appeared in anumber of Cat. III films and some Girls with Guns films. She is a torture victim in "Devil Hunters" (1989) and is also in movies like "Brave Young Girls" and "Best Friend of the Cops". Some other films are Possessed, Night Girls, Erotic Nights, Club Girls Romance and Brother of Darkness.

(Thanks to Michael K. for information on this actress)

---
Ben Lam Gwok Bun
Ben Lam has always struck me as the material for being a good guy in films – tall, good looking – maybe it's the slightly hooded eyes - but more often than not he is cast as a villain. He has shown some nice kung fu moves in a few films – That Saint of Gamblers, I Love Maria, Romance of the Vampires, Red Shield, Love on Delivery and Holy Virgin vs The Evil Dead, Conman in Tokyo, Police Story II (one of the gang) – but he has never quite been able to move into the "A" list of actors.

---
Ben Ng Ngai Cheung
If I ever ran into Ben Ng on a dark lonely street I would immediately break into a nervous sweat and then kiss my ass goodbye! Perhaps no one does absolute vicious like he can. Almost always the bad guy, he has sent a chill through audiences with psycho performances in Red to Kill, Daughter of Darkness, Eternal Evil of Asia, Sexy and Dangerous, Raped by an Angel IV and Passion 1995.

So it was especially amazing when I saw him in the film The Accident in which he plays a sensitive gay taxi driver. It was a brilliant subtle performance and speaks sadly to the fact that so often actors are type cast in HK.

---
Benny "The Jet" Urquidez
To a large degree Benny is the real thing when it comes to martial arts. He was a professional kickboxer before he gained legendary status for his two classic match ups against Jackie Chan. In both Wheels on Meals and Dragons Forever his two fights with Jackie are brutal and hugely entertaining. As far as I know the only other HK film he has been in was the 1998 Enter the Eagles in which he combats Shannon Lee. He has a book available on the Internet called "Training and Fighting Skills".

From what I have read, there was no love lost between him and Jackie as Jackie thought Benny was not pulling his punches enough. At one point it looked as if there would be a real live challenge between the two of them before Jackie's friends wisely advised him to back off.
---
Bessie Chan Ming-kwan
Bessie was a hostess on a cable talk show about sex - and has so far refused to bend to pressure to take her clothes off for a film! In fact during the show she stormed off in tears and quit after a caller told here to strip on live TV! She instead joined her good friend Sophie Ngan to appear in the film Conspiracy (2000) and Untouchable Mania.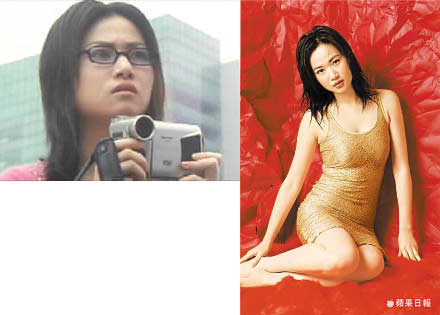 ---
Betty Ting Pei
This Taiwanese actress is remembered today primarily due to the fact that it was her apartment in which Bruce Lee died. She later appeared in and produced the film called Bruce and I - but before this she was a well known actress and appeared in a number of Shaw Brother's exploitation films as well as comedies such as the Hui Brothers Games Gamblers Play and international films like Stoner. A few of her other films are The Night Is Young, Temptress of a Thousand Faces, Naughty, Naughty, Dear Murderer and 14 Amazons.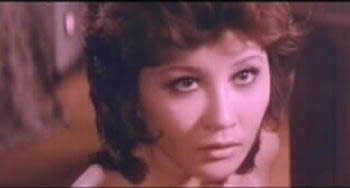 She married movie producer and actor Charles Heung but later divorced him and now apparently has become a nun!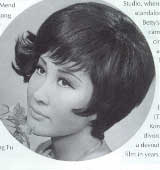 ---
Beyond
(Wong Ka Kui, Steve Wong Ka Keung, Yip Sai Wing, Paul Wong Kwoon Chung)
During the 20 years that Beyond has been in the entertainment business (formed in 1983) their music has probably appeared in more movies than the members themselves have (most prominently featured in A Moment of Romance; The Fun, the Luck and the Tycoon; and more recently, on the Young and Dangerous soundtracks).

In the few occasions they were in movies, such as Happy Ghost IV; The Fun, the Luck and the Tycoon, they were little more than four guys sharing a brain. They also shot a semi-autobiographical film, Beyond's Diary, which features a young Faye Wong as Yip Sai Wing's girlfriend.

Out of the four, Paul Wong has had the most individual movie roles. He played a triad who was lacking in fatherly love in Daddy, Father, Papa . Other movies he's been in: Love and Let Love, The Boss Up There (co-starring with his girlfriend, Athena Chu), and Sleeping with the Dead (the priest).

Ka Keung and Sai Wing don't really have any defining roles. I seem remember Sai Wing appearing as the lead in a very early and obscure UFO movie (or, a movie about UFOs; I forget). It's probably good that nobody remembers this movie because the only review I've read about it likens Sai Wing's acting to a block of wood. Recently he has made appearances in Human Pork Chop (2001), Wicked Ghost III and Modern Cinderella. Ka Keung is also credited for a recent film called The Enemy (2001).

Wong Ka Kui (6/10/62-6/30/93)
Ka Kui was the spirit of the band and his life was devoted to music. However, shortly before his death he found his place in movie history in Jacob Cheung's critically acclaimed film, Cageman. Cheung was looking for a youth who embodied the spirit of a reformed rebel who had many hopes and dreams; he found it in Ka Kui. Ka Kui's breakout performance received much praise.

Jacob Cheung remembered Ka Kui as a hard working, thoughtful and mature young man. There's a group scene in the movie in which Ka Kui is one of the last to speak. It took around 10 takes and was completed without a hitch. Afterwards, Ka Kui confessed to Jacob Cheung that he was so nervous that he thought his heart was going to pound out of his chest. He was anxious to get his lines right so the yards of film before his part wouldn't go to waste.
Ka Kui died after sustaining a head injury in an accident while filming a TV variety show in a Japanese studio.
(Written up by C.Y. Szeto)

---
Bill Tung Biu/Dong Biao
Bill is one of the most loved and popular supporting actors through the 80's and 90s. In a recent theater showing of a film in which he has a small cameo (Just Heroes) he received a nice smattering of applause from the audience. He is best known to western audiences as Jackie Chan's boss in the Police Story films - but he has appeared in an enormous amount of films - usually family comedies such as Double Fattiness or the Mad Mad Mad World series of films. Another good one to look for is Bless this House in which he is the lead actor.
Uncle Bill has been a famous horseracing commentator in HK and Macau. He went to Macau after ATV lost the HK jockey racing TV rights to TVB in 1998. Recently, he has returned back to HK working again as a horseracing commentator. Oddly enough, in the film Its a Mad Mad World II, Bill attempts to get a job as a horse racing commentator, but fails the tryout miserably!
(Information and partial write-up provided by Sebastian Tse)

---
Billy Chan Wui-ngai
He is the brother of Peter Chan Lung, and actually when I first spotted Billy in Bruce Lee's BIG BOSS I thought: "Wow, Chan Lung was quite a thin guy in his younger days". In BIG BOSS Billy's part is brief but highly visible, it's at the moment Bruce Lee decide to intervene in the fight between the workers and the thugs at the factory. Billy holds a knife and receives Bruce's swift, snappy kick right in the jaw. Wow, it's a priceless cinematic moment, with it's speed and crisp feel it was the first real indication that Bruce was something more than the usual karate chopping martial star.

Billy like his brother was part of Madame Fan Fok's opera academy. Along with Lam Ching Ying he was one of the earliest Golden Harvest stuntmen and can be seen or glimpsed in bit appearances in countless early Golden Harvest films usually choreographed by Sammo.
In the second half of the seventies he also did some work with Lau Kar Leung along with a couple of others like Wilson Tong and went back and forth in-between the two stunt-teams. In given time he rose to assistant action director then action director and with Lam Ching Ying and Yuen Biao were Sammo's big action director assistants for his major works. All three won the H-K equivalent of the Oscar for their fight choreography in Prodigal Son. Unlike Yuen and Lam though I don't recall Billy ever been given any significant role beyond the occasional bit parts.

Instead his real skills were best displayed in his role as action choreography. Other than the above-mentioned Prodigal Son, he also performed as action choreographer in such classics as The Victim, Dead and the Deadly, Winners and Sinners (won the HK Film award for Best Action Choreography along with Yuen Biao and Lam Ching-ying), Encounters of the Spooky Kind and Long Arm of the Law. By the mid-80s he evolved towards becoming a director in his own right with New Mr. Vampire, License to Steal (starring Yuen Biao), Crazy Safari (starring Lam Ching Ying and his brother), All Men are Brothers (1993) and was the director of the 2001 Legend of a Professional with Anthony Wong and Josie Ho.
Like two other protégés of Sammo, cinematographer Ricky Lau and Wilson Tong, he did a lot of ghost-comedies (and had his directorial debut in one). He produced a film for Wilson Tong (Ghost Nursing) and a few other films as well – Raid on Royal Casino Marine, The Spooky Family and Ghost Legend.

Some films that he can be spotted in are: Big Boss, Fist of Fury, Victim, His Name is Nobody, Magnificent Butcher, Carry on Pickpocket, Knockabout, Warriors Two and Encounter of the Spooky Kind.
(Written up by Yves Gendron)

---
Billy Ching Sau Yat
Michael Kistner sends in the following films that he was in:
Yes Madam (in the showdown), Shanghai Express (one of James Tiens gang), Righting Wrongs (cameo as cop), Road Warriors (gives the movie alongside Tommy Wong and Shing Fui On the title), Pantyhose Hero (thug with glasses), Beauty Investigators (Chung), Project B (Traitor), Heart of the Dragon (thug alongside Blacky Ko), My Cousin the Ghost (waiter).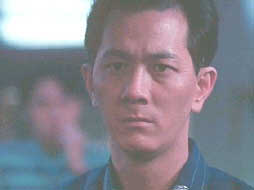 And Jude Poyer also adds that Billy too is often a stuntman and "A recent credit for Billy as an actor is in John Chag's "Treasure Hunter". He was a member of Sammo Hung's stunt team (reflected in his credits), and I remember him behind the scenes on "Knock Off"."

---
Billy Chong Chuen Lei
A favorite action star of many for his appearances in films such as Kungfu Zombies in 1982 and Kung Fu From Beyond the Grave. He was also in Aces Go Places 5, but apparently got into a fight with director Lau Kar Leung and had his role dramatically reduced. He never made that many HK films - though I understand he is a big star in his home of Indonesia - but a few others are Super Power, Crystal Fist, A Hard Way To Die, Kung Fu Executioners and A Fist Full of Talons.
---
Billy Chow Bei-Lei
This Canadian born actor was HK Thai Kickboxing Champion from 1981 to 1984 and so he brings great authenticity to his action scenes. He was introduced into acting by Sammo and appeared in a number of his films. His serious good looks have almost always been cast for some reason as a bad guy - but whether good or bad, he is a pleasure to watch. He has occasionally delved into Cat III films.

Some of his films - Eastern Condors, Paper Marriage, Pedicab Driver, Robotrix (in which he battles Amy Yip!), High Risk, Escape from Brothel, When Fortune Smiles, Magic Cop, License to Steal and one of his best roles in Fist of Legend.
---
Billy Lau Nam-kwong
Billy generally was cast in comic roles - often playing a bumbling, cowardly or sleazy character in the 80's and 90's. Some films - Mr. Vampire I & II, Haunted Cop Shop, Inspector Wears Skirts, Nocturnal Demon and in an unusual action turn in Eastern Condors. I wonder though - does anyone actually ever find Billy funny in his films? I find it difficult to understand how he managed to be in so many roles - both he and Natalis Chan sometimes make me worry about the comic tastes of the HK audience!
---
Blackie Ko Sau-leung
This tough stocky actor was almost always cast as a triad figure - and he can either bring a sense of good humor to his characters or a real sense of violence. In the 70s and 80s he was one of the top stuntmen in HK and Taiwanese films. Look for his motorcycle leap across a ravine in the classic bad film Pink Force Commando. He was actually referred to as the "Evel Knievel of Asia" for once leaping across the Yellow River on his motorcycle. He died in December 2003 in Shanghai at the age of 50 after an all-night drinking binge.

Some films - My Father is a Hero (the sympathetic triad member), Requital, a number of the Young and Dangerous films (notably Y&D 2 and Born to be the King), Legend of Speed, Curry and Pepper (the vicious killer). He has also directed a few films - Days of Being Dumb, Curry and Pepper.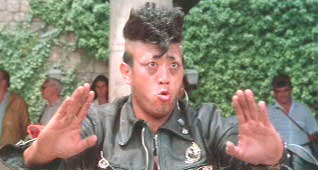 ---
Bobby Yip/Baat Leung Gam
If you have ever watched King of Comedy - you know all too well who this guy is. He is the one in the hostess bar with a cockroach running around in his hair and something else crawling out of his ear. Yip has had many small roles and his Moe-like haircut makes him unmistakable. He makes the papers from time to time and is a bit of a celebrity in HK. He was apparently very annoyed at not being named one of HK's Top Fifty Most Handsome men! – and his financial and marital travails have made good reading.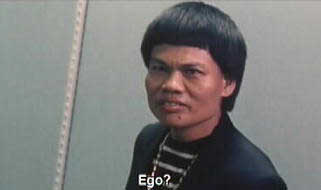 A few other films - Portland St Blues (one of the English students), Tricky Master (the tranvestite), Red to Kill (as one of the "mentally retarded" individuals), Killing me Tenderly (as a pirate VCD seller), First Shot (one of the bad guys), Eternal Evil of Asia (one of the Taoist's assistants) and Passion 1995 (as the nasty landlord).
---
Bonnie Fu Yuk Jing
Her slutty performance in Full Contact (Virgin) is a masterpiece of femme fatale camp - as she dishes out violence or giddily masturbates next to Chow Yun Fat in the car during a robbery. A few other films of hers - Pom Pom and Hot Hot, Dream Killer, Spiritual Trinity and The Street Car Named Desire. Her last film seems to have been in 1995.

---
Bonnie Law Ming-chu
Another in the Cinema City stable of young actresses in the 1980s, Bonnie starred in films such as Happy Ghost, Isle of Fantasy and Heartbeat 100 (Maggie Cheung's sister), but she retired from films fairly early.
She disappeared entirely for many years from the HK social scene though occasionally you'd see her photo in magazines with captions saying she's with her boyfriend who's a 'businessman'. It turns out (I think it was just earlier this year) that this businessman (who Law married in 1999) owed many people a lot of money, some which were not so lenient and had some gang members try to chop him up into bits. This made it to the top headlines, rumours spread that he was also involved in triads, and from then on, Bonnie's 'life' was really exposed. Bonnie has returned to make a film - and the press is speculating that it is to help pay off the debts of her husband.
(Write-up and information provided from Crayon)

---
Bowie Lam Bo-yi
One of his better roles was as the detective in Evil Instinct as he falls for the snakeish and sexy Carrie Ng. He was also in – King of Robbery, Project S, Doctor Vampire and was Chow Yun Fat's short lived friend in Hard Boiled - among many others.
Here is some info provided by Caroline Chai:
Bowie was a policeman before he entered showbiz. After a colleague told him that he should pursue his dreams while he's still young, he left the force and joined Tina Lau & Deannie Yip's Black and White Record Company. He released his first record in 1989 and released another two more in 1991 & 1992. His singing career didn't really take off and he soon concentrated on his film and tv career. He made his first tv series in 1991 and has been in over 20 series. He began his tv career by playing mostly bad guys.
The biggest turning point in Bowie's career should be Healing Hands I (an incredibly important series since most of the major stars of HHI - Ada Choi, Lawrence Ng, Flora Chan, Nick Cheung, Steven Ma, William So & Bowie all saw their popularity surge with the success of the series.)
Bowie's portrayal of the flirtatious, scarcastic, commitment phobic Henry (this time, Bowie's a good guy) was very well received. He started getting first lead roles and as characters with personalities that are similar to Henry. The success of Healing Hands I lead to the making of Healing Hands II which helped revive Bowie's singing career because he sang several sub-theme songs for the series.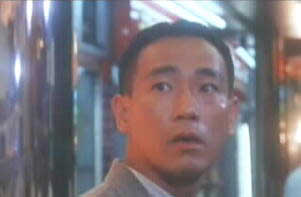 ---
Brigitte Lin Ching Hsia/Venus Lin//Lam Ching Ha
Born 11/03/54 in Taiwan
In a conversation the other day among a few HK film fans, people were talking about their favorite actresses and when Brigitte's name was thrown out one woman simply said "She is a Goddess". The rest of us nodded our heads in reverential agreement. Tsui Hark - her often times director - said of her in 2003 "She used to be and still is the ideal lover for many Chinese men". One can safely say that there has been no actress like Brigitte Lin in the history of cinema. She is an icon, a cinematic Goddess, a hyper kinetic splash of dazzling paint thrown against the canvas. Her film career is a startling montage of flashing images burning through one's mind like a runaway train. For twenty years Brigitte Lin was the most revered actress throughout Asia from her home country of Taiwan to Chinese communities around the world – though she is still sadly generally unknown in the West for the most part.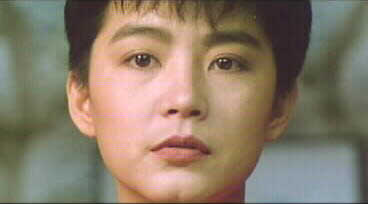 Most HK film fans from the West first glimpsed Brigitte Lin in one of her mesmerizing fantasy roles of the 1990s. That first look was like a bolt of electricity directly injected into our nerve synapses. Who was this woman? What was this woman? Seemingly more a force of nature than a flesh and blood actress. Whether she was a man transmuting into a woman (Swordsman II) or a woman coyly disguised as a man (Handsome Siblings) or a woman warrior deeply in love with her comrade (Dragon Inn) or a vengeful daughter seeking revenge for her parents (Deadful Melody) or a killer softened by her love for a man (Fire Dragon) or an insane gender switching schizophrenic (Ashes of Time), she held us transfixed with her infamous glare, her enigmatic smile, her swirling grace and her rapturous presence. She exuded power, confidence, beauty, style and charisma unlike any actress – ever.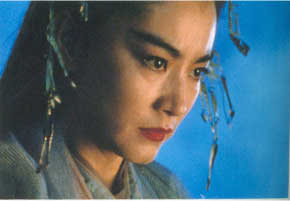 Even with all the wonderful HK actresses in the 90's, it is hard to imagine any of them playing the roles that Brigitte took on. Without Brigitte one has to wonder if this fantasy genre would even have existed – she gave it life and respectability and pure cinematic magic. When she retired in 1994, the genre soon followed in her footsteps.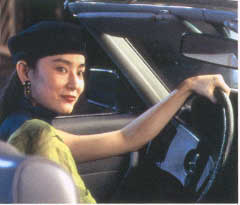 Of course, as one delves more into HK films it soon begins to filter through your consciousness that Brigitte didn't suddenly appear one day – a gift from the Gods – to play Asia the Invincible – but that she had a previous life in film. In fact you begin to realize that she was that mysterious and alluring killer behind the sunglasses and beneath the blonde wig in Chungking Express, the sublime Ice Princess in Zu, the witness in Police Story and the the filial daughter who has to betray her father for her fatherland in the classic Peking Opera Blues. Then you chance upon her in films where she is left emotionally bare – searing dramas like Lady in Black and Dream Lovers – and you begin to understand what an incredibly good actress she really is.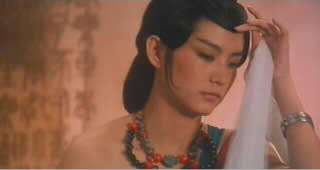 It's more than just presence – it's more than whirling robes and shooting scarves – it's more than painfully beautiful close ups – it's more than larger than life characters – this woman is a great actress – pure and simple – and she can act the hell out of any role and reach out and grab the audience by the heart or by the throat.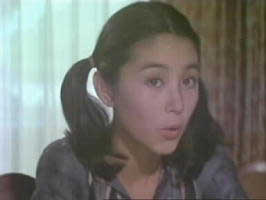 Before all this, there was Lin Ching Hsia. Back before she played Asia the Invincible and other bigger than life characters, she seemed so fragile – as if she could easily be hurt by a harsh word or a cruel intention. The face still untouched by time or tide. The thick sensual eyebrows, the vulnerable smile, the proud cheekbones, the powerful dark emotive eyes, her slender nose and finally the classic cleft chin. It is simply a picture of beauty in its purest form. The story goes that she was discovered walking down a street in Taipei at the age of seventeen and made her film debut at the age of 19 in Outside the Window - and stardom soon followed. During the 1970's this actress was a hugely popular star in Taiwan – churning out weepies and light comedies – and becoming basically the sweetheart of Taiwan and the many Chinese communities around the world. As YTSL has informed me, to this day there are many Chinese who don't even realize that Lin Ching Hsia and Brigitte Lin is one and the same person. They have never connected that fierce presence on the screen of the 90's with the gentle, sweet characters of their youthful memories.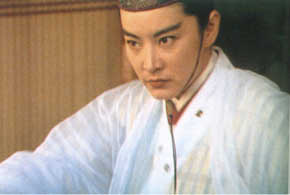 When you take in the totality of Brigitte's career it is certainly momentous and awe inspiring. It spans the golden age of Hong Kong film and she was a vital part of it all. From her debut through the Taiwanese weepie days – through the uncertain period of her campy collaborations with director Chu Yin-Ping (Demon Fighter, Amazon Commandos, Fantasy Mission Force, Pink Force Commando, Seven Foxes) in the early 80's to her "re-discovery" and "re-invention" under the direction of Tsui Hark in Zu and Peking Opera Blues. Finally to the glorious years of the early 90's to her all too early retirement in 1994 on the cinematic highs of Ashes of Time and Chungking Express. Her life would make a hell of a movie.
Here is an interesting Tsui Hark interview from the Portrait of Lin Ching Hsia : Tsui Hark mentioned that pre-"Zu", he told John Woo that he was planning to make a movie with Brigitte -- his idol, whose Taiwanese weepies, etc. he had watched tons of as a homesick student in the U.S. -- in it. John Woo responded by telling Tsui Hark that "If you've never made a movie with Lin Ching-Hsia, you've never made a movie at all". Upon hearing the story, Brigitte chuckled and said "Well, then, he (John Woo) has never made a movie!" :)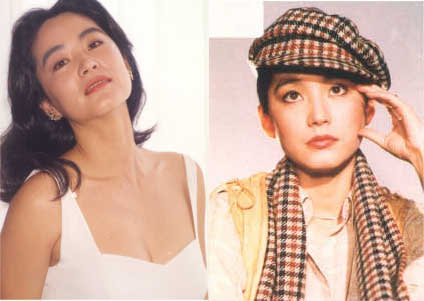 ---
Bruce Lee
Born 1940
Over 27 years after his death and only a handful of films to his name, Bruce Lee is still one of the most famous figures around the world. Posters, t-shirts and videos of him can be found from Tibet to Timbuktoo. He is simply one of the greatest icons of the latter half of this century. The sinewy powerful physique, the intensity, the contempt shown for his enemies and his startling martial arts skills seared an image in people's minds that continues to this day.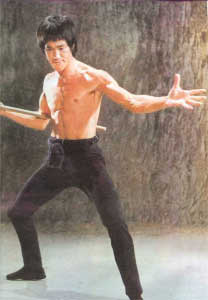 Martial arts films had been around in HK since the early days of films, but there had never been anyone like Bruce Lee. He was raw angry energy barely contained - and when finally released it was therapeutically energizing. No other actor before him had his speed, skills and power and when he made his first kung fu film, he created a sensation and internationalized HK films.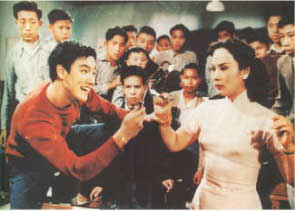 His life before this is almost as interesting. He came from a family of entertainers - his father (Lee Hoi-chuen) was a Cantonese opera clown and along with his wife he was touring the North American Chinatowns when Bruce was born in San Francisco - thus making him a U.S. citizen. They soon returned to HK and Bruce became a child actor and made 18 films betwwen The Kid in 1950 (being considered one of his best) and The Orphan (1958). The Orphan made him a star and the film is still held in high regard to this day. In it he plays an angry juvenile delinquent in the mode of a sullen James Dean. Afterwards though, apparently the fame made him difficult to deal with and he was soon getting into constant fights.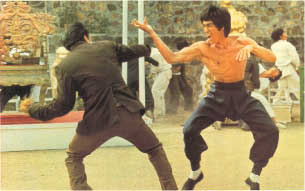 So his parents sent him to the U.S. where he began to seriously study martial arts and soon formulated his own school of martial arts that he termed Jeet Kune Do. He was noticed by some Hollywood actors who had an interest in martial arts and he was cast as Kato in the TV series The Green Hornet. He also appeared in some other TV shows and made an incredible cameo in the film Marlowe which starred James Garner (lets forget how Garner defeats him!). He desperately wanted to star in another TV series that he helped put together - but the producers thought that a Chinese actor would not attract an audience and so chose a Caucasian (David Carradine) to play the character in Kung Fu. Can you imagine how incredible and valuable those shows would be today if Bruce had starred in them?
Greatly disappointed and hurt, he returned to HK where he discovered that he was considered a major star for what he had done in America. A bidding war broke out between the Shaw Brothers and Golden Harvest - with Golden Harvest winning. Over a period of only a few years he made four films - The Big Boss, Fist of Fury, Way of the Dragon and Enter the Dragon. He died of a brain hemorrage while making his fifth film in 1973.

Though looking at his films today, they may appear somewhat primitive in relation to the films of the 80's and 90s - with plots that are barely serviceable - but there still remains the image of a Bruce Lee - glowering, sweaty, bare chested, tensed and ready to spring into action. Others have come after him with formidable skills - but none with his attitude.
---