---
Nadia Chan Chung-ling
Born 01/21/71
This actress has primarily had a TV career at TVB, but is in the occasional film. She was the lovely ghost in red in Troublesome Night 7 (not to be confused with the lovely ghost in red in Troublesome Night 6 played by Gigi Lai!) and she also appears in Troublesome Night 8. In two of her better TV series - Knot to Treasure and Instinct - she co-starred with Ekin Cheng. In 2001 she is appearing in a film with Sammo Hung and had to appear in a bathing suit - the first she mentions in a movie since Porky's Meatballs in 1986!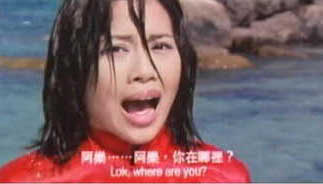 Her roles in TV tend to be the wishy-washy, always giving, always forgiving, stupidly stubborn, ideal good girl.
(Info provided by Caroline Chai)

---
Nancy Lan Sai
This petite comedic actress seems to have had a connection to Eric Kot and showed up in some of his films – Out of the Blue, Out of the Blur, Feel 100% Once More, Lawyer Lawyer, He Comes from Planet K. She has also shown up in a few low budget horror films – Phantom Call and Life in Last Hour.

---
Nancy Sit Kar Yin/Kam Si-kit
Born in 1944
This veteran actress and her famous mole recently returned to the entertainment business after being in retirement for some twenty years. Not only was it a return – it was a spectacular comeback. She had retired to marry and have a family (three children), but when her husband deserted her she had to begin earning a living again.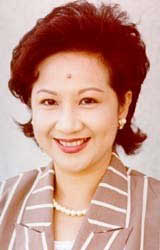 She was able to get a role on a TVB show called Kindred Spirits that ran for over 1,100 episodes beginning in 1996 and she became a major star once again. She has also appeared in two films since returning – Stephen Chow's God of Cookery (as the corrupt judge of the movie's final competition, who goes into ecstacy at his and Karen Mok's combo culinary effort) and The Black Rose (a sequel to 92 Legendary La Rose Noire, a nostalgic comedy hit that contains references to 1960s Cantonese cinema).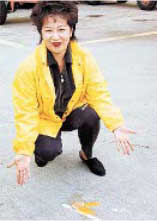 Back in the 1960s she was one of a group of teenage female stars termed The Seven Cantonese Princesses. Three other members of this illustrious -- and still well respected --group were Josephine Siao, Petrina Bobo Fung and Connie Chan. Some of her films from these years were Seven Princesses (starring all 7 of them!), Eternal Love, Girls are Flowers, Teddy Girls and many more. Her debut film (Fifteen Children) was in 1960, but she didn't receive her first lead role till 1967 in the musical Bunny Girl and then was a big hit in the edgy Teddy Girls. Soon thereafter though Cantonese cinema's decline hit bottom and in the 80's Sit focused on television as she co-hosted a popular variety show called "Nancy and Michael" (Lai)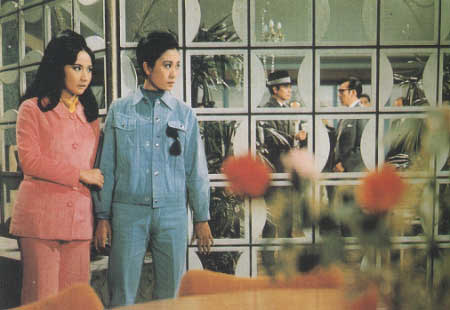 Nancy Sit on the left with Connie Chan
---
Natalis Chan Pak Cheung/ Brother Clever
Natalis has been playing the horny juvenile for nearly twenty years now – often trying futilely to lose his virginity in these films. Even though he is looking a little long in the tooth now, he is still managing to play the same kind of roles today – though I suppose it is getting closer to a lecherous middle aged male character. Getting to appreciate Natalis and his brand of comedy is a real test of HK fanaticism that I have yet to achieve – and hopefully I never will! He is simply extraordinarily irritating and it seems plays practically the same character in every film he is in. Why he has been popular in HK is a mystery to me.

Beginning in the early 80s with roles in films like Hong Kong Playboy, Prince Charming and Girl with the Diamond Slipper, he has been painfully imposing his brand of comedy on the audiences in HK. Over his quite successful career he has been in well over 60 films – generally in support to a handsome leading man – and he is still going strong. Some of his better known films are – Love Soldier of Fortune, Ghostly Vixen (a classic role I must admit!), My Neighbors are Phantoms, Last Hero in China, Those Were the Days (1997) and Conman in Vegas. In the mid-90s he was often a sidekick of Stephen Chows – appearing in King of Beggars, Royal Tramp I & II, Fist of Fury 1991 II, Flirting Scholar (the human paintbrush – another classic role I again ruefully admit) and Fight Back to School III.

---
Ng Chi Hung (recently taking on the name of Frankie I understand!)
This short pockmarked tough looking guy is another triad member gone actor. Only in HK could a criminal career be a good stepping-stone into the world of entertainment! He is a terrific actor though – and clearly brings a real sense of authenticity to his almost always role as a triad member.

He was in the triads until he was 28 years old – and has the tattoos to prove it – but in 1979 he got married and decided to change his ways. He quit the triads – and did lots of odd jobs until he began getting work as an extra in films in 1986. This was a boom period for triad films and they needed lots of triad looking actors for their films. His first big break was getting a very good role in the Ringo Lam films - Prison on Fire I & II and School on Fire. In total he has made over 100 films – many of these appearances are very small – others though are solid supporting roles.

In 1996 he became the official consultant to the Young and Dangerous films in the ways of the triads – and appeared in some of them. Some other well known films that he has been in are – Wild Search (had hair in these older roles), Full Alert, Conman, Portland Street Blues, Hitman, Casino, The Masked Prosecutor, HK Triad, The Rules of the Game, Century of the Dragon and For Bad Boys Only (2000). He is also a regular in the Troublesome Night series - appearing in 6 of those films. Together with some of that series' regulars, he appeared too in the 1999 end of year horror-comedy, Last Ghost Standing.
He recently (2002) ran into some financial troubles with some bad investments and declared bankruptcy. The film Women from Mars was made in order to benefit him. On a personal note I spotted him recently in an airport - eating at a restaurant with his family (wife, daughter and what looked to be his brother) - and it was almost like one of his scenes in a triad film. He leaned back - toothpick in mouth - tattoos highly visible in his short sleeves - and just sort of eyed the place up like he was wary of a rival triad sneak attack!

---
Ng Hong-ning
I always enjoy spotting this hulking fellow in films – though often he hasn't a word of dialogue in the film. He appeared in a number of Chow Yun Fat films in the 80s – Spiritual Love (his friend), The Greatest Lover (the doorman the Peninsula Hotel), Rich and Famous, Tragic Hero and Flaming Brothers (the fellow Chow beats up early in the film). A couple of other films I know of are Widow Warriors (the loyal servant and bodyguard), Outlaw Brothers, Midnight Girls and Mr. Mumble (a fairly large role). He recently had a small cameo in Bishonen as the fellow who beats up Stephen Fung.

---
Ng Man-tat/Tat Suk (Uncle Tat)
Born on 01/02/1952
Like liver, Ng Man-tat is clearly an acquired taste that can be very difficult to swallow at first. I have never gotten to like liver, but over time this loud, crude, manic, eye bulging actor has very much grown on me. In an exaggerated way admittedly, he so wonderfully personifies the struggling working class male in Hong Kong trying to make his way through a world that has partly passed him by. His characters so often have a sense of desperation to them – hidden behind a wall of braggadocio. His characters constantly scheme, sweat puddles, swear a blue streak, scurry for a favor, have a sentimental side to them – and almost always find themselves at some point over their heads in deep trouble. What is often overlooked in his over the top performances, is that this guy is a really good actor and can bring a lot of different shades to his characters.

Back in the 1980s he went through the TVB acting school – and afterwards was in a number of variety shows and dramas on TV. In 1988 he had a good movie role – as a cop in Tiger Cage. A year later, he did a good job of portraying a menacing and corrupt cop in My Heart is that Eternal Rose. He was excellent is both those crime dramas – bringing a visceral nastiness to his character in the 1989 film directed by "new wave" director, Patrick Tam. In 1990 he won a HKFA award for Best Supporting Actor for a terrific performance in A Moment of Romance (I) as Andy Lau's down on his luck friend. He appeared in a number of other triad type films during this period – before getting a big break in 1990.

In that year he was teamed up with a young actor who had been stuck primarily in dramas up until this time. This was the comedian's first real go at a comedy – and it was a huge success – and from then on Stephen Chow and Ng Man-tat would team up often to make a series of classic films. In this first one – All for the Winner - Ng creates his trademark character – a slightly disreputable character out to use the innocent Chow for his financial gains – but with a good if larcenous heart deep down. Some of the other films these two worked on are – Fight Back to School, God of Gamblers III, King of Beggars, Royal Tramp, Justice My Foot, Love on Delivery, A Chinese Odyssey I & II, God of Cookery (in which his character is played straighter than usual) and King of Comedy (one of Stephen Chow's more dramatic comedies, for which he had a part that can be said to be equal parts serious and comic).

In the early 90s he was extremely popular – acting not only with Chow but in many other films as well. In 1992 he was in 16 films and had to turn down 10 others. Though his workload has slowed down considerably, he is still working today and is currently on another project with Chow (whose tentative Chinese title incorporates the words 'Shaolin' and 'soccer'!). Some non-Chow films to look for are: It's Now or Never, Prince of Temple Street, Millionaire Cop, Holy Weapon, Flying Dagger, Love and the City (one of his better performances) and Truant Heroes.
Mention should also be made of the existence of the suitably idiosyncratic Ng Man Tat For President website that's dedicated to this man!

---
Ng Ting Yip
He was the sleazy Inspector Guan in Big Bullet and the dream master in Erotic Nightmare. He has also had a large role in the TV show My Date with a Vampire II.

---
Ngai Sing/Collin Chou
This terrific martial artist was a part of Sammo Hung's stunt team – and initially did a lot of doubling for actors in action scenes before he started appearing in front of the camera. One of his first roles was in Sammo's Encounter of the Spooky Kind in 1989 and followed that up with a few other Sammo films – License to Steal (the good cop), Slickers vs. Killers and Blade of Fury. Another Sammo produced film was the terrific Lover's Tear in which Ngai had the leading man good guy role that actually was much more drama than action.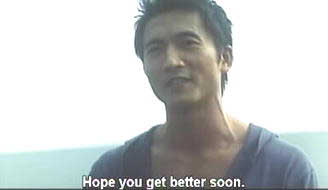 It wasn't often though that he got to play the good guy – more often than not he was cast as the villain. His most famous appearance was in The Bodyguard of Beijing with Jet Li. Though the film has it's share of detractors – his final fight with Jet Li is considered a complete classic.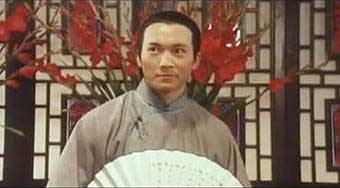 This film though never really brought Ngai the attention he deserves or the prime roles either. He was also in Jet's My Father is a Hero and Dr. Wai – the terrorist in Red Wolf and the bad guy in Young Policemen in Love. He is still making films – Night Club in 1999 and Two Courageous Ghosts in 2000. It is reported that he will be appearing in one of the Matrix sequels.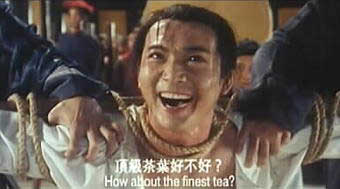 ---