---
Nicholas Tse Ting-fung
Born on 08/29/80
You don't get much hotter than this young actor is these days. Okay, he's incurred the wrath and been blackballed by one of the TV studios after making highly negative remarks in a CNN-Time Asia interview about the demands of TV show producers, etc. But he has a big music career going – is considered a fabulous musician – has become a film star in short order – but the thing I am really envious about is that this 20 year old actor is going out with the wondrous Faye Wong! Talk about having all the stars lined up.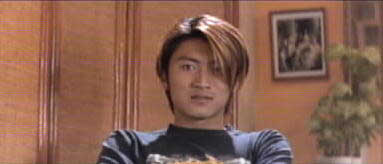 He is actually one of the better new actors – fairly impressive in his few outings so far. In his debut he replaced Ekin in The Young and Dangerous: The Prequel, in Gen-X Cops he was the most impressive of the young actors – and has also received praise for his roles in Metade Fumaca, A Man Called Hero (the son), Twelve Nights (cameos at the beginning and end of the film) and was chosen by Tsui Hark to be in his first HK live-action film since going back to Hong Kong after the latest disastrous Hollywood stint, Time and Tide (the third production of Columbia-Sony's Asian arm) and Old Master Q (which will have actors on screen with classic animated characters).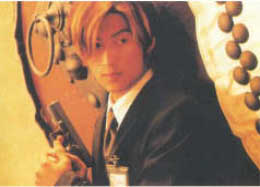 He is of course the son of two famous HK film stars from the 60s – Patrick Tse and Deborah Li – and moved to the United States after his parents were divorced when he was fifteen. After high school, he returned to HK and was a celebrity immediately.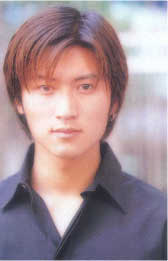 ---
Nicky Cheung Ka-fai
I keep hearing from some people that this guy is funny. I don't get it and I don't see it. There was a lot of hype for a while that he was the next Stephen Chow, but he always comes across as a Chow wannabe trying desperately hard to be funny – and usually falling woefully short. There are some similarities though.
In the early 90s he began making dramatic films (Chow began in drama as well) and Danny Lee has sponsored both to some degree. Cheung was in Red Shield in 1991 and Shoot to Kill in 1994 – both Danny Lee films. In 1998 he started working with Wong Jing and his comic career began with Conman, He is My Enemy, Partner and Father-in-Law (again a Danny Lee film), Prince Charming (as Andy Lau's side-kick), Conman in Vegas, Tricky Master (his co-star was Stephen Chow), My Name is Nobody, The Duel and Conman in Tokyo.
Before getting into acting Nick was actually a Royal Hong Kong policeman for five years. He then began acting with ATV before leaving for TVB where he became a TV star.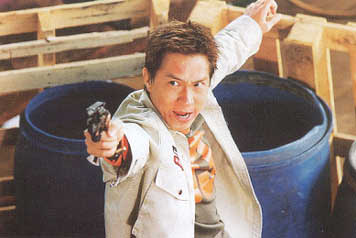 ---
Nicky Wu
He was a hot film actor for a couple of years in the mid-90s, but much of that in my opinion had to do with being lucky enough to be paired off with the extremely popular Charlie Yeung in three good films - The Lovers, Love in the Time of Twilight and Young Policemen in Love.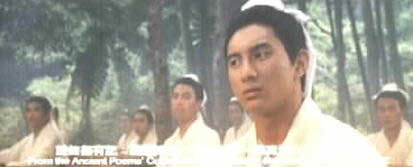 Outside of these films, there isn't much else on his filmography to get excited about – Thunder Cop (1996), Behind the Yellow Line, My Heart will Go On (co-starring with his lovely girlfriend Ada Choi) and Déjà vu (1999). This Taiwanese actor is also a popular Mandopop singer and a TV star. He used to be part of a pretty boy band called the Little Tigers. He later went on to a solo singing career and then into films/tv etc.
(Partial info from Caroline Chai)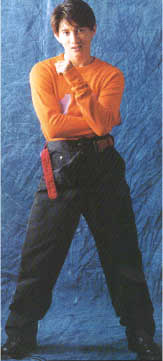 ---
Nichola Cheung Sam-yuet
Even though this actress is an avid Hello Kitty collector – I have still liked her performances in the few films I have seen of hers – Wedding Days, City of Glass (the daughter) and Twelve Nights (the betrayed friend of Cecilia Cheung). She is also studying law in her spare time.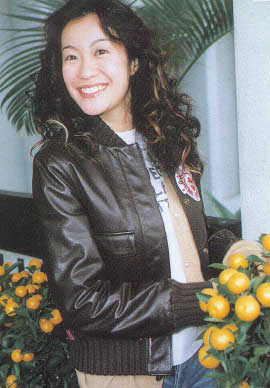 ---
Niki Chow Lai-kei
This young actress has only had supporting roles so far but her attractive fresh looks, large lovely eyes and easy manner have me hoping for larger parts for her. She is the sister of model/actress Kathy Chow Man-kei (Love on the Rocks) and was a model before getting into the film business.
Some of her roles so far are Feel 100% II (2001), Fighting for Love (Tony Leung's girlfriend), Horror Hotline (Francis Ng's girlfriend) and Dummy Mommy without a Baby (Miriam Yeung's friend).

---
Nina Li Chi
Born in 1961
Look at that face. Look at those eyes. Nina Li has a face and far away dreamy eyes that look as if they belong to another time. I find it so easy to picture her making silent films in Shanghai during the 1920's – using her eyes and gestures to transmit so much emotion. In the film Lover's Tear, Nina plays a deaf and mute character and it is an amazingly heart rendering performance and one can really see how great she would have been in silent film.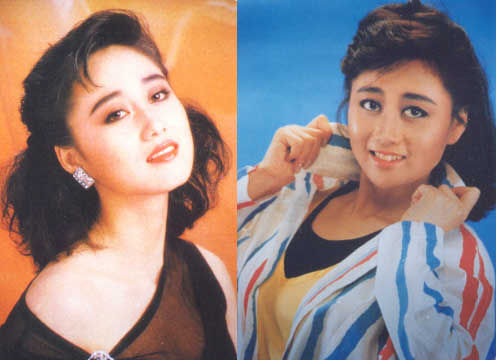 She is a beautiful woman – absolutely stunning at times - and perhaps to some extent that has unfairly detracted attention from her skills as an actress. As shown in Lover's Tears she was a wonderful dramatic actress – but she had few opportunities to show this. Because of her glamorous looks and heavily accented Cantonese (she is from Shanghai), she was rarely given dramatic roles in her short career in HK.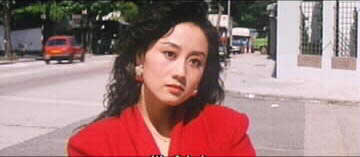 She did get an opportunity to do comedy though – and she is wonderful at it. It is so unusual to combine great comedic skills and beauty – but Nina created some of the best female comic characters in HK films and was only too happy to look silly to get a laugh. Three of my favorites are ones she did with Chow Yun Fat – though in none of these was their relationship romantic – usually more adversarial – as Chow always fell in love with someone else. Crazy him. These are Fractured Follies in which she is a very over sexed widow who has already killed off a few husbands in bed, The Fun, The Luck and the Tycoon in which her walk – and Chow's imitation of it is worth the price of admission and The Greatest Lover in which she is a gold digger scheming to get Chow. Of course in the not so funny Tiger on the Beat, Chow gives her quite a whacking that didn't set too well with me.

A few other comedic turns are in the sweet The Ghost in the House (in which she plays a ghost who has waited many years for her lover to die and join her), Twin Dragons (as the scatter brained girl set up with the musically talented Jackie Chan), Four Loves (in which she can't help but attract every man around) – and then the absolutely great film Stone Age Warriors (in which she goes into the wilds of New Guinea dressed to the nines).
If you want sexy glamour, check her out as the whip wielding villainess in Yuen Biao's The Kid from Tibet or the assassin in Dragons from Russia or the femme fatale in Perfect Girls (the famous red swimsuit). And could anyone be more beautiful than she is in A Chinese Ghost Story III or Profiles of Pleasure?

Though very popular in HK during her acting years, she is often overlooked by the Western fan audience. This is partly due to the fact that she was not an action star and secondly because many of the films she has been in are not among the most popular in the West. They tend to fall into that sort of secondary level of popularity that many Western fans never get to. But I think she is clearly one of the more enjoyable and yet under rated actresses in HK films. Not that she has ended up so badly – as she is now married to Jet Li and they recently had their first child. One lovely little glimpse of Nina is in the trailer of the film The Fun, the Luck and the Tycoon – in which the cast sit around and talk about the film. One can sense the shyness and gentleness of this woman.

James Chang has been kind enough to supply some biographical information on his favorite actress.
Nina Li was born as Li Chi ( Li Zhi) on the 31st of December, 1961, in Shanghai. Her father was a respected stage actor (some sort of Lee Strasberg of China) and had taught in the actor studio in Shanghai and Canton for many years. Her parents had been separated since her childhood and this had a very negative effect on the rest of her life.

When she was 19 (1981), her father went to Hong Kong and she later followed in his footsteps. She first worked in a furniture store for about a year and then went to the United States to further her studies. She studied in San Francisco for about three years, studying economics and business. In order to pay her tuition fees, she was the tutor of some small children and nursed a paralysed elderly lady.

She finally came back to Hong Kong in 1986 and entered the Miss Asia Pageant. It was the longest night in her life. After 3 long hours she was elected Miss Asia by a board of adjudicators headed by the Hon. H.M.G. Forsgate CBE., JP., the then chairman of the Urban Council and Mr. Michael Hui Koon Man, the Chaplin of Hong Kong film.
At first the audience did not accept her at all and almost everyone sneered at her. Whenever she started to speak Cantonese with her Shanghai accent, they hissed at her. 'Learned gentlemen' despised her and they regarded her beauty as ' gaudy ' and 'tasteless' while 'ladies' screamed at her whenever they saw her (probably due to jealousy).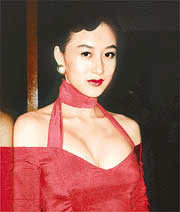 But all this had negligible effect on her. Most filmmakers soon recognized her as the most hard-working actress in our city as well as the most polite one. Two years later, with the assistance of tycoons like Jackie Chan and Raymond Wong, as well as local reporters, she became the fifth highest paid actress Hong Kong - after Anita Mui, Cherie Chung, Maggie Cheung and Brigitte Lin (as Michelle Yeoh had retired due to her marriage with Dickson Poon).

Her beauty was described by the novelist Bai H'sian Yung as ' everlasting and enchanting' and her sex appeal was regarded by director Yim Ho as 'second only to Marilyn Monroe', while sci-fi writer Ngai Hong called her his 'dream girl'.

Her legendary status isn't only on account of her beauty, but also because of her character - steadfast, staunch and sincere. She also upheld those traditional moralities. When Playboy magazine invited her to pose for them in 1986, offering 2 MM dollars (Sam Hui and CYF were offered 2 MM per film at that time) to this newcomer, she refused without hesitating.

She retired in 1992 and became a real estate investor in Mainland China. Unfortunately, her business collapsed in 1996. In 1999 she married Jet Li and they currently live in San Francisco. The two had met years previously in San Francisco during the filming of Dragon Fight.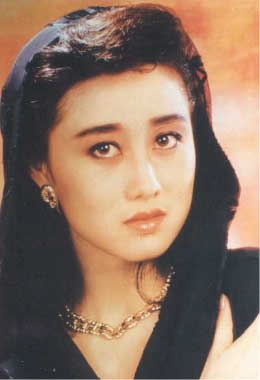 ---
Nora Miao Ker-hsiu
Nora has gathered quite a fan club it appears over the years though she is primarily famous as being a co-star to two of HK's most famous male action stars. This lovely Eurasian actress appeared with Bruce Lee in three of his films – The Big Boss, Way of the Dragon and Fist of Fury – and appeared with Jackie Chan in four of his early efforts – New Fist of Fury, Snake and Crane Arts of Shaolin, The Young Dragon and Dragon Fist.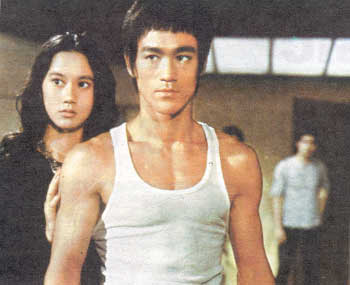 Though she was in a number of action/kung fu films in the 1970s, I don't believe she had much training in the martial arts and just did her best to look as good as she could. She often had more dramatic roles – such as in Skyhawk in which she plays the female interest to Sammo Hung and Carter Wong. Some other films of hers – Naughty Naughty, The Invincible Eight (co-starring with Angela Mao) and The Blade Spares None.
A reader has sent in the following news on Nora:
Nora is currently working as a radio host about cooking and life from Toronto.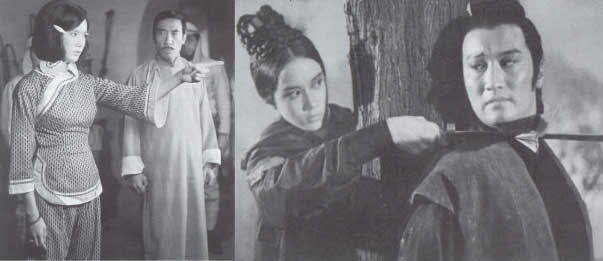 ---
Norman Chu/Tsui
Norman Chu has been one of the best of the bad guys in HK films for over twenty years and in that time he lent his formidable martial arts skills to a number of classic movies. He began with the Shaw Brothers in the late 70s appearing in films like Dirty Kung Fu, 36th Chamber of Shaolin, The Challenger and The Return of the Deadly Blade. Before he became a film star, Norman was a TV star with his very popular role in "Metamorphasis of the Heavenly Silkworm" in the late 70's. This success led him to getting roles with many of the New Wave directors such as Tsui Hark, Patrick Tam and Ching Siu-tung.

Throughout the 80s this charismatic actor was to continue appearing in some terrific roles – The Sword (as the main villain), the classic Duel to the Death (as the honorable but deadly Samurai), Tsui Hark's early We're Going to Eat You, the Kirk Wong triad film The Club, Bastard Swordsman, City War (the villain of course) and so many more. This guy always seems to give a rock solid performance.

His career is still going strong today as he was in The Duel (2000). Two classic films during the 90s were Wing Chun (as the main bandit, Flying Chimpanzee -- check out his incredible duel with Michelle Yeoh on the spear!) and What Price Survival (yes as the villain again!).
---
Olivia Cheng Man Nga
This former Miss Hong Kong made a number of films in the 1980s – Till Death Do We Scare (1982), Blue Lightening, The Wild Ones (the social worker), Mr. Coconut, The Missed Date. By the early 90's she had pretty much dropped out of the film business.

She is still popular in HK and was recently voted by the HK magazine Ming Pao as one of the Top 10 most healthy looking celebrities. She is currently a golf instructor.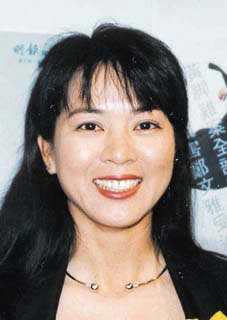 ---
Ouyang Shafei
Born in Suzhou in 1924
Not too long ago I was able to watch the film Devil Fetus on the big screen in which this elderly actress plays a grandmother who spends much of the film praying to keep evil away from her family – without much success I might add! Anyway, I was fascinated to come across this article from Karyn Hsiao in the Salt Lake Tribune where she is currently living. It turns out that the actress was fairly legendary in her younger days. She made her debut at the age of 17 in Shanghai but didn't hit it big till a few years later with the film, Spy Number One.

By the early 50's she had moved from Shanghai to Hong Kong where she continued her long and distinguished career. By the 1960s she had moved into character roles - often playing a mother - and was to keep working until the beginning of the 90's when she finally retired. Some of her earlier films were The Open Road (1948), The Girl with the Thousand Guises (1959), Tragic Melody (1960), Death Traps (1960), The Wild, Wild Rose and The Love Eterne (1963).

Some of her later films spanned films such as The Fourteen Amazons, The Fatal Flying Guillotines, Hong Kong Emmanuelle to Taiwanese Brigitte Lin films like Cloud of Romance and Orchid in the Rain (both 1977) to one of her final films – The Fun, the Luck and the Tycoon (one of the aunts). Below are excerpts from the article: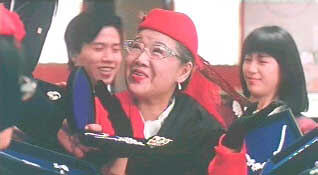 "One of Hong Kong's leading actresses of the1950s, Ouyang recalls days when she shared her crushed-pearl face cream with French actress Brigitte Bardot and treated martial arts superstars Jackie Chan (appeared in Dragon Fist with Jackie) and Bruce Lee to dinner when the two were still struggling actors.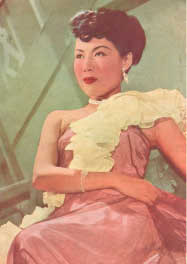 Her acting career spanned seven decades from 1937 to 1992 and was marked by the tumult of modern Chinese history. These days, Ouyang spends her time analyzing the work of current filmmakers and looking for remnants of Hong Kong's cinematic "golden years." "There are very few films you could call 'great' or 'epic' these days," Ouyang says in Mandarin, one of three Chinese dialects she speaks fluently. "There's a lot more sex and violence, because they sell more movies, but we had to leave a lot to the imagination in my day. Holding hands or hugging were enough to show that characters were together, and I remember that my mother would be scandalized if I even had to kiss somebody."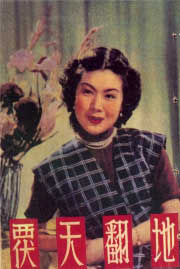 Ouyang had her share of on-screen love interests, having performed the female lead in more than 80 films -- many of them dramas – and playing supporting roles in about a hundred others. She was spotted by talent scouts at age 13, while working as a chinaware salesgirl in a Shanghai department store. "I told them 'no thank you,' but then they found out where I lived and came calling for my mother," says Ouyang, who is mentioned twice in the Encyclopedia of Chinese Films. "Well, Mama couldn't believe anyone wanted me to be a movie star, but money was very tight and acting meant more income, so she convinced me to give it a try." After several months under the tutelage of world-class teachers of ballet, voice and acting, Ouyang had picked her screen name and made her film debut in Shanghai.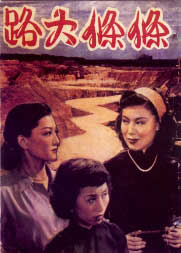 By the late '30s, flowers, love letters and fruit baskets, as well as myriad paparazzi, were pouring in from across East Asia. But Ouyang says she was not smitten with any of her suitors -- until she met Doo Kwanggee, the only film director who would let her pay her portion of the bill at lunch. "He was 11 years my senior and didn't treat me like a movie star," Ouyang says of her late husband. The pair married in Beijing and made a dozen movies together. "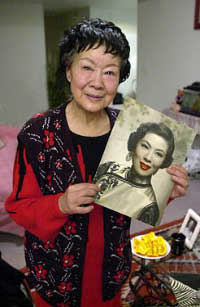 ---