---
Max Mok Siu-chong/(sometimes also credited as Benny Mok)
Born 12/02/1960
Though he began his acting career in films in the early 80's with a fair amount of promise, Max has never quite been able to make it to the "A" list of Hong Kong action stars. His apparent martial art skills are solid enough and he has a certain amount of charm and looks, but he seems to be missing that indefinable quality to push him into being a star. Nevertheless, he has had a very solid career in both film and TV.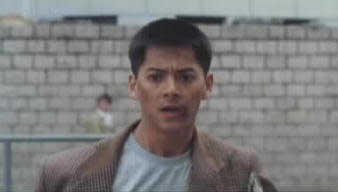 Some of his early films made at the end of the kung fu period were Usurpers of the Martial World and Holy Flame of the Martial World both made in 1983. In the 80's he appeared in some other films – some dramas such as The Last Eunuch in China but most were action films - Close Escape (with Yukari Oshima), Seven Warriors and a good role in Prodigal Son.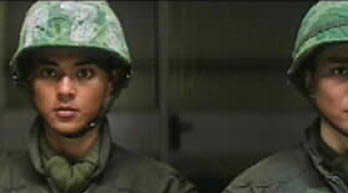 The 90's saw his career blossom to some degree – appearing in more "B" action films such as That's Money, Outlaw Brothers (both with Yukari) – the occasional comedy – the Stephen Chow film Lung Fung Restaurant – but he also had roles in some high profile films such as four of the Once Upon a Time in China films (replacing Yuen Biao as Leung Foon in parts II, III, IV & V). He was also Brigitte Lin's love in Fire Dragon (1994) and co-starred alongside Charlie Yeung and Wu Chien Lien in How Deep is Your Love (1994).

He is still working at the present – though many of his post 1995 films have been less than topnotch affairs – Dangerous Duty (with Pang Dan), Golden Nightmare (again teamed up with Yukari), Doctor in Spite of Himself and Hong Kong Happy Man (2000). He's rumored to be the father of Catherine Hung's (Charmy in Wing Chun) newborn baby by the press.
---
May Lo Mei-mei
Born 01/09/66
May Lo was recently back in the news for giving birth to a baby girl much to the delight of her husband Jacky Cheung. She has been retired from the film business since the mid-90's but for a few years she was fairly popular – and is someone I very much enjoy coming across in various films. She married Jacky in 1996.

She was another one of the Cinema City girls – termed the "Happy Troupe Girls" from back in the mid-80s. A couple of these were Isle of Fantasy and Happy Ghost II and then she made some family comedies for D&B – My Family, Devoted to You, Pom Pom Strikes Back and Heart to Hearts.

More adult oriented films soon came her way – Picture of a Nymph (the girl Yuen Biao loves), Inspector Wears Skirts II, I am Sorry. In 1992 she had a terrific role as one of the five prostitutes in Girls Without Tomorrow (the one that has Andy Hui as her protector). She also was the best thing about the disappointing - especially considering that its cast included Carina Lau, Teresa Mo and Eric Tsang - Lady Supercop.
---
Meg Lam Kin-ming
Meg has been in films from the mid-70's right up to the present - Bald-Headed Betty (1975), Enter the Fat Dragon (1978 - works in the restaurant), Dirty Tiger, Crazy Frog (Sammo's girl), His Name is Nobody, Paper Marriage (1988), Hong Kong Gigolo (Simon Yam's sister - 1990), A Queer Story (1997), It's a Mad Mad Mad Kung Fu World (2000).

Her best role - for which she garnered a HKFA Best Supporting Actress nomination - may well be that of one of pregnant prisoner in the very gritty and grim The First Time is the Last Time (1989).

---
Melvin Wong Gam-san
Melvin and his almost always-present mustache have been a part of HK films since the late 1970s as both bad and good guys. He always brings a nice professional touch to his roles. One of his very first films was Tsui Hark's controversial We're Going to Eat You in 1980. In the same year he appeared in the John Woo film from Rags to Riches. In 1985 he was the detective in the terrific Night Caller and then in 1986 he played the corrupt cop in Righting Wrongs.

Over the next decade he was in many films from low budget ones to some very solid ones – Inspector Wears Skirts II, Blonde Fury, Aces Go Places V, Mary from Beijing (1992), the prosecutor in Remains of a Woman and Run and Kill. Since 1995 his film appearances have been few – as he primarily is doing TV – but he was in the recent (2000) Healing Hands.
Yves Gendron informs me of the following:
Melvin Wong is Canadian Chinese. He has some very impressive kung fu moves as he proves in the finale of Righting Wrongs and a short burst in Black Panthers. His expertise is in wing-chun and he got to play the grand master of the art himself Leung Chan in the movie Descendant of Wing Chun in the early eighties.
James Chang has this to add on the actor:
Before coming back to Hong Kong, Melvin obtained his PharmD. degree from the University of California. He decided to become an actor in order to pursue his present wife, who happened to be a prominent leading lady in TVB. In the late 90s, he decided to drop the showbiz business and pursued a law degree at the University of London, and obtained his LLB there. He was called to the Hong Kong bar in 1997, and he is presently
a practicing barrister-at-law. (i.e. a litigation counsel). His chamber is in Central.

---
Michael Chan Wai-man
This is one of the really legitimate tough guys in Hong Kong film. He didn't learn how to look tough in a TVB acting class – but instead on the mean streets and rings of Hong Kong. Growing up in the New Territories he began studying martial arts at the age of ten but later turned to boxing and kickboxing - because in a real fight he realized these were more useful skills. He also utilized these skills in the ring and in 1972 he was the South-East Asian Kung Fu champion. Around this time he also became good friends with Bruce Lee. He readily admits that he was also a triad member and his body tatoos testify to this fact. He gained some notoriety when he faced down thirteen knife wielding gang members in a fight – and the story got into the papers. A producer saw him in a professional fight and asked him if he was interested in being in an action film - the offer was accepted – and so began his film career which has lasted over 25 years. Most of the time he plays a triad type – but on occasion he gets to switch sides. And on a few occasions he gets to show his lighter side as in Spy Games in which we get a chance to watch him sing "Happy Birthday Sweet Sixteen" with Kenny Bee.

He began acting in the early 70's in films like Adventure in Denmark, Concrete Jungle, Kung Fu Kid, The Chase and The Delivery. The Club in 1981 directed by Kirk Wong made his reputation as a tough guy among tough guys as he portrays a triad member in the middle of a gang war. Since then he has had a steady job acting – some of his many roles – as the prisoner on the airplane in Royal Warriors, Joey Wong's brother in Ghost Snatchers, a funny turn in Pom Pom Strikes Back, the merciless Godfather Shen in My Heart is an Eternal Rose, one of Elizabeth Lee's brothers in Widow Warriors, Once Upon a Time in Triad Society, Mongkok Story and a couple of the Young and Dangerous films. As long as there are triad films being made, there will always be roles for Michael Chan.
For an interview between Bey Logan and Chan, click here.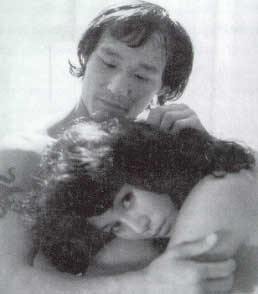 ---
Michael Chow Man-kin
Chow has had an odd sort of career. In the late 80's he was often cast as a bad guy in small roles – The Big Heat (one of the gang), Her Fatal Ways (the killer), Inspector Wears Skirts (the cad) – but in the early 90's his comic persona began to show up in films - Cash on Delivery (a gigolo), Tom, Dick and Hairy (the male suitor referred to as Michelle in the English subtitles) and Bodyguard of the Last Governor. Then he was in a number of mid-budget films in which he was the hero – Mr. Mumble, Third Full Moon and Case of The Cold Fish.

His brief popularity during the mid-90s seems to have faded and for the last couple of years he has been in some fairly low budget films – Temptation of an Angel (1999), The Golden Nightmare and Fourteen Days Before Suicide.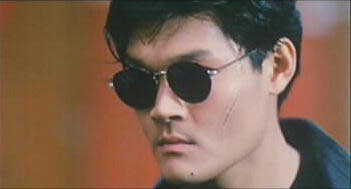 ---
Michael Dinga
This fellow pops up in a number of films in very small roles - often it seems as an authority figure of some kind. He looks to be of Western or Indian descent and is always easy to pick out. Some of his appearances were in: Curry and Pepper (1990), Fight Back to School II, Girls Without Tomorrow (Vivian Chow's boss), Hard Boiled (the fellow killed in the library), License to Steal (police supervisor), A Kid from Tibet and The Tigers.

---
Michael Hui Koon-man
Born in 1942
Over the past thirty years, there have been three comedians who helped shape the style and content of the comedy of their decade. Stephen Chow and his mou-lei-tau comedy of the 90's, Karl Maka and his outlandish antics in the 80s and Michael Hui and his deadpan cool humor of the 70s. Michael Hui was perhaps the most influential of the three – partly because he came first – partly because he brought HK comedy into the modern age – and thirdly because he was partly responsible for bringing back Cantonese as a cinematic language.

Of course none of this would have mattered or happened if his films were not funny – but they are extremely humorous – in a very satiric, droll, clever, fast paced, visually witty, irreverent manner that captured the spirit of Hong Kong in the 70s. His characters were usually the small guy doing his best to get ahead in the rat race and only too willing to utilize street smarts and trickery to do this. As in the materialistic world of Hong Kong, his characters were often obsessed with making money. Underneath his characters though was a layer of decency and humanity that makes you root for them. Hui's attitude and freshness foretold of a new generation of filmmakers and actors that began to change the face of HK film in this period – leading to the New Wave of the early 80s.

Michael began in television, as did most of the new film generation of the 70's, by hosting a comical variety show that was very popular and topical. His brother Sam Hui and his band Lotus were also a part of the show. In 1967 broadcast TV was introduced to HK and one channel was devoted to Cantonese. Though this initially helped foster the decline of Cantonese in HK films (Cantonese speaking audiences simply started staying home) it proved to be a training ground for some of the great Cantonese directors of the future. Directors such as Hui, Tsui Hark, Ann Hui, Ringo Lam later went on to create Cantonese films that ended the domination of Mandarin. Michael Hui though was the first to really break out.

In 1972 Hui was in his first film The Warlord that was directed by Lee Hon Cheung for Shaw Brothers. Hui made three more films with Lee before he broke away from Shaw and made a deal with Golden Harvest to write, act and direct films for them. Utilizing the buddy formula ("pak-dong") that was a traditional form of Chinese comedy, Hui made his first film in 1974 – Games Gamblers Play – with his brother Sam. In the film Michael plays a small time con man with his brother often being his dupe. It was a tremendous smash – broke all sorts of box office records – and began the resurgence of Cantonese. Hui spoke Cantonese – much of the comedy of his films is word play, slang and the way he talks – and Hong Kong audiences wanted to hear him in Cantonese to fully realize the comedy. By the early 1980's nearly all HK productions were in Cantonese – though still largely dubbed into Mandarin for audiences outside of HK.

During the remainder of the decade, Hui made three more films – all considered classics – The Last Message (1975), The Private Eyes (1976) and The Contract (1978). In 1981 he made Security Unlimited – perhaps his last unmistakable classic. In all four of these films he was aided by his brother Sam – who wrote some wonderful songs for the films – and for the last three another brother, Ricky, also co-starred.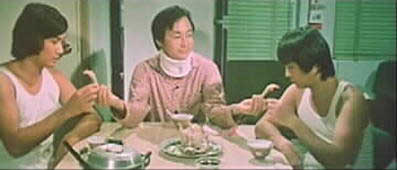 After this last film, there was a falling out between Michael and Sam – and the two didn't work together again until 1990 in The Front Page. Without Sam, who moved on to Cinema City and the Aces Go Places films, Michael's humor seemed to lose much of its satirical edge and his films during the 80s didn't seem as relevant. They were still funny though – Teppanyaki has some lovely moments, Happy Din Don is very sweet and humorous but is basically a remake of the American film, Some Like it Hot. After this 1986 film, Hui passed the director duties off for his next few films – Inspector Chocolate, Chicken and Duck Talk and Mr. Coconut. Again these are funny films and contain some wonderfully inspired scenes – but lack the inventiveness and bite of his 70's films. He also made an appearance with Jackie Chan in the American film Cannonball Run. By the 90's, the manic comedy style of Chow and others made his films feel almost old fashioned and quaint – and after one more directed film, The Magic Touch, in 1992 and acting in a few films – the best being Always on My Mind (a UFO film co-starring Josephine Siao which won good reviews but did poorly at the box office, perhaps because it actually focused on middle-class concerns in a fairly realistic way yet seemed to have been marketed as pretty much an out and out comedy), he retired from the film business. His films though have really passed the test of time so far – and are just as funny today as they were decades ago.
Yves Gendron sends in this interesting story on how Hui got started in show business:
Initially, Michael Hui wanted to become a politician and he studied social science as well as psychology at university. He needed money to pay for school fees though so he got a part-time job at a newly formed TV station as Quiz Master, interviewing people in the street. Quite by accident one night he wrote a small gag for a variety show, everybody liked it and so the director asked him to write more. After six months his gags were very popular and eventually the TV station asked him if he would be interested in doing a TV show not only as a writer but as an actor as well if he wanted so. And that's how the Michael Hui show started.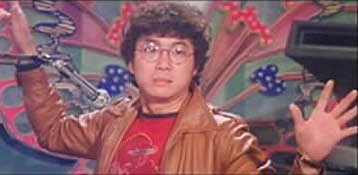 ---
Michael Lam Wai-leung
He has a very big role in Gordan Chan's 1995 film, Final Option, performing as a sadistic-minded-gun-loving playboy-turned-robber. Some other films that he has been in are Love and Sex of Eastern Hollywood (Athena Chu's boyfriend before she turns lesbian!), Ah Kam, Young and Dangerous IV, Casino, The Group and Magnificent Team.
(Info provided by Sebastian Tse)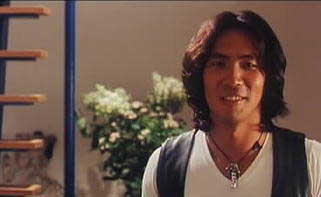 ---
Michael Tong Man-lung
Born 11/17/69

Michael Tong launched his film and singing career in the same year, 1995. His music career didn't do very well. And although he is quite good looking, he was unable to make much of an impact till he joined TVB. In 1999, he made his first TVB series, Armed Reaction II which turned out to be a very popular series and gained him some exposure. His role as another policeman in Healing Hands II (2000) gained him even more fans. The exodus of some TVB's most popular actors in the late nineties have lead many to believe that he will be one of TVB's new generation of leading men.
Some of his films are Sexy and Dangerous (1996), Sexy and Dangerous II (1999), Purple Storm, Tempting Heart, Killers from Beijing.
(Write-up from Caroline Chai)

---
Michael Tse Tin-wah
Though best known for his role as one of Ekin's boys in the Young and Dangerous series, Michael has certainly been in a number of other films. One has to wonder why after his terrific performance in The Blade (the opium-addicted killer) and the prominence of the Y&D series - along with his good looks, he has not gotten more roles as a leading man.

He has appeared in a number of solid films - Growing Up, Storm Riders (Frost), H.K. Triad, Masked Prosecutor, Streets of Fury - but they never seem to push him into leading man territory. Lately, he seems to have fallen into caricature type of roles such as in My Loving Trouble 7 (as one of the friends) or as the gay customer in And I Hate You So.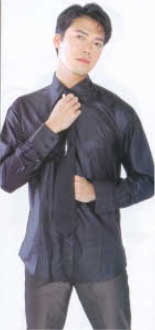 ---
Michael Wong Man-tak
Is he man or wood? It is often difficult to tell and certainly his acting abilities have been questioned more often than President Clinton's morals – but I have to jump to his defense. He may not be able to act his way out of a pair of boxer shorts – but you have to admit this guy has chutzpah. How many other men would have the nerve to go to Hong Kong who didn't speak as well as read Chinese, could not act, was only half Chinese, didn't have any particular martial arts skills and try to break into the film business? Not only did he try; he succeeded to an extent that I am sure he never expected himself. Even though Western audiences tend to roll their eyes when his name comes up, in Hong Kong and other places in Asia he has been extremely popular (he actually had some hit songs in Thailand!). And what I like about Wong is that I get the sense that he totally appreciates his good fortune – realizes that his acting comes up shorter than a munchkin in the Wizard of Oz – but is having himself a hell of a good time and will keep doing this as long as he can get away with it.

He was actually born in Shangdong, but his family moved to the States when he was young and he never learned Chinese. He was raised there, but in 1983 he came back to Hong Kong with his brothers Russell and Declan, his good looks, his cigars and not much else going for him. Declan can be seen in Once a Thief (the 1991 film).
Russell, who has some solid martial art skills, made a few films in HK (The Musical Singer, China White, Porky's Meatballs, Satin Steel, Summer Lovers) but returned to the States where he had some success in TV (The Vanishing Son) and in the recent Romeo Must Die.

Michael stayed on - even though at first he had no success at all. He had his film debut in 1985 (City Hero) – but film offers were still scant over the next number of years. He did have some good role in solid films – The Royal Warriors (1986), In the Line of Duty 4 (1989), Fatal Love (1993) but it wasn't really until 1994 that he started really making a name for himself in films. That year he was in Final Option which was a solid hit and from that time on he has been consistently employed. In fact, there are times I go into my Chinese video store and it looks like nearly every new release has Wong starring in it!

Many of these are dreadful low budget dreck – but he has also managed to work in some good films – Lost and Found, The Case of the Cold Fish, I'm Your Birthday Cake, The Log, First Option, The Wedding Days (You have to laff when at one point in the film, Jordan Chan's character yells at frustration that he can't understand Michael Wong's characteristic combo Cantonese-English dialogue!), Whatever You Want, Beast Cops, Her Name is Cat and Enter the Eagles. Even after all these years, he still acts like wood in search of a spark, still uses his painfully combined fractured Cantonese and English and still smokes his cigars – but where else other than Hong Kong could someone like this become a star. God bless Michael Wong!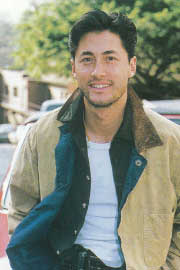 ---
Michael Woods
This black muscle man gained some fame for his face-offs with Donnie Yen in In the Line of Duty 4, Crystal Hunt, Tiger Cage I and II. His other Hong Kong films – Cheetah on Fire, Ballistic Kiss (both also starring Donnie Yen, but unfortunately the two don't fight each other). His connection to Donnie Yen stems from the fact that he studied at the martial arts's school of Donnie's mother and later Donnie invited him to Hong Kong to participate in some films. Michael also appears in a German series called Puma that had a number of its episodes produced and directed by Donnie.
(Information provided by Ganesh Codandamoûrty)

---