---
Lau Siu Ming
Lau Siu Ming is another wonderful character actor who Tsui Hark often used in his films. He was actually in Hark's very first film, Butterfly Murders, and then was in Swordsman (Kiddo's father) and all three of the Chinese Ghost Story films. In the first of that supernatural trilogy, he was the amazing female Tree Demon with the giant tongue, in the second film he was Joey Wong's father and in the third he was the Tree Devil.
Some other films that Lau appeared in were Police Story II, Call Girl 88, Burning Ambition, Stagedoor Johnny, Dr. Lamb and Kitchen in 1997. He is still working on occasion and appeared as Uncle Ma in China Strike Force (2000).

---
Law Cheng Ho
Crazy Companies, The Mad, Mad Mad World III, Figures from Earth.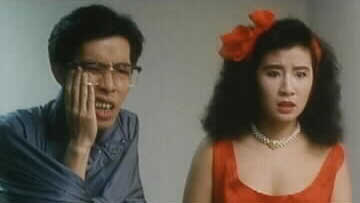 ---
Law Kar Ying
Oddly, I can only find credits for this character actor from 1993 on. Prior to this, Law was a Cantonese Opera performer and he was also primarily responsible for convincing Mainland Opera star, Lau Shan (pg. 21), to stay in Hong Kong and work in the movie industry.

In the 90s though, he became one of those character actors that showed up everywhere, in movies as diverse in range as The Chinese Feast (Anita Yuen's father), Viva Erotica! (Leslie Cheung's manager), The Bodyguards of the Last Governor (the Governor), Super Energetic Man (Gigi Lai's father), Kitchen (Jordan Chan's mother – no make that his father; n.b. a role which won him a HKFA Best Supporting Actor award), 1941 Hong Kong on Fire (Chingmy Yau and Veronica Yip's father) and others. The man who sometimes really looks like he has a mad gleam in his eye also has appeared in his share of Stephen Chow films - e.g., From Beijing with Love (the inventor of such as the solar-powered torchlight!), Forbidden City Cop, and A Chinese Odyssey I and II.
(Information provided by James Chang)

---
Law Koon Lan
Though Law often looks different in many of her films, her slightly loopy big smile always identifies her to me. As a character actress she has been in films since the late 80's – Chicken and Duck Talk, I Have a Date with Spring (Lulu), Umbrella Story, Bodyguard of the Last Governor (the legislator), The Extra (the woman who teaches Alfred Cheung how to act as well as finds him jobs as a movie extra), Walk In (Danny Lee's wife) and Troublesome Night VII (2000).

---
Lawrence Cheng Tan-shui
Lawrence has brought his comical slightly nerdish, slightly yuppie film persona into films since the mid 80's. Over the next ten years he had roles in many excellent films – mainly comedies but on occasion dramas as well. Some of his better films were My Cousin the Ghost (1987), Guests in the House, Profiles of Pleasure (1988), Yuppie Fantasia (1989), The Fun, the Luck and the Tycoon and Shanghai Shanghai in 1990, The Modern Love (1994) and many more over the next few years. He was the Jester in the hit film, Storm Riders in 1998.

Like many HK actors, he occasionally wore more than one hat – he directed the terrific Murder in 1993, produced Yuppie Fantasia and has written some scripts (a few before he got into acting).

---
Lawrence Chou Chun-wai
This Canadian-Chinese actor has appeared in Merry-Go-Round, the GC Goo Bi directed segment of Heroes in Love (Lawrence), The Eye (the youthful psychiatrist who befriends Mun) and -- perhaps best of all -- Truth or Dare: 6th Floor Rear Flat (as the aspiring musician whose parents want him to be a doctor instead). He is also an aspiring musician in real life and plays a wonderful guitar piece in Truth or Dare. He seems to have something of a knack for taking on different looks in his films and has radically different hair styles in Merry-Go-Round (afro), The Eye (straight messy conventional) and Truth or Dare (slightly punk).

---
Lawrence Ng Kai-wah
He is most famous or perhaps infamous for his role in the classic Cat III film Sex and Zen as the scholar who isn't satisfied with his wife, Amy Yip, or the size of his own penis. So he plays around with other women and has his penis switched with that of a horse! Though he was also in the outrageous Cat III film, A Chinese Torture Chamber Story, most of his film appearances have been in more mainstream HK films.

He was the scholar in the Chinese Ghost Story clone – Picture of a Nymph, Maggie Cheung's callow lover in Centre Stage (1992), the cop in My Heart Will Go On (1999), the innocent in Innocent Interloper (1986) – and many more.

Some of the other better known films that he has appeared in are I am Sorry, Kawashima Yoshiko, To Be Number One, Dragon Inn, The Magic Crane and Hail the Judge.
---
Le Fei
This is a new actress on the scene – discovered by Wong Jing – except this woman (who resembles Kara Hui Ying Hung a bit) is not only attractive but has shown some very good moves in a few action scenes. She has been in Conmen in Vegas (the bad guy's moll), Raped by an Angel 5 (the kung fu instructor), Fist Power (2000) and X-Cop Girls.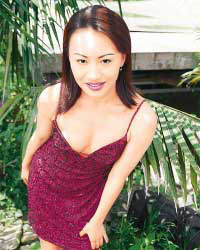 ---
Lee Ann d'Alexandry d' Orengiani
This model/actress is simply extraordinarily attractive and I am surprised that her career has not taken off more quickly (though it should be pointed out that her Cantonese is reputedly not all that great). In her debut film in 1998 (Love Generation HK), she caught my attention as much as her two famous female co-stars Carina Lau and Hsu Chi.

In her next film The Tricky King she also impressed – but since then she has appeared in only the low budget horror film D for Demons. Much of her time though is taken up with modeling gigs all over the world where her exotic looks are much in demand.

---
Lee Diy Yue
This actor has appeared in a number of the triad films of the 90s – Francis Ng's boss in Once Upon a Time in Triad Society 2, a boss in Portland Street Blues, The Odd One Dies and in some of the Young and Dangerous films (Simon Yam's underling). He is also in "Young and Dangerous 2", "King of Debt Collecting Agent" and "Once Upon a Time in Triad Society 2".
(Thanks to Michael Kistner for info and ID of this actor)

---
Lee Fung
Sea Root (Lau Ching Wan's character's mother), Naughty Couple, The Wedding Days, First Option (police superintendent), Fighting for Love (the mother), My Left Eye Sees Ghosts (Taoist sifu/exorcist hired by Lam Suet's character), Summer Breeze of Love (Dave Wong's character's mother), Just One Look (Shawn Yu's character's grandmother).

---
Lee Hoi Shang
With his bald head, fierce demeanor and tall, sinewy looks, this veteran action/kung fu actor is usually fairly easy to pick out in films. He was a graduate of Madame Fan Fok Fa's Peking opera school along with Lam Ching-Ying, Meng Hoi, Fung Hak-On and many others and he later became a stuntman for the Shaw Brothers. From time to time, he can be spotted in their early to mid- seventies productions by viewers with eagle eyesight.
He started getting more prominent parts under director Lau Kar Leung with Spiritual Boxer, Executioner from Shaolin and the 36th Chamber (the latter two as a fighting monk though his part was cut in the English dubbed version of Executioners). At one point, Lee joined up with the stunt-team working for Golden Harvest that was headed by Sammo Hung and his Opera school brother Fung Hak-On. He became one of the most ubiquitous players of the kung fu comedy canon in the role usually of a henchman or the lead villain. Some of these are Warrior Two, Dirty Tiger Crazy Frog, Knockabout, Young Master, Two Toothless Tigers, The Invincible Kung Fu Master, The Odd Couple and Prodigal Son.
He also got to act in a couple of John Woo movies in which the fight choreography was done by Fung; the golden skinned henchman in the comedy-caper Money Crazy and the halberd wielding warlord in Last Hurrah For Chivalry. During that period two roles in particular stand out. In the Magnificent Butcher he plays the arrogant but not necessarily malevolent martial art master who wants to avenge his evil seed-son's death at the end of the movie. And in Fist and Guts not only does he get a role with hair (although it's a rug!) but for once he doesn't have to play a villainous role - but instead a muscle bound side-kick to Lau Kar Wing's (who also directed) crafty wise guy.
Lee continued to be a regular for Sammo, Jackie, Golden Harvest and Shaw Brothers throughout the early eighties in films such as The Sword, Shaolin Prince, Shaolin vs Wutang, Project A, Twinkle Twinkle Little Star, Heart of Dragons, Peking Opera Blues and others. His output appears to have diminished in the late eighties, though he may have found work in TV. He retired from the movies altogether in 1991, but has continued doing some work in TV.
(Written up by Yves Gendron).

---
Lee Kin-yan
For reasons that I am not really sure of this comic actor often plays either effeminant males or transvestites or women. Stephen Chow has used him a number of times in films such as Flirting Scholar, From Beijing with Love, Forbidden City Cop (concubine of the Emperor), God of Cookery (a fan), Sixty Million Dollar Man, The Lucky Guy and Lawyer Lawyer. Apparently they were classmates at one time. Some of his other roles were in Sexy and Dangerous (Francis Ng's follower), Killing Me Tenderly, Those Were the Days (the Lydia Shum character), Marry a Rich Man (the disco queen). He also appears in the recent Tsui Hark film, Era of the Vampires as the Geomancer.

---
Lee Man Tai
Another veteran actor – he was one of the good guys in The Valiant Ones, one of the bad guys in Millionaires Express.

---
Lee Sui-kei
One look at this guy and the word "triad" flashes through your mind and in fact not only does he often play one in films but his connections to them in his real life are often strongly hinted at. He is big and scary looking with a gnarled face like an old oak tree. At times it seems like he shows up in just about every triad film there is – some being the Young and Dangerous films, the associated Portland Street Blues, the "equivalent female" Sexy and Dangerous, Streets of Fury, HK Triad, Century of the Dragon and Jiang Hu – "The Triad Zone" – but there is a "softer" side to Lee.

He has also shown up in a many comedies – HK Spice Girls, Mr. Wai-go, The Lucky Guy, Love Cruise, The God of Cookery, Lawyer Lawyer and LOVE . . Love – but even in these he can be a little intimidating!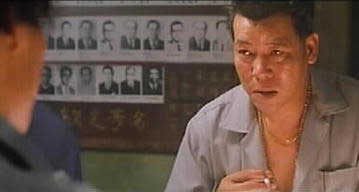 When he isn't acting, he is a producer – Spike Drink Gang, Sexy and Dangerous II, Haunted Mansion, Horoscope II and Operation Billionaire among his credits. In the HKDB he also has many credits for "Planning" though I am not sure what that means exactly – maybe making nice with the neighborhood triads!
---
Leo Koo/ Ku Kui-gei
Born 08/18/72
With his sweet and innocent face, it was no surprise to find out that Leo is also a very popular singer. In fact, his singing career has taken precedence over his acting career. He began as a reporter on TVB – doing a show called "Hot Gossip" – and eventually released an album that was very well received. He is one of the "Four Young Kings of Cantopop" (the others being Daniel Chan, Stephen Fung and Nicholas Tse) and has also been called "The Prince of Falsetto".

I have found his quiet presence very appealing in the few films that he has made. He was terrific in Task Force and When I Look Upon the Stars.
---