---
Leon Lai Ming
Born in 1961 in Beijing
Leon must have been born under a lucky star. People who can judge music better than I can tell me his voice is nothing special and certainly no one can deny that his acting range is limited. Yet he is a very popular singer (one of the Four Sky Kings of Cantopop), he has been in many high profile films and he has had an on and off relationship with Hsu Chi. I want to be Leon Lai!

He has trouble emoting on screen – when he is angry in a scene – unlike many HK stars who would go into eye popping histrionics – Leon gets an annoyed look as if his room service meal has arrived cold. And when he plays a love scene, he takes on the look of a puppy dog needing to have it's stomach scratched. And it is precisely his puppy dog look(s) that appeals to many a woman and can cause them to want to take him home to look after!
He has a quiet cool aloofness that becomes appealing after a while. In the right films with the right role, he can be absolutely fine. As the lonesome professional hitman in Fallen Angels or the revenge-seeking killer in A Hero Never Dies, Leon cuts a very cool and stylish figure. And as the shy suitor in both Comrades: A Love Story and Killing Me Tenderly he seemed a perfect fit. And he was also very appealing and ... well ... sweet as the man who willingly licked off the malt sugar that had accidentally exploded and spilled on to bits of Cheung Man in The Sword of Many Lovers...!

He left China in 1981 to study in the UK and then moved to HK in 1983. Two years later, he was the second runner up in a New Talent Contest. Afterwards he began doing some TV and making some music. In 1987 he made his film debut with Mr. Handsome and made other films over the next few years – Four Loves, Missing Man, Shogun and Little Kitchen and Fruit Punch – that were decent films but certainly did nothing to make him a film star.

In 1992 though he began getting good parts in better films – Tsui Hark's Wicked City, The Sword of Many Lovers (1993), City Hunter (as the cool card throwing gambler) and a big romantic tear jerker tale Love in the City (1994). With Fallen Angels in 1995 and Comrades in 1996, his reputation was cemented as a popular actor and one that directors liked working with. Though he still seems to focus more on his music career, he has become one of the top actors in HK. Besides those already mentioned, other post 1997 movies of some note in which he has appeared include Ann Hui's Eighteen Springs (1997), UFO's City of Glass (1998), Love Generation, HK (1998) and Andrew Lau's Sausalito (2000). Leon also is slated to appear -- along with Hsu Chi, Jordan Chan and newcomer Michelle Saram -- in the 2000 Christmas blockbuster, Skyline Cruisers.
He also seems to be one of the more popular real life individuals who gets mentioned and made fun of in Hong Kong movies (Among the films in which he is referenced: He's a Woman, She's a Man, Spacked Out, and Help!!!).

---
Leslie Cheung Kwok-wing
Born on 09/12/56 in Hong Kong
Having spent some time in earlier pages extolling the pouty lips of some of my favorite female stars, I guess it is only fair to do the same for Leslie! His Days of Being Wild perpetual pout was splendid – though not as intriguing as his boxer short dance in front of the mirror (wonderfully parodied by Francis Ng in Those Were the Days). Leslie is a trip. In every way imaginable except officially, Leslie has admitted to his homosexuality – Who else would (have the nerve to) have a concert tour in which he dressed in various womanly outfits and sang "I am What I am?". Or there is my favorite quote from him while filming Happy Together when Tony Leung Chiu-wai complained about having to make love to Leslie in take after take – "now you know how I have felt all these years"!

For most romantic leading men, this would be instant career suicide – but not for Leslie. He is too much of an institution in HK (and the rest of the Chinese diaspora) and he is bigger than his sexuality – he is bigger than just about anyone in HK – an enormously popular singer for two decades and one of the bigger box-office draws for years. People -- including grandmothers along with their teenage and preteen grandchildren -- just love Leslie.
Like so many stars, he began his career in a contest – and he came in second place at an Asian Singing Contest in the late 70's. In 1978 he put out his first album. He made his film debut in 1980 (Leslie himself described his first venture into film, Erotic Dream of the Red Chamber, as "a disaster, a low-budget movie, very indecent" in an interview with the author of Hong Kong Babylon (1997), Fredric Dannen ). Over the next two decades he has worked simultaneously at both careers – appearing in many films and consistently producing good albums. I am told that "Red" is his best album. He also has sang many of the main songs in movies he appeared in (Ones of particular note include the "Chase" song in He's a Woman, She's a Man, the theme song of The Bride with White Hair, the opening song of A Chinese Ghost Story and the end song of Days of Being Wild. N.B. He has released an album which compiles together songs from those movies along with those of Farewell My Concubine, Temptress Moon and The Phantom Lover).

After his debut, Leslie worked in TVB and made some films that have been nearly forgotten – Teenage Dreamers, Energetic 21, The Drummer, First Time, Little Dragon Maid and Crazy Romance. In there though he also made a small and controversial film called Nomad (1982) for which he was nominated for Best Actor.
For a while there, it seemed though that his acting career would never meet with the same success as his music career. With his young boyish face (that he still maintains fifteen years later), he was getting stuck in primarily adolescent comedies – but in 1986 he got a huge break when John Woo cast him as the younger brother of Ti Lung in A Better Tomorrow. Though his role is less substantial than that of Ti Lung and Chow Yun Fat, his portrayal as the idealistic and heroic young cop was a hit and the film overall was a gigantic smash. From that point on Leslie was to get plum roles in many classic films.

As the lead in the wonderful A Chinese Ghost Story the following year, Leslie reached the top ranks of romantic leading men in HK and this was only strengthened over the next couple of years with roles in A Better Tomorrow II and Rouge. One thing that I like about Leslie is his willingness to take chances and in 1990 he played the self-absorbed but oh so attractive male lead in Days of Being Wild. It is a tough role – a not very likable character that still manages to evoke your sympathy – and Leslie was fabulous – and deservedly won the Best Actor award for it.
The 90s were more of the same – some wonderful commercial roles in He's a Man, She's a Woman (in which Leslie gets very confused about his sexuality), its Who's the Woman, Who's the Man? sequel which came two years later, Once a Thief, The Bride with White Hair, The Phantom Lover, and popular Chinese New Year comedies like All's Well Ends Well, All's Well, Ends Well Too, The Eagle Shooting Heroes, It's a Wonderful Life, The Chinese Feast, and Tri-Star.

Again though he mixed these commercial successes with films that were off beat or very challenging. In 1993 he had to learn Mandarin to appear in the Mainland production of Farewell My Concubine for which he received rave reviews for his portrayal of a Peking Opera performer (Other mainly Mainland Chinese films he has appeared in are Temptress Moon (1996) and A Time to Remember, a.k.a. Red Lover (1999)). In Ashes of Time (1994) he spent months in the desert filming this desolate and beautiful Wong Kar-wai film (again taking a role far from his pretty boy image), in Viva Erotica! he had to show his naked bottom in the opening scene and in Happy Together he spent ages in Argentina playing a bitchy and miserable gay lover.
The man who is quoted in Hong Kong Babylon as saying that "I want to have my quality controlled. That's why I will do a maximum of three movies in a year, and only one movie at a time" has without a doubt an incredible filmography. His work in the last two years have included the interesting commercial Japanese-Hong Kong collaboration, Moonlight Express, the understated The Kid, the rather dark Double Tap and the summery Okinawa Rendez-Vous. In 2000, Leslie also made his directorial debut with an anti-smoking public message short which features the likes of Anita Mui and Karen Mok as well as himself in front of the camera.
Leslie Cheung always had a flare for the dramatic whether in his music, his films or his life and on April 1st 2003 he played out his final performance with his typical biting wit as if to say to the world that this was just a joke – that everything in life was just a sad painful joke. So he goes to the twenty-fourth floor of one of Hong Kong's finest hotels and jumps to his death. His famous beautiful looks a crumpled mess below. In the film Inner Senses he also stood upon a rooftop peering over the edge in a state of abject depression, but in the celluloid world he received forgiveness and walked away from the abyss – this time there was no one there to forgive him – no one to show him mercy and understanding.
Within hours a city already bruised by an epidemic and economic hard times found more bad news at its doorstep as the word of his death spread. He was more than a legend – he was loved - "Gor Gor"(Big Brother) to everyone. It was more than his music, it was more than his films that inspired this affection – it was simply him – his outrageousness, his charm, his quick smile, his outbursts – his boyish looks that barely aged had made him Hong Kong's own son. And it never mattered that he could be churlish on occasion or stay out of the public eye for long periods – and as it became known to all that he was gay it still didn't matter – he was their own and they loved him. He was still the most romantic leading man in Hong Kong with his curling lower lip, his fine clean-cut features, his eyes that could be full of delight or as distant as a long lost lover. In the end though none of the fame or adulation or accomplishments mattered to him – he felt lost and lonely and empty inside and so he chose to end it.

---
Leung Kam Shan
This actor is primarily known for his work in ATV, but has appeared in a few films - the boss in Roar of the Vietnamese, Girls from China, Fatal Mission, Chez N' Ham and a few others.

(Info provided by Saw Chin Beng Winson)

---
Leung Kar Yan/Beardy
Having just seen this actor in the film The Victim, my respect for him has doubled - no make that tripled. He is simply incredible – so personable, handsome and delivers some of the most beautifully performed fight choreography I have seen. What is of course especially amazing is the small fact that he has never had formal martial arts training!

He joined Shaw Brothers in 1974 and soon met up with Sammo and the two of them hit it off. Sammo has described Leung as a phenomenon – Sammo could show him any style of kung fu or any intricate choreography and Leung could learn it immediately. In the 70's and early 80's Leung was to appear in some terrific kung fu films – Enter the Fat Dragon, Warriors Two, Knockabout, The Odd Couple, Dreadnaught, The Victim, The Postman Strikes Back and The Miracle Fighters.

Like so many other kung fu fighters, once the popularity of those films faded in the mid 80's he had to switch career gears and become more of a character actor. He had a reasonably successful career though through to the middle of the 1990's. Some of his better films in this period are – Tiger Cage (engaged to Do Do Cheng), Killer Angels, Brave Young Girls, The Tigers, Red Shield and three Stephen Chow comedies - Legend of a Dragon (the sly uncle), Justice My Foot and Flirting Scholar (the head guard).
---
Li Fai/Lee Fai
In a discussion on Mobius, the subject of HK stuntwomen came up and Sebastian Tse mentioned that Li Fai was one of the few and one of the best. She has even doubled for Michelle Yeoh at times. Sebastian goes on to say that for many years she was the premiere swordsman champion in HK and also competed in many Mainland tournements. She has also been in a few movies in which she was not doing stunt work. She was the female cop in Organized Crime and Triad Bureau and was the villaniness in Iron Monkey in which she fights against both Donnie Yen and Yu Rong Guang. Two other films that she is credited with in the HKMDB are Chinese Ghost Story II (though I can't think which character) and Hero from Beyond the Boundary of Time (the kung fu wife).

---
Li Lihua
Born on August 17, 1925
For the most part I have not included actors that never appeared in films after 1980 – but there are a few that I have found so interesting in my readings that I just wanted to have them in this section – and this is certainly the case for this actress.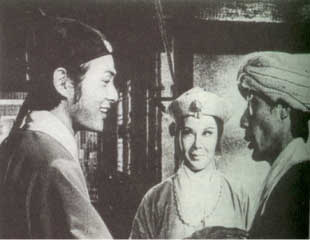 The only thing I have seen her in was the last film of her career – The Fate of Lee Khan – in 1973. King Hu actually persuaded her to come out of retirement to be in the film. Her performance as the smart as a whip innkeeper with the most amazingly expressive eyes was one of the highlights of the film. When I discovered more about her I was even more impressed. Early pictures of her show what a stunningly beautiful woman she was – reminding me somewhat of Ava Gardner.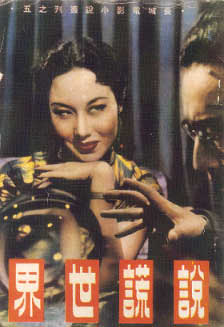 She was born in Shanghai – the film capital of China at the time –and picked up the nickname of Xiao Mi (Little Kitten) due to her premature birth. Her parents were both Peking Opera performers and though they were disinclined to see Li go into show business, she went to Beijing at the age of 12 to study Peking Opera. At the age of fifteen Li returned to Shanghai and met Yan Chungtang at her brother-in-laws house. Yan was the head of the Yihua Film Company and insisted that Li enter the film profession. Her first film made in 1940 was The Three Smiles and it was a hit and she was an immediate star.
Over the next two years she made many popular films. But then in 1941 Shanghai came under Japanese rule and all the film companies were formed under one company – Huaying – that was controlled by the Japanese. This company continued to make films during the war years and Li appeared in many of these. After the war ended she and others who had stayed and worked were branded as traitors and chased out of the film industry. Li says that the films that they made were in no way propaganda pieces for the Japanese – but were made to entertain the Chinese in a very bad time.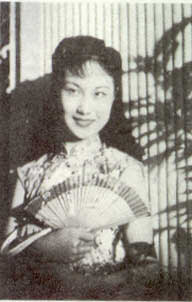 She was invited to go to Hong Kong in 1949 – along with many other Mandarin actors – to work for a film company called Yung Hwa Motion Pictures. At first their films were low budget affairs playing in the worst theaters, but within a few years they were competing equally with the Cantonese films. Eventually, the Mandarin films became even more prestigious and much more sumptuous than the Cantonese films. Li appeared in many of the very best of these glossy films – working for Yung Hwa and also the Shaw Brothers, Great Wall and Cathay.
Some of her better known films are The Awful Truth (1950), Spoiling the Wedding Day (1951), The Flower Girl (1951), What Price Beauty (1954), The Beauty of Tokyo (1956), Yang Kwei-fei (1962), The Empress Wu (1963), The Butterfly Lovers (1964), The Goddess of Mercy (1967) and The Yangtze Incident (1969) for which she won the Golden Horse Best Actress award. In total she made 158 films. She was invited to the United States and made one film there in 1958 called China Doll that was directed by Frank Borzage and has to marry Victor Mature - poor thing! (it is shown on TMC from time to time). Stephen Teo in his book "Hong Kong the Extra Dimensions" calls Li Luhua "a radiant sour beauty" and praises her acting performances throughout the book.
With her husband Yan Jun she also formed a production company, Jinlong, that produced many fine films.
Most of the information above was derived from an article in "Monographs of Hong Kong Film Veterans" published by the Hong Kong Film Archive and written by Donna Chu.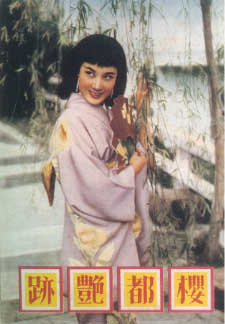 ---
Li Xian Ming/Lee Hin Ming
Generally plays a sleaze in comic films from what I have seen. The picture is from Pretty Woman. he was also in The Big Deal.
Caroline Chai send in the following:
His name is li(3) xian(3) ming(2).
All I know about him is that I remember him in a couple of TVB series in the early nineties. He usually plays support characters. I know he had a bit part in 1990's The God and Demons of Zu Mountain, he was also in 1994's All About Tin and 1993's Being Honest.
Someone on one of the forums told me that he thinks he died a few years ago but I've not been able to confirm that.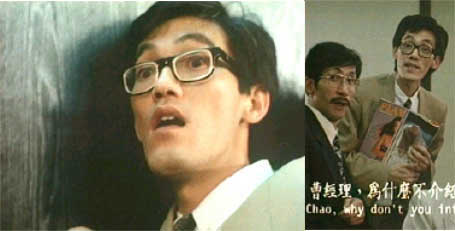 ---
Lillian Ho Ka-lei
Born 08/01/80
Leslie may have some great pouty lips – but nothing compared to this actress who often looks like her lips are readying for takeoff. She is quite adorable, but neither her acting nor singing career has yet taken off. A mishap at a concert in Atlantic City when her skirt fell off on stage and sent her weeping off has probably brought her more fame than anything else she has done yet in the entertainment business.

Some films in which you can catch this cutie – The Mirror, Those Were the Days, Fascination Amour and Cheap Killers.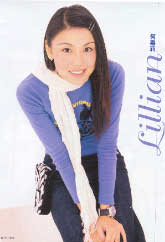 ---
Lily Li Li-li
Lilly was one of the more popular of the Shaw Brothers actresses from the late 1960's through the 70's. She appeared in many action films and was at one time the protégé of Lau Kar Leung. Some films that she was in are Shadow Girl, The Loot, Young Master (with Jackie Chan), Dreadnaught, 8 Diagram Pole Fighter, White Lotus and Executioners from Shaolin. Born in Hong Kong in 1950, she began in the Shaw Brother's Training School at the age of 14 and signed a contract soon after. She appeared in all genres of film though best known today for her action roles. She stayed with Shaw until the 1980's when the studio shifted to television.
Her last film role was in 2006 but she moved over to TV and remained there until she just announced her retirement from acting in 2020.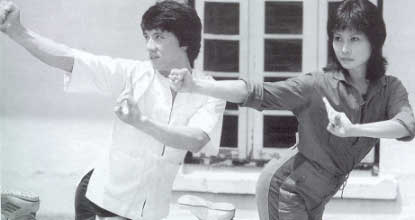 ---
Lily Chung Suk-wai
This pooky faced actress has probably been tormented more than any other actress in HK film! She won the Miss Hong Kong Universal Beauty Contest and then started working for TVB. In 1993 she began her days and nights of horror with Daughter of Darkness followed by Brother of Darkness (1994), Fatal Obsession (1994), Red to Kill (1994) and Eternal Evil of Asia (1995). There is just something about Lily's face that makes producers think Cat III. The fact that she has been willing to shed her clothes and be involved in some fairly explicit scenes (the shower scene in Red to Kill comes to mind) didn't hurt.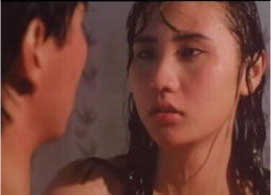 At the same time she has appeared in some mainstream films – Modern Love as one of three girls looking for love (though she did play a prostitute!), Sexy and Dangerous (the nasty Aids), The Wild Couple with Roy Cheung and Millennium Dragon (2000).

---
Lily Li/Lee Lei-lei
This Cat III actress has been in both erotic films for which she is best known – Behind the Pink Door, Comfort Women, HK Eva, Erotic Passion, Passion Unbounded (the model) – and a few non-Cat III films – Oh Yes Sir (Papaya) and Circus Kids (Lin Wei's wife).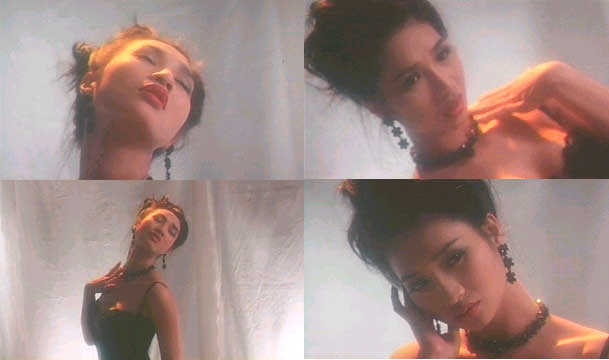 ---
Lin Chen-chi/Lim Ching-chi/Lam Jam Kei
She played Pearl, the nihlistic fire bomber in Tsui Hark's Dangerous Encounter - 1st Kind and gave a bravura frightening performance as a teenager without any hope or any moral compass. Some other films she was in were Battle Wizard (1978), The Girlie Bar (the youngest daughter) and Spiritual Boxer. She also had a small role in the American film Cleopatra Jones and the Casino of Gold (the sexy adopted daughter).

Born in Taiwan in 1955 she was first a model and then made a few films in Taiwan before being signed by the Shaw Brothers in 1974. She was with Shaw for some six years and made over 10 films over that period. She never really made it out of the "B" film world until Dangerous Encounter - but that of course was a huge flop at the time and has only gained fame since. Soon after she married and retired and along with her husband she now runs a chain of steak houses in Hong Kong.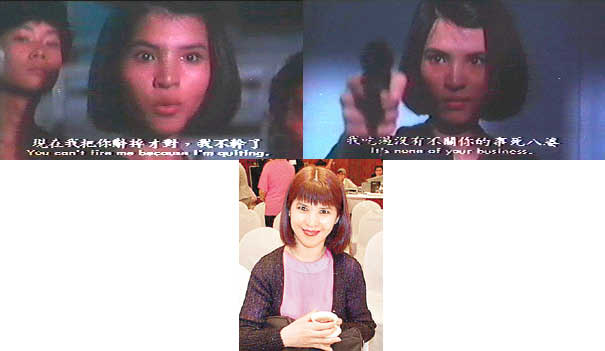 (Thanks to Christopher Fu on Mobius for this info).

---
Lin Dai, Linda
Lin Dai was one of the most glamorous and tragic of the Mandarin HK actresses in the 1950's and 60's. She was a huge star and won four Best Actress Awards for Golden Lotus (1957), Diau Charn of the Three Kingdoms (1958), Les Belles (1961) and Love without End (1962). Her film debut was in 1953 and her first major success was Singing Under the Moon in the same year.
She was born in Binyang county, Guangxi province, and spent her youth in Guilin, Chongquin and Nanjing. her father Cheng Siyuan was a well-known politician. In 1948 she came to Hong Kong and joined the leftist film company, Great Wall, but they soon had her leave because of her father's politics. She then joined Yung Hwa Film Company where she was to make Singing Under the Moon. In her 11 year career she was to make about fifty films. She was involved in every type of film – comedies, costume dramas, musicals, tragedies – and was at the pinnacle of her career when mysteriously she committed suicide in 1964 at the age of 30 leaving a husband (tycoon Long Shengxun) and small child behind her. Teo refers to Lin Dai as "an adept comedienne, [but she] was the foremost tragedienne of the early 60's".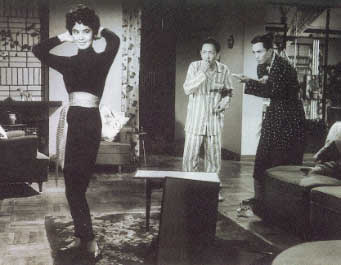 Some of her other films considered classics are Spring is in the Air (1954), Miss Kikuko (1956), Lady on the Roof (1959), The Kingdom and the Beauty ((1959), Love (1963), The Magic Lamp (1964) and Beyond the Great Wall (1964). At the time she died, she was working on the film The Black and the Blue which was not released until two years later.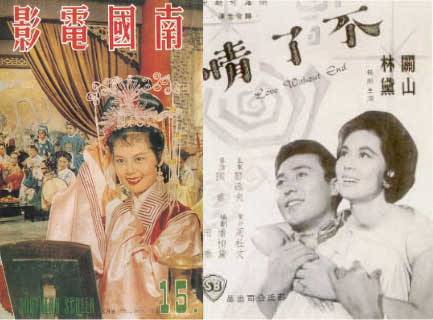 ---
Lin Wei/David Lam Wai
This tough flinty eyed actor debuted in the influential The Long Arm of the Law in 1984. It's a terrific film and he is excellent as the honorable head of the gang that comes from the Mainland to rob in HK. He never became the star that this first film seems to hint at – but he has been in a vast number of films – some classics, other low budget fodder.

Some of his better ones are Welcome (1985), Royal Warriors (one of the three men trying to kill Michelle Yeoh), Chinese Ghost Story (the swordsman who challenges Wu Ma), Love that is Wrong (the cop), Picture of a Nymph (the swordsman who floats Yuen Biao down the river), Project A II (the corrupt policeman), Dragon Town Story (the man who hires the killer).
---
Lin Hsiao Lan/Lin Shao Lou
This diminutive action actress is simply amazing and a few of her Taiwanese films have almost made her a cult figure in some circles. She studied in a Peking Opera school in Taiwan and then made some costume action/fantasy films in the 80's that are wonderfully cheesy, lots of fun and display her incredible acrobatic skills to great effect.

These are Child of Peach (the 1987 that endowed her with the nickname of 'Peach Baby'), Kung Fu Wonderchild, Magic of Spell, The Magic Amethyst (small role) and Heroic Fight (set in contemporary times). I can only find her credited for these and a few other films – but one would have to imagine that she was in many more films than this. I wish I could find them.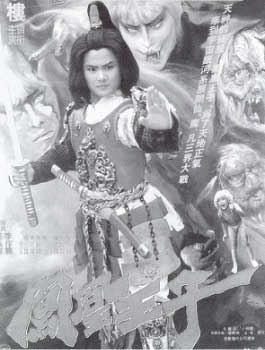 ---
Linda Wong Hing-ping
Linda – the daughter of actors Jimmy Wang Yu and Jeanette Lin – is a very well known singer, but she has also been in a handful of films – the best being Police Confidential (1995). Her other credits are Cop Image (1994), Those were the Days (1996) and Happy Together (1997).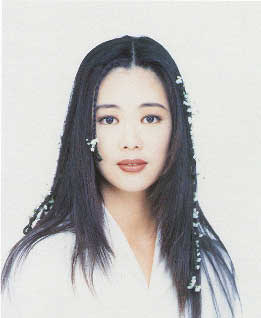 ---