---
Kim Maree Penn
I know very little about this very attractive blonde, but she definitely impresses with her kung fu in Fun and Fury, In the Line of Duty 5, Midnight Angel, Live Hard, Police Story III, How to Meet the Lucky Stars, Queens High and Oh Yes Sir. Ms. Penn is currently the National Director of the International Bodyguards Association for Hong Kong SAR/ China and is a retired World Karate Champion. It was recently announced that she and Lee Majors will be in a TV pilot produced by New Line as a father/daughter bodyguard team.

---
Kirk Wong Chi-keung/Che Kirk Wong
Bringing a slashing high vitrol energy to his films, Kirk Wong was - even with a relatively small output - one of the more influential directors/producers in the 1980's and 90s. His 1981 The Club with Michael Chan is considered one of the forerunners of the Heroic Bloodshed films that were to follow in the 80's. This was followed by the controversial Health Warning in 1983, Gunmen in 1988, Crime Story in 1993 (in which he fought continuously with the star Jackie Chan – but in fact got out of Chan his best dramatic performance ever) and then the double blast in 1994 – Organized Crime and Triad Bureau and Rock N' Roll Cop. The tough, brutal cops in his films have raised the hackles of many a libertarian. Then there are the brutal Category III films that he has produced - Love to Kill, and Police Confidential...He also can be counted as yet another HK "action director" who moved on to Hollywood, where he directed The Big Hit (a film that actually does NOT star Jean-Claude van Damme!).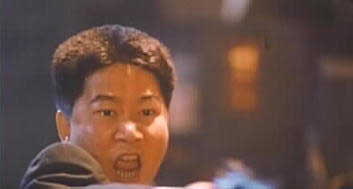 Kirk also enjoyed appearing on the big screen from time to time and he actually comes across quite well – sort of like his films – in your face and often very nasty. He has appeared in The Big Heat (a small but unforgettable cameo as the guy who has his fingers blown off), Fortune Code (one of the collaborators), Crystal Fortune Run (a large role as the main heavy), Shanghai Shanghai (gets his throat cut in fine style), Casino Raiders (the corrupt cop) and many more.

---
Ko Chuen-hsiang/Chun Hung Ko
This tough, imposing actor appeared in some HK films during the 80's - almost always cast as a top member of a triad – but earlier in his career he was one of the major leading male actors in Taiwan during the 60's and 70's. Once he got a bit older though, he moved into character parts.

He may be best known to HK fans as Tiger in the Jackie Chan film Miracles (aka Mr. Canton and Lady Rose, or The Canton Godfather) or as the father of Yukari and Kara in Burning Ambition. Some of his other HK films are Rich and Famous, Tragic Hero, City Warriors, Fight to Survive and Triad Story.
---
Kong Wa
Kong was the poor fellow in the Chingmy Yau film I am Your Birthday Cake (1995) who had to lust for her from his wheelchair. A few other films in his smallish filmography – The Real Me (the main protagonist), To Live and Die in Tsimshatsui, Lamb Killer and Running on Empty.

---
Kristy Yeung/ Yang Kung-yu
Born in Shanghai on 01/07/73
One of the more attractive and appealing actresses over the last few years is this former Miss Asia who radiates a sweet gentleness and the girl next door kind of beauty. She attended school in Toronto, Canada and had been accepted into a degree program by York University but opted after winning Miss Asia to instead go to Hong Kong and work for its ATV channel.

After appearing in over 10 different series at ATV, in 1996 she had her film debut in the enchanting Comrades, Almost A Love Story (as Leon's sweetheart back home in Mainland China – and received a HKFA Best Newcomer nomination for it). After a couple of so so films, she acted as Sandra Ng's best friend in the excellent Portland Street Blues – and was just a knockout (as well as garnered a HKFA Best Supporting Actress nomination for that role).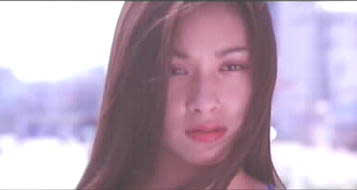 Moving quickly to the "A" list, she was in some high profile Andrew Lau films – The Storm Riders, A Man Called Hero and The Duel. Regrettably none of these films or her other smaller films – The Rules of the Game, Sexy and Dangerous II, I.Q. Dudettes – have really been able to capture that wonderful internal essence that Portland Street Blues was able to. I hope she is able to get some better roles in the future. She is still appearing in TV as well – and had a large role in the hit TV series – My Date with a Vampire II.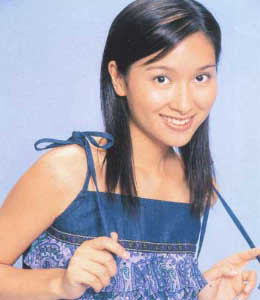 ---
Ku Feng/Guk Fung/Chen Si-wan (birth name)
Born in 1930 in Shanghai
This veteran actor began his career as one of the top performers during the kung fu period of the 70's appearing in a vast number of films (usually as a villain) – and many of them are considered to be classics. Some of his films from this period are – Boxer from Shantung, Flying Guillotine, Brave Archer, Ten Tigers from Kwangtung and 36 Crazy Fists. He began as a singer at fairgrounds in Beijing, but later moved to Hong Kong and began acting. He was signed by Shaw Brothers in 1965 and was almost immediately able to get roles in classics such as Come Drink with Me, The Twin Swords and Temple of the Red Lotus.

After playing some thugish looking roles (as in Vengeance or Boxer of Shantung), Ku Feng found his niche quickly enough by playing reverend and dignified patriarchal type of roles which he could play either as devious or malevolent (as in The New One Armed Swordsman) or genuinely benevolent.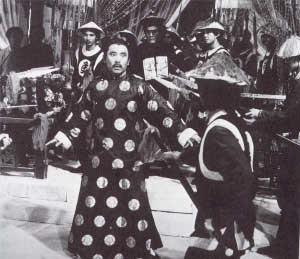 In 1974 in a rare leading part he had the honor to play Wong Fei Hung himself in Master of Kung Fu, the first actor to resurrect the character after the end of the black and white serial in 1970. Although he was no match for Kwan Tak-hing, the originator of the part, he proved himself more than adequate. Then six years later he than got to play Wong Fei- Hung's father, Wong Kay-Ying, for Lau Kar Leung's Martial Club. It seems likely that he had genuine expertise in martial art although to what extent is not known.

Though he needed to transition to more of a character actor, he still was able to successfully continue his acting career after the kung fu period came to halt in the early 80's. He was the chief ticketing officer in Peking Opera Blues, Cherie Chung's father in Wild Search and Michelle Yeoh's grandfather in Magnificent Warriors. His filmography is incredibly extensive – a few other films of note being Lover's Tear, Cageman, Hail the Judge, The Hunting List and Love of the Last Empress. He is still occasionally acting – Cheap Killers in 1998 and 990714.Com in 2000.
(Information and writing provided by Yves Gendron).

---
Kumiko Goto
This Japanese actress with the gymnast background captured a few hearts in her only HK film role in Jackie Chan's City Hunter. From what I have read she performed a lot of her own stunts for that film.

---
Kwai Chung
This almost always bearded rotund actor has had supporting roles in many films – Robotrix, Made in Heaven, Friday Gigolo, Triad Story, My Dad is a Jerk, Four Loves and Money Laundry (2000) being a few of them.

---
Kwan Hoi San
Though HK fans may not be familiar with his name every one has seen this veteran actor's face in many films. As a supporting actor he has been playing good guys and bad guys since the 1960s.

A few of his many films are – Buddha's Palm, House of Lute, Project A II, Queen of Temple Street, Young and Dangerous 5, Portland Street Blues and My Heart is that Eternal Rose (Joey Wong's father), Hard Boiled (the good triad boss that Tony worked for). He recently (03/2001) suffered a stroke but is recovering.
---
Kwan Shan
Born in 1933 in China
Best known these days perhaps as the father of actress Rosamund Kwan, he was a top dramatic leading man in the late 50's through the 1960s. Back in the 1950's, Kwan was the first actor from HK to win a Best Actor Award at a European Film Festival. Some of his Shaw Brothers films have recently been released on DVD - Love without End, Love Eterne, Vermillion Door, The Blue and the Black. In these films he tends to play the sensitive male lover - often looking a bit wimpy by today's standards.

He moved to Hong Kong after the Civil War in China began and got work as an iron worker. It wasn't for another five years before he switched careers into acting when the Great Wall studio hired him to lead in his debut film, The True Story Of Ah Q, for which he received an award at the above mentioned Switzerland's Locarno International Film Festival. In his next film, The Nature Of Spring (1958), he co-starred with Chang Ping-sie and the two were soon married and Rosamund came along three years later in 1963.
After his leading man days were over by the mid 70's, he continued making sporadic appearances as a supporting actor in some terrific films. Some of these were Dream Lovers (the father of Brigitte Lin), Lady in Black (Tony Leung Ka Fai's boss), A Better Tomorrow II, Police Story II (President Fung), Executioners (as both the President and his double), Red and Black and Wonder Seven.

---
Kwan Tak-hing
Born in 1906 – Died in 1996
Kwan Tak-hing is in every sense of the word – a legend. To a large degree the modern day martial art film can be traced back directly to him. Before he was to appear in his first Wong Fei-hung film, the martial arts performed in films were more Chinese Opera than they were martial arts. Kwan changed all that though – he was a martial artist (as well as trained in Chinese Opera) and brought authenticity to his fight scenes that were never there before. Everything that came after was built on what he began.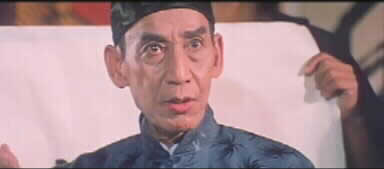 He began his Chinese Opera training at the age of 13 and became famous for his interpretation of "Kwan Ti" – the God of War. In 1933 he made his film debut in The Lovers (which actually was shot in the United States) – but it wasn't until sixteen years later that he appeared in his first Wong Fei-hung film – The Legend of Wong Fei-hung. This film and the ones that followed were so popular that Kwan was to star as Wong Fei-hung in 77 films! He became so identified with this character that even after Jet and Jackie had their turns portraying Wong, Kwan is still considered the true Wong Fei-hung in the minds of most people from Hong Kong. He brought such dignity and warmth and wisdom to this role that he was beloved by all.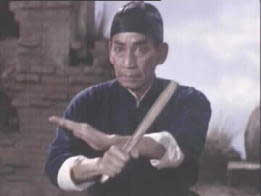 In the HK Film Archives book, it notes that Kwan took his role very seriously – and wanted to be a role model for the Chinese youth – demonstrating values of "compassion, respect, integrity, righteousness, self-sacrifice and other Chinese and not-so-Chinese virtues". These films rarely had much violence as Kwan or Wong Fei-hung preferred dealing with problems by other more peaceful means.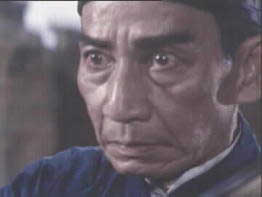 In "The Making of the Martial Arts Films" it states that after the horrible years of the forties these films served a social purpose, "people were suffering from hard lives and hoped that there would be someone who was prepared to fight for them for justice and prosperity" and the films of Wong filled their imagination. The films also stressed peaceful co-operation between native born Hong Kong folk and those from the north – certainly an issue in HK at that time with masses of refugees coming in.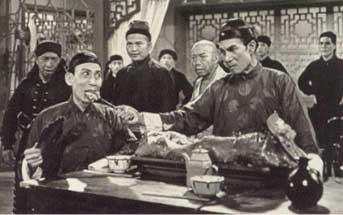 Wong Fei-hung was of course a historical figure – living from 1847 to 1924. Wong's father was Wong Kei-ying – one of the legendary "Ten Guangdong Tigers". Kwan felt that is was therefore especially important that he portray Wong as a man of depth "The speech of Wong Fei-hung was of great substance because that's his character. Thus I don't play him simply. Each time I do a film, I would pay my respects, and dressed up properly in long robes. I knelt before the master and before the Gods supplicating to Master Wong and vowed to do my best with the film and that I would not do things against my conscience or ask for more money. I asked to be paid only $4,000 each picture".
Of course, most of his Wong Fei-hung pictures are impossible to get in any format – but you still have the opportunity to watch an amazingly swift and limber Kwan in his late sixties in films such as Skylark (1974), the Magnificent Butcher in 1979 and Dreadnaught in 1981. There are also a few scenes of his Wong Fei-hung films added as a special feature in the Once Upon a Time in China DVD.
Kwan's last film appearance was as the grandfather of a dysfunctional family that eventually learns to be a good one in It's a Wonderful Life (a 1994 HK Chinese New Year film that bears little resemblance other than in terms of title from the James Stewart Christmas classic). Although he was nearly 90 years old then, he was still spry enough to fight off a group of toughs who were making fun of his character's daughter-in-law. It doubtlessly added to the scene that the Wong Fei-hung theme was heard in the background as he went into action.
Here is some further very interesting information on Kwan Tak-hing written up by Yves Gendron.
During WWII Kwan led a Cantonese Opera company that toured throughout southern China entertaining the Chinese troops and propagandizing against the Japanese. A price was put on his head and torture and death was a sure thing if he was ever captured. His effort earned him the nickname "Patriotic Entertainer", and the great fame and repute he gained as he result of his war-time activities are said to have been instrumental in him gaining the part of Wong Fei-hung later on.
Kwan was a master in the "White Crane School", although his first training was in "hung kwun" (the martial art school which the original Wong fei-hung was a master). Kwan also excelled in pole, lion dance and the bullwhip. Throughout the film serial duration he learned and trained in every technique the original Wong Fei-hung practiced. At one point Kwan even came up with a "form" of his own named the "Omni-directional Gangrou fist". Kwan also was considered an outstanding calligrapher, and since he later opened a herbalist clinic in the early sixties it must be assumed he knew something of the healing art.
Strangely enough for someone who came to represent the quintessential traditional China spirit and virtues, Kwan had a deep affinity for America. He was a devotee of the American western, and named Hollywood silent era action star Douglas Fairbanks as his favorite actor. As his second wife was of Sino-American origin, today his ashes rest beside her in America.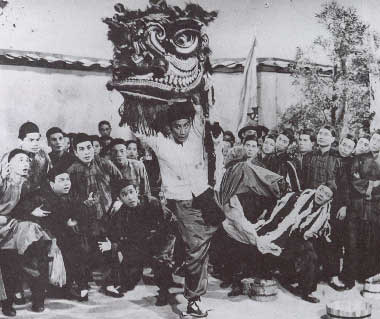 ---