---
Amy Yip Ji-mie
Born 06/10/1965
Height 5'4''
Over a film career that lasted only from the late 1980's to the mid-90's, Amy Yip was able to turn herself into one of the best known cult stars in HK history. Reminiscent in some ways of Jayne Mansfield, Amy built her career on a voluptuous figure and a willingness to poke fun at it. That is really what I enjoy most about the Yipster. The vast majority of her films are comedies in which she is often the target of jokes regarding her figure. Often her role in a film is no more than a cameo in which she displays some cleavage for good humor and then is gone – always leaving a memorable impression. There is also a certain sweetness about her face and personality that is so in contrast with her over grown proportions.

Born on June 10, 1965, she went to Kau Kam English College (does that mean the Yipster speaks English !) and after graduating joined the ATV acting classes. She signed a contract with Golden Harvest in 1987 and began getting small roles in various films. It was her part in Sex and Zen in 1991 that made her a huge star. Even though she has taken on a number of sexy parts, Amy is equally famous for never revealing everything. This created the term "Yip Tease" in which she magically manages to cover the vital bits. The film Sex and Zen is her most revealing and the story is that a triad strongly advised her to do so!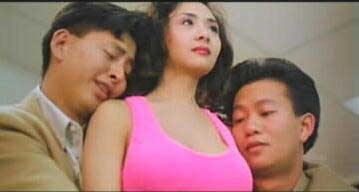 She retired when she got married and there is a rumour that she is thinking about coming back to the film business, but recent pictures of her put this very much into doubt.
Her films can roughly be divided into three categories – Cat III, comedies and exploitive dramas.
Her sexy ones are:
Sex and Zen – it was a huge hit in HK and made her famous throughout the world - but I am not all that fond of it.

Erotic Ghost Story - much prefer this film which has great production values and has a fun supernatural tale to go along with the boom de boom.
Robotrix - great cheesy flick in which Amy is actually a robot who wants to know what it feels like to have human sex and also battles Billy Chow in hand to hand combat!
Jail House Eros - bit of a disappointment really - women in jail flick with an evil spirit after everyone.

The comedies that she was in were pretty good:
My Neighbors are Phantoms - shares the stage with Chingmy Yau and Cheung Man but has some nice scenes in yet another supernatural tale.
Ghostly Vixen - cult film - Amy is an evil spirit that has to seduce and kill 101 male virgins to get eternal life or something like that - a great 20 foot tongue duel in this one.
Great Pretenders - she, Tony Leung, Simon Yam and Raymond Wong are all con artists - not bad at all.
Stooges in HK - Amy plays the wife of James Wong - its a satire of TV and Amy spends much of her time playing with vibrators if I recall! It is actually pretty funny at times.
Magnificent Scoundrels – famous for the kiss that is perhaps the funniest and most disgusting scene in a Stephen Chow film - right up there with the snot scene in King of Comedy.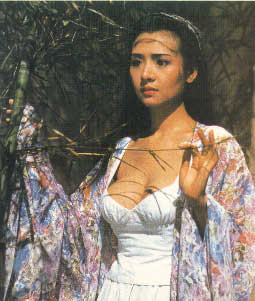 And then there were actually a few dramas in which she was surprisingly decent - To Be Number One, Requital and China Dolls. And not to be missed are her two "girls with guns" films - The Inspector Wears Skirts II and III (a.k.a. Raid on the Royal Casino Marine) in which she plays one of the members of the female cop squad - but rather than using guns she tends to use her unbuttoned blouse as a weapon of distraction.
And finally she has two classic cameos - one in another Stephen Chow film Look Out Officer with Stanley Fung and perhaps her most famous scene is a cameo in Blue Jean Monster in which she plays a prostitute called Death Ray and is hired by Pauline Wong to see if her husband Shing Fui On has gone "gay" - she has to be seen in her bunny costume to be believed and what happens to her breasts is even more amazing!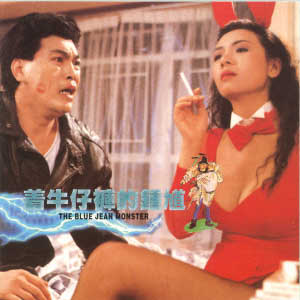 ---
Andrew Lin Hoi/Andrew Lien/Lian Kai
Born 08/07/69 in Taipei Taiwan
In a recent interview with the HK Film Biweekly, Lin stated that he originally worked as a special effects costume makeup artist in the States before he came to HK in 1996. While doing that he came to be friends with a lot of the local moviemakers, including Tsui Hark.
Lin later travelled to Taiwan and became acquainted with the legendary director, Chu Yen Ping. Lin helped Chu in creating some of the FX custom makeup for his films. Chu's connections won Lin several roles in movies such as The Blacksheep Affair, The Accident, and some others. Lin Hoi recently has moved from the States to HK permanently. His career has yet to take off as I would have expected with his handsome looks and he has only been in a handful of films since 2000 - Naked Weapon (the Japanese yakuza), Love au Zen, Vampire Combat. Some earlier films are Sunshine Cops, 2000 A.D and God.com.
(Information and write-up provided by Sebastian Tse)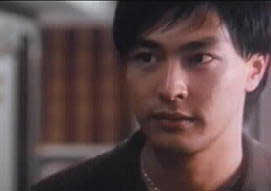 ---
Andy Hui
Born 08/12/67
Andy is a very popular singer – and has appeared in a few films in which he generally does quite well. He was May Lo's caretaker in Girls without Tomorrow, one of the Wonder Seven, Love Amoeba Style and also in the fine Japanese production Swallowtail Butterfly. Andy started first as one of the winners in the TVB-organized New Talents Singing Contest and in 1996, his album, Andy Hui's Best 17, stayed on the HK Pop Music Top Ten Chart for a consecutive 20 weeks. That record has still to be broken by any others. But to top that, the lucky fellow has been dating Sammi Cheng for a couple of years!
(Information provided by Sebastian Tse)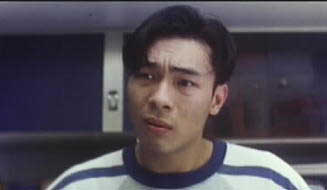 ---
Andy Lau Tak-wah
Born 09/27/61
During the late 80's and the early 90's, Andy was so popular that he was literally making multiple films at the same time. He was sleeping in his car for a few hours before he would rush off to the next production. On top of this, he somehow found the time to develop a huge singing career and is one of the "Four Sky Kings of Cantopop".

Taking this into consideration, its amazing that Lau is as good an actor as he is! Never really respected by critics (and many HK film fans) for his acting craft (though he finally received a long awaited Best Actor Award for "Running Out Of Time") his natural charm, willingness to take on lots of different roles and good looks has made him a crowd favorite. He is one of the few actors that can still guarantee a movie's box office - people do show up to see Andy.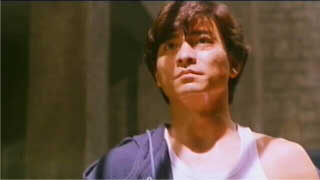 Born into a family of seven children, his father was a fireman and he was brought up in the Diamond Hill section of HK after his father moved his family from the village of Tai Hang while Andy was quite young. His family was one of the wealthier ones in the village, but the father wanted his children to receive an English education. By doing so his father lost his ancestral rights to some of the family property.
Andy began at TVB in 1980 - took their acting and kung fu classes - and made a number of very popular series that made him into a television star. The series that pushed him into the starlight was the 1982 "The Emissary" where he played an undercover cop - one of his co-stars was Tony Leung Chiu-wan. He along with Tony, Felix Wong, Miu Kiu-wai and Ken Tong came to be known as "The Five Tigers"and appeared in a few series together. They later reunited for the film "The Tigers" in 1991. In 1984 Andy ran into contract complications with TVB when they insisted he sign a five year contract and he refused. Other well-known television series that he starred in were "Eagle Hunter", "Return of the Condor Heroes" and "The Duke of Mount Deer" in which he played the King.
During his stay at TVB Andy had slowly begun making films - his first was a supporting role in "Once Upon a Rainbow" in 1982, but it was Ann Hui's film "Boat People" that made people take notice of this baby-faced actor with his baby fat still well in place. Though he continued working at TVB on a project basis, Andy began focusing more on his film career but it wasn't really until 1988 when it began to take on legendary status - that year he made 10 films of which Wong Kar-wai's "As Tears Go By" made him into a real star and solidified his image as the tough rebellious youth with a good heart - a role he was to play in many variations for the next few years - "A Moment of Romance" being perhaps the best display of this persona.
Over the next few years Andy was to make loads of films - 16 in 1989, 11 in 1990, 13 in 1991 and 10 in 1992. No one was bigger at the box office than Andy other than perhaps Chow Yun Fat, but Chow began cutting back on his productions as he became much pickier in his choices. The same perhaps could not be said for Andy who went from terrific film to terrible film in the blink of an eye. In the mid-90's his film numbers decreased dramatically and he had few hits - but it was Wong Jing who brought him back to prominance with "Mob Story", "Con Man", "Fascination Amour" and "Prince Charming" in 1998/1999. Then along came Johnny To - To had never thought much of Andy as an actor but he needed some box office magic and hired Andy for his 1999 film "Running Out of Time" that became a critical and box office success. This partnership was to give Andy some of his best roles in the next few years - the romantic comedies "Needing You" and "Love on a Diet", the assassin in "Fulltime Killer" and in 2003 Andy did perhaps his best work in To's "Running on Karma". Since then he has begun to conquer the Mainland with "House of Flying Daggers " and "A World Without Thieves" - two Mainland productons that were huge hits. In 2001 he completed his 100th film - "A Fighters Blues". With the "Infernal Affairs" trilogy Andy has received the respect as an actor that he has always wanted and he is more popular than ever today and one of the few actors keeping Hong Kong film alive with his sheer charisma.
He has also taken on the role as a producer over the years. In 1992 he formed Teamwork Motion Pictures to primarily make vehicles for himself - some of these being "Saviour of the Soul", "Days of Tomorrow" and "Moon Warriors", but he has also reached out to help with smaller independent films that he was not in like "Made in Hong Kong", "The Longest Summer" and "Runaway Pistol".
Like many stars in Hong Kong, Andy does double duty as a singer - though he went from actor to singer while most of the time the trend is to go from singer to actor. He began singing back in the early 1980's but success came very slowly and it wasn't until the early 90's that his singing career took off and he was labelled as one of the "Four Sky Kings of Canto-pop" along with Aaron Kwok, Jacky Cheung and Leon Lai.
(Much of the information from "Andy Lau, Actor in Foucs" from HKIFF)

---
Angela Mao Ying
Born 09/20/50 in Taiwan
Before Angela Mao there were certainly other female action stars - Cheng Pei Pei and Polly Shang Kwan to name two of the best - but Angela captured the imagination of the HK film fans around the world unlike any other and to this day she is still held in legendary status. She brought a charisma and an intensity to the screen that few action stars can. She was beautiful with her big wide eyes and lovely features, but never attempted to use her good looks to further her popularity. It was a rare Angela film in which the audience was able to glimpse so much as a bare arm. What she had of course was an incredible athletic prowess that enabled her to perform stunning acrobatics and fights on the screen. Her quick leg kicks and somersaults are a pleasure to watch. I am not a 70's kung fu fan in general, but I love watching Angela on the screen.

Her skills come from natural ability and training - lots of training. At the age of 5 she was enrolled into an Opera School in Taiwan. Some of her classmates were Judy Lee, Charlie Chin and James Tien (all future actors) and she trained for the next 14 years. In 1969 she was spotted by director Huang Feng and signed to a contract at Golden Harvest.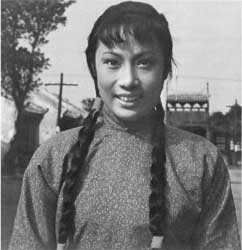 Her first film was The Angry River and this was followed by smallish roles in Back Alley Princess (with Polly and Sam Hui) and the King Hu film The Fate of Lee Khan. She soon broke out though with a series of films such as Hapkido, Lady Whirlwind and Broken Oath that made her a star. She also made international appearances in Stoner and had a short but memorable scene in the Bruce Lee film - Enter the Dragon.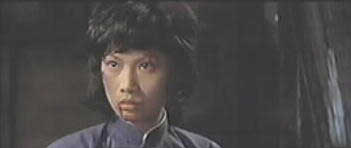 She left Golden Harvest in the late 70's and made a few more Taiwanese productions - Two Great Cavaliers, Scorching Sun and Duel of Death among them. She retired in 1980 at the young age of 30 - got married and basically left the spotlight for good. The fact that it is extremely difficult to find quality transfers of her films is a sin and a shame.
My top five Angela Mao films - Broken Oath, Hapkido, Lady Constables, Lady Whirlwind and The Legendary Strike.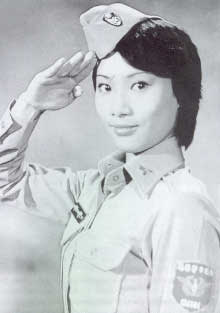 ---
Angela Tong Yin-ying
Born 06/30/78
Her quirky performance as Jordan Chan's mall girlfriend in Bio - Zombie is a favorite of many. A few of her other films are Juliet in Love, PR Girls and Last Ghost Standing. She also was a spokesperson for a breast enlargement cream which she swears worked for her! Angela was brought up in Montreal and did not come to HK until she was 19 years old. She came to enter the Miss China International Contest, but after no success she returned to Canada. In 1995 though she gave HK one more try - joined TVB and got roles in a few shows - Cold Blood Warm Heart and A Measure of Love. This led to her debut in film in 1997 - F*** Off. Over the past couple of years she has appeared in a number of solid films though her part is often a comic character type - You Shoot, I Shoot, Beauty and the Breast, Fat Choi Spirit and Women from Mars.

---
Angelica Lee Sin Jie/Sum Kit/Hsien Chieh
Born on January 23rd 1973 in Alor Setar, Kedah, Malaysia.
In these Hong Kong movie doldrums, it is the appearance of young actresses like Angelica that still gives lots of hope for the future of Hong Kong film. Though she has only appeared in a small handful of films – making little effort apparently to capitalize on the worldwide popularity of The Eye – she has shown an enormous amount of acting talent. It is this talent as opposed to an idol status or cutie pie looks that has garnered her so much attention thus far.

She initially forged a singing (Ocean of Love and Bye Bye being two releases) as well as an acting career in Taiwan (and then also Hong Kong). Her movie debut was in Sunshine Cops (1998) followed up with the female lead of Betelnut Beauty (Taiwanese art house flick whose male star is Chang Chen; 2001 Berlin Film Festival Best Young Actress prize winner). Her two best-known roles are as the tough bartender/digital inspiration of Daniel Wu in Sylvia Chang's Princess D (N.B. she sings a couple of the songs that are part of this movie's OST) and as the once blind woman who sees ghosts in The Eye (as Mun; 2002 Golden Horse and HKFA Best Actress winner). Interestingly she has broadened her artistic horizons by playing the teenaged Teresa Teng in "Forever Teresa Teng", a musical extravaganza that had a limited theatrical run in Hong Kong in the summer of 2002. She also is a fair painter. Clearly, she is a person bursting with artistic energy.

Lee's childhood idol Sylvia Chang is now her manager as well as mentor and she tells a funny but apparently true story: Angelica Lee wanted to get Sylvia Chang's input re the younger woman's acting in The Eye. The mentor had to admit to her mentee that she was unable to do so because she had been so scared by the movie that she hadn't been able to make it through more than 15 minutes of the film! As of August, 2003 she is slated to next appear in the Sylvia Chang directed 20:30:40.

In a Channel NewsAsia interview/article (which characterized her as "humble" and "luminous"), Lee stated that she's "contented with just one movie every two years" since "I am in the filming business not for the material gains. To me, it's a very important part of my life, so every project must at least be able to touch me." She's further quoted as saying that: "If it doesn't touch me, how can I be confident that I can touch the audience?... but I will always appreciate and grab whatever opportunities come my way." On an even more personal note: Angelica Lee recently admitted to being in a relationship with Oxide Pang (one of the twin brothers whose more notable directorial and editing effort is The Eye).
(Written up by YTSL)

---
Angie Cheung Wai-yee
Born 11/04/71
This Malaysian-Chinese actress left Malaysia (who hails from Ipoh -- the same hometown as Michelle Yeoh) to make a career in HK and her curvy build and sexy Carrie Ng like mouth made her a favorite in a few Cat III films - and though she often dresses revealingly, she never appears nude.

Her most famous role thus far was in Body Weapon (for the cover as much as anything) in which she gains revenge on a rapist by learning how to kill a man by kicking him in his G-spot! A few other films of hers are Mr. Wai-go, Raped by an Angel 3 and Love and Sex in Hollywood East. For the past few years she has primarily been in television - Greed Mask, Kindred Spirit, Journey to the West - and has received more headlines for her personal life when her boyfriend beat her up than she has for her career as of late.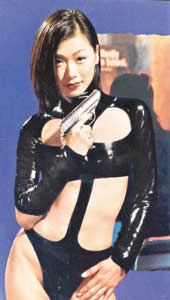 ---
Anita Chan Wing-yin
When I Look Upon the Stars (1998), Believe it or Not

---
Anita Lee Yuen-wah
She was Jade Leung's tough cop partner in Satin Steel and has also appeared in Modern Love as the one night affair woman, Raped by an Angel 6, King of Robbery and Naughty Couples alongside Francis Ng. She and Francis were an item for a while. Anita has been acting in some mainland Chinese movies and TV dramas between 1998-2000. Recently, she's been back in HK, working as a DJ and recently told the press that by doing so she has forfeited a large amount of money.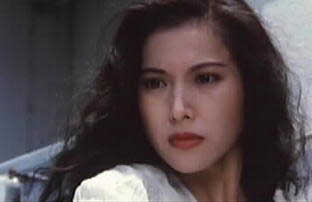 ---
Anita Mui Yim-fong
Born 10/10/63 in the Guangshi Province of China
Her sultry lips, large sad sleepy eyes and a boatload of talent has made Anita Mui a huge star in both the music and the film worlds since the mid-80s. Her father died when she was young and she toured as a young girl with her mother's cabaret group (similar to her character in Who's the Woman, Who's the Man). She often sang on street corners and lounges with her sister Ann as well to earn money. In 1982 she won a singing contest on TV and soon became a popular singing star. Anita's debut album Debts of Love was a huge hit and she was on her way. In 1985 her reputation was bolstered even further and her image set with the huge hit album, Bad Girl. Her stage show in which she wore many outrageously flamboyant costumes and sang suggestive lyrics had people calling her the "Madonna of Asia". For many of us the introduction to her lovely voice was via the theme song in The Heroic Trio. As of 2002 her singing and concert career are still going strong and she has released 38 albums. At one point in 1991 she announced her retirement from singing, but returned three years later - for needed money according to some.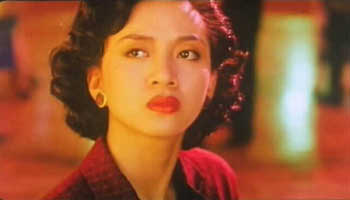 She started making films as well - Crazy 83 in 1983 was her debut and she has gone on to make over 40 films. That is a low number in comparison to many HK actors but she has been choosy and has always focused more on her singing career. A nice description of her comes from Stephen Teo's book HK – The Extra Dimensions in which he writes that she is like the old fashioned Chinese actresses - a "sour beauty - a modern sing-song girl".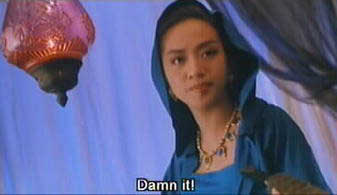 Some of her best films are of course Heroic Trio, My Father is a Hero, Rouge, 100 Ways to Murder your Wife, Shanghai Shanghai, Miracles, Inspector Chocolate, Drunken Master II and 18 Springs. She received the Best Actress Award for Rouge and Best Supporting Actress for 18 Springs. Though clearly not a martial artist, her athletic grace has allowed her to look very good in action films as well. She has a bit of a habit of nearly stealing action films right from under the nose of her male co-stars such as in Shanghai Shanghai and Drunken Master II.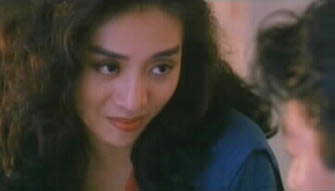 Anita's life at times is almost as interesting as her films. Here is a story relayed in the book "HK Babylon".
"One day (night) in May 1992, Anita Mui and some friends were giving a birthday party for her assistant in a private room at Take One, a karaoke club in Kowloon. A triad cum movie producer named Wong Long Wai (of the powerful 14k triad and the infamously violent Hunan Gang) was also in the club. Learning of Anita Mui's presence, he "evidently asked her to have a drink with him and sing a song". Anita not only refused, but did so in English -- an act considered to be rather rude and got slapped for her troubles.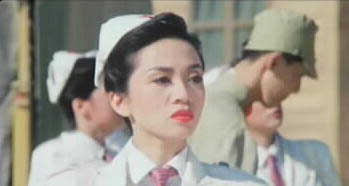 The following evening, three men -- one of whom claimed to be Andeley Chan (a race-car driver, movie industry insider, triad and friend of Anita Mui's) -- assaulted Wong, who was subsequently hospitalized. Two days later, he got shot fatally in the head while in the hospital. Hearing this news, Anita Mui fled Hong Kong.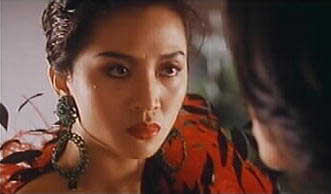 "In the months that followed Wong's murder, Mui lay low in the US, Europe and Japan. A grisly rumor circulated that the 14k wanted her leg in retribution though there was no evidence that she had conspired in Wong's knifing or shooting..." On November 20th, 1993, the Tiger was shot dead by three men wearing motorcycle helmets. No convictions resulted from any of these incidents but Anita Mui nevertheless chose to return to Hong Kong."
Her love life is often the subject of the press - and over the years she has been linked up with a number of men - among them actors Chiu Man Chuk and Ben Lam - but most have said that the press scrutiny of being Anita's boyfriend was too much pressure.
My top five picks for Anita are Rouge, Shanghai Shanghai, Heroic Trio, Saviour of the Soul and My Father is a Hero.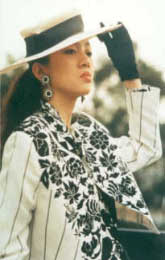 ---
Anita Yuen Wing-yee/Len Len
Born 09/04/71
For a number of years during the 1990's, this former Miss Hong Kong (something which gets mentioned in Comrades, A Love Story) was the "It Girl" of Hong Kong film with a series of comedies that tickled the funny bones of audiences throughout Asia. Her quirky characters, wide-eyed gamine looks and appealing grin captured the hearts of men and women alike. Her unique shorthaired coiffed style was a sensation and it had nearly every teenage girl in Hong Kong asking her local beauty parlor for the "Anita" look.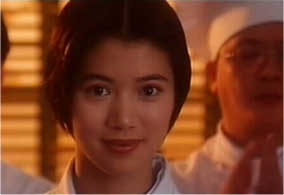 Before getting into film, she hosted shows for TVB but in 1992 she made her film debut in the wonderfully silly comedy, Days of Being Dumb (for which she won the HKFA Best Newcomer award), and her film persona was immediately struck - sassy and lovable. Success came very quickly for her and in 1993 she won the Best Actress Award for C'est La Vie Mon Cherie and in the following year she won the same award for He's a Man, She's a Woman.

She followed these with a quick run of other excellent films such as Golden Girls and Chinese Feast - but by the late 90's her popularity had plummeted and she was basically doing TV. In my mind this is a great shame because she just has oodles of personality and is a terrific actress. She has dated actor Julian Cheung for a number of years.
My five top picks for Anita are Golden Girls, He's a Woman, She's a Man, The Chinese Feast, From Beijing with Love and Whatever You Want.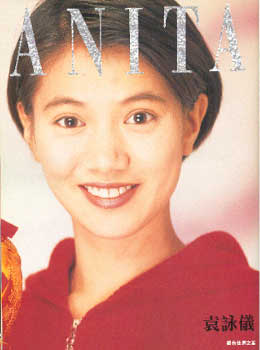 ---
Ann Bridgewater
Ann grew up in Hong Kong and at the age of 13 she won a HK ice skating championship. In 1984, she won a singles competition in Dallas and the Taiwan Cup pairs title. A former classmate of hers from King George V (an English school in HK) wrote me that she is of mixed heritage - always was known as Ann Bridgewater - and spoke perfect British accented English. After her skating successes, she was offered a place at Oxford University, but rejected it in favor of a contract with Cinema City who wanted her to star in "I Do".

Ann debuted in a singing group loosely translated as "Happy Young Girl Team" along with 3 other girls, who included Charine Chan, Bonnie Law and May Lo. She was in a number of the Cinema City comedies - Isle of Fantasy, Abracadabra (in which she co-starred with Mark Cheng who she had a romantic relationship with), I Do (in which we get to see her do some snazzy ice skating) and others - co-starred with Stephen Chow in Curry and Pepper and My Hero – did a few Girls with Guns action/comedies - Inspector Wears Skirts and Operation Pink Squad. Her most famous role though - in which she suddenly appeared all grown up - was as Chow Yun Fat's girlfriend in Full Contact. A couple of other films of hers are Tom, Dick and Harry, For Your Heart Only and Trouble Couples.
In 1994 she got married to a businessman from Vancouver and left the film industry. She also studied pharmacy and is now working as a physiatricist, holding a degree from the University of Hong Kong. She was divorced but remarried and it was reported in one of Sanney's October 2000 reports that she was six months pregnant.
(Partial information provided from Crayon)

---
Ann Mui Oi Fong
Ann Mui was the sister of her much more famous sibling, Anita. She never neared the success of Anita and sadly died of cancer at a very young age in 2000.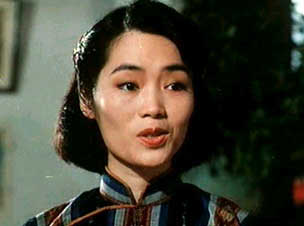 During her career, she had a few small parts in a few films. Perhaps her best part is in the film Stage Door Johnny (1990) in which she plays one of the Opera actors. She also made appearances in Iceman Come (one of Maggie Cheung's friends), Burning Ambition, Chicken a La Queen (a prostitute) and Touch and Go (Lulu - Sammo's friend).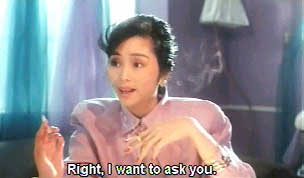 ---
Annabelle Lau Hiu-tung
This tall somewhat gawky actress has been in a number of supporting roles since 1994 - some being I've Got You Babe, He and She, Mean Street Story, Victory, L...O...V...E Love, Lawyer Lawyer and My Dad is a Jerk.

---
Annie Wu Chen-chun
Born 08/21/78
Annie made her debut in high style in 1996 - co-starring with Jackie Chan in First Strike. Apparently her Cantonese was so bad that Jackie was humorously ragging on her and teaching her Cantonese - that were in fact curse words! Her lop-sided grin has brought her some other good roles - Love Amoeba Style, 18 Springs, Ballistic Kiss (as Donnie's love) and the terrific B horror film Demon's Baby.

---
Anthony Chan Yau
Born 10/01/1952
Along with Alan Tam, Anthony first gained fame as a member of the rock group, The Wynners - but went into the film world in the early 80's. He was interested not only in acting but also in producing and directing. He formed a film company in 1981 and over the years has produced and sometimes acted in a number of films. Some of them are Mr. Virgin, Happy Bigamist, To Err is Human and one of my favorite films - the sweet A Fishy Story with Maggie Cheung.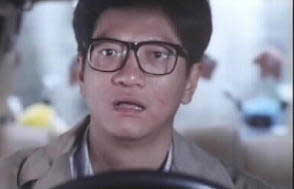 He has also acted in other people's films such as Monkey Buisness, Mr Fortune, One Husband Too Many, 3 Days of a Blind Girl (the husband) and Changing Partners. His nerdish yuppie appearance has made him perfect for some of these films.
---
Anthony Wong Chau Sang
Born 09/02/61
Anthony Wong is clearly a man who takes his craft seriously and has become without a doubt one of the very best actors in HK during the 90's. At times though it appears that he has no patience for those of lesser talent and has been known to belittle actors, directors and the HK film industry. In the Mile Wood's book Cine East, Simon Yam calls Wong "a very angry man" and his appearance at one of the HK Film Awards dressed up as Freddy Krueger had people wondering about him. He makes a lot of films - some brilliant and others absolute low-budget garbage. One can generally discern which by judging his performance - in a good film that he believes in he becomes simply mesmerizing on the screen, while in a bad film he looks like he can just barely keep his eyes open. For a few years in the mid-90s he was suffering from some health problems and his weight ballooned – but he is back to top form now.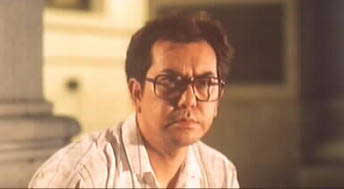 He joined actors training school in 1982 and appeared in many TV series over the next number of years. His film debut was in 1985 in My Name Ain't Suzie - but his next film project wasn't until 1990. He is most famous for playing bad or evil guys as he manages to exude extra dimensions in these characters that few other actors can and he received the Best Actor Award for his brilliant portrayal as a killer in the Untold Story. He has on occasion been the good guy as in The Mission and one can only hope that he gets more such roles.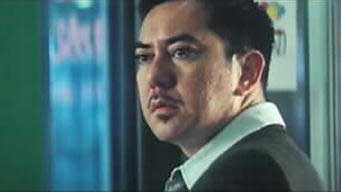 Some of his other films are Hard Boiled (he has nothing good to say about John Woo), Full Contact, The Heroic Trio, Beast Cops, Big Bullet, Ebola Syndrome, Rock N' Roll Cop, Now You See Me, Now You Don't and a number of the Young and Dangerous films. One cult favorite of mine is when he plays an ageing porno star in Mr. Wai-go. He has also directed two films - New Tenant and Top Banana Club.
The top five picks for Anthony Wong films: The Mission, Beast Cops, Rock N' Roll Cop, Organized Crime and Triad Bureau and The Untold Story.

---
Anya/On Na/Wu Anya
One of Hong Kong's latest hotties to make a splash is this actress/model by way of Taiwan. She has made some waves by way of her appearances in Born to be King (as Chicken's Japanese wife, Nanako Kusakari), Sharp Guns (the S&M killer, Rain), Runaway (as a mute Thai woman), Cop on a Mission, 2002 (the Fire Ghost), The Era of Vampires (in a rather dull role) and as the sleek assassin in Naked Weapon.

Recently, she has received as much or more attention for her off screen antics – first being involved in an Ecstacy taking scandal in Taiwan along with William So and then bad luck hit her again when she was involved in an accident (that, fortunately, didn't leave her face permanently scarred like it had been initially feared would be the case). She -- who doesn't seem to be a fluent Cantonese speaker (and thus tends to be either dubbed or cast as a non Hong Konger/Chinese individual), and has an American accent when she speaks English (check out the "Making Of" section of the "Naked Weapon" DVD).

---
Astrid Chan Chi-ching
Astrid grew up in Canada and is mainly a TV actress. The few films in which she has appeared have included Night Club, Violent Cop and Sunshine Cops.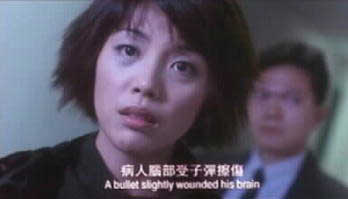 I wouldn't mind seeing more of her but the current preference for girly types makes it so that actresses like her (who are capable of exuding a world weary air, like she did in Night Club) are not getting too much work.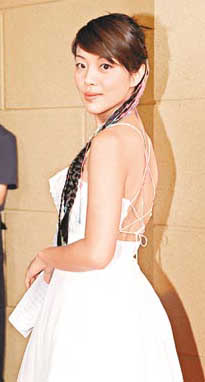 ---
Athena Chu Yun
Born 10/25/72
Athena is one of the lovelier and freshest faces in HK. She is extremely popular among both males and females and has become a successful singer as well. Her 1992 film debut was in Stephen Chow's Fight Back to School II (and they became involved as well for quite a spell) and her clean wholesome image immediately made her a star. There is constant pressure on her to act in more seductive roles and show more skin, but she has refused to do so. What would you expect from a woman who lists "buying underwear" as the most embarrassing thing she does!

Some other films to catch her in are: Chinese Odyssey I & II, Conman, Horoscope I and HK Triad. In this last film I think she gave one of her best grown-up performances as the jaded unhappy wife of Francis Ng. A number of fans got quite excited when it was announced that she was going to be in a Raped by an Angel film, but it turned out that she displayed nothing but her good looks and talent in either Raped by an Angel II or IV!
---
Austin Wai Tin Chi
Though others get most of the dazzling scenes in the film The Blade, the strong presence of Austin who plays the head of the sword factory is vital to the film. Just recently I caught him in a totally different type of role - as a masterful and ruthless professional killer in Pom Pom and Hot Hot. He has a quiet charisma and strength that I wish would be utilized more in films.

A few other films - Fortune Code (one of the airmen), Once a Black Sheep, No Time for Two and The True Hero. In 1999 he was nominated for best Action Director in the Golden Horse awards for a non-HK film called Cho Cho. BTW - he is the brother of Kara Hui Ying Hung.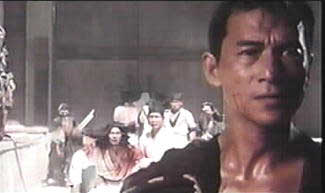 ---