---
Jimmy Lin Chi-ying
Born 10/15/74
Jimmy falls into what would be termed "bubble gum pop" with his clean cut, cute looks and his appeal to young female teenyboppers.

His popularity led to some film roles back in the mid-90s – Butterfly and Sword, Boys are Easy (as the brother of Brigitte Lin, Maggie Cheung and Chingmy Yau's characters, rather than -- as sometimes misattributed -- the 27 year old virgin played by Ekin Cheng), Flying Dagger and Vampire Family among them. These days he is still singing and appearing in roles on TV.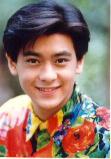 ---
Jimmy Wang Yu
Born in 1943
In the mid-60's the Shaw Brothers was attempting to broaden their offerings by producing more action films. Their reputation up until then was based primarily on dramas and romances, but the popularity of the Japanese Chambara films seemed to indicate that martial arts/wuxia films had the potential for a strong resurgence. So they began adding actors to their stable of performers in hopes of their becoming possible action stars. One of their hires was a former water polo champion from Shanghai by the name of Jimmy Wang Yu (which translates to "King Youth"). The success of King Hu's Come Drink with Me and then the film Jade Bow reinforced this strategic change.
Wang Yu appeared in a few action films such as Temple of Red Lotus (1965), Twin Swords (1965) and Tiger Boy (1966) before he was to appear in a film called The One-Armed Swordsman in 1967 that was to instantly make him a star. Wang Yu had already worked with the director Chang Cheh but this film was to make both of their reputations. Wang Yu by the way was right-handed, but tradition necessitated that he play the character left-handed. Chang Cheh revolutionized the martial arts or wuxia film by dramatically revving up the violence and introducing what could be called anti-heroes. Chang Cheh was also a strong believer in "yanggang" or masculine male – and feeling that it had disappeared to some degree from Chinese film – created tough, stoic male characters in his films. Wang Yu was his first prototype in doing this.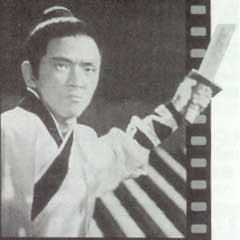 Their collaborations also included the classics The Assassin (1967), Golden Swallow (1968) and Return of the One-Armed Swordsman (1969). In all these films Wang Yu plays a lonely, tormented, complex swordsman/killer full of anger but still generally an honorable guy deep down - generic roles that he was to copy many times in his film career. These portrayals made him a gigantic star. So much so that he was no longer satisfied with the salary that he was receiving from the Shaw Brothers. As this was happening another phenomenon was in the air in Hong Kong. Everyone was talking about Bruce Lee coming to Hong Kong after his televison success in The Green Hornet in the states. Shaw had refused to outbid Golden Harvest for Lee's services, but they intended to get a kung fu film out to the public first.Trying to keep him happy, The Shaw Brothers allowed Wang Yu to make this film, The Chinese Boxer.
It is The Chinese Boxer (1970) that is generally given the credit as being the first film wholly dedicated to kung fu. Up until this time most martial arts films were based around the sword with some kung fu thrown in from time to time. This film was extremely violent and comprised only of hand to hand combat. This was a year before Bruce Lee made his appearance in HK and in a sense it began the kung fu period of the 70's. To some degree, it also served as a template for many of the kung fu films to follow - a loner seeking revenge and having to battle seemingly insurmountable odds to get it. It is also strongly anti-Japanese - another thread that was to run through many of Wang Yu's films.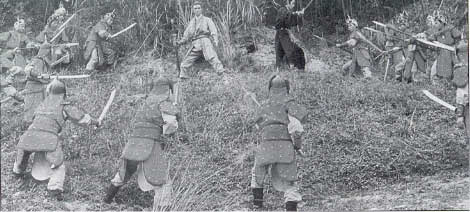 Even with the huge success of this film, Wang Yu broke his contract (though Shaw sued) and began making films on his own in Taiwan and then in partnership with Golden Harvest.Wang Yu produced and starred in a load of films over the next couple of years – One-Armed Boxer and Beach of the War Gods are considered classics – but he began to be overshadowed by newer stars – Bruce Lee, Ti Lung, David Chiang and others with better martial arts skills. As important as his films were, Wang Yu was never really an accomplished martial artist - though he used the camera/editing effectively to hide this. His swordsmanship is quite enjoyable, but his kung fu looks clunky and slow compared to many others that came after him.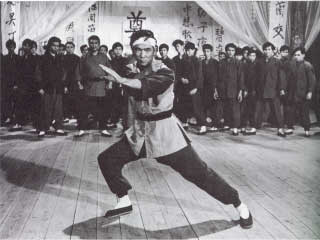 So his popularity started to dwindle – though he still appeared in two international films – Man from Hong Kong (1975) and A Queens Ransom (1976) – and by the mid to late 70's he was no longer an essential part of the cinematic landscape. His later 70's films have been termed schlocky, but lots of fun by some - and they still have that Wang Yu feel to them that are different from any other films. There is no doubt that Wang Yu was a vital and extremely important part of the evolution of HK action films and he still has a loyal base of fans.
Off the screen Wang Yu was also legendary - for getting into numerous public brawls, having many affairs and having ties to the triads. This last item was helpful when Jackie Chan was trying to break his contract with Lo Wei in the late 70's (Jackie later appeared in a Wang Yu film (Island of Fire) as a repayment.
Back in the late sixties Wang Yu wooed famous movie actress Jeanette Lin Tsui who was married, with children, and was 12 years his senior. There was no divorce as the husband Qin Jan, a famed director of melodrama, happily obliged by hanging himself. The actress was already pregnant when Wang brought her to the altar. It's hard to imagine a star career surviving such a scandal, but Wang Yu did, although there is a one and a half-year gap in between the Return of the One Armed Swordsman and Chinese Boxer. The couple split-up in the mid-seventies after Lin accused him of beating her up, but Wang later explain that he hit her because she was involved with a lesbian. Their daughter is singer Linda Wang.
Wang remarried with an air hostess named Kai-cheng and she's the one who raised the children born in the previous marriage. The couple separated around 1997 with Kai Cheng asking for divorce and Wang Yu refusing. She eventually started an affair with an up and coming young entrepreneur. Last December Wang Yu invaded the lovers love-nest accompanied by reporters and police. Then having utterly humiliated his wife in the most public of fashion, he was done with her.
(Thanks to Yves Gendron for his assistance and writing on this one)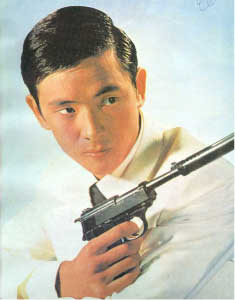 ---
Jimmy Wong Ka-lok
I have disliked this fellow ever since he treated Michelle Yeoh so badly in Ah Kam! Somehow he manages the trick of being good looking – but in such a smirky and oily manner that you can't help but dislike him. This seems to be the producer's point of view as well as he is typically cast as a fairly nasty yuppie type. He was also the cad who treated Hsu Chi so badly in Portland Street Blues – but he thankfully got his in the end. Some other roles as a rotter were in Ballistic Kiss, Heaven of Hope, Slow Fade and Raped by an Angel 6.

---
Jo Kuk Cho-lam
This young actress made quite an impression as the fierce and loyal girlfriend of Tiger in Jiang Hu "The Triad Zone". Some other films she has appeared in are The Longest Summer, Metade Fumaca and Naked Ambition (Titty Bird). She is the niece of director/writer/actor Vincent Kuk, but wasn't introduced into the film world by him - but in fact was discovered by director Ann Hui. She is also a singer and has done the theme songs for a few films - BORN WILD, VISIBLE SECRET, JIANG HU: THE TRIAD ZONE and HIT TEAM.
Here are some fluffy details from Sanney's site:
Birthday: May 16th
Height: 173 cm
Length of legs: 42"
Hobbies: Rollerblading, Cooking, Surfing

---
Joan Chen Chung
Born 04/26/61
I don't think there is much debate on the fact that Joan Chen is one of the loveliest women in the world. Her limpid bedroom eyes, full lips and fine cheekbones can make your mouth go instantly dry. That we all know, but what is not as well known perhaps is how fascinating her life has been.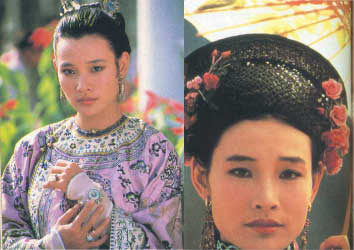 She was born in Shanghai, the old film capital of China, to two doctors. As a child, Joan lived through the horrors of the Cultural Revolution in a very personal and painful way. When she was seven, the Red Guard sent her mother to live in the countryside and her father was sent to Tibet for "re-education". She was left alone to care for her younger brother.
At the age of fourteen she was chosen to act in a government propaganda film and then joined an acting school. In her first film - Youth - she played a mute and in her second film - Little Flower (1980) - she won China's version of the Oscar at the age of 18. She later moved to New York to study medicine, but decided to try her hand at the movies in Hollywood.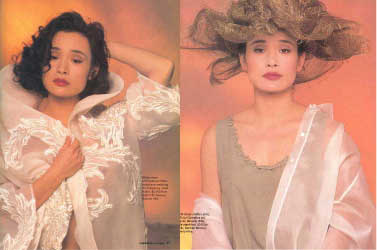 Her first film was Tai-Pan (in which she portrayed a male gweilo fantasy of a beautiful, submissive and loyal Chinese concubine) - but most of her film career in the states was with a few exceptions not very successful. In a recent interview, Joan said that she was ashamed that she had done some of these films. She did have a major role in the lavish The Last Emperor and in my opinion was the only reason to watch Twin Peaks. She also has appeared in a few HK films - Stanley Kwan's Red Rose, White Rose, Clara Law's Temptation of a Monk and the techno-action Purple Storm (1999).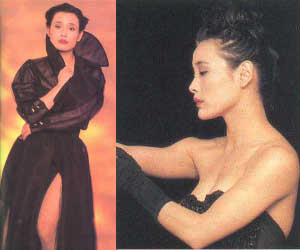 Recently, she directed her first film to much critical acclaim. It is called Xiu Xiu: The Sent Down Girl and is a powerful, poignant and tragic film about a girl who is sent to the Chinese countryside during the Cultural Revolution. She filmed it on the Mainland and got into some trouble for filming many scenes that were not approved by the government. In 2000 she directed her first Hollywood film, the Richard Gere/Winona Ryder movie, Autumn in New York.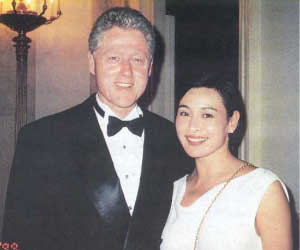 ---
Joan Tong Lai-kau
Born 06/16/1964
Joan was second runner up at the 1984 Miss HK pageant (lost to Joyce Godenzi) and went on to an acting career in film and television. Some of her films are - Crazy Companies I & II (1988), Ghost in the House (the maid), Hero of Tomorrow, Thank You Sir (1989), The Tigers, Fatal Vacation (1990), Pantyhose Hero,Ghost Legend, 2:00A.M. (1997).

She is currently going out with actor Ben Ng - how scary must that be! - and is pretty much out of acting with investments in a coffee shop and a modeling agency.
---
Joe Cheng Cho
Brawny and tough looking, this actor recently caught my attention with his roles in two Milkyway films – as one of the bad luck gang in Too Many Ways to Be No. 1 and as one of the nasty thieves in Expect the Unexpected. He often plays a hood it seems. Some other films that he has had roles in are From Beijing with Love, Peace Hotel, Love on Delivery, Killing Me Tenderly (one of the gay entourage), Romantic Dream, Tricky Business, King of Comedy and Conman in Tokyo (Koo's early opponent).

---
Joe Junior/Jose Marie Rodriguiz
In the 1960s Joe Junior was one of the top pop idols of his day - fostering an image similar to U.S. pop singers like Paul Anka and Pat Boone. He was clean cut and sang gentle pop songs in English. He came to prominence during a New Star contest in 1963 and afterwards formed a few bands during the 60's - Hunters, Topnotes, Zoundcrackers and the Side Effects - that had a number of hit songs. In the 70's he went solo, but the age of Cantopop hit the scene and his style of singing soon lost popularity. Over the next two decades he continued singing but now in lounges and other small venues.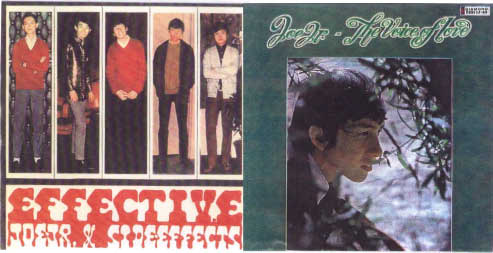 In the 90's though his career received a lift when he made a few small but excellent cameos in films - Cageman (1992), C'est La Vie, Mon Cherie (sings with Anita Yuen), How Deep is your Love (1994), Blind Romance (Tony Leung's friend), Bishonen (the photographer) and Eternal Love (the lounge singer - 2000).
For more information on Joe - go here
and for some more record album covers go here.

---
Joe Lee Yiu-ming
This tough looking actor hit the screen late in his life - 1998 - and was immediately noticed for a couple of his bad guy roles in films like Bullets Over Summer and Comeuppance, but has made the transition to comedies (Love Undercover, Dry Wood Fierce Fire) and dramas (Diamond Hill, Hit Team) and always manages to stand out in the crowd. Some of his other films in a short period of time are: Master Q 2001, Fighting for Love, Time and Tide and Clean My Name, Mr. Coroner. He passed away in December 2003 at the age of 47.
Joe Lee Yiu Ming (also known as "Tequila Joe") was a colourful character who could often be found in Club 64 but had his own cafe on Cheung Chau island. He was previously the landlord of the Frog & Toad, a remote bar on Lantau Island which held annual "Mudolympics" competitions in a mud-filled pit. (thanks to Pete for this)

---
Joey Meng/Man Yee
Though Joey has appeared in some solid films - Century of the Dragon (Louis Koo's girlfriend), Bride with White Hair 2 (her first film appearance), Those were the Days and some not so solid films - Dial D for Demons (1999), A Wicked Ghost II – she is best known for her role as the vampire killer in the TV show My Date with a Vampire. Her stepping stone to entering the acting business was like so many other HK actresses - a beauty pageant - as she came in runner-up for Miss Asia. She went from this to ATV - and made her debut in the series Who is the Winner?.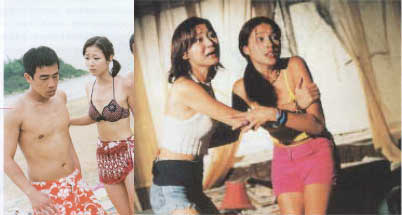 In a recent poll, she was voted as one of the "top five stars with the best bodies at the millennium". Her response to this was "You can't say much about my breasts but my legs (41 inches long) are praised by a lot of people. If you want to see my legs, you should watch MY DATE WITH A VAMPIRE 2."!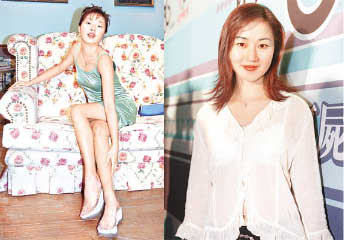 ---
Joey Wong/Wang Tso-yin
Born 01/31/67 in Taiwan
Joey Wong of the Watery Eyes. If she was a damsel from the Middle Ages, that is how she would have been known. There is something about her eyes that are so beguiling, so beseeching and so tender that few men can ever resist them. In fact, her face has a look from another age – too soft and ethereal for our rough modern times. That is why even though her film career encompassed both period and contemporary films, it is her period films that seem so magical and that we best remember her for. She floats though these films like an enchanted haunted spirit.

While still living in Taiwan she made her film debut in It Will be Cold by the Lake this Year and soon after its release in 1984 she moved to HK when she was seventeen years old – and almost immediately began getting parts in films. Her debut was 1985's Lets Make Them Laugh II and it was quickly followed up with a series of good roles in solid films – Working Class, 100 Ways to Murder Your Wife, Ghost Snatchers, A Hearty Response (in which she gets tortured and tattooed). Her very unique beauty was already in great demand – but a role she received in 1987 was to make her a huge star.

Tsui Hark was remaking an old Chinese tale that had been filmed before about the passionate love between a man and a ghost. The ghost had to exude virgin innocence, tormented love, great sorrow and yet be irresistibly seductive. Who better than Joey to do this? One glance at her downcast watery eyes and the hero (Leslie Cheung) is swept up in a whirling dervish rapturous love. We all understand perfectly how this could happen. The film was a huge hit – is considered a great classic – and prompted many more supernatural tales of love to follow.

Joey got parts in a number of these – the two sequels to A Chinese Ghost Story, Portrait of a Nymph, Painted Skin, An Eternal Combat, Demoness from 1,000 Years, The Reincarnation of Golden Lotus, A Chinese Legend, Fantasy Romance, Fox Legend - and though the quality clearly varies greatly in these films just seeing a supernaturally beautiful Joey makes them worthwhile in my book. Unfortunately, these films caused her to be too readily associated by some people with the dead and death. Consequently, she encountered problems getting stints as an advertising spokeswoman for products (one useful means for getting additional income that many HK actresses have).

This was all a bit unfair since it she wasn't only doing the beautiful ghost bit though – as she appeared in a number of terrific non-ghost films – My Heart is That Eternal Rose, God of Gamblers, Killer's Romance, The East is Red, Green Snake, City Hunter, Butterfly and Sword and The Eagles Shooting Heroes. She actually was also initially in Ashes of Time (hence pictures of her appearing in Christopher Doyle's Ashes of Time photobook), but had to be replaced by Charlie Yeung when the film began taking much longer to film than had been planned. One has to wonder if Leslie could have resisted Joey's offer of the eggs!

It really is a fabulous filmography – even more so when you take into account that she basically retired after 1993 at the ripe old age of twenty-six (partly due to a scandalous affair with a married man that damaged her box ofice appeal in Taiwan)! Since then she has developed a successful singing career and also gotten married. She returned briefly in 2001 to appear in Peony Pavillion - directed by Yonfan - but she announced afterwards that she was retiring for good.
---
Joey Yung Cho Yee
Joey has only made one film so far – the Sam Hui/Karl Maka comeback film in 2000 – Winner Take All, but she is currently one of the hottest singers/personalities in HK. Recently she has been in the news - in fact she was arrested for a short time - when a radio personality was beaten up after making fun of her. The talk is that her manager and reputed boyfriend Albert Yeung with known triad connections - ordered the attack.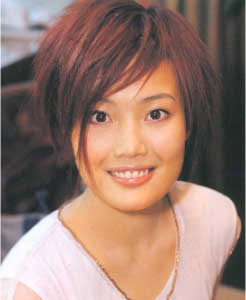 ---
John Ching Tung
I wonder what it must be like to always play the villain. That certainly seems to be the case for this actor. Generally a sleazy mean spirited triad type – Portland Street Blues, Casino, Best of the Best, Pom Pom and Hot Hot – he also showed in Burning Paradise that he can play a mean spirited villain (Crimson) in kung fu period films as well! He is also an evil gambler in God of Gamblers II and III.

---
John Salvitti
Another gweilo brought to Hong Kong to play a bad guy in action films. He seems to have appeared mainly in films along with Michael Woods - Tiger Cage II, In the Line of Duty IV, Cheetah on Fire and Crystal Hunt. He has the terrific sword fight against Donnie Yen in Tiger Cage II.

---
John Sham Kin-fun/Curly
Born in 1952
Everything that I have read about John Sham's off screen activities makes me really respect this fellow – but does he ever annoy me on the screen! His screen persona seems to consist of screeching in a high pitched voice as loudly and quickly as he can till you have to reach for the mute button. This is suppose to be comedy? Some films in which I could have done without him are Yes Madam, It's a Drink, It's a Bomb, Heartbeat 100, I Love Maria, Goodbye Darling, Pedicab Driver, Winners and Sinners and the Pom Pom series.

Off the screen it is a different matter. He was educated in HK, the U.K. and the United States and when he returned to HK afterwards he began in TV and also edited a popular HK magazine (City Magazine). He began appearing in films in the early 80's and developed his comedic persona as the curly haired fast talking infantile man/child. But, he also produced three of my favorite films – My Heart is that Eternal Rose, An Autumns Tale and Eight Taels of Gold. He also co-hosted some Hong Kong Film Awards ceremonies (including that for 1992). In the mid-80's he helped Sammo and Dickson Poon establish the D&B film company. Then in the decade of the 90s he seems to have lost interest in films to some degree when he became very involved with the Pro-Democracy movement in HK.
---