---
Jack Kao Jie
This taciturn, tough guy actor from Taiwan has shown some definite charisma in such HK films as Full Alert (Francis Ng's partner in crime), Requital, Red Rain and What Price Survival. Interestingly, he has also worked frequently with the highly respected Taiwanese director Hou Hsiao-hsien and has appeared in a number of his films – City of Sadness (1989), Good Men, Good Women, Daughter of the Nile, Goodbye South, Goodbye Taiwan (1996) and the recent Flowers of Shanghai (1998) in which he plays Michelle Reis's benefactor.

---
Jackie Chan Kong-sang/Sing Lung
Born on 04/07/54 in Hong Kong
What is there left to be said about Jackie Chan? He seems to be everywhere these days – from your local Cineplex to cable TV to soft drink commercials to late night talk shows to print ads extolling the virtues of drinking milk. He is a worldwide phenomenon – one of the great entertainers of this century. But one has to wonder whether anyone understands who Jackie Chan really is. Behind the ever-present smile and the jovial personality is seemingly a man driven by a need to succeed and a need to be loved by adoring fans. This is a man who has literally risked his life many times to entertain his fans. Though this is certainly admirable and has made his films often thrilling to watch, one has to wonder why he so needs to be so loved by the crowds, by his fans. He spends a large amount of time doing charitable work and helping people he hardly knows – yet at the same time he has a wife (Lin Fong Chiao, one of the most famous Taiwanese actresses of the 70's) and a son (sometimes named as Jackie Junior, other times as Jackson) that he barely acknowledges.

One might speculate that this need for adulation and his difficulty in dealing with intimacy goes back to his childhood when his parents deserted him at a young age. There is the story that he was almost sold at birth to a British doctor and then at the age of seven his parents found work in Australia and had to leave Jackie behind in Hong Kong. In his autobiography Jackie writes how incredibly painful this was to him at the time.

With no options available to them, his parents enrolled Jackie in the Zhonggou Xiju Xueyan Peking Opera School run by Yu Jim-yuen. He was soon going through a harsh and unyielding regimen of acrobatics, singing and dancing. He was badly treated by his "big brother" – one of the older students who was given responsibility for helping train and discipline the younger students. This was of course Sammo Hung. Yuen Biao, Corey Yuen Kwai and Yuen Wah joined Jackie later at the school. To earn money the children often gave live performances and came to be called "The Seven Little Fortunes". There were a number of students who made up these performances over time – and so in fact the Seven Little Fortunes were comprised of many more than seven students. The students were also lent out to film productions and they appeared in small roles in a number of films in the early 60's. Jackie's debut was in a film called Big and Little Wong Tin Bar in 1962.

Around this time, the days of the Peking Opera Schools were coming to an end - they were just not economically feasible anymore. Sammo was the first to leave the school and within a few years the rest were to follow. Sammo had begun getting work in films as a stuntman and bit actor and he was able to bring his "brothers" on board. Soon Jackie was getting work as a stuntman (in which he got a reputation that he was willing to do anything), doing some action choreography and then began getting larger roles –Young Tiger of Canton (1971), Police Woman (1974). In 1975 he was in an interesting film directed by John Woo called Hand of Death that brought him to the attention of some people in the film industry.

Still, Jackie felt his career was going nowhere and in 1975 he left Hong Kong to go live with his family -- who had moved there earlier -- in Australia. This could conceivably have been the end of Jackie's film career – but he was lured back to HK by the promise of another film. Lo Wei who had directed Bruce Lee in his first two kung fu films was looking for another star to replace the void created by Lee's untimely death. After Lee's death a series of kung fu actors were pushed forward to fill his shoes – and none of them succeeded – and now Jackie was up next. Under Lo Wei's management Jackie starred in a few films – New Fist of Fury, Shaolin Wooden Men, The Killer Meteors, To Kill with Intrigue – all with dismal box office results. Lo Wei allowed Jackie to make a few films on his own – Snake and Crane Arts of Shaolin and Half a Loaf of Kung Fu – but the first did badly and the second was not released until Jackie had become a star. Both of these films though show definite promise. After two more films Spiritual Kung Fu and Dragon Lord, Lo Wei was ready to give up on Jackie.

So when another film company, Seasonal, asked if they could borrow Jackie for a film Lo Wei was only too happy to comply. A young director was making his first film – and he wanted Jackie to make a new kind of kung fu film. This was Yuen Woo-ping and he and Jackie set out to mix incredible kung fu with comedy and they came up with the smash hit Snake in Eagles Shadow. Mixing comedy and kung fu had been done before, but this film felt exciting and new to the jaded HK audience. It was followed with Drunken Master using the same formula. Jackie had finally found his forte – something to distinguish him from the many other kung fu actors. He had formidable acrobatic skills – but mixing this with physical comedy turned out to be a winning combination. Jackie never looked back. Within a few years he was to be the biggest star in Asia.

After some negotiating with Lo Wei (negotiating in this case meaning that Lo Wei had some triads try and pressure Jackie not to leave his company - and Jackie having to turn to Jimmy Wang Yu to make a deal with them), Jackie joined Golden Harvest and made Young Master in 1980. Traditional kung fu period films were coming to an end of their popularity and Jackie realizing this struck out in new directions that were to reinvent him and his films.
In 1983 he joined his "Big Brother" Sammo in the film Winners and Sinners. Jackie had no more than an extended cameo, but the success of this film set in contemporary times possibly influenced Jackie as well. His breakthrough film and in a sense his first "modern" film was Project A. The setting took place at the beginning of the 20th century, but it had a completely modern and fresh feel and attitude about it. It was fast moving, exciting, funny and very clever. Jackie also started introducing the concept of big death defying stunts into his films that he felt almost obliged to top in each succeeding film. This film and the ones that followed along with what Sammo was doing contributed as much to the new age of HK film as did the New Wave directors. These films helped begin what is often considered to be the "Golden Age" of Hong Kong film.

In 1985 Jackie began the Police Story series that were to a large extent responsible for making him an international star. By now Jackie had complete control of his films and he continued upping the ante and the budget in his attempts to always do something different and exciting. Most of his films in the 80's are terrific films. Even if they are so-so Jackie films, they are almost always entertaining. Jackie just threw everything he could into them. In the Armour of God films he went very international – and way over budget – and nearly killed himself with one stunt. For Dragons Forever in 1988 he teamed up again with Sammo and Yuen Biao to create a masterpiece. In 1989 he baked up a delicious confection in Miracles that is as much dance as kung fu. To some degree Jackie owned the 80's.

For many Jackie fans, the 90's have not been so kind. Some of his films – City Hunter, Twin Dragons, Thunderbolt, Crime Story – were enjoyable but far below expectations. He needed to be revved up again. He needed a new challenge. Jackie was the biggest star in Asia, but he wanted more. He desperately wanted to be a star in the United States. Twice in the 80's he had made a stab at this – Battle Creek Brawl (a.k.a. The Big Brawl) and The Protector – but each time he was stymied by directors who had no idea how to use him. So he started making his own films with more Western sensibilities and using them as a calling card for Hollywood. Rumble in the Bronx was filmed in Canada, Mr. Nice Guy in Australia, First Strike was as close to James Bond as Jackie could get. Hard core fans complained that Jackie was getting away from his roots – adding spectacle to the detriment of kung fu action. He did take the time to do Drunken Master II – playing the same character that he had nearly twenty years before. No doubt this was partly done because he saw how popular Jet Li was becoming with his period kung fu films and Jackie wanted to prove that he could still do it. He does in one of his best action films ever. A forty-year-old man doing what he does is simply mindboggling.

The calling card was accepted. Jackie first came over for Rush Hour and then for Shanghai Noon. Both have done reasonably well at the box office and Jackie's Hollywood career is in full stride. (at least in terms of acting. Unfortunately, he has not been given the opportunity to be as active behind the cameras in Hollywood as he has been in Hong Kong. N.B. In addition to his being the director of Project A I and II, Police Story I and II, Miracles and many other of the films in which he has starred, he also was the producer of Stanley Kwan's Rouge and Centre-Stage (aka Actress), and -- along with Toho -- Sylvia Chang's Tempting Heart).
Thankfully, Jackie still treasures his Hong Kong fans – and has concluded that his American films do not appeal to them – and so he is still making films targeted towards the local HK audience - Gorgeous and Accidental Spy. Almost needless to say, he continues to be a significant and influential figure in the HK movie industry as a whole during the periods of the year that he is in that part of the world.

It is difficult to imagine where his career will go from here – he is well into his forties and even Jackie Chan can't keep doing the sorts of things he has done in the past. But whatever he does you know he will give it everything he has. That's the way he has been doing it since he was a small boy left all alone to make something of himself.
---
Jackie Lui Chung Yin
Back in the early 90's Jackie made a few films – Dreams of Glory and Gigolo and Whore II (the trainee!), but then he seems to have gone off into the world of TV until very recently. He came back with a splash though as the youngest (a trainee again) of the bodyguards in The Mission. Since then he has made Blood Rules.

---
Jackson Lui Hsiu-hsien
First Strike, My Loving Trouble 7, Red Shield, Hunting List, Iron Angels

---
Jacky Cheung Hok-yau
Born on 07/10/61
As I have stated before I know next to nothing about Canto-Pop, but friends who do tell me that Jacky Cheung has perhaps the best voice of all the male singers of this form of music. Leslie has the best songs they say, but Jacky has the best voice. The former Cathay Pacific airlines ground staff member is also one of the "Four Sky Kings" of Canto-pop along with Aaron, Leon and Andy, but he has stated publicly the he no longer wishes to be. He wants out of that club. He thinks it is fossilized and time to move on.

But that made me wonder about a few things. . For example, who is it that comes up with these cool titles like the Four Sky Kings and the Four Sky Queens? Other than these two groups, there are also the "New Five Tigers", "The Nine Dragon Girls", "The Seven Sweeties" and "The Seven Cantonese Princesses". I want the job of coming up with these titles. How about the "The Three Irritants" consisting of Eric Kot, Natalis Chan and John Sham or "The Five Pouty Lips" with Loletta Lee, Kathy Chow, Lily Chung, Michelle Reis and Lillian Ho" or "The Three Twin Peaks" with Amy Yip, Diana Pang Dan and Yvonne Hung?!

Anyway back to Jacky. He is a great singer, he is married to former actress May Lo and they recently had a child. And of course he is an actor. His first film was Sammo Hung's Where's Officer Tuba in 1986. Jacky is an intriguing actor – often he can overplay a character to the point where you want to yell at him to tone it down – Bullet in the Head and No More Love No More Death come to mind, but in other roles he can give a terrifically personable, subtle or comical performance. He has appeared in three Wong Kar-wai films - As Tears Go By, Days of Being Wild and Ashes of Time - and that in itself says a lot about his acting ability. Some of my other favorite performances from him would be in Pom Pom and Hot Hot, A Chinese Ghost Story II, Days of Being Dumb, To Live and Die in Tsimshatsui, Flying Dagger, Wicked City and Tiger Cage. Still other notable movies in which he has been in are Swordsman I and The Eagle Shooting Heroes. Lately though he has limited his films to a very few and seems to be focusing on his music career and his family. He returned to the screen in 2002 to play opposite Anita Mui and Karena Lam in Ann Hui's July Rhapsody as a teacher facing personal dilemmas and he received some of the best critical reviews of his career.
Reportedly, the scar on his face was received in the 80's when a car containing three gangsters crashed into his car. They may have had to spend some jail time for this as the driver was drunk.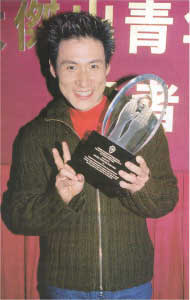 ---
Jacky Wu
What is the story with this guy I wonder? To the best of my knowledge the only film he was in was the fairly high profile Tai Chi II diected by Yuen Woo-ping. The film itself suffers from being overly cute and being much too wire enhanced, but Jacky's martial arts still look to be very impressive. Other than this film, Jacky has done only TV as far as I know.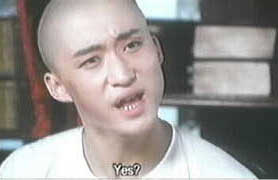 ---
Jacqueline Law Wai-guen
Born 10/10/65
This actress was in the news recently when she lost much of her hearing in a diving accident. Fortunately, her hearing has recovered somewhat and she is back working at ATV. At one time she was also going out with Stephen Chow (but then who hasn't?).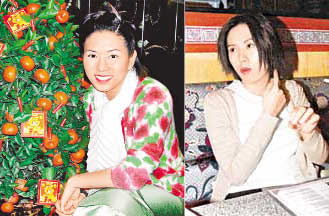 Some of her films – Mad Mad Ghost (the poor battered ghost), Remains of a Woman (the title character) and Switch Over.
---
Jacqueline Ng suet-man
Though you may not be familiar with this name, I would bet you have seen her picture before. She received a fair amount of publicity for appearing in the first Raped by an Angel film and her picture on the cover along with Chingmy Yau is an eye-grabber. Another choice and sexy role for her was in An Emotional Girls Doubt of Undress!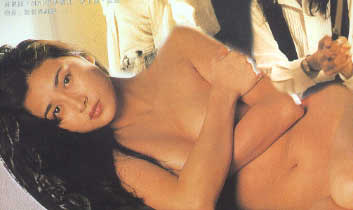 She also had roles in Gigolo and Whore II (as Rosamund Kwan's lover) and When East Meets West – a rather sweet film. Her Cat III days are far behind her now – she refuses to talk about it – and she has gone into private business. Her apartment burnt down in 1999 thrusting her back in the news again.
---
Jacqueline Peng
This young actress - educated in the United States – made an impressive debut in 1999 with the intriguing Cat III/art film, The Mistress.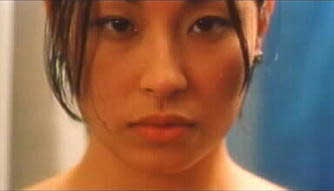 ---
Jade Leung Ching
Born 11/23/69 in HK
I'll admit right up front that I am a big Jade Leung fan. I know she hasn't been in a lot of good films lately – and some of her detractors might say ever – but she continues to interest me and I am always optimistic that her newest film will be a classic. She just reminds me of a flashy sports car – sleek, classy and built for speed.

After going to school in Switzerland for a few years, Jade returned to HK and was able to get work modeling and then a TV commercial brought her to the attention of Dickson Poon. His and Sammo Hung's D&B production company was always trying to find new female "girls with guns" stars for their action films (previous ones were Michelle Yeoh and Cynthia Khan) and they cast an inexperienced Jade Leung in Black Cat (1991).
Though basically a remake of the French film La Femme Nikita, Jade brings a burning feral intensity to her role and she was a huge hit. The film also did quite well overseas and Jade gained a lot of fans around the world. Regretfully, her career since then has been a bit of a mish mash – some solid films mixed among some truly dreadful ones. It just feels like she wasn't careful enough in choosing her film projects.

The sequel to Black Cat is a disaster – Jade hardly gets to speak a word – but then she made a couple enjoyable films – Fox Hunter, Enemy Shadow and Satin Steel – that use Jade's intensity and physical skills to good effect. Jade never had much in the way of martial arts training and doesn't look particularly good doing it – but she is quick, graceful and looks enormously sexy with a gun in her hand.

Among these efforts though were a number of really poor and boring films – Velvet Gloves, Spider Woman and Killing Me Hardly – that seemed to bring her film career to a real slowdown. Of course the demise of the "girls with guns" genre didn't help. She attempted branching out into non-action films – The Green Hat – but they were not very successful. She now sticks primarily to TV but still ventures into the occasional film – generally low budget and not very interesting – but her 1999 Phantom of Snake was a very strange enjoyable cult like film. She also recently made one of her first film period action pieces when she starred in the Sammo Hung produced Flying Dragon, Leaping Tiger and she looks absolutely terrific in it and shows a nice ability with the sword.

---
James Ha Chi-si
Always a bad guy, he has played one in many films - some of these are:
The Killer, Just Heroes, Princess Madam, Punch to Revenge, Brave Young Girls, Angels Mission (actor, Action director), Lost Boys in Wonderland (actor, action, writer), Case of the Cold Fish (funny part), Ebola Syndrome.

Jude Poyer writes in to add: "that he is a stuntman and James is a stunt coordinator in his own right, hence he plays the dude who gets torched by Anthony Wong at the opening of "Untold Story". James was the film's coordinator."

---
James Pax/Pak Chin Sek
This is another actor that I would have expected more success from. I think he has a very intriguing aura around him. He was excellent as the scientist that Michelle Yeoh loves in Heroic Trio, the crook in Enemy Shadow that Jade falls for and the center of a love triangle in Remains of a Woman. He was born in Beijing but moved to Hong Kong as a child and then later to the United States.
His acting career actually first began in the States where he appeared in some films – Invasion USA (1985), Big Trouble in Little China (1986) and made guest appearances on American and Canadian television. In the 1990s he moved to Hong Kong in an attempt to get his career started there and received roles in six films. Besides those mentioned above he was also in Dragon Chronicles and Love Among the Triad. Continuing his vagabond acting career he then moved to Japan where he was in a TV series and then after that to the Mainland to be in yet another TV series.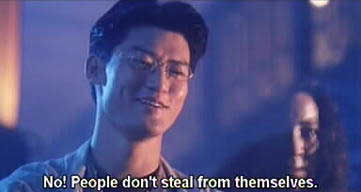 ---
James Tien Chun
James Tien's credentials go back to his youth when he was at the same Peking Opera School in Taiwan with Angela Mao. Some actors get to play the heroes, others are typecast as the villain and generally this was his fate. But every film that has a hero has to have a villain and so Tien had a good career over a number of years from the 1970's to the 90's and is considered one of the better bad guy martial artists.

He was in some of the Bruce Lee films – The Big Boss and Fist of Fury – and later worked quite a bit with Sammo in the 1980's. Some of these films were Prodigal Son, Winners and Sinners, Gambling Ghosts and Eastern Condors.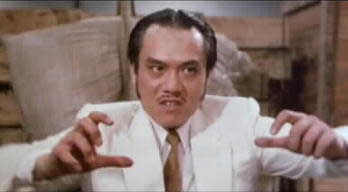 ---
James Wong Jim
If you were ever to come across this fellow in some of his films or on his TV talk show you would never guess in a million years what else he is truly famous for. He has been entertaining people since the 70's – along with his brother Tommy Wong – but generally he portrays a lecherous, dirty old man in silly comedies such as Stooges in Tokyo and Stooges in Hong Kong. He also had a talk show – some episodes of which are being released on VCD without subtitles – and in the one with Brigitte Lin he spent nearly the entire 30 minutes asking her about her eyebrows, cleft chin and breasts plus whether she considered herself to be sexy as well as beautiful!

Yet this man is one of the most fabulous film composers in the world. His soundtracks are magnificent and lyrical adding a vital ingredient to the films. Just take a look at some of the films for which Wong has scored the music – Peking Opera Blues, A Chinese Ghost Story (1-3), Picture of a Nymph, Terracotta Warriors, Bullet in the Head, Swordsman, Green Snake, Once Upon a Time in China, The Lovers, Fong Sai Yuk and Moon Warriors. It is an incredible accomplishment.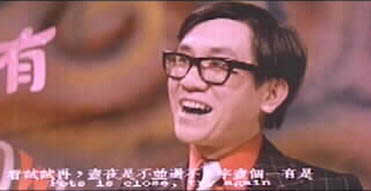 ---