The Wells Report
---
Early Autumn: Masterworks of Japanese Cinema from the National Film Center, Tokyo
at the Museum of Modern Art, New York
September 2005-January 2006
By Michael Wells
Part 2

---
A Story of Floating Weeds.
1934, Yasujiro Ozu.
It's never too late: this is my second Ozu, ten days after the first. OK, sure, I actually saw it at a different series, Lincoln Center's "The Beauty of the Everyday" retrospective of the venerable Shochiku studio. But how could I not write about a movie that left me in a happy daze for the rest of the evening? This is one of those silent films (you read right - they hung on for quite a while in Japan) that makes me wonder why we ever needed talkies at all. Voices couldn't make this movie one bit more eloquent. Without ostentation, every shot is perfectly framed; every shadow is so vivid I can feel its coolness on my own face. Speaking of faces, those are what really make this movie: not the bugeyed, gaping-mouthed faces stereotypically associated with pre-talkie acting, but beautifully real and human faces, where every little movement counts and every line in the flesh tells a story. And it's a pretty good story, too - not so much for its melodramatics about family secrets and forbidden love, which on paper are quite standard, but for its fascinating setting in the world of an itinerant acting troupe. I haven't yet seen Ozu's more famous '59 remake, but I can hardly imagine it improves much on the first draft. Supposedly, his countrymen long considered Ozu the most "Japanese" of their famous filmmakers and not well suited to viewing and comprehension by foreigners. The warm laughter, the sniffles and the applause that greeted Story of Floating Weeds at this screening testify that they could hardly have been more wrong. Across an ocean, across seventy-one years and through a veil of silence, Ozu's voice sounds as clear as a bell.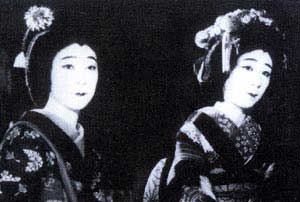 ---
The Life and Opinions of Masseur Ichi.
1962, Kenji Misumi.
The first in the headsmackingly popular and long-running "Zato Ichi" series about a wandering, blind masseur in feudal Japan whose roly-poly appearance, unassuming manner and sightless orbs hide wicked swordsmanship skills and an implacable sense of justice. I was struck first by the technical elegance and impeccable craftsmanship of what was presumably a pretty low-budget, quickly-made programmer, but this shouldn't surprise me anymore: it's one thing Japanese films of this ilk have always had over their counterparts in, say, Hong Kong (whatever their separate virtues). As it turns out, that's not the most remarkable thing going on here either. "Strength in fighting and skill at killing people are nothing to be proud of," Ichi modestly states. Similar words have, of course, come out of the mouths of plenty of screen samurai, martial artists and cowboys over the decades – even while they serve up crowdpleasing helpings of righteous violence and honorable vengeance. Masseur Ichi seems less hypocritical about it than almost any movie I've seen. The hero's sword flashes only seldom, and he forgoes a number of ripe opportunities to unleash whoop-ass (while still keeping the audience entertained with his dry wit and daring lip in the face of heavily armed bullies). Partly, this is a matter of genre convention: the chanbara (historical swordplay movies) of past generations tended to focus more on talky, feudal and interpersonal politics than on action; as usual, the byzantine plotting here quickly becomes nearly incomprehensible. But when Ichi does kill, he registers a regret that feels authentic and genuinely moving, not obligatory. When, at the climax, soft-spoken Ichi unleashes a furious verbal tirade against the folly of the violent way of life, it's genuinely the climax, not a speed bump on the way to the last big swordfight. It's impossible to imagine the character without the late Shintaro Katsu's flawless, charmingly understated performance... even if you've seen the 2004 remake (directed by and starring Takeshi Kitano), an ornate mediocrity which looks even more lackluster to me now that I've belatedly seen the modest original.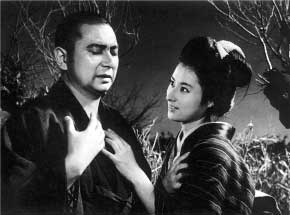 ---
Not Long After Leaving Shinegawa.
1957, Yuzo Kawashima.
Period farce full of scheming, swindling and frantic running from room to room in an upscale brothel in the titular red-light district of Tokyo. It's academically interesting to see some down-home popular filmmaking from the era that doesn't involve swordfights or men in rubber suits. But the best thing about this movie is really the set, an elaborate and beautiful construction used with a great deal of spatial imagination by Kawashima over the course of a story that stays largely within its confines (curiously, hardly anybody leaves the building, let alone Shinegawa). Other than that, the laughs are fairly thin on the ground. I have a strong feeling that there are a lot of very Japanese in-jokes that I didn't even notice, let alone get. One that did connect was the spoof of traditional vengeful-ghost stories (see Ghost Story of Yotsuya below) that turns up in one scene – and even that only made me chuckle a little. Contrary to what Kawashima and his cast seem to believe, the thick sauce of bug-eyed, arm-waving, look, we're funny! comic acting doesn't goose the proceedings much. "That was agonizing," said a man a few rows in front of me as the lights came up. I wouldn't be that harsh, but I didn't take a swing at him, either.

---
Ghost Story of Yotsuya.
1959, Nobuo Nakagawa.
By my count, I've seen four of the who-knows-how-many movie versions of Japan's favorite classic horror story (five if you count the "Black Hair" segment of Kwaidan). You know, the one about the samurai who murders his meek wife to marry another woman and lives just long enough to regret it. I overheard somebody at MoMA a couple weeks before panning this one loudly to another patron (in fact, it might have been the same guy I quote above). I guess I can see why someone would think it stunk. It's a queer duck, roughly two-thirds standard Western-style film narrative to one-third kabuki-ish stylization, and the blend is never quite a smooth one. Often, it's hard to tell whether the stiffness of the actors is deliberately theatrical artifice or just... stiffness. The decayed color scheme might be an aesthetic choice or it might be... decayed film. And it could certainly move faster... although I'm not sure it should. Without jettisoning any of these misgivings, I can't deny the movie's intense atmosphere or the creeping unease induced by its breathtakingly cynical worldview. Nakagawa pulls off some pretty amazing images, particularly when he drops realistic narrative altogether and embraces abstraction at the very end. He also spoils the mood in a key scene with some out-of-place splatter that feels like a nod to commercial horror obligations (which were Nakagawa's bread and butter, after all). All in all, it's no dog, but it's not "The Black Hair" either.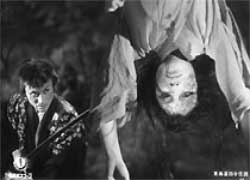 Michael Wells can be contacted here.

---