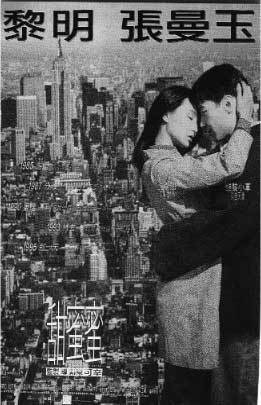 Top 10 list from Travis Dockweiler

---
Believe it or not this list is coming from someone that is not a very big fan of Action and Martial Arts/Fantasy films. So if you are wondering where Hard Boiled and The Killer are on my list, you now know why they arenít included. Although they are good, they are not quite good enough to be included on my top 10 list.
I primarily watch just Dramaís, so those are the ones I enjoy the most and are the main reason I keep on watching Hong Kong movies. Usually when someone loves Hong Kong movies it is because of the action films. Although HK action films are great, this is definitely not the case with me, although that is how it all started. So if you really just like drama, like me and donít care for many Action films you may find some here more to your liking.
Even after watching primarily Hong Kong movies nonstop for 2-3 years, I still feel I havenít yet seen very many of the best Hong Kong has to offer. Where I live, Hong Kong movies are not offered for rental or for purchase, so believe it or not every single movie I have seen has come from an online store or rental source like Webjade or Netflix. Yes, you really can rent Hong Kong movies online now! It may seem like a lot of trouble, but it is worth it. Less common ones are extremely hard for me to find without buying though. If I bought every single HK movie I wanted to see, Iíd be out of money, there is that many of them. I always seem to have a list a mile long of ones Iíd like to watch.
I can not possibly put all these in just one list, so here is 3 lists, one for each genre except horror and comedy. Iím hoping in the next few years I could make one for comedy, but I still havenít seen enough of those to be able to have a listing for them! None of these are in any certain order.
Action:
1. Bullet in the Head
2. The Longest Night
3. Bullets over Summer
4. City on Fire
5. A True Mob Story
6. Big Bullet
7. Man Wanted
8. The Long Arm of the Law
9. Metade Fumaca
10. Full Contact
Martial Arts/Fantasy:
1. Iron Monkey
2. Swordsman II
3. A Chinese Ghost Story
4. Once Upon a Time in China 2
5. The Blade
6. Iceman Cometh
7. Once Upon a Time in China 3
8. Drunken Master II
9. Once Upon a Time in China
10. Crouching Tiger, Hidden Dragon

Drama:
1. Lost and Found
2. Comrades: Almost a Love Story
3. Full Throttle
4. Chungking Express
5. Tempting Heart
6. Cíest La Vie Mon Cheri
7. In the Mood for Love
8. Juliet in Love
9. Comeuppance
10. An Autumnís Tale

---