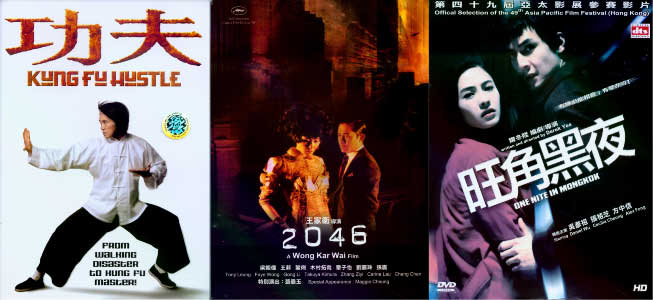 ---
Top 10 and Comments from Brian
---
There isn't really much new to say about the state of the Hong Kong film scene in 2004. It was very much like the previous few years with it trying to find it's way in the global arena. The number of films made was down to about 60 and predictions for the coming year are even gloomier. The majority of these were low budget affairs that disappeared from theaters before most people even had time to think about going. On the more positive side though there were some good films made during the year – people are trying to do good work but are hampered by economics that makes the business of filmmaking a roll of the dice and makes investing in films a dicey affair. The films with big stars in them can still easily get funding but few investors are willing to ante up much for lesser known actors and directors and this is stifling the industry. Part of me is actually amazed that as many films are being made as there are because most of them can't be making much money if any. But in general when I match up my choices for this year versus last year I think this year is much stronger in almost every instance.

There has been hope that opening up the Mainland to Hong Kong films would be a financial injection that would stimulate the industry, but at least so far that hasn't appeared to happen. In fact, this could be hurting Hong Kong films in the long run as filmmakers seem torn between making movies that appeal to both the Mainland (and their censors) as well as the West and one has to wonder if the unique character of Hong Kong films will get lost along the way. One has to question whether there will be a distinct Hong Kong film industry in ten years or will it for all intents be incorporated into the Mainland one. The Hong Kong film industry was created primarily as a result of various events in China – Civil War and the Communist takeover – that forced talented filmmakers and actors to migrate to Hong Kong and set up this wonderfully reactive and populist industry. Therefore much of the reason for the existence of Hong Kong's film industry has vanished - and they are in danger of becoming a permanent secondary player and in this global economy of scale secondary players don't last for long. As Mainland films move more towards commercialism – i.e. "The House of Flying Daggers", "A World Without Thieves" – and Hong Kong feels more pressure to make films that sell in the Mainland it is easy to envision them melding together at some point and the term "Hong Kong film" becoming a meaningless one. In terms of talent this is already happening as they shift back and forth between industries with the ease of catching a plane.

For now though Hong Kong still remains a distinctive industry at least in the hearts and minds of its fans. As per the past few years the strength remains its older actors – Tony Leung Chiu-wai, Stephen Chow, Sammy Cheng, Jackie Chan, Andy Lau, Miriam Yeung, Gigi Leung and Lau Ching-wan. Between them they were involved in ten of the top twelve grossing films. Of the new talent only The Twins and Ronald Cheng were the drivers of films that got into the top 10 and I don't think anyone believes either of them are the saviours of Hong Kong film (though in six of the top sixteen box office films one Twin or both were involved - so they may be around for a while!). There just are no new actors that are making any kind of impact and this somehow has to be addressed – the directors seem intent on making stars out of teen idols but none of them other than The Twins have had any box office success so why don't they return to fostering real actors and allow them to grow. A few young actors that I have had hopes for in the past few years like Nicholas Tse, Angelica Lee, Kareena Lam, Zeny Kwok and Maggie Poon have either disappeared from the screen or shown that they can't sell a film on their own.

Young directors aren't doing much better. There have been some intriguing low-budget offerings in the past few years from new directors – Barbara Wong, Aubrey Lam, Mak Yan Yan, Julian Lee, Wong Ching Po, Cheang Pou-Soi , Carol Lai and Edmund Pang - but it's rare for any of their films to have much commercial success. One of the more hopeful stories this year had been Eric Tsang picking newcomer Wong Ching Po to direct Jiang Hu, but even with a stellar cast of Andy Lau, Jackie Cheung and Wu Chien-lien the film's draw fell far below expectations (though it did make the top 10). Without a new wave of talented filmmakers with new ideas Hong Kong will never get out of it's doldrums – but this can happen very quickly under the right circumstances – look at Korea and Thailand to see what a few terrific directors can do to pick up an industry.

I will lay the blame for a large portion of this pessimistic picture on the audience in Hong Kong – perhaps this is unfair – but when "Sex and the Beauties" makes as much money as "Dumplings" or "Six Strong Guys" does as well as "2046" something is wrong somewhere and as long as mediocrity like "Magic Kitchen", "Elixir of Love", "Twins Effect II", "Three of a Kind", "Yesterday Once More" and "Super Model" find themselves in the Top 10 Box Office there is little hope for innovation in the industry. Of my Top 10 choices, only three made it into the Top 10 box office and many of them are so far down the list that you will need a telescope to see them. There was of course "Kung Fu Hustle" – this film almost single handily made the year a successful one as it broke the box office record in Hong Kong and in this instance it was a worthy winner – it came at the end of the year and the audience loved it and it gives hope to all of us because there is no film that says "Hong Kong" more than this one.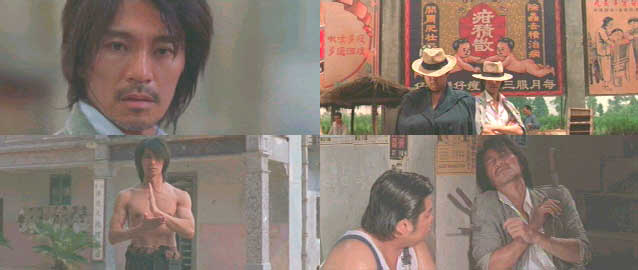 ---
Below the Box Office results for 2004. In HK $.
1. Kung Fu Hustle - $61,000,000 (going into 2005)
2. Fantasia - $25,000,000
3. Magic Kitchen - $25,000,000
4. New Police Story - $21,000,000
5. Elixir of Love - $15,000,000
6. Yesterday Once More - $15,000,000
7. Twins Effect II - $14,000,000
8. Three of a Kind - $14,000,000
9. Super Model - $13,000,000
10. Jiang Hu - $13,000,000
11. Driving Miss Wealthy - $12,000,000
12. Love on the Rocks - $11,000,000
13. Enter the Phoenix - $10,000,000
14. Leaving Me Loving You - $10,000,000
15. Hidden Heroes - $9,000,000
16. Protégé de la Rose Noire - $9,000,000
17. Eyes 2 - $9,000,000
18. Itchy Heart - $8,000,000
19. Throwdown - $8,000,000
20. Breaking News - $8,000,000
21. One Nite in Mongkok - $7,000,000
22. Koma - $7,000,000
23. The Miracle Box - $6,000,000
24. 2046 - $6,000,000
25. Six Strong Guys - $6,000,000
26. Dumplings - $5,000,000
27. Sex and the Beauties - $5,000,000
28. 20:30:40 - $5,000,000
Figures from Asianboxoffice.com

---
My Top Ten Of 2004 (having watched 37 Hong Kong films from 2004 - shoot me now!)
1. Kung Fu Hustle
I have to admit that I almost dreaded the prospect of watching this because I had read such mixed reactions to it that ranged from magnificent to disappointing. The criticisms leveled though were ones that I expected would resonate with me as well - too reliant on CGI, paper thin plot, not enough Chow and most condemning - not very funny. I had a gut feeling that I would find it to be all noise and no substance. I couldn't have been more wrong - this is brilliant - the best movie from 2004 - it's as if Chow took the history of HK cinema and crystallized it through the prism of modern sensibilities and modern technology. Chow seamessly mixes the communal feel of "House of 72 Tenants", the fast paced kung fu of the 1970's, the gonzo wuxia of the 1960's and Cantonese sentimental melodrama in epic style on an incredible canvas of perpetual motion, sweeping camera work and inventive giddy special effects. On top of this, he layers Western influences as well - "Guys and Dolls" and Looney Tunes to mention a few. It makes for a joyous cinematic experience - as if seeing all these influences through fresh eyes and a clean heart.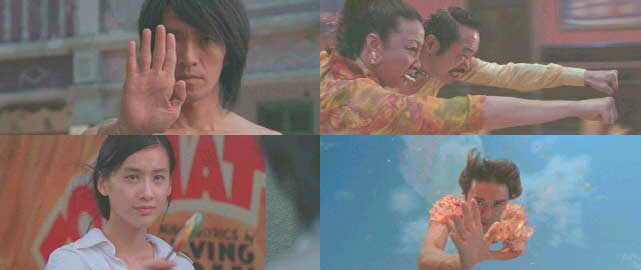 All the time I was watching it I was thinking that this is the film that Scorsese wished he could have made. Ninety-minutes of pure adrenaline that never stays still for a second – always on the move, always skipping from one genre to another like a drug addict looking for a fix. Chow breaks out of his genre trappings with a scream for artistic freedom - this isn't comedy, this isn't action - this is just great filmmaking that incorporates everything that he has been trying to do for 15 years into something astonishingly cinematic and entertaining.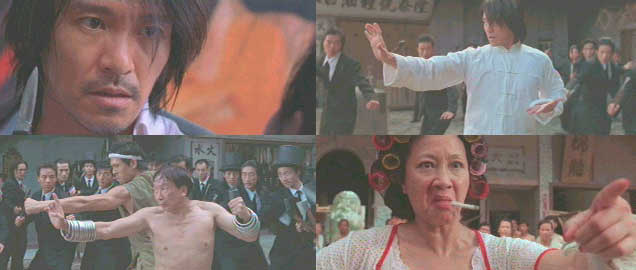 ---
2. 2046
Wong Kar-wai burrows once again into the dreamy lush world of "In the Mood for Love" and "Days of Being Wild" with a heavy heart and a truck load of romantic cynicism. Told like fragments of long ago memories slipping through his consciousness, by the end it creates such a sense of sadness, desperation and longing that you wonder why the characters continue to get up in the morning. The regrets of life are so thick in the air they are like the smoke of cigaretes circling the characters in a bad dream. Wong often weaves his stories around memories and the pain they inflict - nowhere more so than here as Tony Leung's character from "In the Mood for Love" can't get over his love for Maggie Cheung and in his attempt to forget her he embarks on a series of callous affairs with women as emotionally wounded as he is.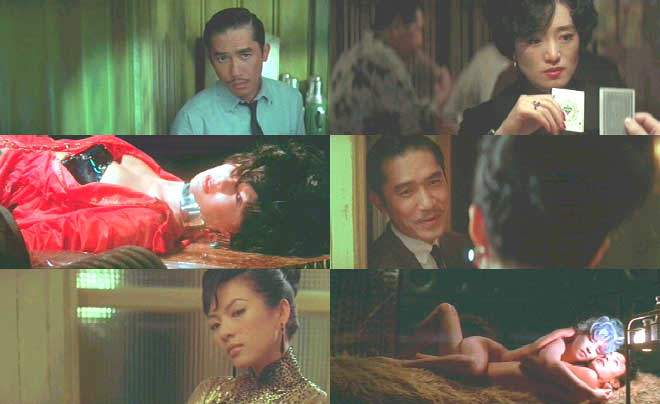 ---
3. One Nite in Mongkok
Hong Kong has always been on top of its game when it comes to crime stories and this one matches up to their best. It is a taut fast moving tale that juggles various balls that come crashing together in a tragic resolution that is unflinchingly pessimistic about Hong Kong and the human race. Daniel Wu is a newbie hitman imported from the Mainland to make one quick kill and then go home flush with money in his pockets. Cecilia Cheung is a Mainland prostitute who thinks she spots an easy mark and becomes his guide for the night. Alex Fong is a cop and he hears the hit is going down and gets his men scowering the streets to stop it. Christmas is in the air. So is death.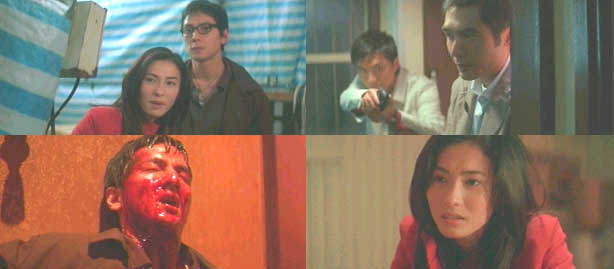 ---
4. Dumplings
Fruit Chan brings us face to face with our real fears in this dense atmospheric crawl through the ravaged psyche of a middle-aged woman. What in truth is scarier than getting old and no longer feeling valued in a society that worships the young and beautiful? Once a beguiling and popular actress, the character played by Miriam Yeung finds herself relegated to a role of being a waiting wife to her philandering husband (Tong Leung Ka-fai) and is expected to feel rewarded with shopping sprees and tea parties - when all she really wants is to feel desired again. The promised fountain of youth is in the form of Bai Ling and her fetus dumplings and this promise brings out the inner monster in all of us.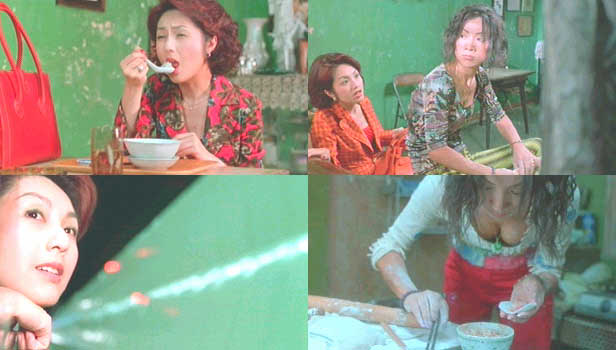 ---
5. Beyond Our Ken
This is a small off-beat story from the director of "Men Suddenly in Black" which might not generate a lot of sparks but has a lot of quiet appeal. On the surface it might feel like the film was simply about a woman getting some slight revenge on her ex-louse, but underneath the film is a sweet ode to female friendship that makes male bonding seem churlish and grotesque by comparison. Gillian Chung in her most mature work yet is a little nerdy girl who gets her heart crushed by a smarmy Daniel Wu, but beneath the glasses and the shy tentative smile is a will of steel and she has a plan in mind. She takes Daniel's new girlfriend into her confidence and the two of them set out to teach him a lesson in civility. Their friendship has more chemistry than any other couple this year in Hong Kong film.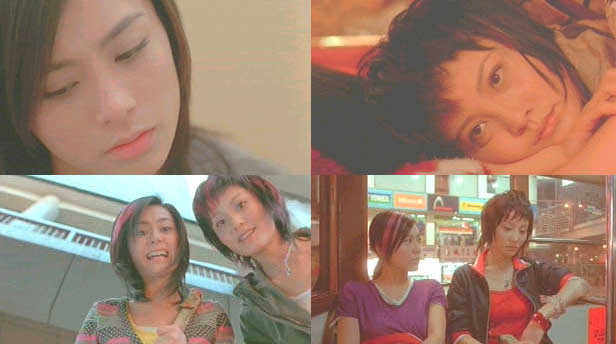 ---
6. New Police Story
It may be easy to rank on Jackie Chan these days, but with his back strained against the wall of age and fan indifference, he churns out his best action film in a decade and shows that there are still few if any peers in the world of physical action when he gets serious. Jackie leaves his typical clowning behind him and is able to shake the sins of generic Hollywood out of his system to deliver a gritty crime drama filled with action set pieces that should have had his fans cheering rather then criticizing. In the film he plays a cop looking for redemption and to some degree the same could be said about Jackie. They both find it.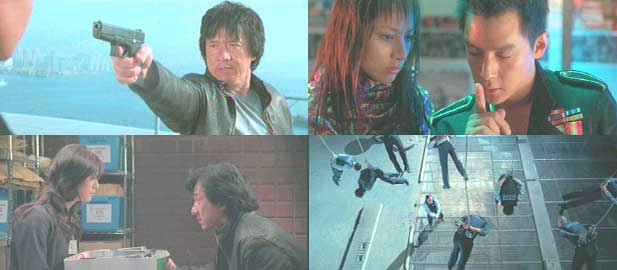 ---
7. Love Battlefield
This tense little gem came out of nowhere and surprised everyone with what a good film it was. It begins like a bland romance but quickly takes a tight fast-paced turn into edgy suspense that lays love bare like a raw wound. Eason Chan is in the wrong place at the wrong time and is taken hostage by a traveling group of Mainland robbers and his girlfriend Niki Chow tracks them down as if it's her life on the line. This film has more to say about the power, pain and sacrifice that love engenders than a dozen glossy romances.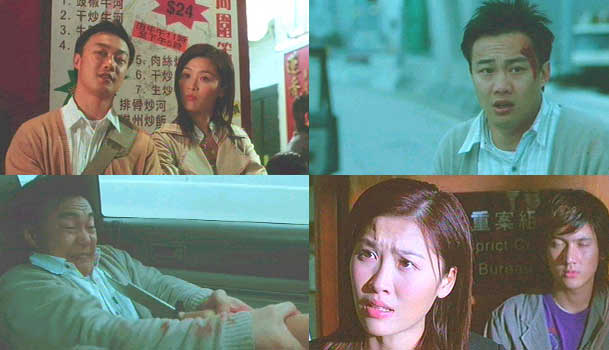 ---
8. 20:30:40
In an era in which special effects, style and MTV sensibilities often dominate the film scene, director Sylvia Chang still cares most about her characters - about building them from inside out and allowing them to breath and form before us. In this film she gives us three female characters - all at different stages of their lives as signified by the title - and builds a small story around each of them. Her characters tend to be everyday people who are scratching, clawing and crying in their attempts to get through the everyday thing that we call life. With a terrific cast of Angelica Lee, Rene Liu and herself, Chang paints a tender picture of women going though the changes that life brings and some of the continuous heartache and rebirth that accompanies it.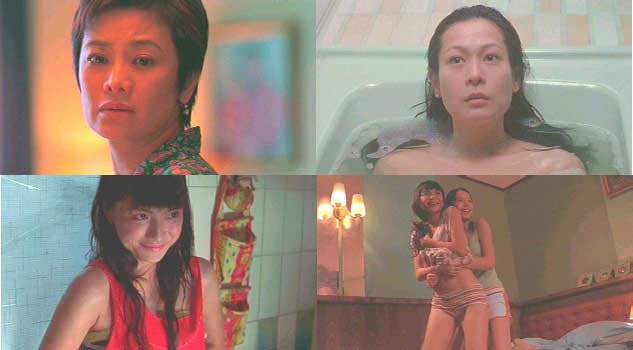 ---
9. The Eye 2
The viewing world has probably seen more films about people who can see ghosts than they want to, but the Pang's follow up (in title only) to their smash hit "The Eye" seems more intent on creating a claustrophobic psychological drama than hitting us with a quota of scares. It has a few of them but the film hands them out slowly like well-earned chocolates. It is a near solo performance from Hsu Chi giving some of her best work ever as she totally dominates the proceedings and her crumbling mental state is more than believable. She is in the middle of an unhappy affair with a married man and when he indicates that he wants to end it she goes suicidal – but after a failed attempt she instead is able to see ghosts. This doesn't help her mental condition much as she begins to learn that pain isn't only something that the living carries around with them.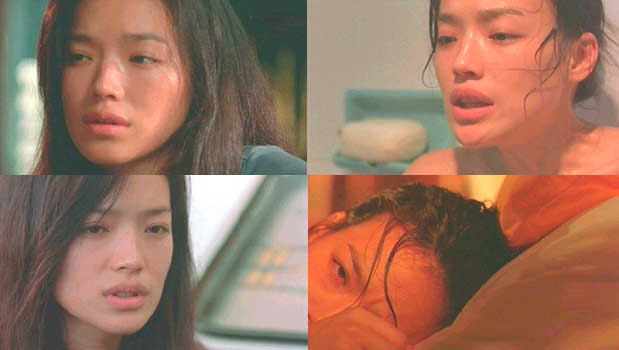 ---
10. Fantasia
If you haven't seen the Hui Brother's films from the 1970's this film will likely confound you with it's insane happenings, but as a fan of their work I found this tribute to them a giddy delight at times. In truth I barely recall what the plot was about but the many riffs off of their films still bounce around in my head. Played by Lau Ching-wan (Michael), Louis Koo (Sam) and Jordan Chan (Rickey), the mannerisms and looks are spot on and their affection for these characters is palpable. Francis Ng doing his best Sek Kin is also amazing – is there anything this guy can't do? The best scene in the film is Lau cheating at mahjong by stuffing tiles in his mouth – he deserved a nomination for this scene alone. If only he had followed this New Year's film with some worthy work during the year. It's all silly silly fun with cameos by The Twins and a Plain Jane impersonantion from Cecilia Cheung. See "Private Eyes" first and then watch this one.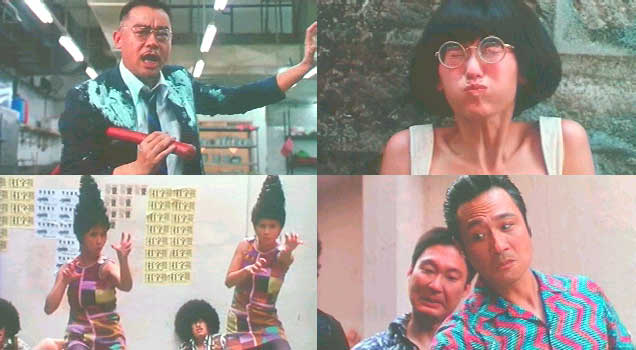 ---
There are a few others that could have made my top 10 perhaps if I had been in a different mood when I watched them or a different mood when I compiled this list. If "Breaking News" had starred Lau Ching-wan and Francis Ng rather than Nicky Cheung and Richie Ren it might have been terrific as opposed to a film that seemed to exist primarily for Johnny To to play around with his camera and sets. The same might be said for "Throwdown" – a better cast and a tighter script could have helped this one enormously. "Koma" is likely on lots of top 10 lists, but it never seemed more than a contrived ploy to me – star two of the top young actresses in the business and have them go at each other with results that I never bought into. "Ab-Normal Beauty" has some good moments with a real sense of unease throughout but it just never goes anywhere and feels like the Pang's had two different scripts that they never were able to finish and so put them together – nice performances though from the 2R sisters.

"A-1" is a film that must have looked great on paper – terrific cast of Anthony Wong, Tony Leung Ka-fai and Angelica Lee and an unusual story for Hong Kong with its focus on the press – but it's execution just never generates the least amount of excitement. "Leaving Me Loving You" wasn't much of a movie, but it has certainly added Shanghai to my list of places I have to visit someday. Easily the most disappointing film of the year was Michelle Yeoh's "Silver Hawk" and it may signal the end of her career as an action actress – it just had no grit and Jingle Ma should be spanked for making it nothing more than a glossy ego piece for Michelle. I may be the only person over the age of twelve to have enjoyed both "Twins Effects II" and "Protégé de la Rose Noire" and though I will admit both are bad from a cinematic perspective the Twins still manage to make me feel like being kind to kittens and that's not a bad thing.
---
To read other 2004 Asian Film Picks, click here.