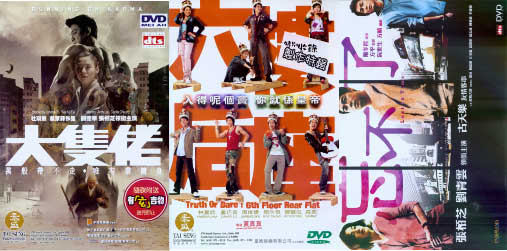 ---
Top 10 and Comments from YTSL
As many a Hong Kong film fan will no doubt agree, 2003 was a very memorable year; and not just because of the SARS epidemic that gave those residing in Hong Kong (including many of our favorite stars, most esteemed directors, valued producers, etc.) and other affected territories a serious scare for a time -- and whose specter has continued to linger and loom over significant swathes of the world -- either. Instead, it is difficult to think of this particular 365 day period without tearfully recalling that on April 1st, 2003, Leslie Cheung decided to take his own life, and that before the year was out, we lost Anita Mui (and Blackie Ko) too.

Somewhat ironically, as these major icons of the most recent golden era of Hong Kong cinema took their leave, a galaxy of stars from other, chronologically more distant, bygone eras were effectively resurrected upon the decades overdue release on to home video of filmic gems from the Shaw Brothers library and parallel Cathay/MP&GI vault. All in all, it's less a comment about the mediocrity of contemporary Hong Kong cinema, and more a testament to the brilliance of those sections of its past which are at long last accessible to us lucky fans, that my top ten picks for 2003 will be hard pushed to be as loved some decades down the road as the following choice of top ten golden oldies (with, for the record, their original release dates in parentheses):-
"Our Sister Hedy" (1957)
"Mambo Girl" (1957)
"The Greatest Civil War on Earth" (1961)
"Come Drink with Me" (1965)
"Till the End of Time" (1966)
"The Three Smiles" (1969)
"Intimate Confessions of a Chinese Courtesan" (1972)
"The Empress Dowager" (1975)
"The Magic Blade" (1976)
"The 36th Chamber of Shaolin" (1978)
Furthermore, I feel that it represents a tribute to Hong Kong cinema as a whole that it is an entity that I honestly do think will not be dying off any time soon and, indeed, is currently far healthier plus more enduring than those who are wont to underestimate it realize. Even while granting that it may be a product of my hopes and imagination, I really do harbor the impression that the cinemas I've gone to view Hong Kong movies in (both in Hong Kong as well as my native Malaysia) have played host to more people in the latter portion of 2003 than, say, during the summer of 2002 or 2001. And this despite there being no Stephen Chow release -- or Johnnie To-Sammi Cheng collaboration -- among the offerings for which I was in the audience.

Thus, as much as I look back with fondness (mixed with some sadness), I also am looking forward with great anticipation that another year will yield still more Hong Kong movies to savor. So, until the next time and without further ado...
---
My Top Ten of 2003
My picks (as of mid February, 2004 and post viewing twenty-nine 2003 Hong Kong movies but without having viewed such as "The Floating Landscape", "Golden Chicken 2", "Naked Ambition", "Shiver" and "The Source of Love" just yet):-
1) RUNNING ON KARMA
There's no two ways about it. Pure and simply, I love this Milkyway Image effort for: its multi-genre/genre-transcending nature; director Johnnie To's daring to -- and veritable genius at -- come up with a single film that's personal as well as commercial; and the large amount of "heart" that was evident in the performances of its leading acting duo of Andy Lau and Cecilia Cheung (neither of whom are real favorites of mine but whose work in this movie I cannot find any fault with).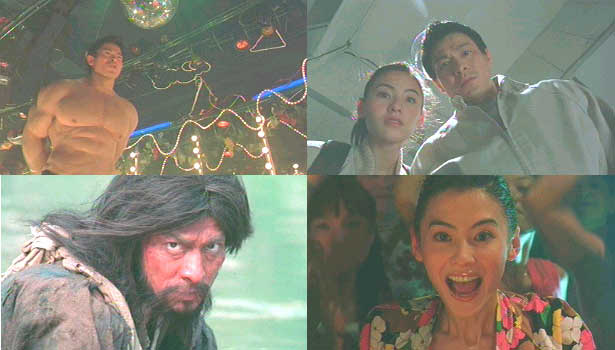 ---
2) TRUTH OR DARE: 6TH FLOOR REAR FLAT
This Barbara Wong Chun Chun helmed youth-oriented dramedy is one that has room for the wisdom and concerns of elders along with the idealism and ambition of younger folks. By also being a movie in which people come to terms with failure rather than just celebrate success, the often quite audacious and amusing offering provided me with ample proof of its representing a more mature, complex and binary opposition transcending perspective than many an ostensibly more serious or sophisticated film.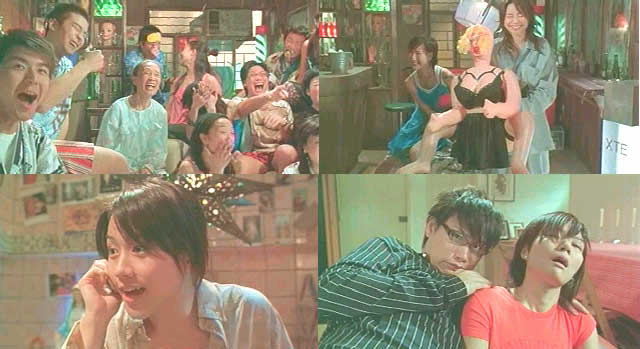 ---
3) LOST IN TIME
This soulful drama that deals with death, loss, life, love and responsibility -- and which contains top drawer performances by Lau Ching Wan and Paul Chun Pui as well as Cecilia Cheung -- might be dismissed by some as a somewhat slight production. However, it constitutes further satisfying proof for me that director Derek Yee can weave movie magic out of subject matter that may seem mundane on paper but come across as meaningful plus substantial when dealt with by him.


---
4) MEN SUDDENLY IN BLACK
On the surface, this star-, cameo- and parody-filled comedy premise can seem terribly crass. However, by doing such as creating and filling this U.F.O. co-production with female as well as male characters who are amusing but also able and memorable (notably in the form of those played by Teresa Mo, Maria Cordero, Tony Leung Kar Fai and Eric Tsang), director cum co-scriptwriter Edward Pang has come up with another perceptive as well as enjoyably humorous effort (and confirmed that his "You Shoot, I Shoot!" was no fluky flash in the pan).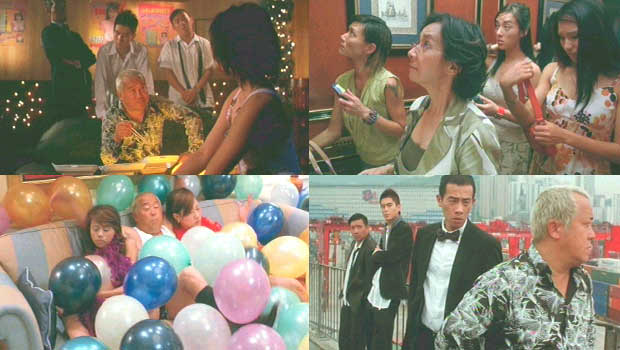 ---
5) INFERNAL AFFAIRS III
Because this concluding chapter of the ambitious "Infernal Affairs" trilogy would be hard to appreciate on its own (not least because it makes a multitude of references to events that took place in the two earlier movies), the vote that I'm casting for it is essentially one for the whole, thoroughly involving, saga. At the same time, I'll also point out that I'm actually going against the popular grain here in stating my preference for Part III of this trio of character driven crime dramas over the other 2003 Andrew Lau and Alan Mak helmed installment that had a theatrical release in 2003.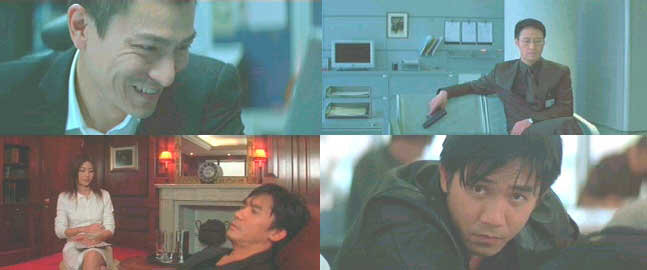 ---
6) THE TWINS EFFECT
In as much as I can appreciate a serious film, there are times when all I really would like from a movie is fluffy fun coupled with blockbuster entertainment. On such an occasion, this Idol-powered (Go Twins! And Ekin and Edison too!!) supernatural fantasy-action-romantic comedy-drama proved to be just the ticket. So roll on "The Twins Effect 2", and may it be just as delightful and chock-a-block with the kind of charm cum cuteness that da Twins -- together with Hello Kitty and its ilk... ;) -- have in spades!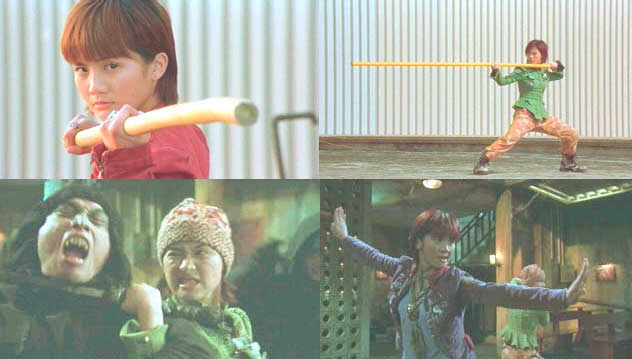 ---
7) PTU
With this film, Johnnie To showed skeptics that he still has what it takes to make a quality crime drama. Like "The Mission", this police movie has atmospheric cinematography, evocative music and great ensemble acting galore, feels largely quiet and understated...and can be accused of having a misogynist streak. In this case though, I'd suggest that the accusation is less valid; and not just because the auteur's sometime policewoman sister appears to have served as the inspiration for Maggie Siu's PTU sergeant character.


---
8) TURN LEFT, TURN RIGHT
Good god. One more Johnnie To film on this list. And none of them starring Sammi Cheng to boot! More seriously, it is quite remarkable how different are the three efforts in my 2003 HK Movies Top Ten that bear the Milkyway Image doyen's imprint. More specifically, what we have here is a beautifully lensed romance pic that couldn't help but feel good; especially in light of its possessing such warm vibes-emitting as well as physically attractive, even while acting lovelorn, leads in Takeshi Kaneshiro and Gigi Leung.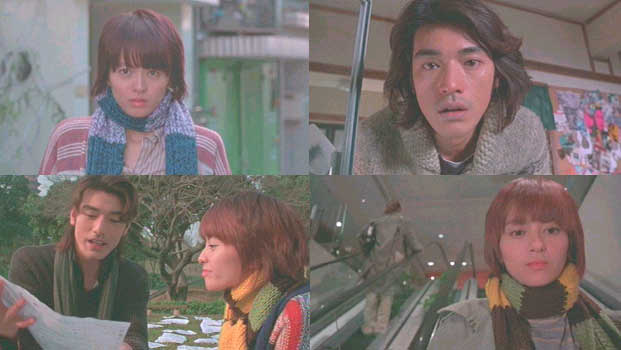 ---
9) COLOUR OF THE TRUTH
Coming in the wake of the box office tsunami called "Infernal Affairs (I)" like it did, this Wong Jing and Marco Mak co-helmed crime drama had to endure copycat accusations and superficial comparisons that I consider rather unfair. Instead, IMHO, when viewed on its own, this very watchable work comes across as having its share of merits -- notably in such as its possessing an involving main story along with the increasingly charismatic Anthony Wong's three-dimensional portrayal of a complex character.


---
10) MY LUCKY STAR
For my money, a Chinese New Year comedy ought to be funny, star-studded, convey auspicious wishes and/or messages, and have elements that make the viewer think "only in Hong Kong..." By my reckoning, this entertaining feng shui and other predictive devices-themed offering that also can be characterized as a Tony Leung Chiu Wai and Miriam Yeung-powered star vehicle fits the bill. Consequently, I have little to complain, and found much to like, about this movie which I enjoyed much more than any of the four other 2003 offerings I viewed that had "Madam" Miriam in their cast.


---