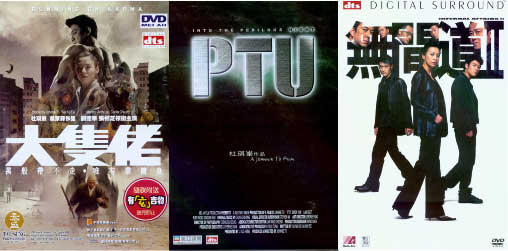 ---
Top 10 and Comments from Brian
I think I have finally seen all the 2003 Hong Kong films that I need to in order put together a legitimate Top Ten list. Admittedly, this would not include seeing any Miriam Yeung films because I just can't take her any more. Her popularity continues to baffle me in the same way that Adam Sandler's does. It is almost like a sign that the end of the world is bearing down upon us. I fear that someday she will be in every film from Hong Kong and at that point I switch my attentions to Eastern European film. As it was, she was in about 10% of Hong Kong's output in 2003 and was in three of the top 10 box office hits. Of course this is nothing compared to Chapman To who was in at least 12 films last year – nearly 25% of the films released in Hong Kong. Does this guy have a good agent or what?

Of course, the fact that there were only 53 HK films released in theaters last year made it a lot easier to see what seemed to be the essential films. On the other hand, coming up with ten films – 20% of the total output - to put on a list such as this seemed a bit of a stretch. The first four on my list I would happily go toe to toe with anyone, but after that they are on there with some reservations. I certainly enjoyed them, but was also aware of their weaknesses and limitations. This just wasn't a good year for Hong Kong film – on the screen and especially off of it.

In fact, at times the importance of the films seemed to be very much diminished by other events that placed a depressing pallor over the entire city. First the SARS epidemic struck like a head on collision creating a near siege mentality in which people walked about the streets hidden behind facemasks and avoided enclosed populated spaces like movie theaters. At times there were so few people in the theaters that it may actually have been one of the safer places to be. No production companies wanted to open their films during this period and from February through April only 5 films were opened. After two box office successes in January (Love for All Seasons and My Lucky Star), there wasn't another until July. Film production also slowed to a crawl and this affected the number of releases for the remainder of the year.

In the midst of this came the tragic news that Leslie Cheung had committed suicide and in a city already beaten down this was like dagger in the heart. The city went into mourning and shock that it never truly recovered from during the year. Then as the year thankfully was winding down, the sudden death of Anita Mui again sent the city into a sorrowful tailspin. These two stars were Hong Kong's very own – Hong Kong born and bred – one to a tailor on Nathan Road and the other to a cabaret singer. They were perhaps the two most cherished Hong Kong entertainers of their time and had spent twenty years under the spotlight and in the hearts of millions of their fans – both so beautiful, so charismatic, so young and now so missed. Saying hello to the New Year felt especially good in 2004.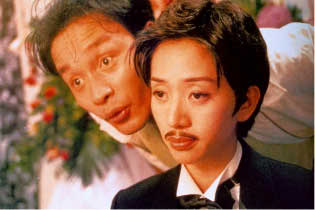 Still, even amid the bad news films were being made and eventually audiences found their way back to the air-conditioned theaters. The film landscape continued generally along the same paths as it has the past few years. The old mainstays have fallen off the radar – only one traditional martial arts film was made – and by none other than the Shaw Brothers – but the Lau Kar-leung "Drunken Monkey" made barely a bump at the box office. Fantasy action films were also nearly non-existent with the major exception being "The Twins Effect" that did huge business, but this was all attributed to the popularity of the stars and not a rebirth of the genre. There were a few terrific crime films produced, but unlike the old days they were much more narrative focused than action oriented.

Only "Heroic Duo" and "Black Mask II" could really be defined as action films and neither did all that well for good reasons – "Heroic Duo" is simply dimwitted and "Black Mask II" is just bad – a film that Tsui Hark fans wished he had taken to the grave with him. The horror genre that had grabbed a hold of Hong Kong over the past few years grew strangely quiet with only three of any note being made – "Death Curse", "The Park" and "Shiver" – none did all that well leading one to surmise that the influence of "The Ring" and its followers has finally lost its grip on the audience – how many films can anyone watch of a ghostly woman in red or someone who sees ghosts? Exploitation films are almost a lost art in Hong Kong with most Cat. III films being banished to straight to digital status.

So once again the majority of films fell into the genres of comedy, drama and romance or a combination of these. This of course aligns the Hong Kong film industry with that of most other countries film output. This is upsetting to many Western fans that first came to Hong Kong cinema for the action films and now find it remarkable that the best action film during the year came from the mind of Quentin Tarantino - made even more painful by the fact that Tarantino's inspiration was the old Asian action films. A number of these drama/comedy/romance films are reasonably well made affairs with polished scripts and display good technical skills – somewhat remarkable when you take into account their miniscule budgets. A few that didn't make my Top Ten list but were still worthy films were "Hidden Track", "Floating Landscape", "Fu Bo" and even lesser efforts such as "Spy Dad", "Honesty" and "Diva Ah Hey" had a light charm about them. One might look at this trend in Hong Kong films as a reversion to pre-martial arts days when romances and melodramas ruled the Hong Kong box office. Nothing stays the same.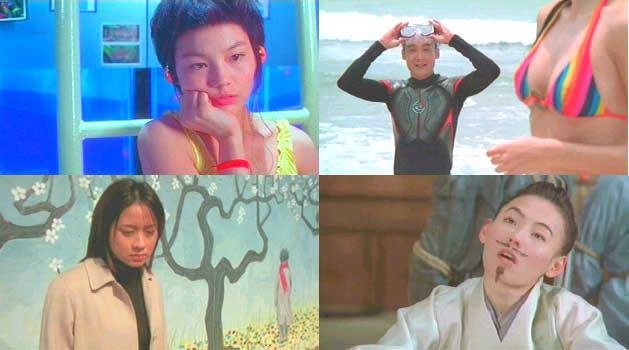 One issue that I harp on every year and will do so again is the amazing lack of depth in the talent pool of the new male actors – where are they? Of the top ten box office films, only one ("Dragon Loaded") was driven by a fairly new male actor (Ronald Cheung) while all the others derived their popularity from either the female stars or male actors who have been here since the 1980's – but how long can the two Tony Leung's, Andy Lau, Lau Ching-wan and Leon Lai keep driving the box office and making romances with actresses twenty years their junior or be believable in action films. Hopefully, for quite a while to come because none of the young male actors have shown any staying power and the one who had great potential, Nicholas Tse, self-destructed.

Though the younger generation of female actresses have a long ways to go to match up with the last generation of Maggie Cheung, Brigitte Lin, Rosamund Kwan, Carina Lau, Carrie Ng, Chingmy Yau and Cherrie Chung, a few of them have shown some real appeal – Angela Lee, Karena Lam, Cecilia Cheung, Vicky Zhao, Cherry Ying and the slightly older Hsu Chi, Michelle Reis, Sammi Cheng and Gigi Leung. Cecilia in particular had a standout year to re-establish her as one of the best with "Running on Karma" and "Lost in Time". When she is in a film that matters, Cecilia is quite marvelous.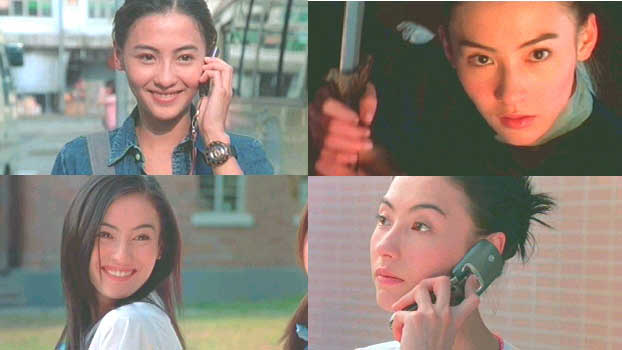 Then there are The Twins of course who haven't quite lost their touch yet, but one wonders how long this phenomenon can go on. Between them they were in two films together and another five solo projects – and one of the more important geopolitical questions of our time still remains – just which Twin is cuter? In a scientific poll on Hong Kong Entertainment News, the question was asked "I wouldn't mind being married for 55 hours to" and Gillian won in a cake walk with 38% of the votes while Charlene received only 11%. Upon hearing this, Charlene pouted "hey, I've slept with Ekin and Lau Ching-wan in my movies – Gillian has yet to break her cinematic virginity – so who do you really want to be married to for 55 hours – the Ice Queen or me?" Hmmm?

Speaking of those somewhat older actresses – what are they up to - Hsu Chi was sadly absent for most of the year with only "Looking for Mr. Perfect" being released (and that was made long before), Sammi Cheng showed up in only two films – but both were box office hits ("Love for all Seasons" and "Good Times, Bed Times") showing she still has that magic going for her, Michelle Reis brought her beauty to only one film, "Miss Du Shi Niang" and Gigi was only in two films, "Sky of Love" and "Turn Left, Turn Right". One senses that the baton is already being passed to the next generation of female stars.

Though it was a pleasure seeing Carina Lau participate in such a big success as "Infernal Affairs II" – most of the other actresses from her generation who are still active were generally invisible – no films for Rosamund Kwan, none for Carrie Ng since 2001, no films with Maggie Cheung since "Hero" in 2002, Sandra Ng basically appeared in one film, a reprise of her role in "Golden Chicken", along with a few cameos, Karen Mok had only a cameo in "The Twins Effect", Sylvia Chang had no films, Yoyo Mung who was the "It" girl in what seemed only a hiccup ago was only in one low budget film ("Sai Kung Story"), tragically Diana Pang Dan and her cleavage were no where to be seen on the big screen and Michelle Yeoh spent the year preparing the 2004 film "Silver Hawk" (that most fans seem to wish she hadn't bothered to do). Nothing stays the same and in Hong Kong that seems especially true with actresses having a shelf life of a few years until the next idol pops out of a box. Very much the opposite of the male stars of yore who have had twenty year careers and are still going strong. Andy, Lau Ching-wan and Little Tony ruled the box office between them.

There is some good news though. One change that may have a hugely beneficial effect on the future of Hong Kong films is the re-categorization of Hong Kong films in China from foreign to Chinese films. This allows Hong Kong films to be shown there in much larger numbers because in the past only a few films from Hong Kong were permitted since Hong Kong was considered a "foreign" country and there were quotas around the percentage of films from outside. This additional revenue flow should help the industry considerably. Of course, this could be a double-edged sword if Hong Kong films start tailoring their content towards Mainland taste and Mainland film restrictions on subject matter, political content and sexual explicitness.

In some ways last year may be remembered as the year that we finally got to see many of the wonderful long dormant films from the 1950's through the 70's as the two premier film companies from that era – The Shaw Brothers and Cathay – have been releasing these films on DVD. It has been a revelation. So many of these films are simply a pleasure to watch and it has truly felt like discovering a new world of rough and tumble action, lush musicals and tearjerking melodramas. And we have discovered a huge parade of stars who were legendary by name and now we know why – glamorous stars like Grace Chang, Linda Lin Dai, Lucilla You Min, Julie Yeh Feng, Lily Ho, Li Ching, Ivy Ling Po, Betty Loh Tih and Jeanette Lin; sexy ones like Angela Yu, Fannie Fan, Chen Ping, Tina Ti, Tina Chin Fei and Ai Ti; debonair men like Peter Chen, Roy Chiao, Kwan Shan and Paul Chang Chung and of course the many heroic action stars – Ti Lung, David Chiang, Fu Sheng, Jimmy Wang Yu and gobs of others. It has been a thrill.
---
Here are the 2003 Box Office results*
1. Infernal Affairs III - $30.21 (12/12)
2. Twins Effect - $28.41 (07/24)
3. Running On Karma - $26.25 (09/25)
4. My Lucky Star - $24.92 (01/23)
5. Infernal Affairs II - $24.90 (10/01)
6. Love For All Seasons - $24.64 (01/23)
7. Love Undercover II - $21.65 (07/03)
8. Good Times, Bed Times - $19.74 (07/24)
9. Dragon Loaded 2003 - $16.20 (08/21)
10. Lost In Time - $15.49 (11/20)
* Unofficial Box Office numbers provided by Mov3.com, Asianboxoffice.com
Release date information provided by the Hong Kong Entertainment News Web site which lists all the 2003 films here.

---
Top 10 Hong Kong Films of 2003
1. Running on Karma
A film as peculiar as this could have been an awful mess in the wrong hands, but out of this bizarre mix of romance, action, the supernatural, murder, revenge, Buddhism, faith and muscle bound suits comes a remarkable film that is soaring and challenging in its ambitions. Even encased in his rubber muscle suit, Andy Lau gives perhaps his most personal, deep and likable performance and his co-star Cecilia Cheung is painfully sympathetic as a woman who comes to slowly realize her seemingly inevitably tragic fate. With a first half that exhilarates you and a second half that decimates you, this will possibly leave you confounded but viscerally rewarded.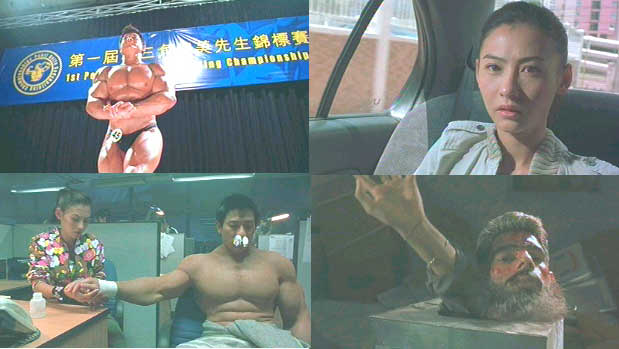 ---
2. PTU
Johnny To returns to his Milkyway roots and delivers a brilliant noir tale that takes place over the period of a single evening on the dangerous streets of Kowloon. Sparing in its dialogue and plot, it captures the gray connective tissue between police and triads in a minimalist tone poem that explodes in your hands.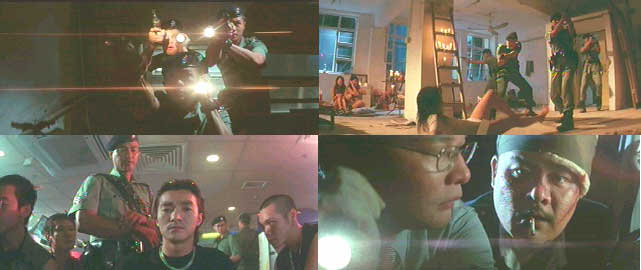 ---
3. Infernal Affairs II
This follow-up to the first in the trilogy was in my opinion the strongest film of them all as it devolves into a perfectly paced thriller about cops and triads that pulls a number of plot strings together into a tight stranglehold. As entertaining as the first Infernal Affairs was, it was a bit gimmicky and star dependent but this one is a much more straightforward tale of intricate betrayals and cunning strategy that feels much bigger than it really is. With a fabulous acting cast of Anthony Wong, Eric Tsang, Francis Ng, Carina Lau and many other excellent character actors, it feels like a classic that will only get better over time.

---
4. Lost in Time
This is a very poignant but low-key drama that explores loss, remembrance and resilience in an extremely affecting manner. Cecilia Cheung's fiancée dies in a traffic accident and she has to cope with his devastating loss as well as dealing with suddenly having to make a living, raising her fiancée's child and a cold uncaring world. With the assistance of a sympathetic Lau Ching-wan, she somehow perseveres and out of this tragedy she becomes a stronger person. Both Cecilia and Lau give performances that will resonate with you emotionally for a long time.


---
5. Men Suddenly in Black
This begins so promisingly with a clever script that lightly skips along in a comically fresh manner and then sags a bit in the middle only to rebound with a surprisingly touching coda. Like a precision military operation, four men plan a night of whoring while their significant others are out of town. But when the women come back earlier than expected, it turns into a fast thinking chess game as they try to stay one move ahead of the other as the women attempt to hunt them down. A terrific ensemble along with the amusing assistance of cameos from Tony Leung Ka-fai, Sandra Ng and Maria Cordero make this film an entertaining sprint and a visual delight with some lovely parodies of the triad and heroic bloodshed genres. My main criticism of the film is that it never has the nerve to really go overboard as it keeps all the shenanigans fairly harmless. How do four men go out whoring and none of them get laid?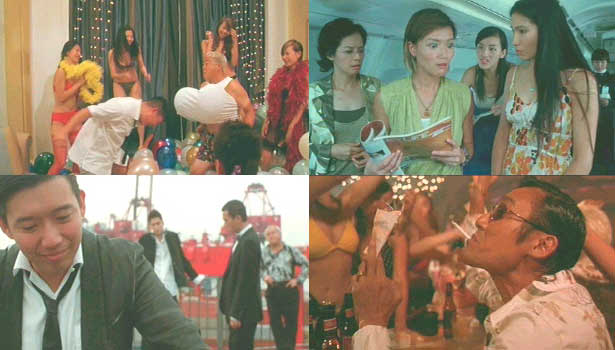 ---
6. Turn Left, Turn Right
I thought this was clearly the best romance to emerge from Hong Kong last year with lovely production values and two very appealing performances from cuddly teddy bear actors Gigi Leung and Takeshi Kaneshiro. It reminded me of one of those tender glossy Korean romances in which fate plays out its quirky game like a whimsical child. The two of them meet and discover that during adolescence they had a crush on one another and these feelings quickly re-emerge for these two lonely people lost in a big city. But circumstances cause them to spend the rest of the film looking for one another in near parallel lives – though as the audience knows they live within the sound of a heartbeat of each other.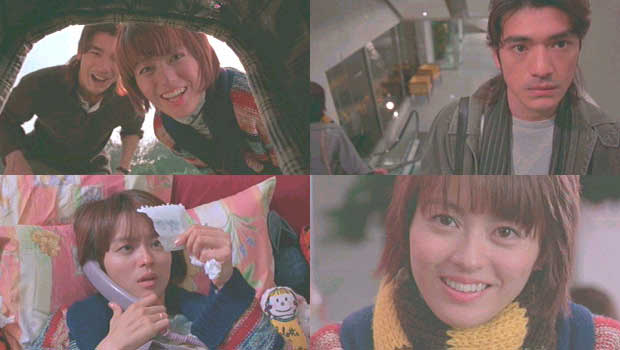 ---
7. Colours of the Truth
Hong Kong has always had a special talent for crime films and this year they came out with three excellent ones – PTU, Infernal Affairs II and this film. With current budgets forcing filmmakers to downplay expensive action sequences, they focus more on character and plot and this is a perfect example of what a good script and acting can accomplish without much money. With clever twists that kept me on my toes till the very end, this is a minor gem. The enigmatic Anthony Wong is at the top of his game here and Gillian looks very cute holding a gun. As if she could shoot anyone.


---
8. Looking for Mr. Perfect
Ringo Lam made just the film he was trying for here – a light and cherubic action comedy that isn't to be taken seriously for a moment. From all appearances, Lam made the film between margaritas at a Malaysian beach resort and he invites everyone to just come and relax. In a near parody of his previous flamboyant bad guy roles, Simon Yam, and his silent gothic punk sweetie killer cigar smoking girlfriend, Ruby Wong, are the couple of the year – and only Hsu Chi and Andy On are in the way of them acquiring terrorist weapons. Sit back, sip a drink and enjoy some fun nonsense.


---
9. Naked Ambition
Honest, it's not just the acres of naked breasts that make this an enjoyable film – it tells a slick, original and clever story about the sex industry that has a touch of Citizen Kane about it. In an interview Louis Koo – surrounded by over thirty topless Japanese actresses – relates the story of starting up a magazine in Hong Kong that is a Zagat's of the sex trade – where to get it, how good it is and how much it will cost you. It brings him fame and fortune but also some despair in his relationships. Along the way we get to meet some intriguing working women such as Titty Bird and Tess Tickles, the master of the "ice and fire" technique of oral sex.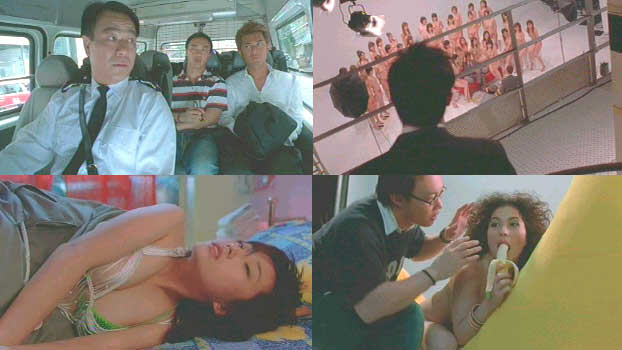 ---
10. Miss Du Shi Niang
Perhaps this is primarily for fans of Michelle Reis – and I count myself as one of those – but she is stunningly beautiful here and the film indulges us with countless heart stopping close-ups of her ravishing face. She plays a famous courtesan who wants love and to retire from the business, but her contract is held by the Madame (Lydia Shum) who has no desire to let her top earner go. Using the innocent Daniel Wu as an unwitting tool, Michelle devises a plan to force the Madame's hand, but rarely do things go according to plan nor does love come so easily. Michelle radiates like a cool simmering star.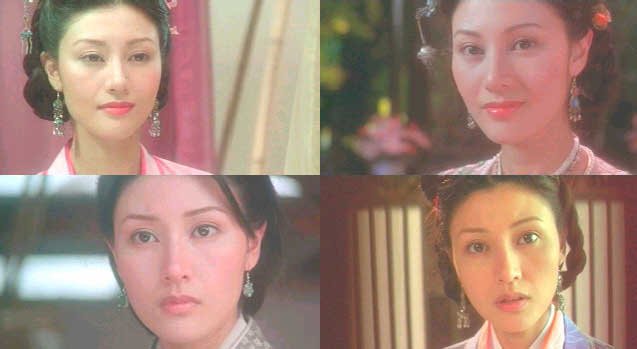 ---
There were a few Hong Kong films that didn't make this list that many others thought more highly of than I did. Here is why.
Infernal Affairs III
It's not that it's dreadfully bad, it just feels so unnecessary and is at times quite clumsy in trying to fit its plot into the cracks left open from the first two films. Also, in order to make use of the wonderful cast from the previous films (most of who are now dead of course), they rely on loads of flashbacks that seem to serve very little purpose to me - in particular the Tony/Kelly sections feel like useless filler. The best moment of the film is the very final scene, which actually comes from the first film and gives an emotional slug to the whole trilogy – a splendid and sad frozen tableau. Generally, the film struck me as an attempt to suck a few more dollars out of this franchise (which they clearly did as it shockingly was the top grosser of the year), but there wasn't enough material to work with and the film becomes a confusing chore at times to sit through.


---
Truth or Dare: 6th Floor Rear Flat
A number of people I totally respect have really thought highly of this film (YTSL for one!), but it annoyed me from beginning to end. If I had to spend more than a few minutes with the whiny 20-somethings here, I would slowly lose my will to live. Just put them all in burlap sacks along with a few heavy rocks and drown the whole lot – with one exception. Here is a dare to most of these young actors – find something you are good at because acting isn't it. As much as I usually like Karena Lam, all I wanted to do here was take her phone away and give her a good talking to. Only the quirky Candy Lo kept me engaged and stopped me from tossing this one out the window – only wish I could have done that with the characters.


---
The Twins Effect
Liked by many, hated by many – I find myself somewhere in the middle. There are sections that are mind numbingly painful and almost embarrassing to watch, but I enjoyed the general campy animated thrust of the film and found the action slickly watchable. But if the Hong Kong government doesn't pass a bill soon to keep Edison Chen out of films, the entire industry may face ridicule. His romantic scenes with the little pop tart Charlene were more uncomfortable than a few medical procedures that I have undergone recently – and believe me they were not fun. I still look forward to the sequel though because the Twins are so darn adorable.


---
The Death Curse
I'm still not exactly sure why I found this film so dreadfully dull, but it was all I could do to finish it. I suppose my main complaint has to be lodged against the way the Twins are used. Lets face it – The Twins aren't exactly good actors – what they do have in spades though is the cute factor – more of it than a truckload of homeless puppies. They aren't remotely cute here; they aren't much of anything in fact that registered. The film also can't decide what it wants to be – a horror film, a comedy, a romance, an idol fest – but none of them click and it dragged along like a one legged mummy.


---
To read other 2003 Asian Film Picks, click here.