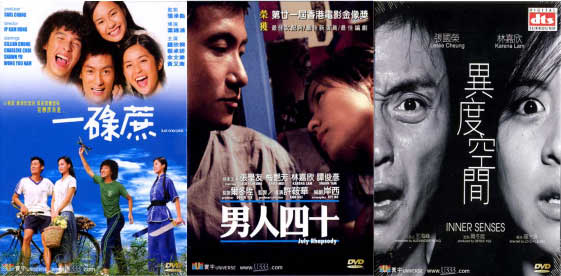 ---
Top 10 and Comments from YTSL
Considering the acclaim and box office success that has been garnered by a trio of movies that were released at the very tail end of 2002 (along with the complaints that most of the year's crop has been less than impressive), it might seem to make for an exercise in frustration plus futility to compile a top ten list before having viewed them. Rather than wait until I've personally had a chance to check out "Infernal Affairs", "Golden Chicken" and "Hero" (as well as hyped-up fall theatrical releases like "Three" and "So Close" along with offerings like the "The Mummy, Age 19" that might turn out to have been undeservedly under-heralded), however, I've elected to go ahead and do just this.

And as improbable as it may seem to some, I still did feel able to come up with more than ten viable candidates to put on this list. Indeed, the fact of Brian's most highly rated 2002 Hong Kong movie not making my top ten list may speak less to our having extremely disparate movie likes and dislikes and more as a testament of there being quite a few good/enjoyable/worthy films having been made and released in the territory, after all, during a 12 month period that has been widely described as being Hong Kong cinema's worst in decades.

Still, this is not to say that there is no truth at all in these allegations. For one thing, 2002 feels like it's been one of the most (damagingly) scandal-plagued years in recent memory. For another, death aplenty looked to have entered into movie star lives as well as onto the silver screen. Accordingly, before I go ahead with listing and briefly commenting re my Top Ten of 2002 picks, here's wanting to (belatedly) say a R.I.P. to, among others: director Chang Cheh (whose "Nacha the Great" was a childhood favorite of mine); Pauline Chan (whose filmography includes the strong acting performance filled "Girls without Tomorrow"); Lo Lieh (a Shaw Brothers movie villain whose last film appearance -- in "Glass Tears" -- was as a caring grandfather who trendy young folks could consider pretty cool); singer Roman Tam (who many contemporary stars evidently considered to be their mentor); along with the beloved mothers of action god Jackie Chan and the great Brigitte Lin.
---
My picks (as of late January, 2003 and post viewing (just) twenty-six 2002 Hong Kong movies):-
1) July Rhapsody
Virtually from the start all the way to its conclusion, this Ann Hui helmed -- and Ivy Ho scripted -- drama struck me as being intelligent and profound but also capable of being moving plus thoroughly interesting. Well-written, -acted (notably by Jacky Cheung, Karena Lam and Anita Mui), -lensed and -directed, it is one truly elegiac as well as all round excellent work that deserves to be seen by more people than probably will ever get a chance to check it out (as a result of it not fitting into the visually lush art house along with wild action ghettoes that Hong Kong films appear to have been unfortunately consigned to outside of Asia).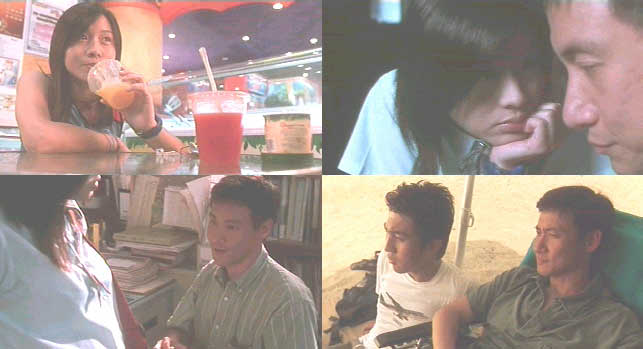 ---
2) Just One Look
A nostalgic "Coming of Age" offering that I had thought to be ideally tailored to appeal to Hong Kongers, young and old, female and male. Yet, judging from the highly positive reactions of many overseas fans to this warm work from director Riley Yip and co. (as well as its exclusion from the 2002 HKSAR box office top ten plus Hong Kong Film Critics Society's Films of Merit lists), that which also may be characterized as a tribute to Chinese cinema -- particularly c. 1970s efforts -- rather inexplicably seems to be better at capturing the hearts of non-residents of the HKSAR!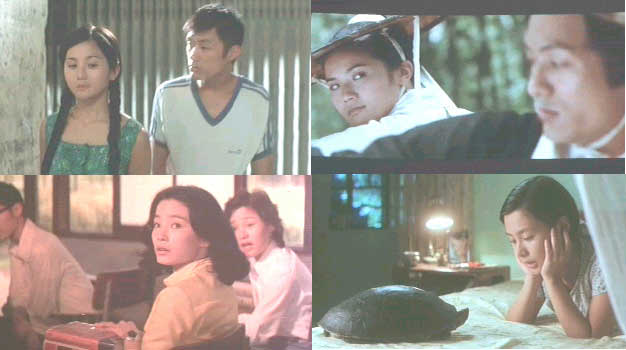 ---
3) Inner Senses
More of a psychological drama than an outright supernatural horror movie, this Derek Yee and Lo Chi Leung co-helmed movie still possesses scenes which succeeded in scaring the bejesus out of me when I viewed this effort when alone in my apartment. Nevertheless, where I feel that the film most succeeds is in terms of leaving behind certain thoughts about life as well as death that one feels obliged to seriously mull, and for more than just the few moments that one takes to get back to reality post immersing oneself in its particular reel-ity.

---
4) Hollywood, Hong Kong
The second installment of Fruit Chan's Prostitute Trilogy bears comparison with -- yet also seems to have paved the way for a different path to be pursued from -- this critically acclaimed director-scriptwriter previous works. At this juncture, the thing that truly awes me about the founder of the "Made in Hong Kong" school is not so much that he appears to be continually willing to experiment and take major risks with each new film of his but, rather, that he thus far has been able to do so without style, whimsy and/or cynicism overwhelming substance together with a strong sense of humanity.

---
5) The Eye
One of five films on this list that I had the privilege of checking out in a cinema, this transnational offering has its share of unsettling sights and segments that had me squirming in my seat (and wishing I wasn't in a darkened, even if actually pretty large and by no means deserted or always quiet, room). Add in the strong conviction of my viewing companion (i.e., my dear mother) that the movie's premise is very much rooted in reality -- or, at least, in line with local beliefs concerning the supernatural -- and what results is a feeling that it all is much less of an(other) Asian "The Sixth Sense" rip-off than one very effective at spine-tingling together with serious dramatic work!

---
6) Fat Choi Spirit
Chinese New Year movies are one of my favorite types of Hong Kong movie and, IMHO, this star-studded offering was the best as well as most entertaining of the 2002 lunar new year crop. Not incidentally, it's also an eminently "local" plus "Chinese" feeling effort that seems to have been designed in some part to ease the worries of Milkyway Image fans who reckoned that -- with such as "Full-Time Killer" and "Love on a Diet", Johnnie To and co. were in danger of pursuing a too generically international path.

---
7) My Left Eye Sees Ghosts
One of a number of movies on this list that works much better as something else than what they may have been primarily advertised as being. In this case, and especially when viewed a second time, this ostensible supernatural comedy (cum Sammi Cheng vehicle) affected me more as a stirring paean to a love that cannot be ruined, denied or put a stop to even after death intrudes into the picture.

---
8) Princess D
To my mind, this Sylvia Chang and Yuen Gam Lun co-helmed cum -scripted drama has many wonderful little touches and incandescent moments that make up for its also undeniably having flaws aplenty. The gang rumble which Daniel Wu's character viewed through a drug induced haze is a particular highlight. Additionally, among the more mundane sounding scenes and bits of the film that truly moved me -- in at least one instance, even to the point of tears -- are: That in which Anthony Wong makes Angelica Lee a cup of coffee; the one which has Pat Ha's character trying to touch her husband through a glass barrier; and when we, the audience, finally are introduced to the title character's digital world.

---
9) Sleeping with the Dead
By far the lowest budget work in my top ten list, this rather low key supernatural crime drama most definitely has some obvious technical failings (e.g., in the make up department). Yet nothing truly interfered with my ability to feel majorly impacted by its pair of bitter-sweet stories that both have Jordan Chan's character and a woman who dearly cares for him at the center of them.

---
10) Love Undercover
My favorite Miriam Yeung movie to date. Since she is not one of my favorite actresses, this might not seem like saying much. Alternatively, at a time when Hong Kong cinematic efforts -- particularly its romantic comedies -- have been accused of being overly star dependent along with focused, it would seem to effectively mean that this amusing Joe Ma and Chan Wing-Shun co-helmed cum -scripted work has much more to offer than most.

---