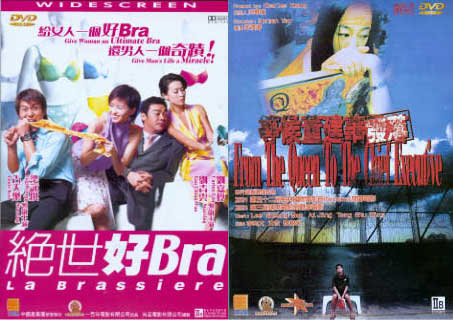 ---
Top 10 and Comments from Brian
During 2001 Hong Kong film still looked to be searching for a new identity. The two mainstay genres of action and fantasy that made Hong Kong film cherished around the world for two decades have clearly lost their box office appeal and so filmmakers are turning elsewhere for inspiration and commercial success. This is allowing some of these filmmakers to go off in interesting directions and produce movies that are creative and personal. Few of these did well at the box office though, but their low budgets make it possible I hope for these types of films to continue.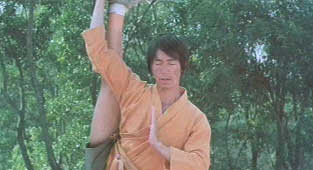 Two of the most ambitious and creative films from the year were made by two of the most experienced filmmakers in Hong Kong – Stephen Chow and Tsui Hark. Both made extensive use of CGI in original and exciting ways, but one became the all-time HK box office hit while the other was a box office disaster – showing that even with magnificent special effects, a large dose of humanity still has to be there.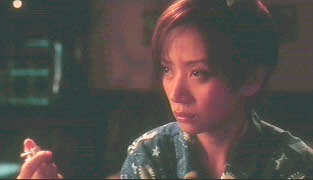 Original films with much lower budgets were often hits with critics and western fans if not in Hong Kong. Films such as From the Queen to the Chief Executive, Midnight Fly, Forever and Ever, Glass Tears, Love au Zen and Gimme Gimme were serious attempts to deal with relationships and social issues. Others like You Shoot, I Shoot and Merry Go Round were small and charming films that radiated with good will.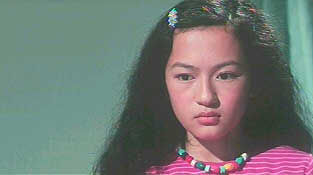 It was certainly a poor year for action films. Perhaps my favorite was Jackie Chan's The Accidental Spy, but as much as I enjoyed it one has to concede that it is no classic and falls fairly far down in respects to ranking Jackie's films. Others that hit the screens were Sharp Guns, Hit Team, My Schoolmate, The Barbarian, Bullets of Love – all competent films but they generated little excitement. The most anticipated action film of the year was Johnny To's Full-Time Killer - a hoped for return to his noir like days of The Mission – but it was met by disappointment by most Western fans though it did well at the box office in Hong Kong (and I personally enjoyed its style and look).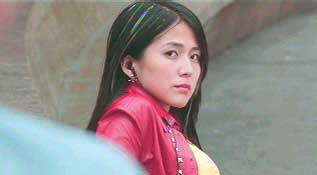 For fantasy enthusiasts, there was really only Legend of Zu and with it's negative reception one has to be pessimistic about the future of fantasy films in Hong Kong at least in the short run. Another genre to finally break down in creative exhaustion might have been the triad film. For much of the last five years, the Young and Dangerous films and their offshoots have enjoyed a lot of popularity in Hong Kong, but this year the meager offerings were Goodbye Mr. Cool with Mr. Young and Dangerous himself, Ekin Cheng, and City of Desire a film that tried to position itself as a sequel to Portland Street Blues like a pretender to the English throne.



Girls with Guns made a tiny if misguided attempt at coming back with Martial Angels and Cop Shop Babes. Producers apparently don't trust taking a serious kick butt approach to this genre anymore and so fill the screen with beautiful actresses that have no martial arts training in hopes of getting an audience. It didn't work. One other film, Bullets of Love, had a much more interesting female assassin, but she had to take a back seat to Leon Lai.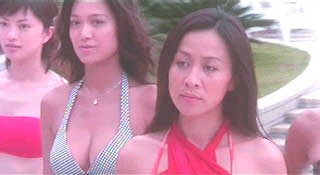 The flurry of horror films slowed down considerably this year and most of what did crawl into the theaters was dreck such as Human Pork Chop, Scaremonger and There is a Secret in My Soup. There were amazingly five additions to the Troublesome Night series, but few people seem to have noticed. There were two films in this genre that I quite enjoyed though – Horror Hotline – Big Headed Monster – that is much better than the title might imply – and the Ann Hui attempt at producing chills – Visible Secret.



The big driver of films was again comedy this year. The working class comedy seems to have almost vanished as this new breed of comedies is almost entirely centered on middle to upper class yuppies. These ranged in quality from excellent (La Brassiere) to solid (Love on a Diet, Dummy Mummy, Without a Baby) to so-so (Everyday is Valentine, Fighting for Love, Love Me, Love my Money, Master Q) to awful (Fall for You). Two comedies though departed from this formula and they were both huge successes – Shaolin Soccer and Wu Yen. Another comedy that received good word of mouth was Runaway but I can't even begin to fathom why as I remain convinced that Nick Cheung is as funny as a nail through your shoe.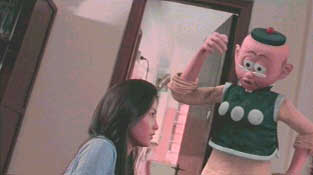 So it was far from a great year in Hong Kong – over a 100 films made – some very good ones in my opinion but still nothing that felt essential to me. The near disappearance of the genres that pushed the HK film engine for so long makes one wonder if Hong Kong is evolving to a genreless industry - meaning that genre will not be the overriding factor in getting a film made – but instead that the decision to produce a film will be based on it's originality, quality, concept and the script. Perhaps this is a sign in some ways of the maturity of the industry and could be the launch pad for many terrific films in the future.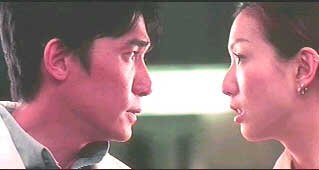 ---
For a complete listing of the films for 2001 check out John Charles's Hong Kong Digital.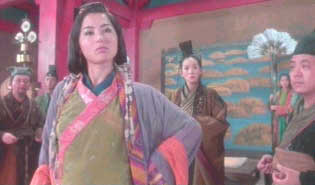 ---
Here are the top 10 Box Office films for the year as supplied by Carl Moy on Mobius. Amounts are in HK$:
1) Shaolin Soccer - $60.7
2) Love On A Diet - $40.4
3) Accidental Spy - $30.0
4) Wu Yen - $27.2
5) Full-Time Killer - $25.7
6) La Brasserie - $18.5
7) Master Q 2001 - $18.4
8) Fighting For Love - $18.2
9) Dance Of A Dream - $13.4*
10) My Life As McDull - $12.9*
(*End of the year films still playing in HKSAR theatres at the time of writing (January 11th, 2002)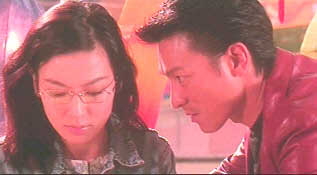 ---
Another difficulty that Hong Kong is going through like birth pains is the transition to a new generation of actors. The big stars from the 80s and early 90s are beginning to age but no one has shown the right stuff to step into their shoes. So this year, it was the mature but still wonderfully popular stars such as Andy Lau, Stephen Chow, Jackie Chan, Carina Lau, Lau Ching-wan, Sammi Cheng and Tony Leung Chiu-wai that continued to dominate the box office. This is not a bad thing, but sooner or later they will need to be replaced by the next generation and no one seems ready.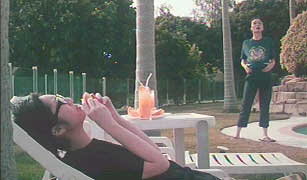 ---
Brian's Top 10 (without having yet seen Lan Yu or Peony Pavilion)
1.) From the Queen to the Chief Executive
This film explores the issue of a specific group of prisoners and their fate in such a methodical manner and in such near documentary fashion that you are surprised when you realize what an emotional impact it has had on you. Filmed on a shoestring budget with unknown actors, it is one of the most socially relevant and humanistic films to come out of Hong Kong in a very long time.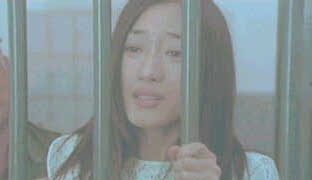 ---
1.) La Brassiere
While this film couldn't be any more different than "From the Queen to the Chief Executive, it is tied for me as the best HK film from last year. It is loopy, it is silly and it is completely charming. There isn't a serious moment in this story of two very lucky men who get hired to design the perfect bra in an office of beautiful women.

---
3.) Shaolin Soccer
Stephen Chow is making far too few films these days, but when he does they are events and none more so than Shaolin Soccer. This is one of his most ambitious films as he fills it with some fantastical and humorous soccer related CGI. But in reality it isn't the CGI that makes this film so good – if anything that eventually hurts the film – it is instead the terrific characters and friendships that Chow creates between him and his old friends and the odd but touching romance between him and Vicky Zhao.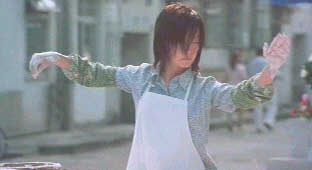 ---
4.) You Shoot, I Shoot
Another low budget film that finished its run at the theater faster than it takes us to walk around the block, but it deserved much better. With tongues firmly lodged in their cheeks, Eric Kot and Cheung Tat-ming charmingly satirize HK movies and hitmen. It's sharp, hip and lovingly filmed.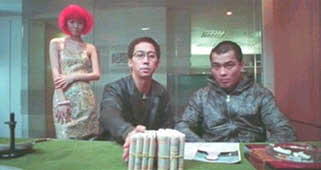 ---
5.) Visible Secret
Director Ann Hui foregoes to some extent her usual social critiques of Hong Kong and spins out a low-key ghost story that is effectively creepy, atmospheric and beautifully filmed. Underneath the surface I suspect that she still is painting a picture of Hong Kong, but on the surface it was one of the more artistically interesting films from Hong Kong last year.


---
6.) Merry Go Round
Light as a soufflé and just as delicious, this UFO film gently relays a slice of life story about Eric Tsang and his two children and the people they meet when they open a noodle shop. Very little actually happens but sweet performances from a crew of young actors make it impossible not to be happily sucked into their lives.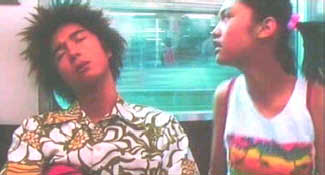 ---
7.) Legend of Zu
People were so looking forward to this follow-up from Tsui Hark's 1983 classic Zu Warriors that perhaps it was impossible to live up to expectations. Not only did it not live up to most expectations, but it was vilified like a serial killer and was a financial disaster. I think over time this film will be recognized as a brilliant if highly flawed attempt to create something entirely different in HK film. Tsui creates a CGI world unlike any other but he is not given the time (90 minutes) to flesh it out as it needs. Still, for someone of Tsui's stature and longevity in the business to go for this is something that he deserves credit for. I totally applaud him for never being afraid to experiment with new film ideas.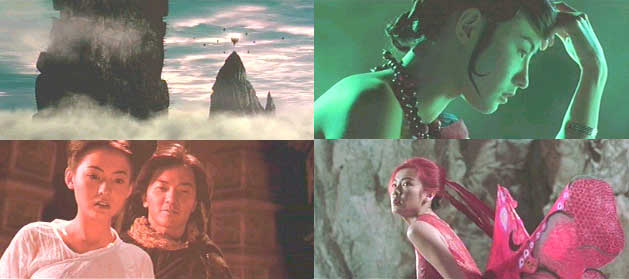 ---
8.) Wu Yen
One of the more original comedies in ages with three of Hong Kong's major primadonnas – Anita Mui, Sammi Cheng and Cecilia Cheung attending the festivities. The film is at times very clever though it does eventually drag on for too long and gets a bit repetitious. But any film that casts Anita as a male emperor, has Cecilia switch between genders at a whim and has Sammi adorned with a beard for a while has to be worth your time.

---
9.) Beijing Rocks
Beijing Rocks takes us on a road trip through the capital and into the small towns of Mainland China as we tour with a down at the heels start-up rock band and a burlesque show. Intertwined in this is a low-key romantic triangle that is perhaps too aloof, but it is surrounded by a lot of other enjoyable factors – great cinematography, solid acting and an interesting atmosphere that feels fresh and relevant.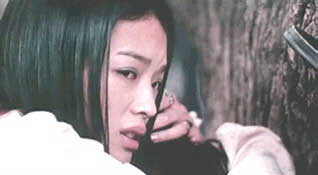 ---
10.) Glass Tears
Slowly paced and obliquely opaque, it is stunningly filmed and acted with delicate understated poignancy. The juxtaposition of vibrant primary colors against sad lonely lives gives this the film a beautiful pathos that is visually intriguing. The loneliness and isolation of the characters permeates this film - these feelings largely left unspoken are part of the Hong Kong landscape.


---
11.) Bakery Amour
Francis Ng and Michelle Reis are wonderful and cozy together in this oddball romance that is very effecting. The first half of the film that focuses on them is a treat and if that had continued this film would be close to the top of my list, but the soggy last third about another man who comes between them takes some of the sparkle out of this otherwise terrific film.


---
To read YTSL's Top 10 Choices for 2001 - please click here.
---