---
Looking back at the past year one can't help but feel hopeful and yet a bit disappointed at the same time. There were many indications that Hong Kong films are clearly off the deathwatch and getting healthy. Hong Kong films are going in lots of interesting and innovative directions – and films are being made that would have been almost unthinkable a few years back. At the same time, though there were a number of good films, there were no great ones – nothing that knocked me over as has happened so often in the past.
The westernization of the action genre continues with films like 2000 A.D., Tokyo Raiders and Conman in Tokyo – but either they have gotten less irritating or I have simply accepted them because for the most part I found them reasonably entertaining. And who would have thought the only notable flying fantasy film would be financed by a Hollywood film company? Crouching Tiger, Hidden Dragon apparently fared poorly at the box-office in Hong Kong and so it is unlikely we will see a major return of those kinds of films in the near future. The triad film is of course still around and chopping – but directors are finding intriguing angles to explore in some of these films (though did we really need two more additions to the Young and Dangerous series?) – but triad films certainly did not come close to dominating the cinematic landscape this year as they have so often in the past. Romantic comedies were quite successful – Needing You, Summer Holiday and Okinawa-Rendevous – were major films with Needing You being the biggest box-office draw in a few years. But in total no genre dominated – and that perhaps is a healthy thing.
I am, also, not including Crouching Tiger, Hidden Dragon because though it has a number of Hong Kong stars in it – it is not technically a Hong Kong film. If I had, it would have been my top pick. It is a wonderfully ambitious film that perhaps falls short of expectations – but if met on its own terms it is a rich and rewarding viewing experience and clearly the best film of the year in Hong Kong or anywhere else. Reading the criticisms from HK film fans makes me think that some of them came in expecting to find God and only found a movie. And by the way, Michelle Yeoh is glorious in it.
A little bit to my own surprise, it wasn't really difficult coming up with 10 films that I enjoyed this year – but at the same time that doesn't mean they are great films – just that I found them more entertaining than not. So here they are in order of preference:

---
1. Spacked Out – I saw this film early in the year and it still resonates strongly with me. Director Lawrence Mon tracks four teenage nowhere girls for a few days of their directionless lives. In these few days he paints a poignant and touching portrait of them - and yet still keeps it bare and unromanticized. It is a subtle, but powerful film that moved me much more than I expected or can explain.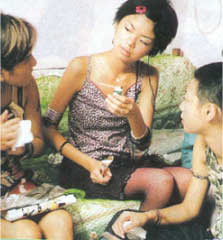 ---
2. In the Mood for Love – Wong Kar Wai immerses us in a sea of stunning images and throbbing music as he takes us back to the Hong Kong of the early 1960's. Tony Leung in his sharp tight suits and Maggie Cheung in her array of gorgeous cheongsams are only moving delicious pieces in Wong's hypnotic vision. Wong creates a world long vanished – of crowded but friendly living conditions, formal stylish attire, darkened hallways, all night mahjongg games, soft ballads playing on the radio, steaming noodle stalls, narrow alleys bathed with dim lights and shadows - a bygone era of fading images and sweet memories. It is a story that is achingly beautiful and hauntingly lonely.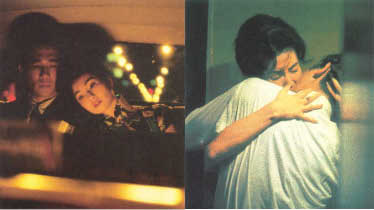 ---
3. Jiang Hu "The Triad Zone" – a stunningly photographed and well-acted film that seamlessly shifts through genres from parody to action to romance. It takes the basic premise of The Mission – an unknown killer is after a triad boss and they have to find out who before it is too late – and joyfully and humorously plays with notions of loyalty and honor in splendid fashion. The performances from Tong Leung Ka-fai and Sandra Ng are two of the best in their lives.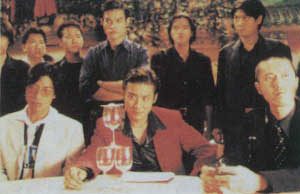 ---
4. A War Named Desire – this very stylish film has clearly been influenced strongly by some of the Milkyway films – A Hero Never Dies in particular – but it still has a terrific energy of it's own. It starts off slowly – but once the story shifts to Francis Ng and Gigi Leung it moves into overdrive and the last 30 minutes is some of the best filmmaking in a long while. Gigi Leung is surprisingly effective as a gun toting professional killer and Francis is as always on his game.

---
5. Needing You – this film simply rides on the waves of charm that emanate from Sammi Cheng. She is marvelous and makes this romantic comedy much more enjoyable than it should have been. It wasn't as hilarious as I was expecting - but it is consistently warm and fun. After seeing this film, anything with Sammi in it is a must see (even films like Summer Holiday!) – she is that good.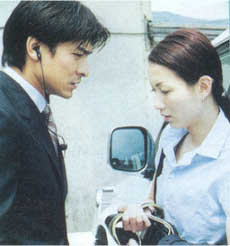 ---
6. Double Tap – a terrifically acted film by all the participants – Leslie Cheung, Alex Fong, Ruby Wong, Monica Chan and the supporting cast. In particular though I applaud Leslie for taking on such an unlikable character and making him seem tragically human. This is a progressively involving film as it shows a basically decent man losing his moral compass and becoming a very efficient mass killer. Never has the power of a single gun in the wrong hands felt so absolutely frightening to me.
---
7. And I Hate You So – I never thought the day would come when I so enjoyed a film starring Aaron Kwok and Kelly Chan – but this sleek urbane screwball comedy moves along very gracefully and charmingly. The cinematography and locales are a great plus. Sure, the ending might be too predictable for many – but hell this is a romantic comedy isn't it?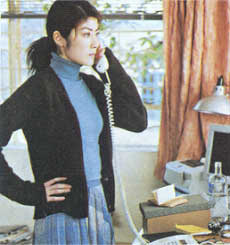 ---
8. Phantom of Snake – this is one of the oddest films I have seen in a long while. It is hard to imagine why it was even made it is so offbeat. I would assume the producer was made to believe this was going to be a horror film based to some degree on the legend of the White Snake – but instead the director turns it into a tonal poem that becomes nearly hypnotic. Jade Leung and Cecilia Yip are two snakes – taking on human form – and they slither through the streets of Hong Kong in search of Cecilia's missing lover.
---
9. Juliet in Love – the predictability of the ending of this Wilson Yip film bothered me a lot more than that for And I Hate You So – but until then it is one of the best character films to come out of HK in a long time. Francis Ng plays a low-level triad who gets forced by big boss Simon Yam to take care of his baby along with Sandra Ng. The story of these two lonely people slowly falling in love is quite touching.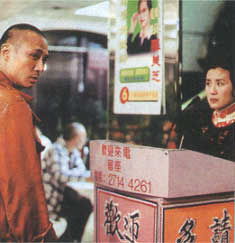 ---
9. Horoscope II: The Woman from Hell – the dream within a dream within a dream structure of this film might drive some people crazy – but I found this horror film to be visually delightful and creepy. The performances from Pinky Cheung, Sophia Ngan and Simon Yam are excellent.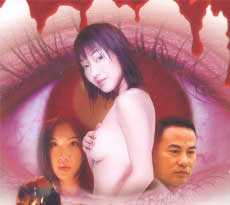 ---
11. Tokyo Raiders – taking this film seriously for even a second would be a mistake. It is a complete action spoof that is as light as a soufflé – and just as tasty if approached in the right manner. More in the tradition of the Avenger TV series – the film is playfull and visually colorful and creative – and the action scenes are graceful and comical. Tony Leung Chiu-wai hits just the right mocking tone as a detective in Japan – Kelly Chan is lovely as the dame in distress – and Ekin is surprisingly charming and athletic as an interior designer – and Tony's Japanese girl Angels deserve a movie of their own.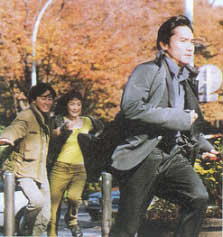 ---
Click to go to Homepage