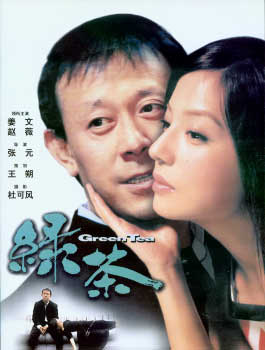 Top 10 list from Italdesign

---
Green Tea: The film most memorable, most enjoyable, and most admirable to me. It plays out like a dream-like mystery that invites the viewer to dig into the characters' psychology. I prefer to keep it a mystery so that it will continue to mesmerize me in years to come.
Gong Fu (2004): A cinematic experience unlike any other, it reminded me how much I used to cherish HK cinema when I was a kid. I was able to suspend my belief and FEEL Stephen Chow's magical world, the very same way I entered the universe of my fondest childhood memories.
Tokyo Raiders: The coolest movie I have seen, with the coolest characters, the coolest music, and coolest fight scenes in modern action flicks. The style is hypnotizing for me.
Chungking Express: After watching a lot of Wong Kar Wai movies, I have claimed a few different titles as my favorite, but in the long term Chungking Express takes the cake as the most memorable and revisitable.
Fist of Fury 1991 Part 2: these days Stephen Chow is pretty much the only candidate as my favorite HK actor. HK's biggest asset has made a lot of good entertainment, and I prefer those he made in the early 90s.
Royal Tramp 2: It's got Brigitte Lin, Michelle Reis, Chingmy Yau, Natalis Chan, Damian Lau, Sandra Ng, and Ken Tong Jan Yip--just to name a few, the list goes on--aiding the king of comedy. What more could you ask?
In the Heat of the Sun: When it comes to films that strike an emotional chord, this is the one for me. I watched my childhood unfold before my eyes; it was that vivid. If there was one movie that I never wanted to end, this is the one.
Jiang Hu: the Triad Zone: An unusually light tale of a gangster boss, Jiang Hu above all is still a mystery to me. It affords so much imagination to my mind, and every time I watch it, it seems to get better.
Hero (2002): The pinnacle of film as poetic art. This is not a movie for which you will remember the performances as much as the breathtaking cinematography and enchanting art direction.
Shanghai 13: for someone who used to stay away from anything outside the martial arts genre, it's amazing how my taste has evolved. Of the hundreds of Kung fu films I have tasted, I keep going back to Shanghai 13, because it's somehow more timeless with its all-star cast and refreshing dialogues. With a completely linear story path that's nothing more than an excuse to introduce everyone, it's got tons of cool action and some of the most memorable performances that I have EVER seen. While watching this, the best part is predicting which actor will turn up next.

---