HK Cinema - 1991
---
Going back to the 1970's HK filmmakers have been producing films with an erotic nature and sexual content. These films are often referred to as Category III films as the HK Film Board rates them as such.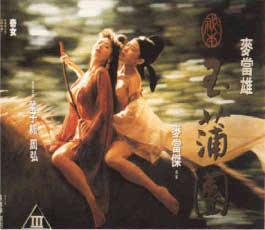 Most of them tend to be low budget trash, but in 1991 they produced a film that was visually sumptuous and starred the equally sumptuous Amy Yip. The film is based on a Ming classic tale of a man who goes against the dictates of Buddhism and his sexual desires lead to his downfall. The film has lots of nudity and bizarre scenes such as the man having a horse's penis transplanted in substitute for his own. But it was really Amy Yip that made this an international hit and one of the top grossing films in HK history. This lead to a huge output of Category III films and they have become a major staple of the HK film industry.
As mentioned above, HK films beginning in the seventies started including sexual content. The Shaw Brothers were the first major studio to begin producing a number of these films. They were inexpensive and they were profitable. Pete Tombs reports in Mondo Macabro that 1973 was "a watershed year for HK sex films with titles like The Sugar Daddies, Sexy Playgirls, Queen Hustlers and Sex Maniacs appearing in rapid fashion". Some of these films had larger ambitions and budgets such as Intimate Confessions of a Chinese Courtesan. One of the main actresses in these films had the great name of Yum Yum Shaw !
In 1988 the ratings system was introduced. Category I indicated general viewing, Catagory II meant parental guidance and Category III was for adults only due to either sex or violence.

---