Sammo was staying busy as well. Along with Yuen Biao he made two very interesting though very different films in 1987. Both of them I have found more and more enjoyable on repeated viewing. They both have structural weaknesses but the strengths of the characters and the performances outweigh these.
Millionaires Express (aka Shanghai Express) is a Mad Mad World of fights and stunts. Nearly everyone from HK seems to show up for this film. Here is a roster: Sammo, Yuen Biao, Eric Tsang, Lam Ching-Ying, Dick Wei, Cynthia Rothrock, Yukari Oshima, Kenny Bee, Wu Ma, Rosamund Kwan, Richard Ng, Emily Chu, Shoji Kurata and Yuen Wah. It is a feast of stars and they all have their moment in the spotlight. There are some wonderful one on one fights in this film.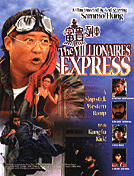 Sammo followed this with a much grimmer and violent film. Eastern Condors is his take on the Dirty Dozen as Sammo and some other Asian-American prisoners are parachuted into Vietnam to blow up a munitions dump. This film is also loaded with talent. Either playing good guys or bad guys are Sammo, Yuen Biao, Yuen Wah, Joyce Godenza (to become Sammo's wife), Lam Ching-Ying, Corey Yuen, Billy Lau, Billy Chow, Dick Wei and last but not least Dr. Haing Ngor (of The Killing Fields fame). The film has some terrific action and Sammo and Yuen Biao have never been more charismatic.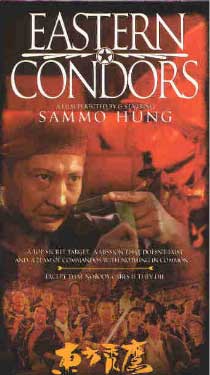 ---