HK Cinema - 1986
---
Since the success of Zu, Hark had kept a low profile. He had directed a few small films that were not all that successful. Then he concocted an adventure story almost like the old serials – full of rapid action and near death escapes. He in fact created one of the best films of all time in my opinion. Peking Opera Blues has wonderful heart and performances from three of the best of the HK actresses.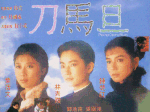 Cherie Chung was born in 1960 in HK and was discovered working in a toyshop in Chungking Mansions. She had been doing films since 1981 (a few with Chow Yun Fat) but this was her first big role. As the slightly ditzy sing song girl she was a charmer. Sally Yeh who plays the daughter of the Peking Opera owner is a huge pop singing star and of course reached near immortality as the love of Chow Yun Fat in The Killer. The third member of the trio was Brigitte Lin – one of the true icons of HK cinema.

Brigitte was born in Taiwan on November 3, 1954 and had been acting since she was noticed at a friend's audition in 1973. She became known as one of the great Taiwanese beauties. Jackie Chan says in his book "I am Jackie Chan" that there were two beauties in Taiwanese cinema during the 70's. He married one and the other was Brigitte. She appeared in many films – primarily dramatic, a few comedies such as All the Wrong Spies, a few action films such as Fantasy Mission Force, 800 Heroes and Golden Queen Commandos and then the first Police Story. Peking Opera Blues though was the first film in which she was almost bigger than life and that showed her wonderful strength, determination and charisma. These traits were to make her legendary in some films in the 90's.

---