HK Cinema - 1985
---
Women had clearly been doing some wonderful action films for many years in HK, but for most part the action was either hand to hand or using weapons such as swords or spears. A new film company, D&B was formed by an extremely wealthy individual named Dickson Poon. One of the top producers in the company was Sammo. They were looking for something new; something that would make the company stand out.
Sammo came up with the idea of a buddy cop film – but with a difference – with two women. And not just the usual hand to hand, but allowing them to be proficient with guns as well. The "girls with guns" genre was born.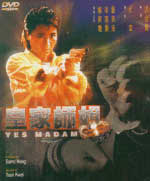 Sammo looked around for two appropriate candidates. He saw an item on an American martial arts champion and sent her a proposal. She accepted and so Sammo had the first member of the team – Cynthia Rothrock. For the other role, Sammo turned to a co-star of his in an earlier D&B production, Owl vs Dumbo, in which she had a non-action role. In fact, that had been her first film and she had no action experience or martial arts training. But she could kick. As Sammo said "If she can already kick, we can teach her how to fight".
This was of course Michelle Yeoh (though in her first few films D&B called her Michelle Khan). Michelle was born and brought up in Malaysia and went to England for her University education. She also studied ballet, jazz and contemporary dance and at the age of 21 she entered and won the Miss Malaysia beauty contest. In 1984 she was chosen by D&B to appear in a watch commercial with Jackie Chan. Who would have guessed they would be co-starring in Police Story III eight years later.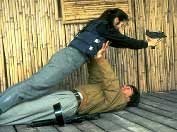 Initially, she was not going to do a lot of the actual fighting – allowing a double to do that – but she came to the conclusion that with training she could do a lot of this as well. So she trained extensively and was able to perform a lot of the action seen in the film. Much of the film is full of incredible fight sequences with the two women. The last fight in particular is magnificent as Michelle and Cynthia take on a roomful of bad guys and beat them in a dazzling display. It is a ferocious fight – with the amazing Michelle stunt of putting her head through the glass. It was hugely popular and Michelle followed it up with two more action classics – Royal Warriors and Magnificent Warriors. Then in 1988, she married Dickson Poon and retired from the business.
Though D&B is remembered today primarily for their bringing Michelle Yeoh and the "Girls with Guns" films to the HK screen, they made a large number of varied films during their years of film production. Below is a list of many of those films.

---
Black Cat 1&2
Bless this House
Caper
Chinese Cop - Out
Conduct Zero
Devoted to You
Dream Lovers
Easy Money
Final Victory
Funny Ghost
Fury
Goofy Gang, The
Happy Together
Heart into Hearts
Heart to Heart
Hong Kong 1941
In the Line of Duty III
In the Line of Duty IV
In the Line of Duty V - Middle Man
In the Line of Duty VI - Forbidden Arsenal
In the Line of Duty VII - Sea Wolves
Island, The
It's a Drink, It's a Bomb
It's a Mad Mad Mad World 1-3
Keep on Dancing
Kiss Me Goodbye
Love Into Waste
Love is Love
Lunatics, The
Magnificent Warriors
Mr. Boo Meets Pom Pom
Mr. Fortune
My Family
Night Caller
Nobles, The
Owl and Bumbo
Passion
Perfect Match
Pom Pom
Pom Pom Strikes Back
Porkys Meatballs
Royal Warriors
Sapporo Story
She Shoots Straight
Silent Love
Soul
Student Union
Tiger Cage
Unfaithfully Yours
Vengeance is Mine
Welcome
Wonder Women
Wrong Couples, The
Yes Madam
You're OK, I'm OK
---