HK Cinema - 1981
---
In 1980 Angela Mao retired from kung-fu films after finishing Dance of Death, but another female action actress stepped up to perform in one of the very best and one of my favorite films – My Young Auntie. This was Kara Hui Ying-Hung. She was born in 1960 to a family of Peking Opera performers, but unlike her brothers and sisters, she was not allowed to enlist in a school. So she taught herself and became a street performer. She was spotted by a Shaw Brothers employee and signed up.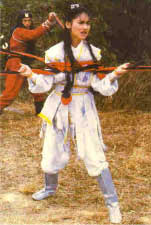 After more training, she began getting roles in some of the Shaw classics such as Dirty Ho, Chinatown Kid, and the first two Brave Archer films. With Young Auntie though she created a classic character in a wonderful film and has gained the nickname of Auntie ever since. In the film KHYH plays a traditional young woman who is introduced to modern ways that leads to some wonderful comic bits, but it is the stunningly intricate kung-fu routines that are amazing. The director was Lar Kar-Leung.
KHYH was able to make the transition from kung-fu to the "girls with guns genre" and has gone on to perform in many more action films right up to the mid-nineties. She seems to be ageless. Some of her other films to look for are The Inspector Wears a Skirt I – 4, Rosa, Widow Warriors, Roar of the Vietnamese and Brave Young Girls. Often the films that she appeared in were low budget action films, but KHYH always looks great.
---