HK Cinema - 1980
---
Karl Maka, Dean Shek and Raymond Wong formed a new film production company in 1980 – Cinema City. They had a vision of a company that would produce the kind of comedies that they wanted to make.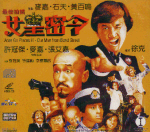 Though their films were influenced by Michael Hui's (in fact Sam Hui left his brothers act to work at Cinema City), there were also elements drawn from western comedies to create films that had large doses of slapstick, sight gags, verbal sparring, amazing stunts and action sequences. A total madcap experience. It was not by any means the most sophisticated of humor – often low brow and juvenile, but it was very popular during the 80's.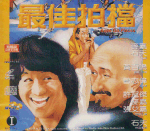 The most successful films were the Aces Go Places series that starred Sam Hui and Maka as two friends constantly getting into trouble and the wonderful Sylvia Chang as their less than amused sidekick. There were five films in the series and the list of directors for them is fairly amazing – Eric Tsang directed the first two, Tsui Hark the third, Ringo Lam the fourth and Lar Kar-leung the fifth.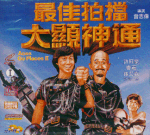 Though Cinema City is primarily thought of in terms of their comedies, the company did finance a number of more serious films - some of Tsui Hark's Film Workshop output (Shanghai Blues, Peking Opera Blues and A Better Tomorrow) - and a number of Ringo Lam's films (School on Fire, City on Fire and Prison on Fire) were produced by Cinema City. Their last film - In the Lap of God - was produced in 1991.
Here is a list of many of their films:

---
A BETTER TOMORROW
(CO-PRODUCED WITH FILM WORKSHOP)
A BOOK OF HEROES
A FAMILY AFFAIR
ABRACADABRA
ACES GO PLACES
ALL THE ENEMY/WRONG SPIES
ALL THE WRONG CLUES
BANANA COP
BEWARE OF PICKPOCKETS
BIG HEAT, THE
BY HOOK, BY CROOK
CABARET TEARS
CAN'T STOP THE WAR
CHASING GIRLS
CHINESE GHOST STORY I (CO-PRODUCED WITH FILM WORKSHOP)
CITY HERO
CITY ON FIRE
CITY WAR
CUPID ONE
DIARY OF A BIG MAN, THE
EIGHT HAPPINESS
ESPRIT D' AMOUR
EVIL CAT
FAMILY STRIKES BACK, THE
FATAL LOVE
FOR YOUR HEART ONLY
FRACTURED FOLLIES
FUNNY FAMILY
GHOSTBUSTING
GOODBYE DARLING
HAPPY GHOST 1-3
HAPPY UNION I&II
HE LIVES BY NIGHT
HEARTBEAT 100
HEAVEN CAN HELP
I DO
IN THE LAP OF GOD
ISLE OF FANTASY
IT TAKES TWO
KIDNAPPED
KUNG HEI FAT CHOY
LADY IN BLACK
LAUGHING TIME
LEGEND OF WISELY
LIFE AFTER LIFE
LIFELINE EXPRESS
LOVE, LONE FLOWER
MERRY CHRISTMAS
MISMATCHED COUPLES
MUMMY DEAREST
MUSICAL SINGER
MY LITTLE SENTIMENTAL FRIEND
NO U-TURN
OCCUPANT, THE
ONCE UPON A RAINBOW
PAPA CAN YOU HEAR ME SING
PEKING OPERA BLUES
(CO-PRODUCED WITH FILM WORKSHOP)
PERFECT WIFE
PLAY CATCH
PRISON ON FIRE
RUN TIGER RUN
SCHOOL ON FIRE
SEVEN YEARS ITCH
SHANGHAI BLUES
(CO-PRODUCED WITH FILM WORKSHOP)
SPOOKY KOOKY
SUPER CITIZEN
THAT DAY ON THE BEACH
THE LOSER, THE HERO
THEY CAME TO ROB HONG KONG
THIRTY MILLION DOLLAR RUSH
THIS TIME YOU NEED A FRIEND
TIGER ON THE BEAT
TILL DEATH DO WE SCARE
TRI-STAR (co-production with Mandarin films)
TROUBLE COUPLES
TRUE COLORS
UNITED WE STAND
VAMPIRES BREAKFAST
WHY ME
WORKING CLASS
---