HK Cinema - 1948
---
After the war was over, the HK film industry bounced back quickly and was soon producing films again. One of the major studios that was set up was Grandview and over the next few years they produced some innovative films. They produced the first Cantonese color film – Madame Butterfly - in 1948, the first Mandarin color film – Heavenly Souls - a year later, the first Chinese 3-D film and the first Cinema Scope film soon afterwards.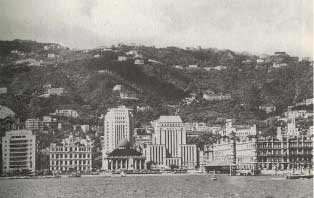 Hong Kong after the war
Tim supplied the following information - please check out his HK film site A Page from Home:
Grandview was also known as Daguan Film Company Ltd. It was founded in the US by Chiu Shu-sun in 1933 before moving to Hong Kong in 1935. Chiu directed the 3D and Cinemascope films mentioned.
From 1942-1947, Daguan opened a US film division during the Japanese occupation of Hong Kong. There it produced some firsts for the HK industry – the first colour16 mm films of Hong Kong. Madame Butterfly, which came later back here in HK after the war, became the first 35 mm colour film.
(This info comes from "50 Years of the Hong Kong Production and Distribution Industries: An Exhibition" book, put out by the HK Film Archive, with an English translation credited to Stephen Teo.)

---