---
Midnight, My Love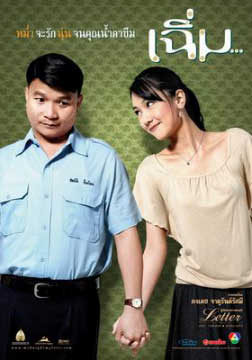 Director: Kongdej Jaturanrasmee
Cast: Petchtai Wongkamlao a.k.a Mum Jokmok a.k.a "Dirty Balls", Woranut Wongsawan
Year: 2005
Running Time: 91 minutes
Mum Jokmok has become a familiar cherubic face to Westerners as the sidekick to Tony Jaa in both Ong Bak and Tom Yum Goong, but before those films he was already one of Thailand's top comedians with his rapid, jittery foul mouthed shtick. His fans may have also spotted him as one of the whacky assassins in Killer Tattoo from 2001, but in 2004 he took a big step up by directing his own film, The Bodyguard, a wild mix of in your face comedy and outlandish action. All these films seemed to prove that as funny as he could be, subtlety was not his strong point. So this very sweet restrained film took his fans by surprise, but apparently not to their satisfaction as it did mediocre business at the box office.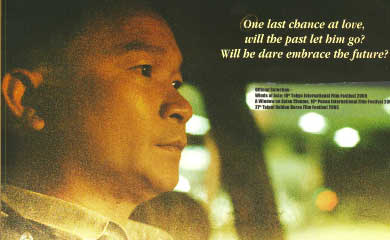 Here he plays Bati, a lonely set in his ways middle age taxi driver, and he keeps his typical humor tied in a straightjacket as he remains passive and almost uncommunicative throughout the film. Much of this as viewers learn later is due to a shocking episode in his past that seems to have sucked the life out of him. He does the late shift on the empty streets of Bangkok and prefers it that way – when he can drive and listen to a radio station that plays old fashioned ballads, radio soap operas and reads letters from the lovelorn and lost in the big city. His days pass one like every other one as he isolates himself from all but a few other taxi drivers.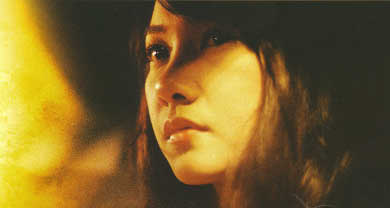 One evening he sees a young woman being mistreated by a man, but minds his own business and drives away – but a few nights later he picks her up along with her co-workers in front of a large massage parlor and drives her home. He begins to make a point of being there at the closing hour every night and soon Nual (Woranut – a TV soap star) begins to hire him to take her home every night and slowly tries to bring him out of his shell by treating him to McDonalds and shopping in the mall. As lovely as she is, she is just as empty in her own way – losing a bit of her soul to every client that chooses her behind the glass fishbowl. Bati writes to the radio DJ "Our jobs are similar. Once I've delivered my passenger I don't know where to go because the destination was not mine. It is the same with her"

But just as you begin to lie back in comfort waiting for the inevitable romance to take place, the film suddenly takes a startling dark turn that throws many of these expectations into a drainage ditch, but when all seems lost an ending that seems inspired by the ending of "Comrades: A Love Story" will warm your cold heart and colder feet. There are no passionate fireworks in the film – it is extremely simple and much of the time it is Bati just listening to his station and imagining himself in the radio soaps (the only sections where Jokmok is more like his usual self as he parodies them wonderfully). As good as Woranut is – and she received a Thai film nomination for her role – the fact that she is stunningly lovely makes the romance take on a bit of a fantasy aspect – it really is hard to imagine her with the suppressed much older Bati – but nevertheless you sure want them to be. This is the director's second film – his first was the well-received Sayew and he also wrote the script to "The Letter", a very popular tear drenched romance from a few years ago.
Source: Screener (DVD has no subs)
My rating for this film: 7.0

---