---
Tigress of the King River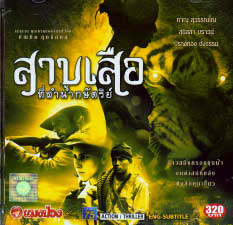 Director: Bhandit Rittakol
Year: 2002
Starring: Panu Suwanno, Prangthong Changdham, Sunisa Brown
Time: 1 hour 57 minutes
Mixing the supernatural and an old-fashioned jungle action adventure, this B film rarely slows down for a minute and is generally fairly enjoyable on a simplistic lose no brain cells level. In the back of your mind though you are always aware that the film isn't really that well made and at times it feels more like a fun TV show that contains some atrocious acting (in particular from the Englishman). Even so, a film with an elephant tromping on people and a man-eating tiger that takes human female form always works for me! The legendary/mythical mystique that many of the Thai films seem to aim for is intriguing to me as it opens a new world of tradition, history, superstition and customs that is fairly fascinating. This film contains a degree of CGI effects that are far from seamless but not badly done.

In the year of 1786 during the reign of King Rama I, two forces are battling on the King River at the Three Pagoda Pass – the clash of swords, the trumpeting of elephants and the blasts from muskets fill the air. A Yodla slave elephant rider from Burma is shot from his mount and floats down the river. Back in his village his wife, Niam, waits for Klom to return and when he doesn't she goes to the scene of the battle to look for him. The jungle appears to be haunted by the dead armies of many past and present wars still fighting one another. She is raped and murdered by a group of passing men and then eaten by a tiger. Over the next one hundred years a legend begins to grow of a demon tiger that kills and a wandering war elephant that travel together.
In the late 1800's a party from Bangkok comes to hunt for tigers and elephants – with a drunken British ex-soldier and a half-British half-Karen tribes woman female guide. Soon the tigress is hunting them as it senses that the reincarnated spirits of the men who killed her years ago is among them – and perhaps also that of the husband she never found and is still looking for. The direction does feel awkward at times and the budding romance between the Englishman and the guide is acting hell, but the basic themes of revenge, reincarnation and eternal love play out reasonably well – especially in the end.

The Thai DVD and VCD have English subs.
My rating for this film: 6.0

---