---
The Overture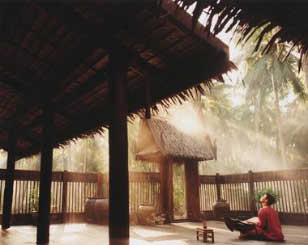 Director: Itthi-sunthorn Wichailak
Cast: Anuchit Saphanphong, Adul Dulyarat, Narongit Tosa-nga
Year: 2004
Running Time: 104 minutes
"The Overture" is Thailand's submission to the 2004 Academy Awards and to some degree that "honor" puts the film into a very neat nutshell. At a time when the Thai government is doing its best to clean up its image as a haven for sex tourists and discouraging horror/bar life films like "P" from being distributed, "The Overture" is the perfect antidote. It's a classy production that is seeped in tradition, honor and culture. It is very mainstream and would have felt right at home as a Merchant-Ivory film. This isn't necessarily a knock on the film - just a warning to those who don't like films without an ounce of irony and that take themselves very seriously. This is almost certainly one of the many films that "Bangkok Loco" makes much fun of. I enjoyed the film, but at the same time I sort of felt I was in a class being sponsored by the Thai Tourist Board.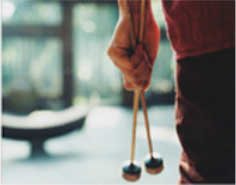 The film is apparently based loosely on the life of Luang Pradith Phairao - a famous ranard-ek player who lived from the late 1800's to the 1940's. The ranard-ek is similar to a xylophone except it is made of wood. At least back before traditional Thai music lost out to rock and roll, the ranard-ek player was like the lead guitar player and received all the fame and the babes. In parallel story-telling, the film traces the life of Som as both a young man and as an older man coming to his last days. It is an interesting way to depict his life and it adds a definite layer of emotion to the story - as a young man he comes to understand the importance of tradition and his role in that while as an old man he is attempting to make sure that this tradition outlives him.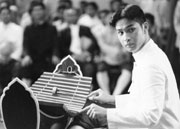 Som (Anuchit Saphanphong) grows up with an intense need to play the ranard-ek and though his father initially refuses to allow him - his older brother had been killed by a rival ranard-ek player! - he eventually has to give in to his son's natural born talent. Som becomes a bit of a hotshot though and skips practices or does the star turn while playing the instrument in public. By the time Som is a young man his talent has begun to spread around the country and he is challenged to a duel - a common practice at the time. After he wipes the smirk off his arrogant challenger, Som is on top of the world until he hears the great master Khun (Narongit Tosa-nga - a true life current master of the ranard-ek) play and goes through a crisis of confidence. Later after Som is hired by the Royal family he has to face both his fears and Khun in virtuoso duel that nearly reaches a level of over the top absurdity.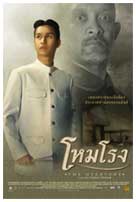 The segment that follows Som as an older man (Adul Dulyart) takes place in the last years of W.W.II and the military Thai government is trying to stamp out all the old traditions and put a modern face on Thailand. One of these old traditions is the playing of the ranard-ek, but Som refuses to bow down to the authorities in a very moving scene. The film has no surprises and is chock full of the underdog clichés that are rampant in all films of this kind. Think of it as martial arts instead of a ranard-ek and you have seen it a few hundred times - even including a drunken master! Even so, it is still well done and manages to hold your attention with the terrific music, solid performances and some small lovely scenes. One scene in particular was a favorite - Som as an old man is now a teacher and his son brings home a piano to play jazz on. One expects this will lead to a conflict between father and son over tradition, but instead Som asks his son to play, listens and then joins in on a wonderful jazz duet of piano and ranard-ek.
The film has heavyweight producers - Nonzee Nimibutr and Prince Yukol - and certainly the production values are topnotch. Unfortunately, the Thai DVD has no subtitles but it has been picked up in the U.S. by Kino and they will be releasing the film later this year with the DVD coming out at some later time. I saw it with subs at a film festival.
My rating for this film: 6.5

---