---
Beautiful Boxer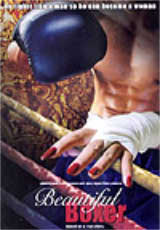 Director: Ekachai Uekrongtham
Year: 2004
Starring: Asanee Suwan, Sorrapong Chatree, Orn-Anong Panyawong, Kyoko Inoue
Time: 118 minutes
The tagline of "He fights like a man so he can be a woman" for this film is certainly intriguing but might also raise expectations of a potentially trashy film with elements of exploitation. The film is anything but that though – instead it is a wonderfully warm and inspiring tale of a person simply discovering who he is and then having the courage to face the world. The film is based on a true story that garnered a great deal of publicity a few years ago and was even covered by the New York Times. In Thailand kickboxing is the national sport – practiced in every city, town and village around the country and filled with tradition and macho pride. Thus the story of a cross dressing kickboxer who came into the match wearing lipstick and mascara and who declared to the media that he thought of himself as a woman riveted the nation and created lots of controversy.

The film covers the life of Nong Toom from early childhood to his/her decision to have it snipped off. The portrait of Nong is painted with such gentle and sympathetic colors that it is impossible not to completely side with him in his need to explore his gender yearnings. Soft spoken and intensely sweet, there are times you simply want to hug him and tell him that it is going to be alright. One thing that the film perhaps wisely stays away from is really delving into Nong's sexual or romantic needs – there is never a hint of a lover or physical sex and that may be a bit of a cop out considering the subject it explores, but doing so would have bled the film of its almost fairy tale innocence.

Though the film certainly has a number of Muay Thai matches and they are quite well done (all the fighters as well as the actor (Asanee Suwan) who plays Nong Toom are legitimate Muay Thai boxers), it is much more than that and much more than simply a story of a man who wants to be a woman – it takes in Thai traditions, family relations, religion, friendships and betrayals and finally tolerance and acceptance in a world that has so little of it these days. It is also simply a great sports film about a person who pushes himself to be the best he can be. Performances are excellent throughout - in particular from his understanding coach (Sorrapong Chatree), his loving mother (the ex-Miss Thailand Orn-Anong Panyawong) and from Asanee of course. According to one Internet article I came across, the real Nong Toom is now a singer and according to that writer a very bad one. But I wouldn't be the one to tell her!

My rating for this film: 8.0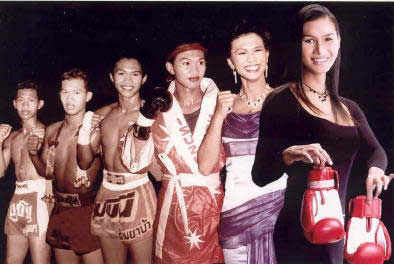 (The real Nong Toom)

---