---
The Unborn (a.k.a. The Mother)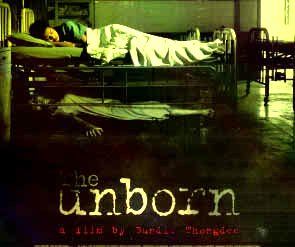 Director: Bhandit Thongdee
Year: 2003
Starring: Inthira Charoenpura, Wannakit Siriput, Karunpon Thieansuwan
Time: 108 minutes
Porawee (Inthira Charoenpura – the heartbreaking Nang Nak) is a bartender and low level pusher/user who gets on the wrong side of her drug supplier (Wannakit Siriput) when the money she hands over doesn't equal the amount of drugs she has sold. Like every reputable slimy drug dealer would do in that situation he bashes her around and throws her off a pier for dead into the water. She survives. But nothing is quite the same anymore. Something she doesn't understand happened under the water that probably saved her life but is driving her to the brink of madness. In the hospital the doctor informs her that she is ten weeks pregnant and her first thought is to abort it, but she soon has other worries to occupy her.

She begins having flashes of visions and horrible nightmares – except she is awake. She almost drowns in a bathroom stall, sees a fetus in the water cooler and of course has a longhaired female ghost slithering towards her. Everyone assumes she is sneaking in drugs and these are just hallucinations, but a social worker (Karunpon Thieansuwan) begins to wonder whether she is possessed or is really seeing something supernatural. An old lady lying in another hospital bed tells him of the visitor "She will go when she gets what she wants". But what does this ghost want?

This film falls squarely in the large bin of ghost stories influenced by The Ring and this one also owes some moments to "The Eye". This sub-genre of pissed off female ghosts who come back to get their own – but never do it simply but always in a roundabout manner - seems a bit overdone now but can still give a few chills. This ghost has reasons to be angry but instead of doing her own dirty work she uses Porawee to bring about some revenge. The film is fairly uneven – it contains some nice scenes and images that are creepy – but then hospitals naturally creep me out – with the first half being decently engrossing. In the second half though the mood that was created is lost and the film becomes almost a pedestrian hunt for the bad guys that is so obvious that you wonder why they bother. Director Bhandit Thongdee also directed the very different and quite charming musical Hoedown Showdown.
My rating for this film: 5.5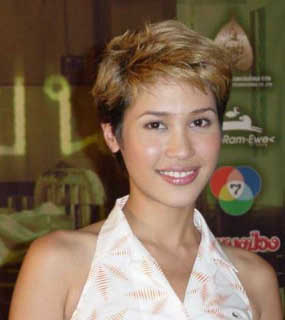 (Inthira Charoenpura)
---