---
Province 77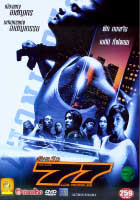 Director: Smith Timsawat
Stars: Pete Thongchua, Metinee Kingpayom, Mike Kingpayom, Charlene Amatavanich, Jeremy Thania
Time: 114 minutes
Year: 2003
It's the Thai Songkran Festival and the children are celebrating by squirting everyone in sight with water pistols. This isn't Thailand though, it's Los Angeles. Thai Town. It's a small six block neighborhood off of Hollywood Boulevard that houses most of the 50,000 Thais living in the city. Thai Town is the first stop off for most Thais moving to the United States and it has acquired the status of being termed Thailand's "77th Province". Like most new waves of immigrants, it is tough – working hard to make it, dealing with generational conflicts and the inevitable culture clash. As the young female narrator states in the film "All of us Thai people living in L.A. are out here trying to survive. Trying to make a living. Trying to hang on to our roots."

The story focuses on one extended family in Thai Town – a father, his three children and their grandmother. Much to the father's concern his children have become more Americanized than he would like – the eldest daughter (Metinee Kingpayom – a Thai super model) has left home to live with a non-Thai, the son (Mike Kingpayom) is slowly being pulled into the gang life and only the young daughter (Charlene Amatavanich) seems to be holding on to her traditional Thai values. The father only wants to hold his family together, but in this new world he feels almost lost and has little control.
The film jumps off to a rat-a-tat beginning as Mike is being chased by a gang through the streets of L.A. and when they finally bring him to ground, the gang leader (Jeremy Thana) pulls out his gun and shoots him point blank in the chest. Flashback time. The father's restaurant is in financial trouble and the I.R.S. is pounding on his door for back taxes – so Mike thinks joining a Thai gang is the answer to come up with some quick money – and for a while it is as he starts piling up the loot along with a willing busty blonde. From the appearances of this film, Thai American street gangs seem to take on the same trappings of Black street gangs in their fashions, music and language. In the downstairs apartment, a mysterious FOB (fresh off the boat) has moved in and he is addressed by the second generation Thais with little more than contempt – but he (Pete Thongchua, who also produced the film) has his own back story of violence and revenge that soon impacts the entire family. Charlene watches it all slowly unfold in potential tragedy and reaches for a gun.

There have been hundreds of films made depicting the problems of immigrants coming to the United States and in a large percentage of these it seems that gang life is a part of it. In that sense, there is nothing new here that we haven't seen in those other films – the same problems, the same hopes – but having it centering on a Thai family is certainly a different twist. Putting this lack of originality aside though, the film is quite good with well-etched characters, a tense narrative and excellent production values. For the most part, the film moves along at a rapid pace and is helped enormously by a terrific rap/hip hop soundtrack from the Thai group, Thaitanium.

My rating for this film: 7.0

---