---
The Hotel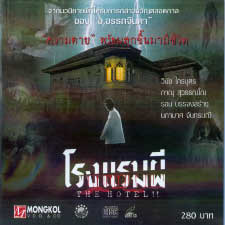 Director: Anukul Jarotok
Year: 2002
Starring: Winai Klaibutr, Panu Suwanno
Time: 109 minutes
This low budget horror/supernatural film plays out very slowly and has next to no scares. The ending is actually fairly good and somewhat touching but by then you will likely long have lost interest in the proceedings. The most annoying thing about the film is that it falls into that horror genre that should be labeled "stupid characters who deserve to die". Fairly early on it is clear that living in their environment is deadly and yet no one has the good sense to just say adios even after a number of deaths.

A family of two older brothers and a nephew and niece has just purchased an old hotel and begin the process of renovating it. One day a wall is torn down and a Buddhist relic is uncovered and soon very bad things begin happening to people. A college friend of the nephew arrives and is immediately attracted to the niece and a small romance blooms. It starts off slowly – an accident, then an apparent suicide by one of the guests and then murder. The finger of guilt seems to point at one of the uncles but he swears that he knows nothing. It soon becomes apparent that an angry ghost is taking possession of the hotel inhabitants and causing them to commit violence. A priest is brought in but he can do no good and slowly it seeps out that the roots of this go back a generation and is very personal.

The Thai DVD and VCD have English subs.
My rating for this film: 5.0

---