---
One Night Husband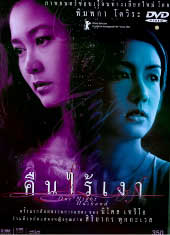 Director: Pimpaka Towira
Starring: Nicole Theriault, Siriyakorn Pukkavesh, Pongpat Wachirabunjong, Worawit Kaewpetch
Running Time: 97 minutes
Year: 2003
Late one evening newly wed Sipang (Nicole Theriault) goes to take a shower after having made love with her husband, Napat (Worawit Kaewpetch). In the shower she hears him yell out to her that he is going out for a few minutes and will shortly be back. By the next day he has still not returned and she files a missing person report with the police, but they have nothing to go on. Sipang next turns to her brother-in-law, Chat (Pongpat Wachirabunjong) for help but both he and his wife Busaba (Siriyakorn Pukkavesh) seem reluctant to assist in the search. Chat tells her that Napat is a gambling addict and that he is likely on one of his multi-day binges and when his money runs out he will come back to her.

This is the beginning of many discoveries about her husband that she stumbles upon during her search for him – all of them leading her to realize how little she knew about him – and perhaps about herself. As Sipang continues to go back to her brother-in-law's home for answers, she slowly strikes up a friendship with a reticent Busaba that overcomes the class barriers between them. This female bonding becomes the heart of the film, as it comes to light that Busaba is an abused wife and Sipang feels the need to comfort her and bring her out of this situation.

This small low budget indie film received a fair amount of deserved critical praise as it made the rounds of a number of film festivals (Berlin, Hong Kong, Deauville) in 2003. To some degree it has that film festival flavor to it with its artistic ambiance, slow pacing, long silences and emotionally stifled characters. In one scene when Busaba breaks down and cries helplessly, the entire scene is filmed from behind her as if to keep us at a detached distance. But underneath all of this, female director Pimpaka Towira builds a cleverly layered minimalistic noir that crawls along in the shadows slowly revealing truths in which very little is what it initially appears to be. By the tingling finish I was completely hooked.

Actress Siriyakorn Pukkavesh gives a wonderfully restrained performance here as the abused wife. Initially when she appears, one almost assumes that she will have a minor role as she seems so withdrawn, servile and secondary but as the film progresses and she reveals the pained misery behind the placid surface it is a revelation that is heart-breaking. This along with her powerful performance in Monrak Transistor as Sadeo puts her in a class of her own among Thai actresses as far as I am concerned. In neither film is there a moment of falseness as she plays each character completely true to their emotional core. The lead actress in this film, Nicole Theriault, is actually a very popular pop singer of Thai-American descent and considering that this is her first film she does quite nicely playing the cool yuppie whose comfortable world is turned upside down by the disappearance of her husband.

My rating for this film: 8.0 (a film that actually gets better the more you think about it)

---